With the fabulous new developments and innovations in luxury bathrooms, designing the ideal refuge for cleansing and relaxation can be overwhelming. By reviewing the latest bathroom design trends and technologies, Trendir will help guide you through the brightest concepts and ideas that will embellish your dreams…
1. SMART TOILET


New technologies have had a huge impact on bathroom design, and the Neorest 600 Toilet by TOTO is a perfect example of this. A single piece smart toilet, the Neorest lid magically lifts as you approach, and then automatically flushes and closes as you leave. A range of features are easily accessed by remote control, such as a heated toilet seat, front and rear washing, air dryer and deodoriser. It is like having a personal bathroom attendant in the privacy of your own home. Comfort and hygiene are seamlessly melded with technology to produce a toilet that serves your every need.

2. BIDET


For those who desire more traditional fixtures rather than combined units, there are fabulous bidets. The Bohemian bidet by Simas uses smooth clean forms to create a simple and elegant bidet. The Bohemian range however rejuvenates classical decoration with the modern print featured on the smooth front. By mixing geometric circles with an organic rose motif, the Bohemian bidet offers a classic elegance in a contemporary style.
3. URINAL


Another important fixture to consider is the urinal. Perhaps a bit unusual in private residences, modern urinals can provide convenience as well a distinctive design flare. The designer Spoon Urinal by Philip Watts features curving sculptural forms that create a dramatic centrepiece. Gentle elliptical bowls hover over fluid like legs in this avant-garde approach to urinal design. Designer urinals will have you in and out of the bathroom faster, while creating an atmospheric room that is simply a pleasure to behold.
4. ELECTRONIC FAUCET


Besides bold new designs, technological innovations have transformed elegant forms into environmentally friendly products. For example the Axiom EcoPower Senor Faucet features a bold square profile with a gleaming chrome finish that simply turns on with a wave of the hand. Yet inside it uses an innovative EcoPower, which captures the kinetic energy of flowing water to power its sensors and flow control. You no longer need sacrifice style to appease your environmental conscience. Dramatic form in a sensual finish, the EcoPower Senor Faucet offers a luxurious experience, while protecting the planet.
5. SPA BATH


Moving to larger fixtures we discover decadent spa installations for the home. Luxurious baths, showers and saunas provide the pampering comfort of professional spa treatments whenever you desire. For example the Ayoura Airbath by BainUltra offers the most gratifying hydro-thermo massage available. The combination of heat, water and air jets relieves a multitude of ailments, all in luxurious comfort. From easing back aches and arthritis to simply reducing stress, the spa bath cleanses the skin, stimulates circulation and purifies your mind and body. For the ultimate bathing experience the Ayoura Airbath provides restorative spa treatments at your convenience.
6. TANNING SHOWER


For those who prefer showers, the ProSun Tanning Shower juxtaposes two luxury items into one, innovatively saving you time. The built-in bronzing system gives you the perfect tan while the warm water washes over you. Gorgeous warm glowing skin adds beauty naturally without extra effort; simply relax and enjoy your shower. Maintaining your summer-like tan no longer needs thought or planning, freeing you to catch up on more important matters. Integrating seamlessly into any bathroom the ProSun saves you space and time while providing a vibrant healthy glow.
7. SPA SHOWER


Incorporating spa features into fabulous showers is clearly one of the latest trends featured in ultra modern master bathrooms, offering a balance between delightful pampering and our ever busy lives. The Duravit Steam Shower Cabin includes a multitude of luxurious features like LED-enabled chromatherapy, aromatherapy, and built-in sound in addition to the cleansing steam shower. The frame-less glass cabin forms an open bright space, and the adjustable seats make the Duravit Steam Shower a personal retreat or an intimate space to share with that special someone. Versatile units in both features and use, Spa Showers simply add rejuvenating treatments into your daily life for the ultimate revitalisation.
8. DRY SAUNA


Another enclosure to consider is a personal dry sauna. For centuries the soft dry heat has been the relaxing retreat of choice for the privileged. The warm air soothes muscles and eases aches and pains. Removing general aches makes each day brighter and more enjoyable. Mr.steam creates curving glass panelled cabins perfect for one or two people. The glass front ensures a light and open space, where you can relax and let your mind wander. The light maple and fir woods offer a contemporary vision of the ancient traditional sauna.
9. INFRARED DRY SAUNA


When new technology meets old ideas unique innovations can be created that revolutionises the way we work. Amerec produces Infrared Heat Therapy Rooms perfect for sports and therapy use. They quickly heat up and bathe the user in soothing relaxing heat. Perfect for warming-up before sporting activities or massages, the infrared heat loosens muscles and increases flexibility; letting you get the most of your workout. Featuring a simple geometric style, the Infrared Heat Therapy uses Western Red Cedar while a digital control adjusts the wide radiating warmth that evenly heats the room. Offering dry heat like a sauna but at the quick press of a button, The Infrared Heat Therapy Room lets you plan your day at a moments notice.
10. BATHROOM WINE COOLER


Now that you've chosen the ideal spa treatments for luxurious relaxation, there are a range of accessories that will allow you to revel in self-indulgence. For the perfect accent to your bubble filled bath, a wine cooler is the obvious choice. The free-standing Wine Cooler from Sub Zero allows you to keep 46 bottles at hand, offering whichever flavour takes your fancy no matter how fickle your tastes. And with two compartments each at their own temperature it offers flexibility within its small form. Cool sensual flavours complement the warming soothing comfort of your baths relieving all your tension.
11. TOWEL WARMING DRAWER


Once finished with your bath and wine, nothing is finer than stepping into warm towels or bathrobes. Dacor offers an Integrated Warming Oven which transforms a simple drawer into a toasty heated cabinet drawer. Enveloped in soft soothing warmth, heated towels are the perfect finale to your bathing routine, and in cold winter months climbing into toasty pyjamas will easily send you off to deep comforting sleep. With a seamless custom door, the Warming Oven invisibly provides reassuring comfort, without disturbing your bathroom style.
12. BATH MULTIMEDIA


For those whose minds run rampant while they try to unwind, repeating the events and worries of the day; a trendy wall display may be the solution you've been looking for. From entertainment to roaring fires, there is a range of visual accessories to choose from. The visiPad Mediastation multimedia system is a splash protected screen that keeps you in touch with the world. Designed by Keuco and Visiomatic, email, SMS messages, internet, telephone, DVDs, and CDs are all available at the touch of a button. Via the touch screen or remote you can read the newspaper, listen to the radio, or watch your favourite film. Whether the visiPad Mediastation keeps you in constant contact with up to the minute news or lets you daydream and relax to your favourite music and films, it will transform your bathroom into a room of practical leisure.
13. SHOWER WATERPROOF TV MIRROR


For a simpler more integrated media system, the TileVision is ideal. Both a mirror and a waterproof TV, Porter Lancastrian have created a 23″ widescreen LCD unit specifically for the bathroom. Featuring a heated screen that prevents condensation, the TileVision is waterproof and tamperproof. When not in use the LCD screen is invisible, only the remote control hints at its true function. Simple and graceful, the TileVision is framed in black, silver or mirror. For entertainment that still staves off the call of the busy working world, the TileVision is an elegant choice.
14. BATHROOM FIREPLACE


The most relaxing option though, is easily a wall fireplace. Flickering flames have a hypnotising effect, while the gentle heat soothes and relaxes. With the development of low capacity direct vent fires, it is possible to install this vibrant element in small rooms and without the need of a flu or chimney. Fantastic examples are the Ribbon Fireplace by Spark and the Bed and Breakfast Fireplace by Fireplace Xtrordinair. The Ribbon Fireplace is a sophisticated presentation that focuses on the central element. The dark inset hearth provides a minimalist backdrop to the writhing ribbon of flame. Fronted with a glass pane and framed in whatever material you desire, the Ribbon fireplace adds an elemental energy to your bathroom.


The Bed and Breakfast Fireplace in contrast adds a more rustic charm and appeal. A traditional metal design frames the portrait style fireplace. Realistic looking logs proudly stand in front of decorative liners as the gas fire flicks around them. The liners add character and interest even when the fire is not in use; and with a choice between a Brick Beehive style, an ornamental Shell style, and the tile like Travertine liner you are sure to find one that appeals.
15. TOWEL WARMER / RADIATOR


Besides heating with traditional fireplaces, new technologies are being used to ensure your bathroom is always warm and comfortable. The most obvious choice is radiators; with new innovative designs being created everyday the choices are endless. Like the Glass Panel Heater by Prefit which is modern and light with a subtle graphic effect. Unlike the cast iron constructions of yore, a single transparent glass panel contains the fine heating elements to warm you room. Balanced on cylindrical feet, a light frosted check pattern ensures it won't be stumbled through yet preserving the sophisticated glamour. Shining glass is the perfect completement in a room of rushing water while the nearly invisible heating elements keep your towels toasty.
16. HEATED FLOORS


Luxury bathrooms make the most of high-quality materials. Fabulous marble, textured tile and decorative stone add fabulous character to your bathroom, but are hard and cold. Electric radiant flooring then only makes sense. WarmlyYours runs beneath the tile or stone, silently providing greater comfort. Highly efficient, the heat transfers through the stone and tile to provide a warm surface to walk on. No longer must you step out onto a cold icy floor; instead it is warm and soothes aching feet. In fact Radiant heat flooring can heat your bathroom from floor to ceiling, but without overheating and drying out the surrounding air. Invisible heating that seamlessly fits your bathroom design underfloor heating will make you smile every winter morning.
17. LED TILES for FLOOR AND WALLS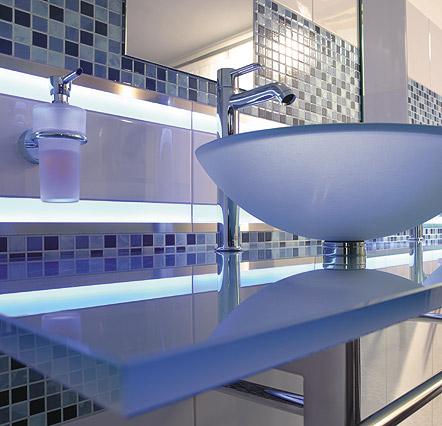 With all the large features picked out, finally we can look at the fine decorative details. The style and design of a bathroom unite all the features into a dynamic whole. Small details can add the sparkle and glamour that elevates your bathroom to something extraordinary. For modern sparkle, Steuler Fliesen's LED tiles with luminous glass borders are ideal. Available in single colours or slowly alternating colours, they are an innovative solution for indirect lighting, illuminated guides on steps, or as simply a distinctive tile feature.
18. LED DOOR HANDLES


The LED trend continues in the Alfa Handle by Brighthandle. The simple curving bar of stainless steel and transparent plastic, lights up with vibrant changing colour. Here LED illumination indicates the status of the bathroom, glowing red when in use. An obvious indicator you can easily see from down the hall or across the room, the Alfa handle is as functional as it is simple. An elegant solution presented in simple form the Alfa Handle is a stunning example of good design.
19. LED CEILING


LEDs are a growing lighting trend, but there are still a multitude of innovative lighting options with which to personalise your space. Like the translucent ceiling tiles from USG, which offer a soft diffuse light from a sleek modern form. Whether laid into a normal grid for a simple illuminated ceiling, or placed in USG's Curvatura 3-D system for an organic curving surface with a bespoke sculptural effect; the smooth clean lines bring a fresh bright and clean image to your bathroom.
20. ELECTRONIC WINDOW BLINDS


Natural lighting has always been a popular choice, with its even color and bright warmth. Yet the very essence of its changing nature can be inconvenient. Bright mornings or sunsets can leave you squinting in your bath or blinded by your mirrors. Remote Controlled Roller Blinds however let you appreciate every minute of sun while protecting you from glaring rays. Regaining popularity in modern luxury homes, a single push of the button sets the perfect ambiance and sense of privacy. House Couturier have created a simple modern design that responds to your needs.
21. CUSTOM GLASS SHOWER DOOR


Besides distinctive lighting, the materials in your bathroom can enhance and the character and atmosphere of your design. UltraGlas glass shower doors for example use heat sculpted glass to provide privacy and artistic detail. Broad panels allow light to freely illuminate the room, while the fabulous texture sparkles. Custom made artistic surfaces; UltraGlas panels create a modern centrepiece for your bathroom.
22. TRANSLUCENT STONE COUNTERTOP


Recent innovations have created materials of unique beauty that form surface textures and patterns never seen before. Incorporating these materials into bathroom designs brings a dynamic edge and a luxury finish to any installation. Majestic Gemstone creates solid surfaces of inlaid semi-precious stones. The natural colours of these translucent stones form an organic surface of gradient colour. Fabulous stones fit for jewellery make a stunning surface for your bathroom vanity, countertop, and tables. When combined with under surface lighting the majestic impression is unforgettable.
From the finest decorative details to the most decadent spas experiences, modern luxury bathrooms have become a personal expression. Every feature can be individually catered for, providing a unique environment in harmony with you.