The holidays are officially here and we couldn't be any more excited. With the holidays being here, it's time to look at unique ways to decorate. When it comes to decorating for the holidays, there's nothing quite like decorating your Christmas tree. This year we are leaping and bringing forth silver Christmas tree ideas. Having a silver tree is not the norm, but it sure is fun to have. The following outstanding, spectacular trees are not only outstanding, but they are bright and merry.
Glam-It Up
Glam is not one of the words that do not come up often when it comes to Christmas decor; however, this time we have decided to bring it in as part of Christmas tree decor. Adding a glamorous touch to your Christmas tree can be exactly what it needs to come back to life. The key is working with a silver tree and adding more silver elements to it. Doing so not only brightens the room, but it ensures you get the most out of your luxury glam.
Smokey Silver
All silver lovers know, silver comes in multiple different hues. When selecting the silver hue to consider a smokier shade. Bringing a smokey shade not only enhances what you already have, but it truly helps you embrace a richer almost edgier take on traditional Christmas decor.
Beach-inspired
Okay, hear us out while most of us love Christmas there is still a part of us that enjoys summer that much more. You can almost say Christmas would be perfect if it was warmer like summertime. Bring in a silver tree and decorate it with summer ornaments to give it that beach-inspired vibe that does not take away from the tree itself. Furthermore, enable your tree to become the focus by having just the right kind of warm decor.
Minimal
As for minimal trees, go for a twiggy one. Yes, we said twiggy. Twiggy trees are minimal, meaning they do not take away from your decor, they do not take up too much space and they do not go overboard. Instead, they gleam and shine on their very own without distraction. Furthermore, they're the perfect touch to any area in your home that needs a little holiday cheer. Subsequently, this idea works best for those that want a unique touch in an awkward corner.
Vintage Inspiration
When it comes to adding a nostalgic twist to your Christmas decor, consider bringing classic bits such as tinsel and/or traditional red and green hues. Having these bits will further enhance the appeal of the room while taking you back for a vintage ride. It's all about getting the most out of the room. Furthermore, this idea works great when you want to get the most out of a room, without taking away from any decor you might already have. Top your tree with tinsel for a classic almost 1950s aesthetic.
Light it Up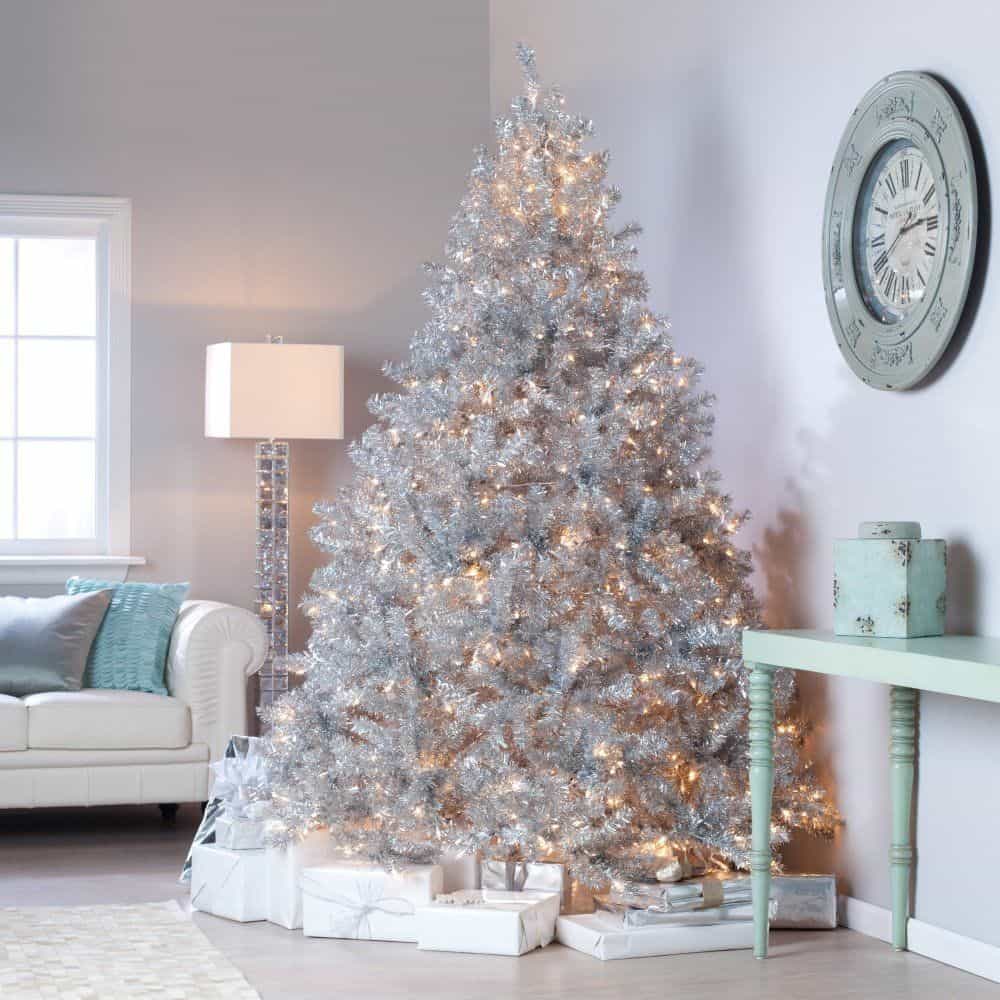 Sometimes you don't want a traditional touch, sometimes you want something rambunctious and unique with a bit of a fun touch that is where lighting it up comes into play. Lighting your tree is not only a must but it's one of the reasons why people enjoy having a Christmas tree. However, for this idea, it's all about lighting up your silver tree as much as possible. Therefore, you want to bring in as many tree lights, string lights and lit up ornaments as you possibly can for the best outcome.
Modern Ombre
Last year ombre decor became a thing and this year we are looking at an ombre tree. If you can' t decide between having a silver tree and a black one an ombre tree is a way to go. It offers the perfect gradual display that has a modern yet edgy twist that makes the room come to life. It's almost as if the tree itself becomes the main focus of the room. Keep the tree sleek and modern to get the most out of the tree's edgy aesthetic.
Tinsel it Up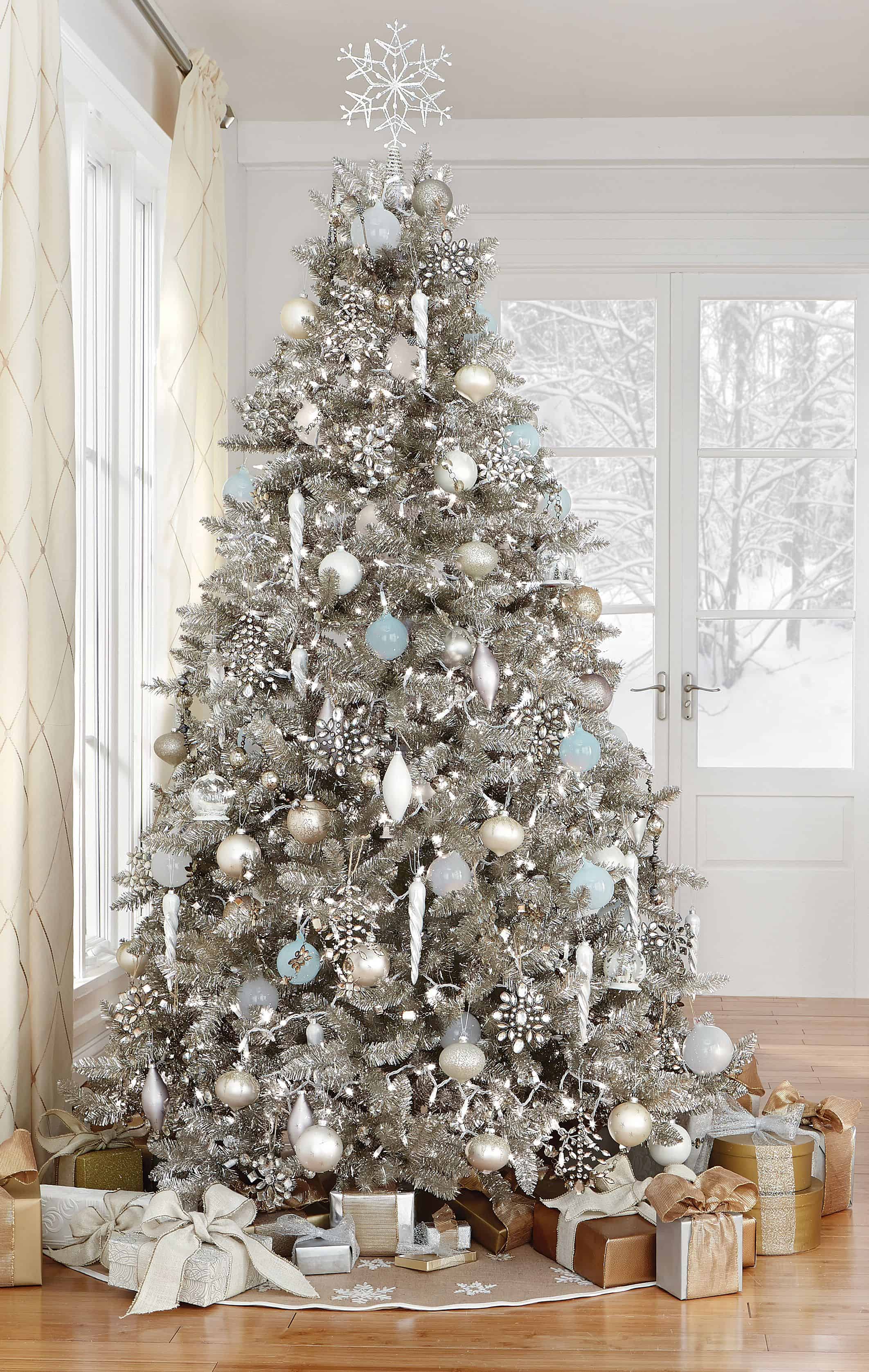 Even if you have decided on having a green tree, add tinsel. Tinsel is a classic Christmas staple, and we are still obsessed. Though it is an older decorating style it is now coming back with force. Maximize the tree's appeal by adding a heavy coating of tinsel. It adds a classic charm that is oh so charming and silvery. You can almost say it's the perfect traditional twist.
Glitter Flocking
Sometimes a heavy flocking is all your tree needs to have a silver appeal. Flocking is the perfect excuse to add a white, almost snow-like approach to your tree. However, when it comes to glitter flocking you are adding more than just snow appeal, you are adding a glittery twist that further showcases what you want from the tree. Pair with glittery ornaments to complete the tree's new flocked charm.
Tiny Glass Trees
If you aren't prepared to fully commit to a silver tree, consider tiny glass ones instead. Not only are they adorably small, but they come in different, colors, sizes and appeal meaning you can decorate with them anywhere in your home. It's almost as if you can take the trees and make them the main focus of your decor. Furthermore, these work great when you want to add a metallic touch without the full-on commitment.
Table Top Tree
Sometimes a room needs a tree to feel the festivities, but sometimes you don't exactly have the space for it. If that is the case, bring in a tabletop tree. Having a tabletop tree works as it enables you to work with the decor you already have. Bringing in a silver tree will make a huge contrast while enabling you to showcase the rest of your home. This works great if you have a smaller space or simply can't commit to an entire silver tree.
Have you ever considered having silver trees? If so, share with us what made you want a silver tree and if you will be using any of our ideas in the comments below.