Modern side tables have been taken to the next level together with all the other types of surfaces on legs. These little guys may not be too spacious but they can be plenty practical as well as decorative. We think that you may need to use side tables more often than you do, because they can bring so much flair to the decor.
Ultra Modern Side Tables
Ultra modern tables are cool and easy to use when decorating. Plop them by your sectional and you won't know how you could live without this handy thing by your side all these years.
Riva looks like a great color accent with which you can really brighten up a neutral living room. A non-typical shape will also draw plenty attention to it.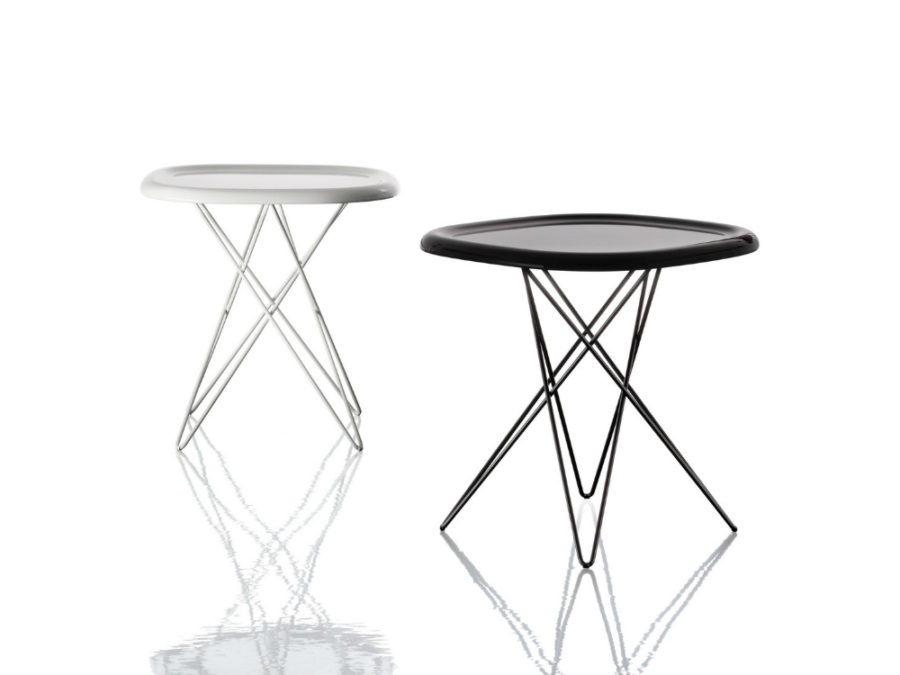 Pizza table is a perfect addition to a Scandinavian home. Black or white, it will look right at home with the minimal aesthetic but at the same time will add some dynamic to it.
Named, perhaps, after a pizza due to its tabletop shape, the table is a great spot to keep your pizza, while you're catching up on some new original Netflix series or Games of Thrones.
Some side tables are good for other purposes. La Cividina designed a tall Accursio table for the hallways, we gather.
Just look at how slender and cool it looks. It has to replace that old Ikea console by your entry if you are chasing a more refined aesthetic.
Costance Quadro is something in between the Riva and Accursio tables, and it's absolutely fantastic. A thin metal frame gives it a contemporary look, while gray tabletop looks particularly stylish.
Available in numerous colors and with slightly different bases, these are the tables to use in pairs and groups.
Storage & Stuff
A storage-friendly side table is like Santa's little helper, only it's yours. Put your mail in there to gradually get through it all or keep your reading close, so you don't forget to catch up on it once in a while.
Armand may not have a lot of space to spare for storage, but it has more of it than some of these other tables.
Pick-Up is a great party attribute. You can carry it around offering drinks to guests instead of them having to flock to a small bar counter.
It can also keep other things like books, knitting, or devices, which is especially helpful during family gatherings.
We have a soft spot for tray tables – they are storage-friendly but also allow carrying drinks and snacks all in one go without having to bother with additional trays.
It also keeps all the small things in a place from which they cannot accidentally fall, which is, again, great for fragile devices.
For those who love reading but have too few square feet to spare for a library, here is a storage-friendly Big El table that will keep those monthly subscriptions close and will also allow for a few books.
Want a glass of favorite juice or a little something stronger to go with that reading? Well, there's just a little space for that as well.
Stool Tables
Like many other furnishings these days, side tables often get made for multiple purposes. One of such purposes is sitting down.
This is actually a great idea for small spaces. Whenever you have guests over, you can just utilize your side tables like Squaretown instead of having to buy a full dining set that you have nowhere to store.
Hexagon is an ideal thing to keep around. It looks fancy, it can double as a seat and a table. What else can you possibly want?
Well, if you were thinking about putting it into a contemporary hallway seat that can easily be taken apart during a party, it can do that as well.
Looking like a stool, SAG can actually make a cool side table too. Look, it even has some space for magazines and other reading material.
Equally great as either of those things, it is the right kind of versatile furniture you'd want around your modern home.
Much like Squaretown, Oyster looks like a great candidate for a stool. You might just want to make sure it is made for sitting if you don't want your precious side table crumble under a grown adult.
Wire Baskets
There is an undeniable charm to real baskets that transfers well to wire designs. Smoothness of metal and paint give them modern flair as opposed to the rustic aesthetic of real baskets.
This side table design by comingB is a complete must-have that accommodates your reading material in a neat rounded shape, finished off with an interesting tabletop.
Wire table is definitely an experiment. You'll have to find a place for it, but we feel that it would look good in a corner with a plant on top.
This is a great hallway item where you can probably keep your umbrellas and whatnots.
Turi Turi don't have that typical basket charm, but they do look particularly alluring with their curving glass-like cage bases.
Available in different colors and heights, these are the more sophisticated items when it comes to wire designs.
Not really a basket at all, this playful Soho table shows the importance of an eye-catchy base even for a side table.
Elegant Modern Side Tables
An elegant side table will finish off your luxury living room like nothing else. It's a perfect 'cufflink' to your expensive 'shirt'.
Filodesign uses height to give Talino table an extra boost in elegance, as the long slender frame makes it look all the more exquisite.
It's hard to beat marble when it comes to modern elegance. It's just that kind of thing. Add metal to it to seal the deal, and you've got yourself some decorator's gold.
Ralf is a contemporary side table that combines both and will look equally well in a minimal and luxury interior.
Even if you add plain glass to it, marble still manages to look noble. Litro is a classic side table that proves the idea.
Looking great with both dark and white bases, it invites more luxury to its surroundings much like our next design.
Tray 1 is supposed to stand next to a leather sofa or armchair. The style demands it, the material solidifies that demand.
Of course, it can do well in a contemporarily minimal decor, but it would benefit from a few more luxurious items next to it.
Side Tabletop
Extravagant tops aren't only reserved for coffee tables. Sidekicks can bear them well too, just look at Mundo M40.
There is little attention given to side tables, you may think, but that's only until you give their tops a way to shine.
Atenea will get attention with not only gorgeous marble tabletops, though. Its intricate metallic bases are eye-catchy as well.
What a treat to complement your reading nook with such a combo!
Looking like a city map, Vermillon side table will find a place in a kids room or make for a cool addition to the reading area.
Thanks to its contrasting colors, it quickly attracts attention, captivating the eye with numerous details.
If you really want to grasp attention with a table that isn't in the center of the room, you'll need something more serious.
Bazartherapy is again coming with unusual ideas. This time it's a flower head that instantly catches your eye with a bright color and a dark eye.
Modern Side Tables
Speaking of bright colors, what can say 'modern' louder than bright glossy plastic? Saarinen side table is a perfect item for doing just that.
It will definitely give you a bit of a pop arty feel, so you may just go with it and complement it with contrasting accents and artworks.
If you are more of a metallics fan, here is a Vibe that will give your living area a rather musical overtone.
Vibe isn't just a table, though. It's three tables merged into one fashionable tricolor drum station.
Point is like a little button on a fast-fashion shirt or blouse – plastic but eye-catchy. Matte surface should work wonders to keep devices neatly in place.
The contrast between the frame and the tabletop simply makes it more interesting.
Now what can be better than a tray table? Three differently sized tray tables made of golden brass. That's what.
Minimal Modern Side Tables
Just like other furnishings, modern side tables get a lot of minimal treatment. Plantone tables stand out, though, thanks to their non-typical triangular shape.
Made of light and brown wood, these babies will keep the little stuff from rolling down the top with their slightly indented top edges.
Around is so minimal, it reflects as a circle with a single line. Simple and even plain, it's a breeze to decorate with.
Drop tables look cool in any finish just because they have such thin frames any metal looks jewelry-like on them.
Available in bronze and gold finish, these are the best tables to decorate a modern fashionable living room.
If glass is still your preferred table top surface, then why not look into more interesting options like these Tribeca tables.
Their tripod bases give them a slightly mid-century modern look, but there's no shame in that especially if you're designing a contemporary interior.
Unusual Modern Side Tables
Blow is the new brand of a glass side table. No boring thin tops or predictable shapes. Only blown glass and unique proportions.
This one is also complemented by a veined stone base, which makes it a primary candidate for luxury design.
Canna table brings an undefined aesthetic to the room. Is it modern or luxe? It certainly is practical thanks to those high tabletop edges.
When it comes to where to use it, well, you may experiment with different styles and see where it fits best.
Harlekin is a dream coffee/side table/nightstand. Made of reflective surfaces, it will give you plenty of things to reflect on.
Modern side tables are great at multitasking and serving more than one purpose, but never underestimate their decorative power.