A coffee table is a perfect living room accent that can be both functional and decorative. It is convenient as a furnishing, and it can also fulfill the role of a piece of art or a sculpture. Designer coffee tables are often different than mass-produced products. They are more elaborate and unusual. Made to impress, one of these might definitely become a conversation starter in your living area.
Classic Round Coffee Table
Since a circle is a more popular shape for a classic coffee table, let's take a look at some of the modern classic tables with rounded tops.
Marcel Wanders designed this XL coffee table as part of his Mad collection. Aside from an oversized tabletop, it has a bowl-shaped low base that makes for an attractive pedestal for the sturdy top.
British furniture designer Henry Swanzy did his own take on the classic glass top round coffee table using bungee cords and tension.
He created a system comprising three oak table legs, a glass round top, and discs with the connected bungee cord loops that stand together in concert thanks to simple tension.
Ginger is proof that every designer's vision of the same object is different. You can see that in every detail of it, from base to top.
Its base is industrial, almost pipe-like contrasts nicely with a textured and patterned top that looks as if it was made of stone.
Void is a contemporary round glass coffee table with a recessed shelf made of thermoformed Solid Surface.
Conceived by Paul Crofts, the piece is made to display books, souvenirs, and various little decorations. Not at all usual, but trendy design idea.
Unusual Round Designer Coffee Tables
Jerome Spriet and Wolfgang Bregentzer conjured up Acoustable to make music listening easier and more convenient.
See, the hollow base of the table houses a speaker system to amplify sound. Made of a polymer and mineral blend, the table becomes a mobile sound and power system without any visible signs of it.
Inspired by fabric, Nathan Yong's "beautifully engineered" tables look very different from your average round coffee table.
'Drapes' made of metal support the round framed top, and create an entire different look to what could have been just another glass top coffee table.
Jader Almeida specializes in innovative wooden furniture combining cutting edge techniques and the mid-century modern aesthetic.
His Twist coffee table is one of those creations that does not belong to any certain period of time, but it is so beautifully unique, you'll never forget it.
If you're after a coffee table with an eye-catchy base, then Bell by Sebastian Herkner is what you're looking for. Made of colored glass, it contrasts starkly with the brass top.
Bell comes as part of a collection of tables, so if you need a smaller size or a different color, there are more options.
Coffee Tables With Unique Bases
Inspired by the dividing walls found in the hinterland of Liguria, designer Daniele Ragazzo created Concreto, a coffee table with a heavy fiber-reinforced concrete top and a dynamic base made of shards of colored glass.
Overturning the metaphor of life by Montale, which is "a wall topped with sharp bits of glass from broken bottles", Daniele presents a new meaning to it with something fragile being strong enough to support something solid.
Reversing the legs of a typical contemporary table, designer Mario Mazzer created a coffee table that looks unusual thanks to its base.
Sculptural but storage-friendly, Arvo stands out among the sea of contemporary sculptural designer coffee tables.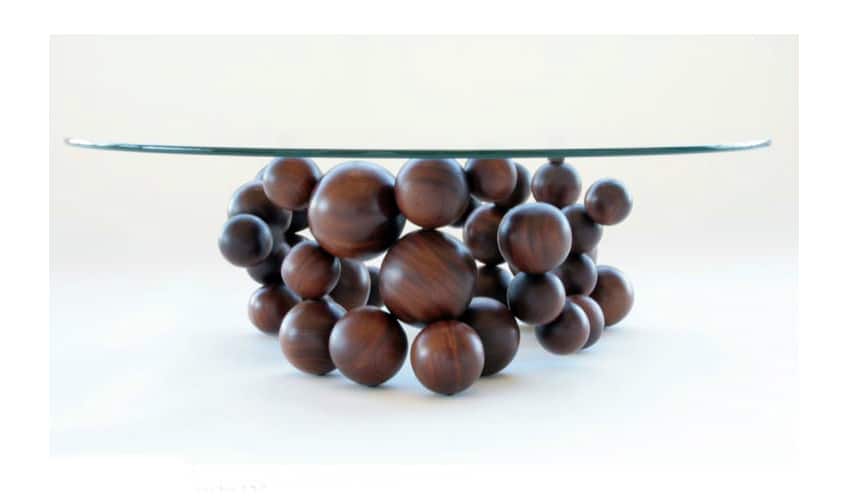 Base is the bulk of most coffee table designs including Float by Liz Boscacci, who was inspired by water bubbles floating on the surface when she made it.
Mahogany bubbles are connected to each other in a seemingly random but circular way to support the generous glass top.
Trompe l'oeil, as he calls it, UP coffee table by Christopher Duffy can definitely confuse, if not completely deceive your visual competence.
A limited edition of these counts just twenty five tables, because of a complicated, time-consuming manufacturing process that may take up to twelve weeks.
Rectangular Designer Coffee Tables
Rectangular coffee tables bring another type of dynamic to decor. Obviously more angular, they make for a smarter, edgier look. They are also best used in smaller, narrower rooms to make pathways more convenient.
Mauro Lipparini went for an industrial look for his Bend coffee table, but added a bit of color and warmth to it with a wooden tabletop. Storage-friendly, it may disguise petty clutter from the public eye, and help keep your home clean and neat.
Designer coffee tables or any other designs for that matter are often one-of-a-kind just like this bamboo plywood creation from Andrei Hakhovich's studio called Gradient Matter.
Inspired by the tree branches, the table demonstrates immaculate craftsmanship, and makes for a very desirable addition to decor.
Some coffee tables are made for the living room. Others would fit right in with a modern office, much like Orson by Brandon Gore.
Described as a "sanctuary for your coffee cup", Orson can also house a laptop, and pretty much help you energize before your work day starts or provide a much welcomed relief during the day.
There is no escaping live-edge trend when talking about designer coffee tables or any furniture, really. It's also hard to find a more exclusive design.
Anton Maka creates gorgeous live-edge tables on golden brass bases that would make any home feel more luxurious.
Trendy Metallic Coffee Tables
The beauty of side tables is that they can easily turn into coffee tables, as you can group them together to achieve a more intriguing look.
Pont Des Arts offers side tables that you'd want to make the center of your living room, and never take your eyes off of again.
What can be more stylish than a low square coffee table made of polished brass? Why, a low square coffee table made of polished brass with green UK slate, of course.
Available in different sizes and finishes, Verdi is a perfect living room item to dress up a modern minimalist dwelling with.
An epitome of contemporary design, Haumea is a coffee table you'd want in your living room, office, and wherever else you can use it.
Designed by Massimo Castagna for Gallotti & Radice, it features a trendy coppered brass base and an extra light tempered glass top sandwiched between metallic parts. The upper detail makes for a storage-friendly element, where you can keep your clutter contained.
Brass is very popular right now and we reckon that it won't really go out of style. Just take a look at this coffee table by Vincenzo De Cotiis Progetto Domestico.
Finished with marble, its irregular shape makes for a very sculptural, artsy look that, thanks to marble, also looks quite luxurious.
Coffee Table Masterpieces
Nils Finne's Sten table is, too, an irregular but attractive shape that attracts attention. Using glass lamination to create layers of low-iron Starphire glass, the designer saves it from being another glass top table.
A clear transparent center shows off an intriguing base support, adding another dimension to the original design.
Greg Klassen specializes in handcrafted wooden furniture fused with blue glass. His works are among the most unique you can find on the market.
With a live-edge element to his classic wooden tabletops, he creates artificial rivers that look so real you'd want to take a plunge.
Looking at this one, you may have a feeling like you've seen it somewhere. Inspired by the movie Inception, designer Stelios Mousarris mixed wood, steel, and 3D printed technology to achieve the Wave City look in miniature.
For the sake of convenience and similarity to the film's bent city, Mousarris kept the wave contained inside the smooth surface.
Aside from his experiments with buoyancy, Christopher Duffy looks to the oceans for inspiration and ideas for his breathtaking designs.
Abyss Horizon is just one in a series of similar coffee tables that look like a 3D representation of a topographical map of the ocean. Diving deep into conversation with a friend over this beauty is a pure dream.
Coffee Tables With Metallic Frames
Each of these enclosed circles is a separate coffee table. But their design is such that they can easily form a bigger albeit interrupted surface.
Though they do look coherent all together, a single table makes for a more space-conscious piece. Available in wood and marble, the round tops may also contrast with solid square bases.
Duotone is a similar style piece with a square metal base and a circular glass top. Enhanced with a matching shelf, the smoked glass ripples beautifully in the sunlight.
The Duotone Furniture Series also includes rectangular tables and tables with the solid shelves.
Rock Metal describes this table by Antoine Morris surprisingly well. Shaped as a rock but made of metal, it looks most unusual.
The muted bright color makes the thin table frame stand out more, showing off its intricacy. And its irregular shape allows more dynamic in the interior.
Debra Folz created a collection of Square Gem coffee tables that are as beautiful as the gems themselves, and are just as precious.
Framed in a stylish steel base, the blue and pink tabletops look as realistic as such things can look.
Marble Coffee Tables
This rotating Copernicus coffee table is a true conversation piece. Made of alabaster, it bears marble-like veins that may deceive the uninformed.
The small balls inside the railing are what allows the tabletop to rotate, and adds a peculiar detail to the furnishing that is as functional as it is decorative.
Riviera Tables by Alfredo Haberli were made of a real Carrara marble, hence the signature luxurious look.
Cleverly designed, the tables are made of separate pieces that fit together just like puzzle pieces.
One type of marble can always fit with another type of marble. And Bethan Gray proves it with this Band two-tone coffee table made with white and black marble.
Brass leg tips and a tabletop ring further adds luxury to the piece, but marble hardly ever needs help to look gorgeous.
Not Your Typical Coffee Tables
Want to combine functionality with even more functionality? Bellila tried and succeeded with their Volcano coffee table that features a planter.
Its polygonal shape is another designing element of the piece. And as if this wasn't enough, its thin wooden tabletop hides additional storage space.
Modular coffee tables are a rarity, but they aren't exactly popular. This Pie Chart System by Hierve is a great combination of products that could serve as side tables or two separate coffee tables, one of which bears a distant resemblance to Pacman.
Smaller pieces of the chart could definitely stand on their own, displaying an angular shape atypical of coffee tables.
If you want your coffee table to blend with the soft furniture, you could use an ottoman in its place or Bigun from Jean Louis Iratzoki.
Bigun takes the best of both worlds – soft and solid – and blends them into one beautiful piece that will definitely stand out from the usual bunch of metals and woods.
Designed by a brilliant group of designers that is Gallotti & Radice, these alien-looking tables would be right at home in a contemporary small apartment.
Designer coffee tables are often expensive and limited, but you may still find some that worth every penny. Others are quite affordable. And there are many inspired mass-produced pieces on the market.