Whether you're remodeling your kitchen or just want to grab some inspiration for the home you hope to move into one day, we've got some unique ideas to grab from today. The ultimate result will depend on your preferences, how the rest of your house looks, and, of course, the budget.
Nonetheless, whether you like the classics or a bold splash of color, we have it all. You can check out our 45 two-tone kitchen cabinets ideas.
Awesome Two Tone Kitchen Cabinets
Having a two-tone kitchen can help give it some dimension and make it less boring. Of course, you don't want to go for clashing colors, but there's an art to everything. Let's check out some of the coolest two-tone kitchen cabinets we've seen.
1. Two-Tone kitchen Cabinets – Rainbow

We're kicking off our list with a fantastic kitchen. While it may not be "two-tone" specifically, we do see a contrast between the plain black upper cabinets and the wonderfully colored lower cabinets. No two doors are the same, and it brights such tremendous energy to the kitchen.
2. Two-Tone Cabinets – Black and Yellow
Next up, we have another fabulous kitchen that mixes in the classic black cabinets with a bright yellow. Even more awesome is that some of the appliances are also in the same shade of yellow. Plus, the natural light wood backdrop brings everything together in a beautiful manner.
3. Two-Tone Cabinets – White and Gray Kitchen Cabinets
If you're looking for a more subdued kitchen idea, these two-tone kitchen cabinets make for a modern and sleek look. Plus, look at all that storage space! It's an excellent and straightforward idea that shouldn't be too difficult to reproduce in your own kitchen. Of course, if you don't have the space for this massive island, the floor-to-ceiling cabinets should be enough.
4. Two Tone Kitchen Cabinets – White and Steel Blue
Another modern kitchen comes with a beautiful mix of steel, blue and white. The white is only used as an accent, but it's just incredible. We also love the backsplash that mixes in the kitchen tile's white, blues, and grays.
5. Light Wood Kitchen Cabinets – Two Tone Cabinets
Another beautiful kitchen mixes in white and warm wood shades. While we've seen the white cabinets and cherry wood countertops, we've rarely seen the two shades integrated as they are on this mobile island. It's certainly something that's worth trying out in your own kitchen.
6. Two-Tone Cabinets – Green Kitchen Cabinets
A touch of green can offer a cool splash of color. Of course, we have more than a touch of green to offer here, but when it's mixed with white lower cabinets, it's suddenly a lot more muted. The fact that the table is also the same shade and the chairs are white ties everything in together wonderfully.
7. Two-Tone Cabinets – White and Rich Wood
This time around, we're mixing in the white countertops with the darker shade of wood and the plain white upper cabinets. The light blue tiled wall gives it all a much-needed pop of color.
8. Light Wood and Green Kitchen Cabinets
If you want a genuinely happy-looking kitchen, then mixing in some muted lower cabinets with light wood uppers, and a dash of yellow on the walls will undoubtedly bring you a lot of joy.
9. Black and Wood Two Tone Cabinets
Our next kitchen is absolutely beautiful, mixing in the natural light wood lower cabinets with the black uppers and a gray countertop. The floor truly brings out the beauty of the kitchen to ceiling, wall-to-wall window.
10. Black and Wood Two Tone Cabinets
Grays and whites never go out of style, not even when it comes to kitchens. We particularly love this muted shade of gray here and the white backsplash, countertop, and upper cabinets. The island is also a work of art, while the natural wood of the stools offers the whole kitchen a warm note.
11. Two Tone Kitchen Cabinets – White and Gray
Over at HGTV, you'll find this snazzy kitchen to feast your eyes upon. White on the top, navy on the bottom, and there's marble countertops in between … we love this nautical vibe.
12. Two-Tone Cabinets – Whites and Grays
Here's a more masculine take on a contemporary kitchen with its charcoal finish and stainless steel appliances. What's great are the white cabinets up top that give it a light brightness.
13. Two-Tone Cabinets and Island
We love how the black cabinets at the center aisle make a visual focal point that's both bold and clean in this white kitchen space. There's a contemporary and stylish element to the overall design.
14. Gray Kitchen Ideas – Two Tone Cabinets
Here's a light and romantic kitchen that anyone would be lucky to have for their own. White on top makes the space looks bigger, and a hazy gray on the bottom adds a cool charm.
15. Teal Kitchen Cabinets
This kitchen is a bit more traditional in design, but the pop of teal among the wooden cabinets makes for such a unique and personal addition. It's a bit darker of a selection, so make sure you get tons of lighting if you go with something similar.
16. Green Kitchen Ideas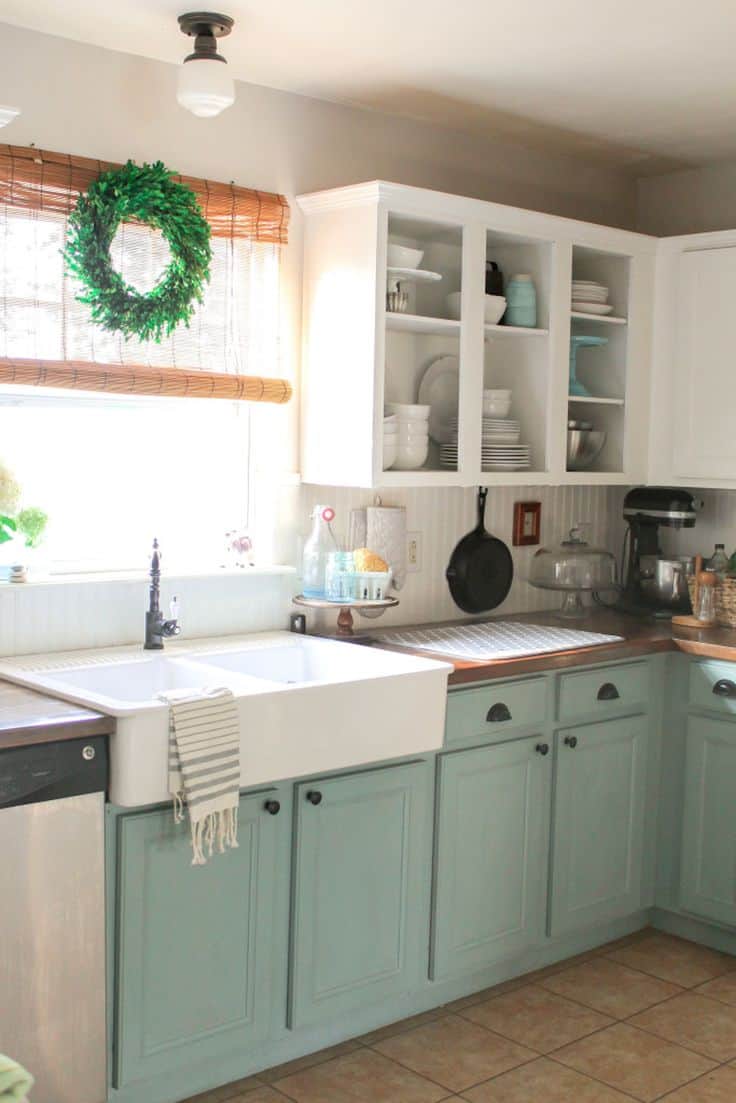 For those that like a bit of femininity and versatility inside their kitchen, this two-tone design may be right up your alley. There's a bit of a vintage, cottage-esque vibe surrounding this space too.
17. Two Tone Kitchen – Light Shades
A personal favorite of the bunch, this creamy and washed blue is quite the beauty. The shabby chic nature of the space also has a very clean, contemporary vibe that works for more modern visions.
18. Retro Two Tone Kitchen Cabinets
If you're one for more country, family-oriented styling, this kitchen may be the vision you're looking to recreate. Except with this snapshot, you'll get some sage and cream cabinets to model after.
19. Two Tone Kitchen Cabinets – Blue Kitchen Cabinets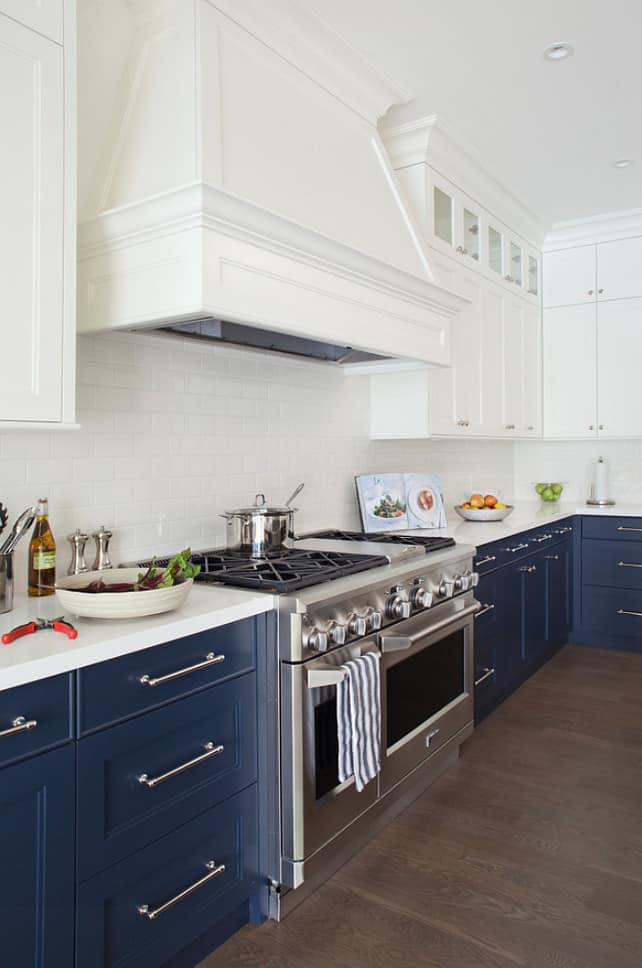 We saw this beauty over at Home Bunch, and we fell in love. There's a royal, contemporary feeling to the space, and we love its brightness and the illusion of more space the white gives.
20. Gray Kitchen Ideas – Two Tone Kitchen Cabinets White and Gray
This super chic kitchen is filled with so much fashion-forward energy. But it's the two-tone cabinets that really make it a unique finish – pairing the stormy blue with the crisp whites.
21. Bright Two Tone Kitchen Cabinets
Blue Door Living inspired us with this gorgeous kitchen peek. The sage cabinets paired with the whitecaps, the marble, and even the magnificent gold hardware make this quite a luxurious design.
22. Light Wood Kitchen Cabinets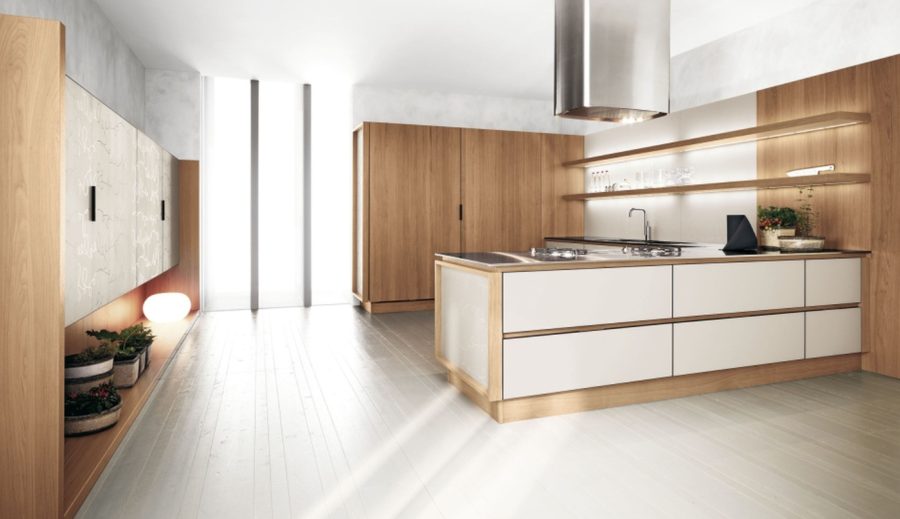 This kitchen will be of great inspiration to those who like contemporary or more futuristic designs. We love the natural wood paired with the slick creamy accents on the chic cabinetry.
23. Gray Kitchen Ideas – Two Tone Kitchen Cabinets
Here's another luxurious kitchen design that will have you weak at the knees. There are so many beautiful layers to this kitchen that only begin with the cream and charcoal cabinets.
24. Two Tone Cabinets
This is a different kind of two-tone cabinet, and we love it all the same. It's subtle, but it's romantic and relaxing, which is what most of us want when it comes to our kitchen design.
25. Two Tone Kitchen Cabinets – White and Navy
Hative has so many wonderful features and inspirations on their page, this blue and white peek is only the tip of the iceberg. Again, the white makes the space looks larger, and the deep blue cabinets at the bottom give it a bold richness.
26. Two Tone Kitchen – White and Dark Wood
We love this retro-inspired, hipster space as well, with its dark wood cabinets on the bottom and ultra-modern white pieces on top. And you have to mention the gorgeous marble island in the middle!
27. Green Kitchen Cabinets – Two Tone Cabinets
If you have a more natural and organic style, then you may want to add a bout of green to your kitchen. This design is clean and straightforward but personalized in a unique way with the pop of color.
28. Two Tone Kitchen
Black and white is always a classic way to go, especially when the floor ties in the two-toned cabinet scheme. Add a bit of yellow, and you have a cheerful and timeless kitchen to enjoy.
29. Two Tone Cabinets
This kitchen design is a bit more contemporary, and we love the combination of cabinetry here too. The window designs up top will help you find the dishes you need, and the washed teal on the bottoms and around the appliances make it.
30. Classic Two Tone Kitchen Cabinets
Here we have a more sophisticated and more traditional design to peek at. We love the creamy center and the contrast of the dark wood cabinets framing the rest of the space.
31. Light Wood Kitchen Cabinets
And now we get a peek at a more unfinished, edgier kitchen design. Two-tone cabinets are beautiful, and this selection is even more unique with its combination of rusticism and contemporary appeal.
32. Two Tone Kitchen
This is just another excellent example of combining traditional cabinet styles with a pop of rustic edge. It has a more masculine feel and a bout of industrialism as well.
33. Gray Kitchen Ideas – Two Tone Kitchen Cabinets
Not every kitchen has to be dressed in white, you can do a more subdued style when you have the lighting that helps to widen the space. Check out this natural, light wood paired with a crisp and rich charcoal shade.
34. Two Tone Kitchen Cabinets – Black and White
Creamy cabinets work well within a variety of styles and other colors. You can see here that it blends in quite nicely with a traditionally styled kitchen and more modern center island.
35. Bright Two Tone Kitchen – White and Blue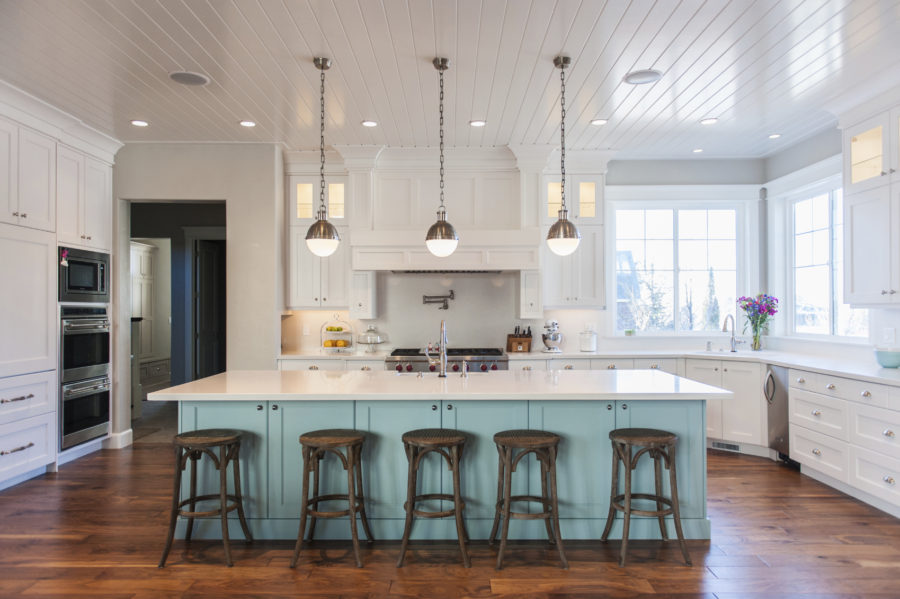 This is my absolute personal favorite kitchen design on the entire list because I love color and brightness. The space is so full of personality with its turquoise island cabinets and functions with its spacious vibe.
36. Two Tone Kitchen
Next up is a another space that has a more masculine edge. Dark wood, slate gray, and deeper-toned countertops all come together to create something more chic and manly.
37. Two Tone Kitchen Cabinets – Wood Cabinets
Chocolate and white can make the same impression as a classic black and white pair. It's timeless and works in both traditional and more contemporary settings.
38. Modern Two Tone Kitchen Cabinets
Here's another two-tone design that's a bit more outside-the-box than what we first think of when imagining different colored cabinets. This kitchen is filled with storage that's actually made of two shades in the most literal sense.
39. Top of Kitchen Cabinet Decor – Frosted Glass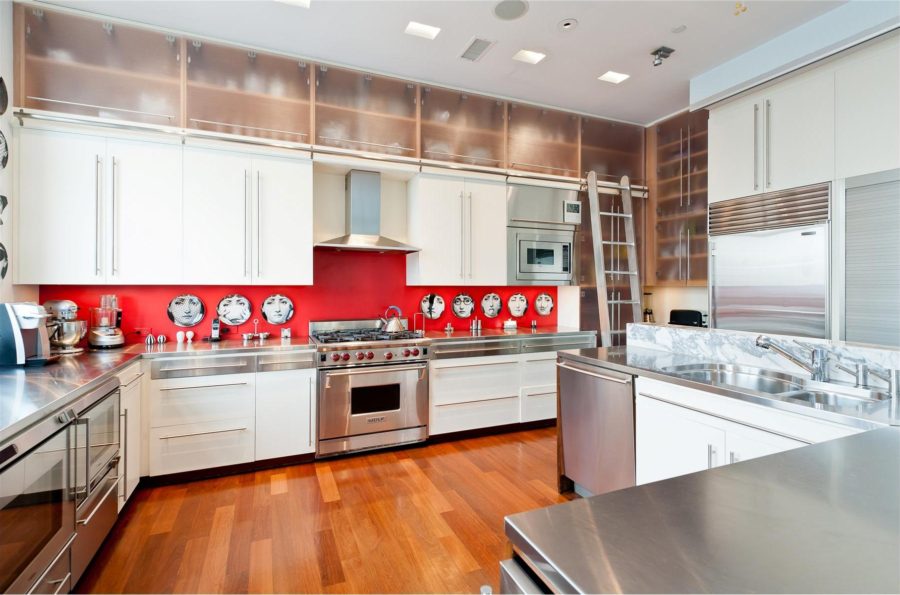 This kitchen is blended with two different kinds of cabinets – chic white on the bottoms, and if you notice, illusion shelves up top. It's a more fashion-forward way to provide storage inside the space.
40. Beachy Two Tone Kitchen Cabinets
Sweet and charming, this small kitchen is sprinkled with a bout of two-tone as well. The white sets the mood, and the blues help to create that beachy vision that's happening here.
41. Sleek Two Tone Kitchen Cabinets
More contemporary is where this kitchen is going, and we love it. Check out the clean lines and how it's mixing with a more textural, dark wood finish down below and on the sides.
42. Rustic Blue Kitchen Cabinets
And if you're not afraid of color, this kitchen is the one you need to grab inspiration from. We love this mix of blues and greens and how exciting it makes the larger space.
43. Painted Kitchen Cabinet Idea
This kitchen is all about texture, making it a much more exciting design than what we're all used to. It's a beautiful mix of old and new styles, making it another very personal way to decorate or renovate.
44. Green Kitchen Cabinets
For color lovers, we have another bit of inspiration for you to take a peek at. It's a more natural color combination and makes for quite the serene spot for whipping up dinners.
45. Two-Tone Cabinets – White and Blue
And finally, another personal favorite, this blue and white combination of cabinets has such a fresh and charming sense about it that your family and guests will be swooning. It's bright and makes for such a welcoming spot in the home.
Final Thoughts on Two Tone Kitchen Cabinets
If you want to give your kitchen more dimension, two-tone cabinets are certainly the way to go. While mixes of whites and grays or whites and natural wood are and will forever be classics, do not be afraid to bring in some color to your kitchen.
In fact, we are particularly in love with all the colorful kitchens, as they help improve the mood of anyone spending time cooking or eating in there.