Add a punch of personality, style and pizzazz to the house with some vivacious additions. It's okay to experiment and use color in and around your favorite spots. For instance, you'll add an extra spark to your home by installing any one of these 40 colorful kitchen cabinets. Have fun and explore different shades and fashion-forward trends!
HGTV starts us off with this charming, seafoam-covered kitchen. Set off with clean whites and stainless steel appliances, we love the bout of subtle color throughout this contemporary kitchen.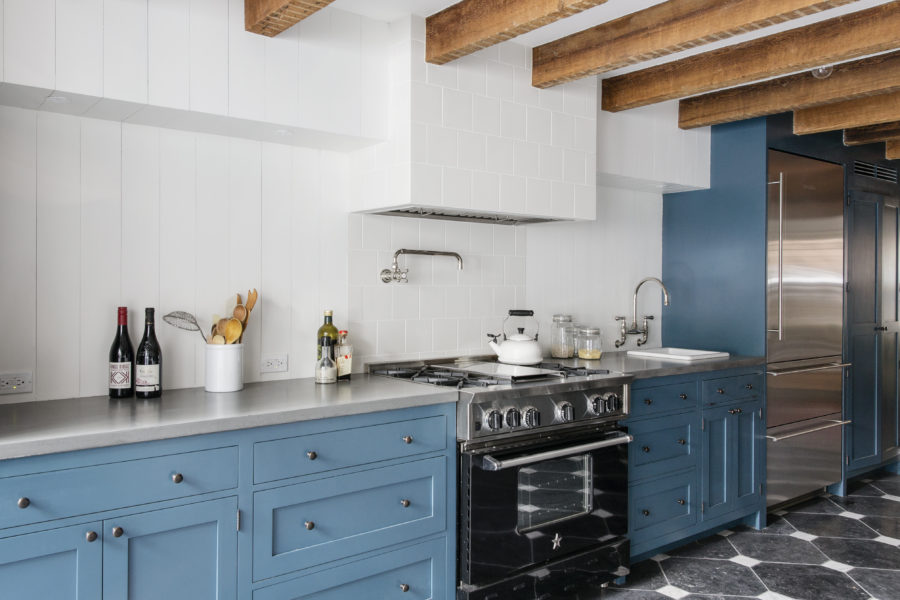 Here's a fun kitchen from Porch that we're getting lots of great ideas from. The rustic and contemporary mix but that blue is where are eyes are dawn too. It's a subdued blue that evokes a rainy day full of romance and inspiration.
Cliff Kitchen featured this deep teal kitchen and we again instantly fell in love with the blending of two styles. We have a clearly modern take surrounding the cabinetry and appliances but some retro vibes are thrown in too with the décor.
Are you inspired by minty green? Check out this kitchen from House Beautiful that's filled with some pastel sage and lots of cottage charm. The small pops of pink offset the entire space quite nicely too.
House Kaboodle made us swoon for this rustic, robin's egg blue kitchen. Those cabinets are filled with so much personality and color too. A bit of distressing and stylish, country vibe come together quite nicely here.
A rich, sapphire blue works well inside the kitchen too. Just look at these gorgeous cabinets we found over at House Beautiful! Marble countertops contrast nicely with it and you'll need a lot of natural lighting as well so your kitchen doesn't end up looking or feeling too closed off with the dark tone.
Bright and vivacious, this yellow and crisp white kitchen is full of happy vibes. Check out this gorgeous cabinetry over at Freshmen. Add more personality to the home with a bout of beautiful, sunshine tones.
Lime green can work too, if it speaks to you. We found this little kitchen nook on Pinterest. It's unique and outside-the-box of traditional styles but it's still inviting and functional!
HGTV featured this contemporary kitchen full of space to prep, enjoy and entertain but also full of relaxation. With those sky blue tones you bring in bouts of welcomed vibes and an easy ethos.
Porch sparked some inspiration in terms of utilizing butter yellows throughout the home. This shade highlight the kitchen and also works in a smaller space without overpowering it. It works especially well when playing with natural lighting and natural wood accents.
Maybe orange is something that inspires you. With a lot of personality and a punch of passion, you can highlight your kitchen in a way that brightens every morning and dinner with the family. These colors work exceptionally well with modern, super chic designs like you see here! (via)
HGTV gives us another light blue option that's positively swoon-worthy. We're loving those countertops that play off the easy pastel but we also love how this romantic tone blends well with the light, vintage vibes we're getting from the overall style of the space.
We found these gorgeous, gunmetal blue cabinets on Pinterest and instantly fell in love with how they took a rustic, farmhouse-styled kitchen to an entirely new level. If you have a spacious and open layout then don't be afraid to go with a richer, darker shade in there!
Decoist showed off these turquoise cabinets that are really fun! Of course, they nice and chic throughout this space but it's such a surprising pop of color in an area that we're all used to see classic and basic wood pieces. Here there's a fashion-forward energy making the kitchen a lot more stylish and cohesive with the rest of the home.
You can always go with a pattern, if you're bold enough. These pastels play well nicely making this quaint kitchen not only contemporary but incredibly friendly and inviting. We love how the space is filled with femininity. (via)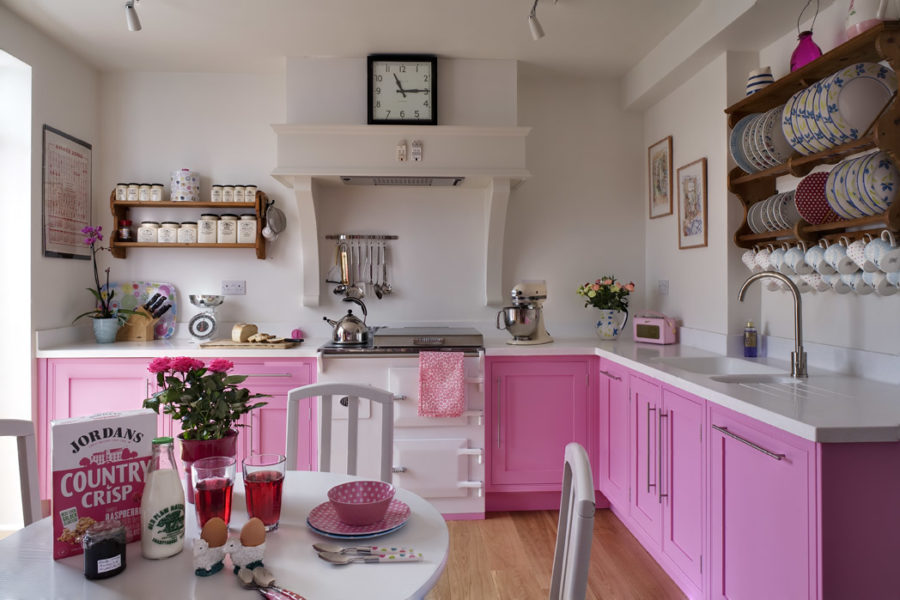 If you're really feeling like bringing in lots of girlish charm into the house, don't be afraid to do it and do it big. Just check out these tasteful and fashionable pink cabinets! It works well in the space, especially since the color stays on the bottom adding extra depth. (via)
Bring in a bit of the outdoors by dipping your cabinets in a natural green shade. Perfect for rustic themes or country visions, you'd be surprised how beautiful the finished product will end up being. (via)
Tiffany blue never looked better than it does in this open kitchen space. We love how gorgeous it plays with the exposed brick and hardwood floors adding a bit of delicacy and charm to a contemporary space. (HGTV)
Here's a beautiful example of a classic red red kitchen that people will instantly fall in love with. There's something about a black, white and red scheme that hooks those building and designing their own space or even revamping an older kitchen, this is a great spot to gather inspiration from first. (HGTV)
Check out these royal blue beauties and how gorgeous they are with that marble contrast! You don't even have to do all of your cabinets in the color, you center pieces could be the only ones you decide to dip. (HGTV)
If you want something more muted, more romantic and fits nicely into a more traditional space. Found on Pinterest, this light blue inspiration shows off how you can choose a color and it still work as a nice neutral inside of your home.
House Beautiful showed off how to use charcoal on your cabinets, which is quite stunning. It's even more stunning when it's offset by a mother of pearl-inspired backsplash, don't you think?
We have another great example of how orange cabinetry can work in real life! Cliff Kitchen showcased this functional beauty and it doesn't even look too outside-of-the-box because it's been styled in a way that's fashionable but also friendly to tradition spaces.
If you're looking for something rustic, farmhouse-inspired or even a bit country, deep, barn house red can work! Just check out this kitchen we found at HGTV. It's full of distressed, red cabinets and funky touches that would ignite an eclectic spirit.
Hazy gray can go along way too. Pinterest found this beauty for us too, and we're loving how muted and enveloping the soft shade is. It doesn't enclose the kitchen, instead just evokes a brighter light when the natural sunlight hits it.
If you're doing something more futuristic or contemporary, why not go with a shade you may have never seen before in a kitchen. Plum or eggplant could do wonders if you let it. (via)
Here's another gray we're loving! But this one holds strong in a more cottage-flavored kitchen. You don't need a modern space to utilize gray and its chicness. (via)
Another buttered yellow that's leaving a mark on our interior design-loving hearts, this kitchen screams home. The yellow evokes a sunshine, happy spirit but the pastel shade makes it a more traditional, family-friendly space. (Pinterest)
Southern Living shows off what it's like to really be bold when styling and designing your kitchen. Emerald green could make the entire space dance in a new way when planned correctly.
This muted teal is nice as it acts like a neutral in a contemporary and trendy space. Apartment Therapy will give you some more details but we love how simple this idea can be.
Even the woodwork and exposed beams in this kitchen are dawning the light, powder blue shade. Thanks to Home Stories, we've become inspired by the black contrast to these blue-hued cabinets.
Callier and Thompson gives us another great example of how dark cabinets can work if you've got a more open space to play with. Black cabinets can provide a crisp, timeless feeling that you'll love for years to come.
Apartment Therapy knows that something gilded is needed somewhere in the home. But we had no idea our entire kitchen could be covered in one of our favorite metallic picks.
Quiche went with lavender and we're loving all the girlish charm here too. It's not pink so it doesn't have as much of a kitschy feel but it's got a quirky, cottage vision that we're definitely vibing with.
Hot pink gives off a Barbie feel that's both bold and just plain fun. Working well with contemporary, sleek cabinets, go big if you want to go with something surprising. It's okay to do something a bit untraditional. (via)
We had to throw in something super funky! Just check out this neon kitchen. The cabinets start off neon green and are topped with a hot pink counter top that nearly blinds us. But as long as it inspires you, embrace the color and have fun! (via)
Dip your cabinets and play with contrast. This kitchen from Freshmen still looks spacious and full of light because the black was left at the bottom and the white was left at the top bouncing off any natural sunlight peering through the cracks.
Finally, our last light blue kitchen of the bunch. Here we see another preppy and crisp kitchen that calls to our feelings of relaxation and poise. Check it out at House Beautiful.
Slate blue could be a sexy and modern way to dress the kitchen as well. Over at Cliff Kitchen you'll find this bit of inspiration along with some other great ideas as well.
HGTV ends us off on a high note. More yellow cabinets with a sleekness that works for both contemporary and minimalistic lovers. But here we will how well this tone works with stainless steel accents!