There's something special about a clean and crisp kitchen that makes morning a bit perkier and dinner prep a bit more fun. We've compiled a list of 40 bright, white kitchens that will inspire you and have you emulating the same looks right inside your own home. From creamy white counters to snowcapped cabinets, let's take a look at these vibrant kitchen spaces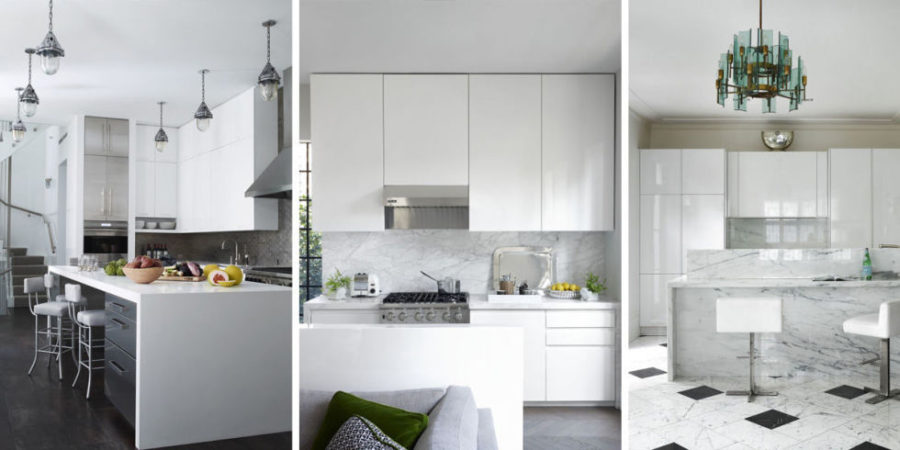 We're starting with three super modern looks we found over at Elle Decor. First up, is a loft-style space with a sweet, edgy masculinity surrounding all of the stainless steel contrasts. In the middle, it's a bit smaller but also a bit brighter with a more soft and feminine touch. And finally, we're absolutely drooling over that stunning marble island and the chicest cabinets around.
Here we have a kitchen that isn't crisp white, but it's still bright and spacious because of the large, undressed windows. It takes this creamy kitchen into new heights in both contemporary style and the illusion of so much more room to entertain.
Check out this white kitchen and its super trendy subway tile backsplash. We love the contrast and interest this brings to the space as well as how it ties in the gray island and stainless steel appliances.
If you're looking for some ultra modern inspiration, then look no further than this chic and clean design. We're also in love with the unique, mustard accents sprinkled around the room.
HGTV made their own list of white kitchens and this one became an instant favorite. The homey value and traditional style make this perfect for a family home.
A bright and white kitchen can include some rich tones as well, including deep hardwood floors and some light sage backsplashes. This kitchen is both cozy and stylishly modern.
If you like more mellow hues and are drawn to golden tones, then a cream-founded white would be more your style. And this kitchen really shows off that how to spin it with an eclectic topping.
Over at HGTV, we found this beauty too. Topped off with a rustic flavor, this white kitchen really has the best of both worlds; bright whites and touchable, homey layers.
Who loves powder blue? Add a bit of this pastel shade to your design and give your kitchen an extra pop of feminity and cottage vision.
Sometimes your home may call for some glamorous accents and this kitchen has that same posh touch. From the floor to the ceiling, it's quite the sparkling design.
It's Thirty Three featured this gorgeous shot of a kitchen of our dreams. Fluid cabinets, a rich blue-green tone on the walls and gorgeous chevron hardwood floor come together to make a bright and welcoming space.
Your galley-styled kitchen will look the best in a bright white color. It'll open up the small hallway and give you a breath of fresh air in an otherwise small and closed-in space.
Luxury can be placed in the kitchen too and it's evident in this creamy kitchen right here. Creams and grays – as well as browns and grays – are trending in the interior design world, it's quite the relevant duo.
It's hard not to fall in love with the rawness of this kitchen design. Rusticism mixed with eclectic design trends, it's a beautiful piece to emulate.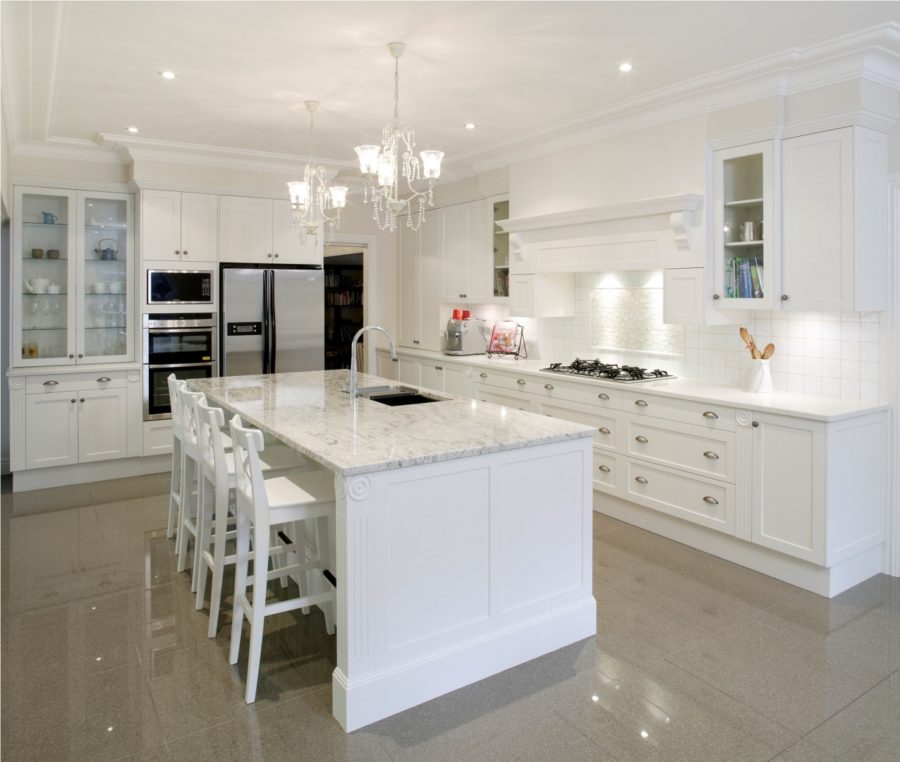 Here we have another kitchen that works inside a variety of homes. It's family-oriented but it's also ultra feminine and has some glam elements as well.
HGTV showcases this classic kitchen as well. It's full of layered whites and it has a gorgeous and delicate vintage style that we're drawn to.
Texture and personal accents, this white kitchen is one of the most authentic of the bunch. It looks as if it was placed inside a real, working family home and we love every last details.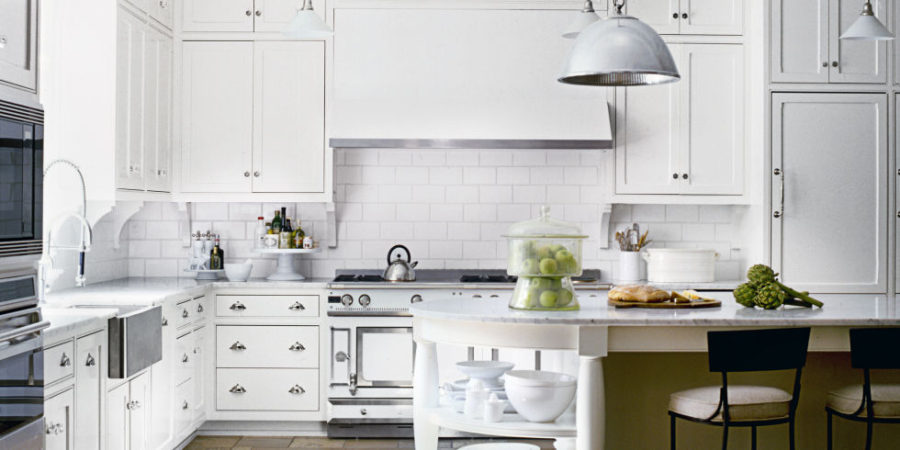 House Beautiful found this trendy white kitchen and we had to showcase for one major reason – it has such a funky, urban feel about it. It's more monochromatic in design but it's full of interesting texture as well.
Over at Country Living, you'll find this kitchen that's obviously white at it's foundation but also full of country styling as well. The details make this quaint space incredibly stylish but also really inviting.
Here's another look at a small white kitchen and it's full of fun colors! It's a beautiful example of how you can take a monochromatic foundation and make it your own.
Contemporary is the word that comes to mind when taking a peek at this kitchen. It's innovative in terms of design and it has all the newest odds and ends inside.
The best part of this kitchen are the windows and all of the gorgeous, natural lighting that the space gets. White cabinets topped off with a camel-tone provides romantic air.
Sophisticated and family vibes are sprinkled all around this white kitchen. Hardwood floors, classic cabinets – it's all a timeless combination.
This kitchen is full of holiday vibes and funky innovation. Again, we have a space full of creamy whites but it doesn't make it any less bright and open.
Rustic accents, texture and some personalized details here and there; this kitchen is complete. Sometimes you have to go with what inspires you rather than what naturally "goes together."
There's something quite cottage-esque about the overall look and feel of this beautiful white kitchen. The natural lighting punches up the spacious vibe and we love the basket and taupe additions.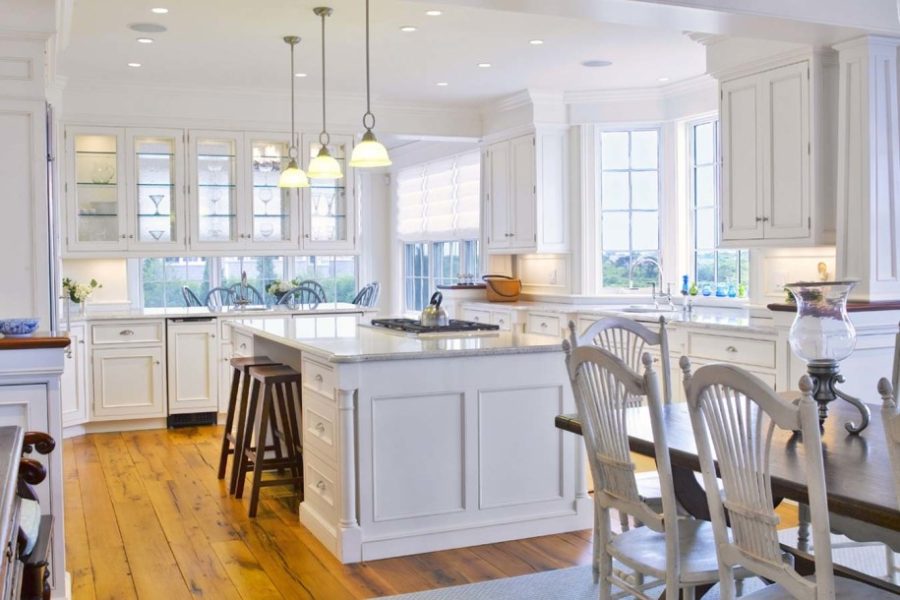 Does this space not scream family to you? There's a lot of windows, gorgeous hardwood flooring, storage for days and space everywhere to entertain.
We're also loving the island vibes accenting this white and vibrant kitchen. And the green really pops up against the crisp and clean white foundation.
Here's a kitchen that's perfect for inspiring a revamp of your own space. It's a bit smaller and more like something you'd find in traditional family homes.
The open theme of this kitchen seems like so much fun. But take the hint and stay organized or it'll just look like a mess – even among a simple white setting.
If you're searching for country styling inspiration, here's another white kitchen that fits the bills. You can have a crisp look even when accessorizing with a more rustic theme.
For those looking to inspire their galley kitchen, this is one of our favorite picks. White keeps things simpler for a smaller space but don't be afraid of a bit of color or contrast either.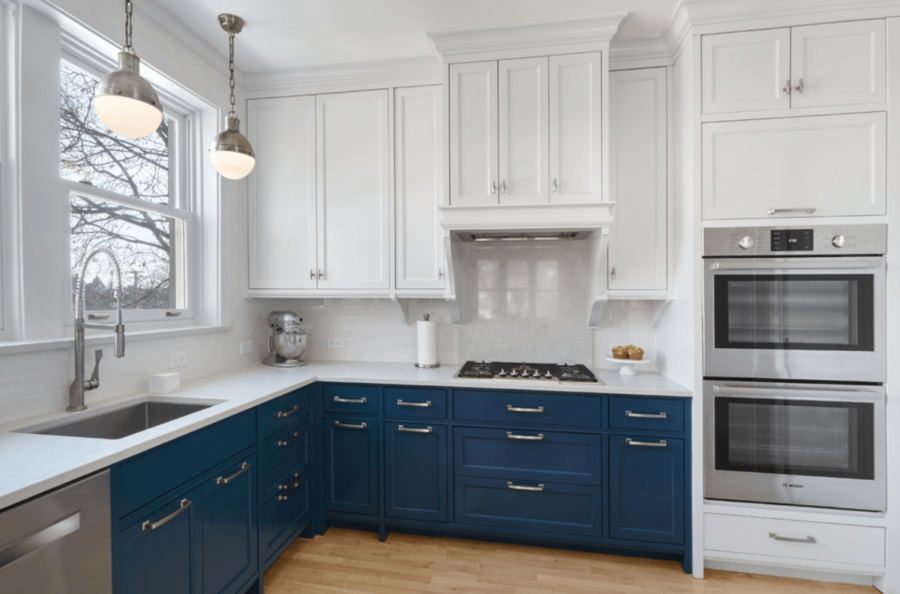 If you're looking to add color to your white kitchen, go with a rich and bold shade. Here's a beautiful example of how to make that happen and add a punch of nautical flavoring.
Check out this on-trend kitchen styling. White kitchens don't have to be dull, boring or barren, you can personalize them to fit your own style and inspiration.
For those with more futuristic and fashion-forward vision, this white kitchen is exactly what you'll want to take a peek at. Just look at the innovation and funky shaping.
Paired with a Robin's egg blue wall, sparkling hardwood floors and texture for days, this kitchen is quite a dreamboat. Just look at that backsplash!
You can have a white kitchen with two-toned cabinets and this peek from The Inspired Room is a beautiful example. And you can essentially pick any accent color.