If contemporary design ever taught us anything, it's that all is possible, experimenting yields great results, and reinventing is important. Designers, following this approach, offer a lot of unique contemporary kitchen furniture designs that make up the most attractive interiors. From cool kitchen island to freestanding kitchen units – you'll find your one true kitchen in this post.
Unique Kitchen Designs
When it comes to contemporary kitchen designs, there isn't a better place to look than Italy. Italian designers and manufacturers look to envision completely different yet functional kitchen furniture. Minimal kitchen storage units with in-built technology may be the latest trend in kitchen design, but it's not the only one.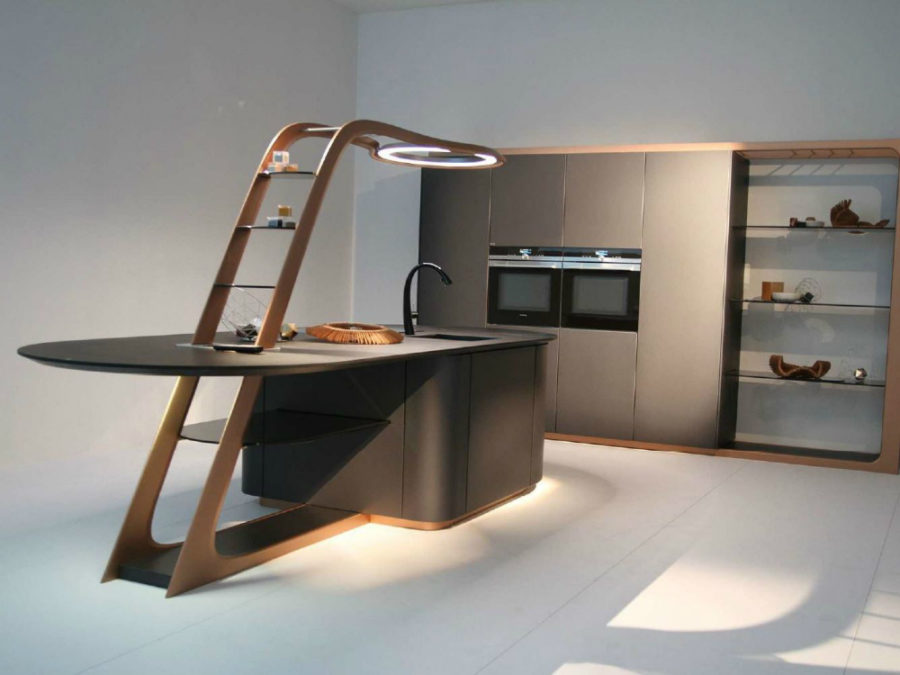 You can find all kinds of unique on the market – from the retro-futuristic Sant Louis to the freestanding Tivali. If you want to feel like a designer, Lago may be a good choice. And, no, that's not a typo.
In contemporary kitchens, sleek islands, that morph into dining tables, have become a staple. But what about good ol' cabinets? Well, many a manufacturer try to reinvent the classic furniture element, and the results are, at times, simply stunning.
Contemporary Kitchen Cabinets
Forget rows and rows of boring overhead compartments. Try these designs made of glass, Corian, or glossy laminate. Half open or completely transparent, modern cabinets are now an integral part of aesthetic rather than just function.
Glass kitchen cabinets are especially popular in contemporary design, because they promote that sleek aesthetic. Their downside in transparency, though, may very well be turned into a virtue with just a few styling tricks.
As much as the upper cabinets fell out of favor, there are still designs that incorporate them. Just don't expect cottage style shapes. Think style of Fun cabinets from Snaidero or Contempora from Aster Cucine.
Contemporary Kitchen Islands
Kitchen islands have also been an integral part of contemporary kitchens for a while. They're beautiful, they're convenient. And there aren't many furnishings that can include so many functions at once. Versatility is their main virtue, however. We're especially enamoured with D90 design by TM Italia.
Modern kitchen islands and peninsulas alike have everything from hidden storage to bar counters to tool racks. And every new function informs each new island's design.
You can also never do wrong with a marble countertop, though it's far from being your only option. Experimenting with contemporary kitchen furniture designs led designers to introduce such innovative materials as compact laminate, melamine, Corian, and more.
Kitchen Tables
Kitchen table, while largely replaced by a kitchen island or peninsula, still has its place in the room. Considering the fact that many kitchens combine cooking and dining, a table must be the second most important furnishing in the cook room.
While many decorators choose to separate the cooking and eating areas, manufacturers offer a combined version. For instance, kitchen Kalea has an island with integrated tabletop that allows both working and eating. Boffi makes a case for a huge kitchen island table that may not be as practical as an island, but definitely looks most impressive.
Look kitchen from Snaidero offers a variant somewhere in between. It places a glass dining table at the edge of a kitchen unit, which still makes it a part of the kitchen's layout.
Contemporary Kitchen Units
Since many contemporary kitchen furniture designs are made to be sleek and minimal, kitchen units get more attention than cabinets. These bring about modernity and style to the kitchen. Lack of additional countertop material expenditures is one of the more practical advantages of these monolithic units.
An arrangement of a few units and kitchen island is the latest trend in kitchen design. Those can be integrated into walls or stand out like wardrobe closets.
Some of these units may have open shelving for some decorative display, while others will hide anything and everything from pots and pans to food products.
Contemporary Kitchen Shelving
Speaking of shelving, it can be much more versatile than a floor-to-ceiling design. For instance, SieMatic put a brilliant twist on both open shelving and a contemporary minimal kitchen unit with an inbuilt oven. Combining the two makes them look less predictable.
Options are limitless, when it comes to this simple type of storage. Metallic shelving is very much popular right now, because it fits so well into the industrial style kitchen design.
A few rows of floating shelves can, too, become a fresh storage idea in a more sophisticated cook room. Glass shelving, for instance, is great for displaying your tableware.
Contemporary Kitchen Storage Ideas
Contemporary kitchen furniture designs work well for storing things. They can look sleek and organized, but they can also offer you a chance to create beautiful display arrangements. Think overhead ceiling shelves or glass cabinets.
Every furnishing in the kitchen can have a storage option. Check out the Timeline kitchen island with integrated shelves from Aster Cucine. Simple but brilliant!
Contemporary kitchen furniture designs aren't always about function. There's plenty of different aesthetic and style mixes to find.