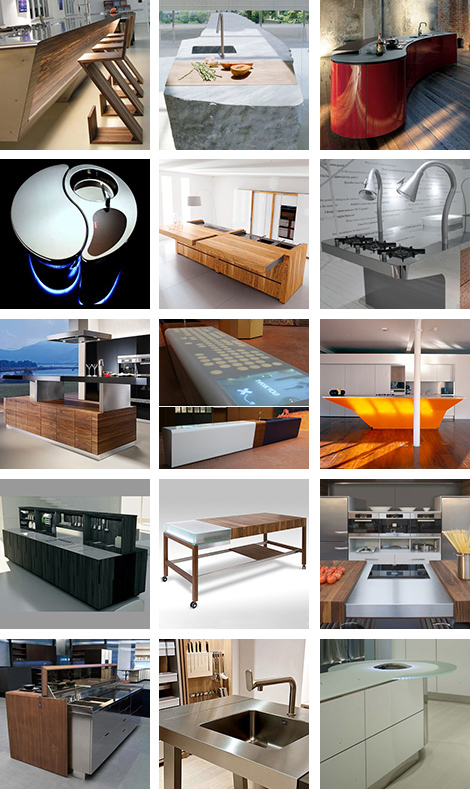 Cutting-edge kitchen island designs demand creativity – fittingly, and so do your clients. As a contemporary designer, you want to make a dramatic impression while creating innovative solutions to your kitchen design dilemmas. As an architect, kitchen islands become aesthetic centerpieces for the space. Modern innovations in kitchen appliances and materials mean your only limit these days is your own imagination. Here are our top picks of the latest, most innovative, tech-savvy, unusual and amazing island designs that are sure to inspire you. Enjoy the pictures and ideas!
Great Architectural Presence: Substance & Style
Futuristic Kitchen Island Design – Flying Kitchen
The Flying Kitchen from Unikat is your country kitchen gone wild! It's wood with attitude, and a super sense of style to boot. This futuristic design hailing from Germany features a substantial island of wood, wrapped in sleek stainless steel for an aesthetic that says "welcome" and "check me out" at the same time.
Unusual Kitchen Island by A-EM Architects
A perfect example of how you can make an island into a statement – with great architectural appeal – is this unusual design by London-based A-EM Architects. This contemporary kitchen island has been described as "a bright orange liner gliding across a sea of deep rich walnut." The design is country-cum-urban, once again boasting this trendy combination of old and new, tradition and innovation, side by side.
Luxury Kitchen Island – Solid Stone
A very long, solid stone island on these photos is a fascinating modern design by French architects. If you're looking to make a sumptuous style statement, doesn't this awesome luxury island just say it all? Pictured here in a luxury mansion designed by Paris-based Jouin Manku, the aerial images of this raw slab show the power of nature in your decor space. The island's gently veined shades of gray and the rough-around-the-edges shape create a raw yet refined finish to the modern culinary space. It would be a sin to have this spectacular, gorgeous hunk in your home and not have it at the heart of it all!
Technologically Advanced Designs: Awesome & Automated
Latest Kitchen Islands from Toncelli operate from push-button
The Essential kitchen island from Toncelli is a prime example of how you can combine aesthetics and automation into one striking design. Featuring photoelectric cells and push-button automation wrapped in rich olive-wood construction, you'll be amazed at how simple your culinary chores can be. With the push of a button, slide the wooden countertop out of the way to reveal your stainless steel sinks, prep and cooking areas underneath, literally putting extra counter space at your fingertips.
Remote Controlled Kitchen Island by Ernestomeda
When a clean-looking kitchen is as important as a functional one, this clever remote-controlled island by Ernestomeda lets you have your cake and eat it too. Behind its stately facade of American walnut, the island conceals a motor that opens its worktop to reveal a stainless steel sink and food prep area. The smart mixer faucet pops up as the cover is raised, and tucks away as the cover closes. Move over modern, the future is here!
Illuminated Kitchen Island Quick Silver from GeD Cucine
How's this for shedding some light on modern innovations? Check out the new Quick Silver illuminated island from GeD Cucine. The Italian company created this cool lit-up kitchen island with a real minimalist appeal. Its simple lines and sleek, featureless finish lets the spotlight shine on the most unique feature – the soft glow emanating from within the rounded table integrated at the end of the bar. The glass runway continues half-way down the bar, where stainless steel takes center stage and the cooktop and prep areas are located.
Corian Kitchen Islands from Saporiti Italia
When the ordinary just won't do, wow them with the Sedna_K island from Saporiti Italia. This cool kitchen island design really speaks to our design sensibilities, and it'll speak to you too. The designers used the Corian countertops in an innovative way, exploiting its transparent characteristics to reveal illuminated patterns and friendly messages like "Thank You" for a truly customized culinary center.
Motorized Kitchen Island from Binova hides it all
You'll see that modern style is on the move, and versatility is the key to a contemporary kitchen. The Anima motorized island from Binova moves with your needs, thanks to its integrated motor that raises the double-sided cabinet from deep within it, revealing all your essentials for meal preparation and enjoyment. Designed by Emanuel Gargano and Marco Fagioli, this cool concept incorporates TV monitors, CD and DVD players, and even a mobile bar. Not too shabby, for an island.
Kitchen Workstation by Schulte designed for bloggers 😉
Defining the kitchen space as solely a culinary center is tough, with homework, socializing and everyday tasks cluttering your countertops. Your solution is this workstation by Schulte Design, an innovative kitchen island that makes room for tech equipment – your laptop, iPod, and accessories – tucked tidily beneath a stylish, illuminated sliding milk-glass enclosure that keeps your equipment safe from spills while keeping your kitchen safe from computer clutter. And because it's mounted on lockable wheels, the workstation rolls with your requirements.
Kitchen Islands with Magnetic Sensors by Schulte
Designing a "smart space" is as important as designing a stylish one – that much can be said when it comes to kitchens. The Schulte Grace kitchen island by German designer Franz-Josef Schulte makes practicality pretty. This contemporary design uses rich, solid wood that slides open to reveal a sleek cook top operated through a sophisticated magnetic field which responds when a pot is placed on the stovetop. Integrated electrical sockets, a grid tray and a cutlery drawer are handy, and the wood surface slides closed to create a table for eight. Available in oak, beech, European cherry, American walnut and black cherry, this stylish island will have your guests begging you for seconds.
K7 Kitchen Island by Team 7 is height adjustable
Talk about custom kitchen! The nice thing about the K7 island is its adjustable-height worktop – no matter who's doing the cooking, this cool island is automated to bring the counter up (or down) to your level. Lowered, its top is ideal for kids and casual dining. Raise the counter for a comfortable food prep area. At it's highest, K7 makes a great bar for entertaining or dining on the go. Some more cool features are those you can't see – the convenient sink cover, retractable taps, and drawers with touch-sensitive surfaces. Last but not least, style doesn't play second fiddle to function. This gorgeous island features wooden storage areas, sleek glossy surfaces, and stainless steel fixtures for a modern look. Available in seven varieties of natural wood, the K7 kitchen island reflects your unique sense of style.
Dare to be Different: Beautiful and Amazing
Japanese Compact Kitchen Island "Nobody" from Toyo
Just because a kitchen is small doesn't mean it can't be sweet. Try the "Nobody" island by Toyo on for size. This modern Japanese design is a two-parter – a sculptural Yin and Yang that can be arranged to suit your space. Open it up for entertaining, close it up for a clean, compact look. Featuring three electric cooking rings, a stylish and spacious circular sink and plenty of space for all your kitchen gadgets, the Toyo "Nobody" is your urban essential.
Poetic Kitchen Alessi from Valcucine
Alessi, known for its cutting-edge, contemporary design, has made its own modern contribution to the kitchen with the Poetic Kitchen Island from Valcucine. Smooth curves and sleek lines bring balance and grace to your culinary space. Gone are the days when the kitchen was a utilitarian space – style it up and enjoy cooking in supreme elegance. The shape of the Poetic island is not only aesthetically appealing, it also creates an efficient flow and plenty of counter space to slice, dice and prep your culinary creations. Sophisticated square hubs and a pair of contemporary circular sinks blend form and function with gorgeous results.
Bulthaup B2 Minimalist Kitchen Workbench
The Bulthaup B2 Kitchen Island is a marvelous minimal design. Apart from its simple, sleek looks this modern kitchen must-have actually minimizes time spent tidying, so you can focus of the task at hand – cooking, and enjoying the fruits of your labor! This awesome kitchen workbench puts everything you need right at your fingertips, wherever they may be (this kitchen fixture is easily places, thanks to its slim structure – bonus!). This minimalist island comes wrapped in a simple design of stainless steel, with an integrated stainless steel sink with an art-inspired faucet that is industrial meets beautiful.
Modern Kitchen Island from Schiffini
You've never seen anything like this before – this modern island comes to life with futuristic flair. The Haebereli island from Schiffini is an attention-grabber, so if you're looking to make a modern statement, this is the money shot. This innovative design boasts a linear sequence of work areas; a prep area, a cooking area, and one for relaxing and eating – all the vitals – with four task lights emerging in each corner. The piece is wrapped in a stunning mix of natural wood, stainless steel, and textured copper that gives it a warm, welcoming appeal.