Instead of an ottoman or a slew of poufs, focus your relaxation and seating around a different kind of piece. These 45 large coffee tables for your spacious living room will add gorgeous appeal and function too!
Which one suits your living room? Well, that's up to you and how your living room looks, what fits best with your overall design, and, of course, your personal needs. Check out our favorite finds below!
Best Large Coffee Tables
Let's start checking out these awesome large coffee tables that will hopefully work with your living room design.
1. Redwood Large Coffee Table
This absolutely stunning redwood coffee table has a juniper base. You can also get this beautiful design made with other types of wood. The most beautiful part of this large coffee table we found on Houzz is that the pieces are put together in such a way that they simulate the banks of a river. It's clearly an artistic statement piece.
2. Large Glass Coffee Table
This next table is also quite stunning. Found on Etsy, this oval large coffee table is custom made out of MDF with 30 mm walnut coating and 8 mm unbreakable tempered glass. It features numerous ovals layered on top of each other. It's a stunning piece that will look beautiful in any living room.
3. Cross Legged Large Coffee Table
Found on Wayfair, this solid wood coffee table will hold everything you want and then some. It's a perfect pick for any home, especially those looking for a rustic aesthetic. The table is made out of wood and metal and the legs are X-shaped. The black color on the legs contrasts perfectly with the light-colored wood. Since this is natural wood grain, each table is slightly different.
4. Large Live Edge Coffee Table
Since they're all the rage these days, this stunning live edge large coffee table will make a perfect addition to your home. The wood slab is covered in resin and placed over metal or wood legs. The coolest part to this Etsy table is that you get to customize exactly how you want your live edge table to look. However, this also means that it will take a while to get your table delivered.
5. Large Soft Coffee Table
We found this awesome coffee table on Wayfair and it comes in two different colors – beige or gray. The tufted creation will work as both a coffee table and a comfortable seat, should you need it. Also, it can double as an ottoman. As far as how it was made, it is upholstered with fabric, has a solid wood base, and looks like something we want in our room.
6. Oversized Elegant Coffee Table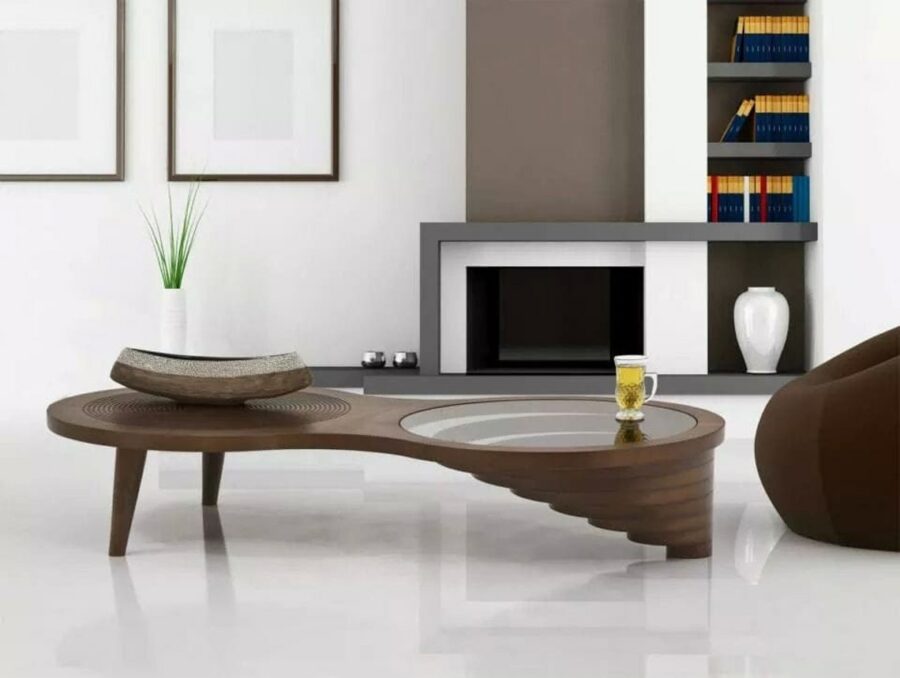 Up next, we have this wonderful coffee table from Etsy. It's made out of processed MDF material with 30 mm walnut coating. Furthermore, one of the sides has an 8 mm unbreakable tempered glass, so you can rest assured this table is safe even in a home with small kids.
7. Two-Tone Large Coffee Table
Designing Idea starts us off with this two-toned, classic beauty. There's enough space to use for entertaining and to style. But it also fits right into a traditional, family home with taste.
8. Long Coffee Table
We're positively swooning over this double coffee table find. Mixed material and full of space for the family to enjoy, they may be one of our favorites. (via)
9. Large Wood Coffee Table
Just because its wood doesn't mean it's rustic or country. This design right here proves that a wood piece can be a classic, modern piece as well. (via)
10. Oversized Coffee Table
But, if you do want a classic, traditional coffee table, this is your find. Thanks to Pinterest we found this beauty and were immediately inspired by it's styling and contemporary blend.
11. Large Modern Coffee Table
But Pinterest had this one up their sleeve too. It's another wooden piece with contemporary lines and a modern structure that will stand the test of time.
12. Modern Living Room Table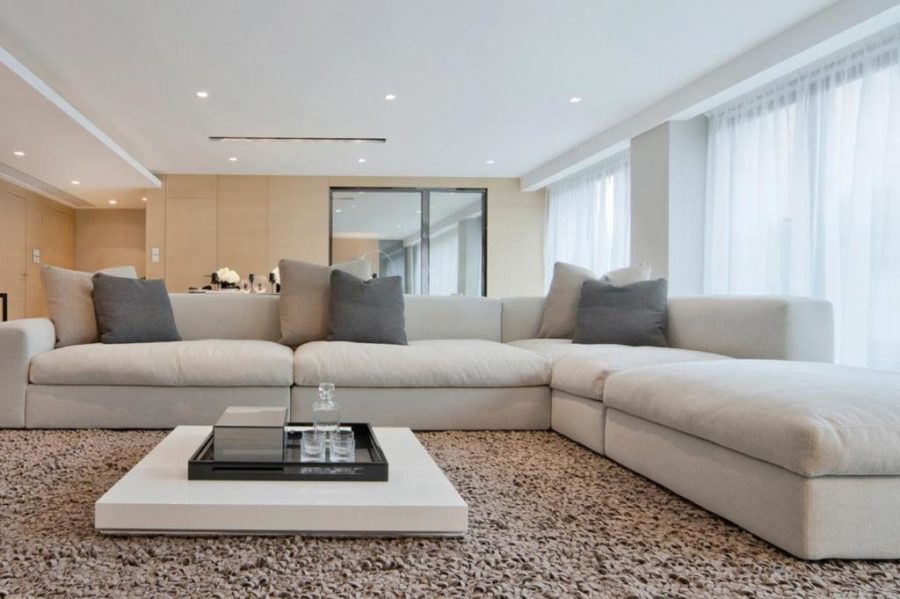 Low to the ground but contemporary and chic, this white beauty could help transform a lot of living spaces. Again, it's both functional and easy to style. (via)
13. Large Wood Coffee Table
Decoist inspired us with this rustic, luxurious cabin. But that coffee table in the center really took us over the top with its artistic, country spark.
14. Long Coffee Table
We visited Decoist again and found this beauty. It's large and elongated and we love its unpolished, organic edges for those that love a bit of rawness.
15. Large Modern Coffee Table
Sometimes rounder is better. And this retro, mixed material blend from Lonny is just another beautiful example of how something a bit more eclectic and offbeat can fit easily inside your home.
16. Unusual Coffee Tables
You can always learn how to make your very own coffee table, in the styling of your choice. And if that choice is a bit rustic and country then DIY Showoff will show you how.
17. Interesting Coffee Table
Liz Marie went with a unique choice as well. Mixed material and a DIY version, this one will look good in the living room or on the back porch.
18. Large Coffee Table
But if you need something more polished, this glass and wood creation may be more your style. And thanks to Pinterest it's easy to grab all kinds of similar inspiration.
19. Oversized White Coffee Table
Designs by Katy gave us a bit of girlish glam with this piece. There's just so much opportunity when it comes to styling and themes this piece can fit in. Versatility is key with larger pieces.
20. Unique Coffee Table
Modern and crisp, this architectural piece may be a personal favorite on the list. For futuristic, contemporary or even more minimalistic homes, this is the perfect design. (via)
21. Long Coffee Table
Here's another larger, wooden piece that works inside a variety of homes. More traditional or more modern with a dash of cozy appeal, there are just so many ways to make this work for your specific vision. (via)
22. Unusual Modern Coffee Table
jagnew featured this metal coffee table and we instantly fell in love with its originality as well. It pops nicely against a lighter, neutral background as well. And don't worry, it easily can stand alone as the focal piece.
23. Big Coffee Table
As we always say, black and white is always a good idea and will never go out of style. That includes coffee tables, especially when they are this chic. (via)
24. Modern Living Room Coffee Table
It's also hard not to feel a bit inspired by this acrylic and wood piece from Lee Lee Designs. Put it inside your masculine home office or inside your traditional living room, it works every time!
25. Large Modern Coffee Table with Storage
How about a chic piece that also has storage. Living Room Design had us cheering over this modern design you can fit your books, Blu-rays and even the kiddo's toys inside!
26. Large Wood Coffee Table
Not as large as some of the other designs on the list, but still bigger than the average, we're loving this mid-century modern coffee table. Thanks for the inspiration Zillow!
27. Large Modern Coffee Table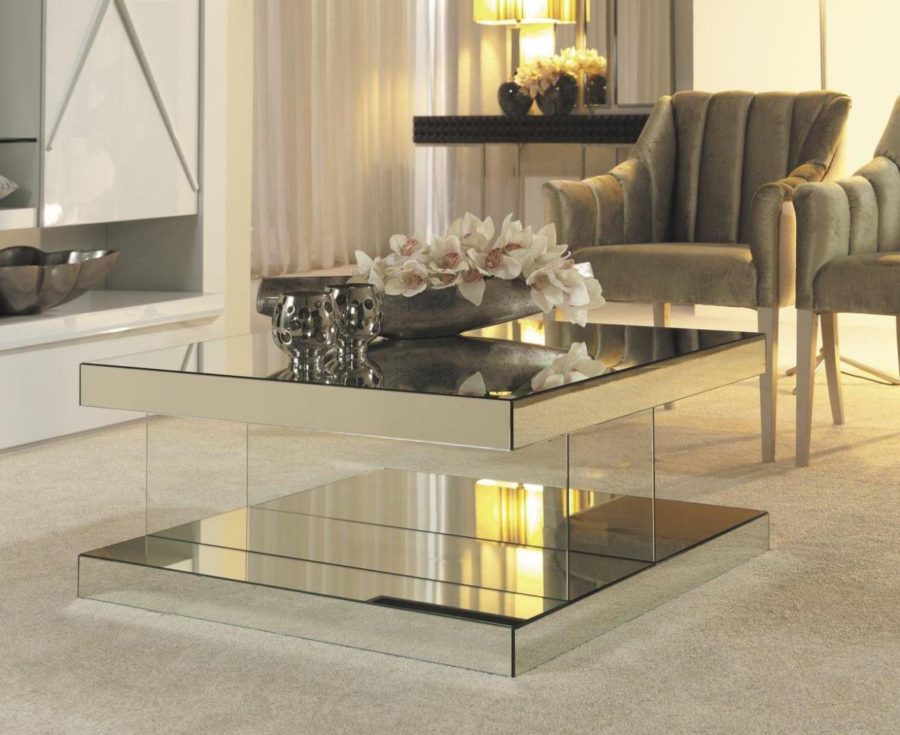 The Design District had this mirrored piece featured and we grabbed it too. It's not every day that our coffee tables are this glamorous, and why not?!
28. Large Wood Coffee Table
A curved bottom and a traditional top, this wooden piece is full of artistic value. Wood always adds a subtle, welcoming vibe no matter its style. (via)
29. Unusual Coffee Table
You can even find these larger, mid-century modern pieces on Etsy. Finish off your vision with a table that's a bit quirky and not so inside the lines of traditional decorating.
30. Glass Coffee Table
Cothia had a glass piece we love as well. Of course, it's not the most family-friendly, but it sure is pretty, don't you think?
31. Rustic wood coffee Table
Why not add a coffee table with wheels to the mix. It makes the design even more functional and enjoyable for the family. And we found this great ideas from Lushome.
32. Unique Coffee Table with Mirrors
And because we loved that other mirrored piece so much, we had to feature another one! There's just something so glam and fierce about adding this kind of design to the home. (via)
33. Coffee Table with Seating
What's so great about this setup is that you truly get the best of both worlds. A gorgeous and cozy ottoman underneath and the function of a coffee table stays on top! (via)
34. Big Coffee Table
If you're into retro designs, than this large coffee table will be right up your alley. Interior Home Design knew that we'd love the storage opportunity as well!
35. Modern Living Room Coffee Table
HGTV gave us those slender legs and the crisp, white tabletop. And we're in love with the versatility behind this design too. Inside a more feminine space or one that's more subdued, it'll work wherever you want it to.
36. Square Wood Coffee Table
City Farmhouse showcased this beauty as well. Those wood pieces sure know how to warm up the room without taking away too much of the polished vision.
37. Large Modern Coffee Table
If you want something darker or more mysterious, then you need to check out designs in deeper colors. This black, circular piece will definitely get the job done. (via)
38. Modern Coffee Table
Zuri had a design that combined contemporary style and function seamlessly as well. The lines are modern but there's space for a bit of storage as well – perfect for family homes.
39. Unusual Coffee Table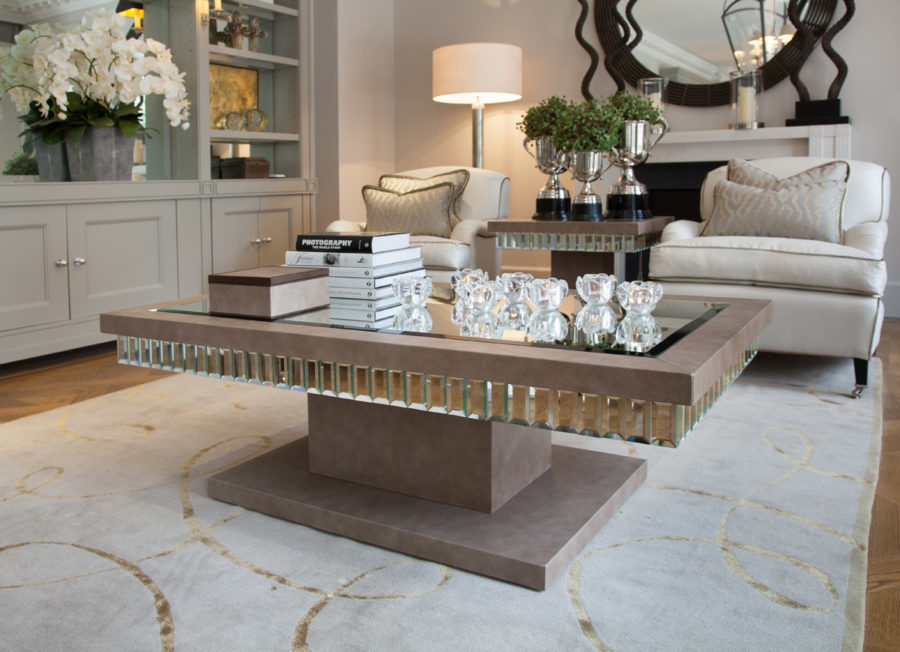 There's something so interesting about this coffee table design and all the materials used to create it. We love that it becomes its very own piece of art for the room. (via)
40. Large Modern Coffee Table
Storage, display space, and clean lines that will level off a crisp, modern home, it's hard not to fall in love with this piece either. It contrasts well but will blend nicely too. And it'll fit inside smaller homes without trouble. (via)
41. Tri-Toned Modern Coffee Table
My Italian Living gave us this three-tired design and we love the innovation behind it. Ombre is trending, even in our furniture and especially when combined with contemporary style.
42. Living Room Coffee Table
Here's another architectural, modern design that is just as much a piece of art as it is functional for the home. You don't even need to use it as anything other than a focal points. (via)
43. Long Wood Coffee Table
Pinterest always has great finds, remember? And we found this beauty while sifting through all the wonderful ideas. It's big enough to compliment a larger space and fits nicely into a more cottage-inspired theme.
44. Large Modern Coffee Table
There's so much to love about this space. The contrasting tones but that large coffee table in the middle is again, a versatile design to style to your own penalization. (via)
45. Big Square Coffee Table
And finally, we leave you with the best of all worlds. It's modern, it's rustic and it has wheels making it's more family-friendly for the house! (via)
Final Thoughts on Large Coffee Tables
Large coffee tables are certainly a requirement for many homes, either because a smaller table would be oversized by the rest of the furniture or the room itself, or because there are simply too many people in the house to justify crowding everything on a tiny table.
We love our selection and found quite a few pieces to put on our own shortlist, so we'd love to hear which ones you liked best.