These are 24 of the coolest, most modern European kitchens you will ever see. With brand names like Snaidero, Schiffini, Demode, Valcucine, Scavolini, Archlinea and Rossana, no one should be surprised. After all, they are the undisputed masters of kitchen design. No matter what your style, no matter what your taste, from industrial chic to haute couture – these kitchens will rock your world.
SNAIDERO
1. Ola 20 and Ola 25 Limited Edition


Snadero's audacious Ola20 and Ola25 Limited Edition have more attitude than any kitchen you've ever seen before. And a little help, in the case of Ola 25, from the design house Pininfarina.

SNAIDERO
2. Orange Evolution


With Snaidero's Orange Evolution kitchen, all the essentials are presented in a refined style – for the refined individual. Don't you love how the wall flows into the floor?


SNAIDERO
3. Code Evolution


Snaidero's Code Evolution is a strong blend of contemporary and retro – industrial vintage at its very finest. The floors in this kitchen make a strong statement and set the tone.


SNAIDERO
4. Frame


Snaidero's Frame is a shining example of urban aesthetics – clean lines make for industrial chic kitchens. And a great places to entertain.


SNAIDERO
5. Idea


Snaidero's Idea is simply elegant – there's no other word to describe the sleekness and the motion of this no-nonsense kitchen. Smooth surfaces seamlessly marry hard corners in this contemporary design.


SNAIDERO
6. Elle


Snaidero;'s Elle, a compact and minimalist design has an unusual feature – no high-hanging cabinets. An unusual choice that works in this modern space.


SNAIDERO
7. Acropolis


Snaidero's Acropolis is a self-contained circular kitchen – best positioned in the center of the designated kitchen space. And the view doesn't hurt.


SNAIDERO
8. Board


Snaidero's Board is a compact solution for smaller spaces – and a welcome addition in a market segment that is sometimes under-designed. This kitchen unit is design savvy – and customizable, too.


SNAIDERO
9. Way


Snaidero's Way has flow – with long handles that extend the full length of the drawers, and flush surfaces everywhere you look. A clean, contemporary kitchen with plenty of forward motion.


SNAIDERO
10. Skyline 2.0


Snaidero's Skyline 2.0 is the ultimate in bespoke kitchens with its innovative design and customizable shapes. Not only adapted to your own body but also the space you want to occupy – it doesn't get any better than this.


SNAIDERO
11. Skyline Lab


Snaidero's Skyline Lab is designed people with disabilities, and we do mean designed. Function and style meet in this high-end, low-height kitchen.


ROSSANA
12. Atelier


Rossana's Atelier is one of the highest-end kitchens you are likely to encounter. Tailored to fit, using exquisite materials, this space really is haute couture.


SCHIFFINI
13. Mesa


Schiffini's Mesa is truly built to be the heart of the home, all centered around the long harvest table. Unusual fixtures and adornments make this kitchen a real conversation starter.


DEMODE
14. Meccanica


Demode's Meccanica is essentially a meccano block kitchen – no glues, and simple to reconfigure or even move. Dismantling and reconstructing this space is as easy as child's play.


DEMODE
15. Forma


Demode's Forma is another recyclable room – no glues at all, it, too, is a meccano set kitchen. And by moving the pieces around, you can change up your kitchen without calling your contractor!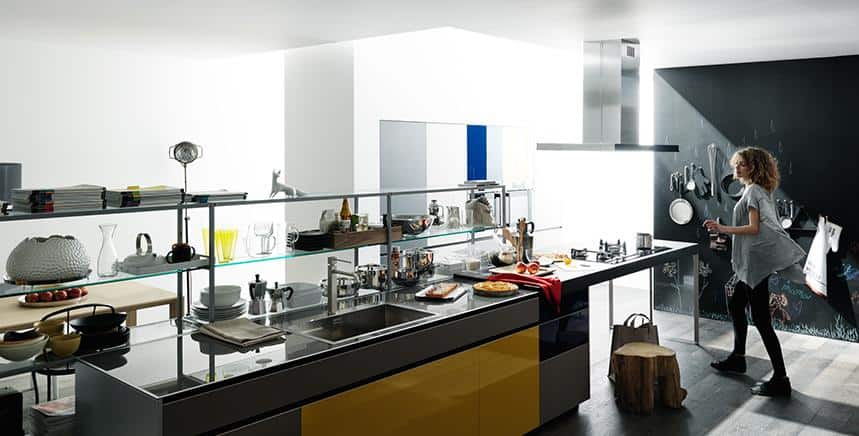 VALCUCINE
16. Artematica Stainless Steel


Valcuine's Artematica Stainless Steel is a kitchen for serious cooks. Wide drawers and lots of room to move are just the beginning.


VALCUCINE
17. Artematica Cement


Valcucine's Artematica Cement is a fully-enclosed wonder. Open the cabinets, and an entire kitchen appears. Close them, and it's a linear cupboard space with uber contemporary lines.


VALCUCINE
18. Sinetempore Inlay


Valcucine's Sinetempore Inlay uses a masterful wood inlay around the cupboards. The design is subtle and interesting and decidedly not overwhelming, blending in with the surrounding wood details.


VALCUCINE
19. Artematica Curva


Valcucine's Artematica Curva is a stunning statement in stainless or glass. And the best part? It's a finger-print free version of these favorite kitchen materials.


SCAVOLINI
20. Diesel Social Kitchen


Savolini's Diesel Social Kitchen is clearly an entertaining – and working – kitchen. Clever touches like the chalkboard detail gives this kitchen a homespun but upscale atmosphere. Like your favorite bistro.


ARCLINEA
21. Lignum et Lapis


Arclinea's Lignum et Lapis is what we call a loaded kitchen – loaded with gadgets and kitchen helpers. Like the indoor mini-greenhouse suspended above the island – perfect for fresh herbs to flavor and garnish every meal.


ARCLINEA
22. Italia


Arclinea's Italia has the distinction of being a double island kitchen. And it has other unusual features that stand out, like the library ladder on rollers.


ARCLINEA
23. Convivium


Arclinea's Convivium offers an office kitchen combo for those who work at home, or want a kitchen in their office. If you spend a lot of time at your desk, why not add a kitchen, and do it in style?


ARCLINEA
24. Gamma


Arclinea's Gamma is a totally modern kitchen with all the latest finishes. Simplicity and style are emphasized with the almost invisible wall to floor glass wall and door.


And there you have 24 of the coolest European kitchens out there today. Which did you like best? Bet you can't just pick one.