There are no excuses when it comes to getting creative with your pendants or hanging lights – lighting up your home has never been as much fun or as easy to do. Just take a peek at some of these coolest, unique lighting styles we've found for you below. There's no time like the present for new fixtures. You can change the whole look of a room with a few (or even one!) well-chosen, well-placed hanging lamps. Chandeliers over the dining room table, art-inspired pendant lights for the breakfast bar. Hang them high or hang them low – they light the way to a new look. Read on for images and sources.


The Medusea Collection of hanging lights by Roxy Russell (above and below) creates an incredible undersea world of jellyfish – over the dining room table! Who would have ever thought to style a light fixture after a Jellyfish? Yet they are so elegant and ethereal. You don't need a centerpiece on your table when these Chululy-like shapes are suspended above it. And even with just a single pendant – it's bound to be the focus of attention wherever you put it. So unique and creative.

Source


The special appeal of the totally modern and futuristic NLC Pendant (above and below) lies in the seeming conflict between the chaotic and the organic. Is it modeled after Medusa's head? Or the trellised branches of treetops? You be the judge.


Source


Forms in Nature hanging lights (above and below), an offering from Hilden and Diaz, creates a forest of shadows on your wall. It's mesmerizing and intriguing – and beautifully crafted. Set on a dimmer, the forest changes intensity with the brightness of the light. These are some of the coolest lighting fixtures we've seen.


Source


Source


Central Park is a lovely delicate hanging lamp with a bright sparkle of flowers and lights and butterflies. The butterflies are metal, and magnetic (allowing easy removal if they aren't your thing).


The butterfly effect. Source


Source


Minacciolo Pot Lamps (above and below) are made from real pots! How clever is that idea? Just perfect for that industrial loft kitchen. You could hang your actual pots amongst the lights.


Source


Source


We love the Scrivimi hanging lights from Italian design company Karman (above and below). It's modelled on trying to write down the perfect words to seduce her – and crinkling the notepaper and starting again. And again. And again. Because there are no perfect words for love.


Source


The Domenica light, also from Karman, is modeled on the bells of Feast Day. How fitting for over the table.


Deja Vu Nu (above and below) – the floating candlestick hanging light. Use a single pendant for a punctuation mark, or gang them to make a bold a statement.


Source


Norma M (above and below) turns things on its head – yet it works. Table lamp shapes, suspended from chandelier frames was the brainchild of Italian designer Edmondo Testaguzza.


Source


Wersailles is an ethereal chandelier – traditional parts replaced with a suspension system that is barely there. Reminiscent of French castles, the Wersailles casts a poetically soft and diffused light. How cool is this!


The Bell Hanging Light by Baxter is just that: bells. Bells on her fingers, bells on her toes, bells on her hanging lamps. Unusual and somewhat eccentric but once again – it works.


The Brokis Memory Ceiling Light looks like a helium balloon gone rogue. The balloon string hanging down doubles as the on/off switch. A simple touch that goes so far.


Source


This coolest Ikea pendant light isn't just an ordinary pendant light. It's a transforming sphere, it's an exploding lamp – the future is now. Pull on a simple drawstring, and this sphere becomes an exploding mass of panels. Pull the string again and it retreats back to a perfectly round ball. As it opens up it gives away more light, and dims the light as it closes up.


Synapse is a modular lighting system – it's like Legos for grown ups! Each module has three branches and they clip together to create a snowflake pattern. Pieces are double-sided, so you can hang them in the middle of the room or even use the pieces to create a partition.


Idle Max S is a stunning suspension light with multiple clear bulbs. Cord available in black or red.


Bocci 28 Series (above and below) is a work of art – the hanging spheres create patterns of light that transform a room. The slightly distorted spheres of blown glass have interior landscapes of satellite shapes, creating a delightful pattern. Possibly the most beautiful glass pendants ever!


Source


The Queen Cage, from Italian maker Zavaluce, is a group of suspended cage lights with an industrial bent. Perfect for the loft, or any modern home with high ceilings. This light would look great with Edison bulbs.


Fire Lily by Amichai Oron, is a laser-cut metal pendant light that throws lots of fanciful shadow. The organic formation comes in a choice of colors and works in almost any room.


The Pine Cone Mini (mirrored version) by Jonas Loenborg is made of 152 parts. It creates a great conversational piece – it really does look like a pine cone!


The Laszlo Tompa Flower lamp is a wood turned lamp made of solid cherry. It is not transparent, but lights downward.


The Laszlo Tompa Hydro Lamps are inspired by various deep-sea animals and made of solid wood.


It would hard to find more unusual and creative wooden lights. Source.


These modern lampshade drums with flower and leaf pattern detailing are a great way to add a Nordic style to your decor. Made to order by Hanna Francis, they throw wonderful patterns of light.


Source


Source


Starry Light Lamps throw the constellations on your ceiling – what a great way for kids to learn about the night sky. Manufactured by hand, in Budapest, Hungary — the hemisphere shape creates the exact proportions you see in the night sky.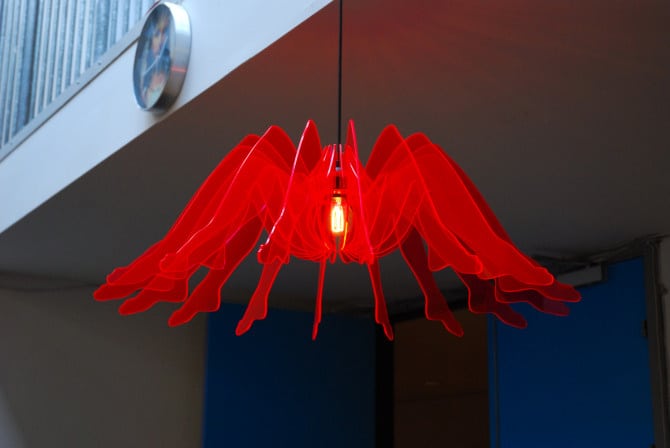 Hello Sailor's Glory light an acrylic design limited edition – just 30 have been made.


It seems every day there are more creative and more cultured choices available for hanging lights (like this Roxy Russell jellyfish pendant light – the coolest ever). And as you've seen above – the lighting fixtures you choose can really set the tone for a room. In some cases, they are the room. Bright days ahead! Check out our general Modern Lighting Ideas section for more inspiration.