There is nothing like sitting in a chair and gently swaying to and from in a summer's breeze. Unfortunately unless it's warm outside most of us hang out inside but we can still swing back and forth in an indoor hanging seat, and it doesn't matter what your taste is, there is at least one fun favorite to choose from.


I personally like to lounge so this gorgeous hand made steel recliner by Studio Stirling really caught my eye. I love the fact that light can still spill through it making it easy to read a book, cruise the web or even knit if you are so reclined (I mean inclined). Source

How could you not love this upcycled ski lift hanging chair? Hunter & Company Interior Design are the brainchild's behind this creation and its even located in a house on a ski resort! Source


A hanging seat built for two, the Duality double swing bed by Trinity Hammocks makes sharing a seat a fun way to "hang out".


While fitting Duality with a padded lounge cushion might be more comfortable in the winter, I love the look of just using a pair of pillows, and in the summer this would keep you cooler too! Source


Why settle for a hanging seat built for two when you can have one that fits the whole family. The Kodama Zone is not just designed for relaxing, the geodesic dome shape is specifically designed as a super cool safe haven where one can escape the hustle and bustle of city life. Source


How elegant is this Hanging Hoop Chair by Lee Broom? The minimalist double O design is simplicity at its best and the smaller O shape that is the seat and backrest is tilted backward and upholstered in Kvadrat wool for the ultimate in comfortable swinging.


The Cocoon Bench Swing by Patricia Urquiola brings a blast of color into your home within its rainbow of weavings.


The lightweight "airy" feel to the Cocoon Bench Swing counters its punch of colors so that it does not overpower other furnishings, and that makes it an awesome design. Source


I love a fun design and the Swing Chair by Iwona Kosicka is not only fun to look at – its fun to use! The sleek and sassy seat boasts a minimalist aesthetic, which usually means quiet, and reserved – something this chair definitely is not. Source


The 1954 "le ballon rouge" was the muse behind the Balloon Bench by Japanese studio h22043. I haven't seen the movie so I don't know the connection but I do know that I absolutely love this illusionary seat.


Balloon bench is actually suspended from the ceilings by 4 ceiling anchors hidden within the balloons. Source


If you like an indoor swing seat to really swing then the Swing Sving is the suspended seat for you. It's a pretty luxurious seat that is upholstered in either leather or folk wool.


The clever Necklace Swing can also be swung vigorously and the hand turned beads would massage you at the same time.


The Necklace Swing is a gorgeous avant garde design that is fun, functional and definitely elegant. Source


The Magical Thinking Carved Wood indoor swing by Urban Outfitters is a little bit of Mowgli in the Jungle from the comforts of home. Fun.


On a more mystical note is Cageling By Ontwerpduo. The birdcage style hanging seat is imagination at its best. Source


MARTINarchitects cleverly used the Cageling to accentuate how high in the sky this loft apartment is. Source


What better way to enjoy a peaceful and relaxing afternoon then in a suspended Wicker Chair Egg by Pierantonio Bonacina? This contemporary ode to the classic EGG hanging armchair is the perfect compliment to the Ant Chairs in the dining area of this Fujiwara Room Architects design. Source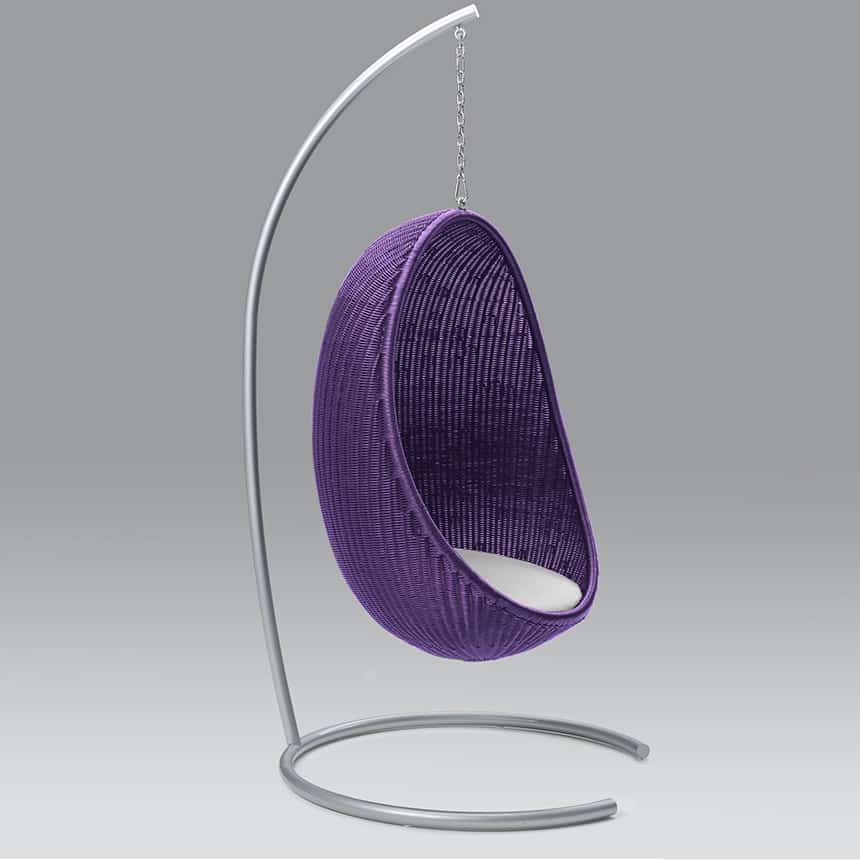 There is also a self supporting structure for the Wicker Chair Egg and don't you just love this shade of grape? Source


This leather collaboration between Fritz Hansen and Louis Vuitton is called The Series 7 and reminds me of the Ant Chair.


How many indoor hanging seats can be packed up and taken with your? This one of a kind swing chair was auctioned off for $18,000 as a fundraiser – wow. Source


If we are going to reference classics it would be remiss not to showcase the amazing 1968 Bubble Chair by Aarnio Eero which is still in production.


While the Bubble Chair gets its groove from the 60s, it is perfectly at home in uber modern interiors such as this gorgeous entertaining. Source


The Bubble Chair is versatile to blend right in with any interior design. Source


The Cool Illuminated Bubble Chairs by Rousseau feature unusual LED light designs that reflect off of the bubbles etched pattern.


The Swing Chair by Patricia Urquiola looks like it is made from rattan but is actually made from lightweight aluminum which might be why it goes so well next to this uber industrial fireplace. Source


Patricia Urquiola designed the Swing Chair for Kettal to include its own stand so it can be set up anywhere. Source


The Hanging Ball Black chair through House of Orange combines the best of the Bubble Chair with the best of rattan to create a fun and oh-so-modern hanging seat. Source


This Hanging Rattan Chair by Serena & Lily has a classic young at heart rattan aesthetic that presents a fun bohemian vibe.


This exotic hanging chair is by Maffam. Called the Manu Nest King it weights only 30lbs but can hold up to 400 pounds – wow.


The basalt lace seashell pattern softens the overall size of the hanging nest. Source
If you like the idea of "hanging around" inside your home then you should definitely check out these Suspended Loungers and Daybeds.