The kitchen should be inspirational: a place that can be soothing and calm or spicy and vibrant. When choosing colors for your kitchen decor the options are endless; only bound by your imagination and pocketbook! Your kitchen colors are up to you. The kitchen should be warm and inviting and a place you want to be.
Kitchen Colors
Enjoy some inspiration with the photo gallery below featuring a variety of kitchen colors, decor, themes, and appliances.
This Apple Green kitchen with stainless steel appliances create clean lines and a warm, yet clean feel.
This kitchen with its beach blue appliances, white cabinets and warm wood toned floors give this kitchen a retro feel.
This kitchen features stainless steel appliances, dark cabinets, and a bright copper range hood.
The navy and cream colors with stone tabletop and stainless steel appliances give this kitchen a professional, finished feel.
The Taupe-colored walls serve as a warm but subtle backdrop for dramatic accents, like this kitchen's bold blue island and shimmering ocean-inspired back splash. The sandy paint color with clean white trim, helps ease the transition between an open kitchen and the surrounding rooms.
This small space has a lot of color and texture. The main kitchen color is a celery green with white and gray storage, bamboo shades and pine shelves. This kitchen has a lot of visual interest.
When it comes to kitchen colors, this kitchen is primarily cool mint with white, featuring black counter tops and stainless steel appliances. The warm wood floor helps tie the look together.
For a color scheme that's not as stark as bright white, look to cream. The muted yellow-white adds warmth to both rustic and modern kitchens. Pair with a rich wood tone, like this room's espresso ceiling beams, cabinets, and counter tops.
These kitchen colors are rich in depth from the pumpkin walls, to the exotic cabinetry, white accents, and warm wood floors.
This emerald green kitchen with gold fixtures create depth and richness.
This kitchen is a pleasant blend of cream cabinets and espresso counter tops and tile back splash.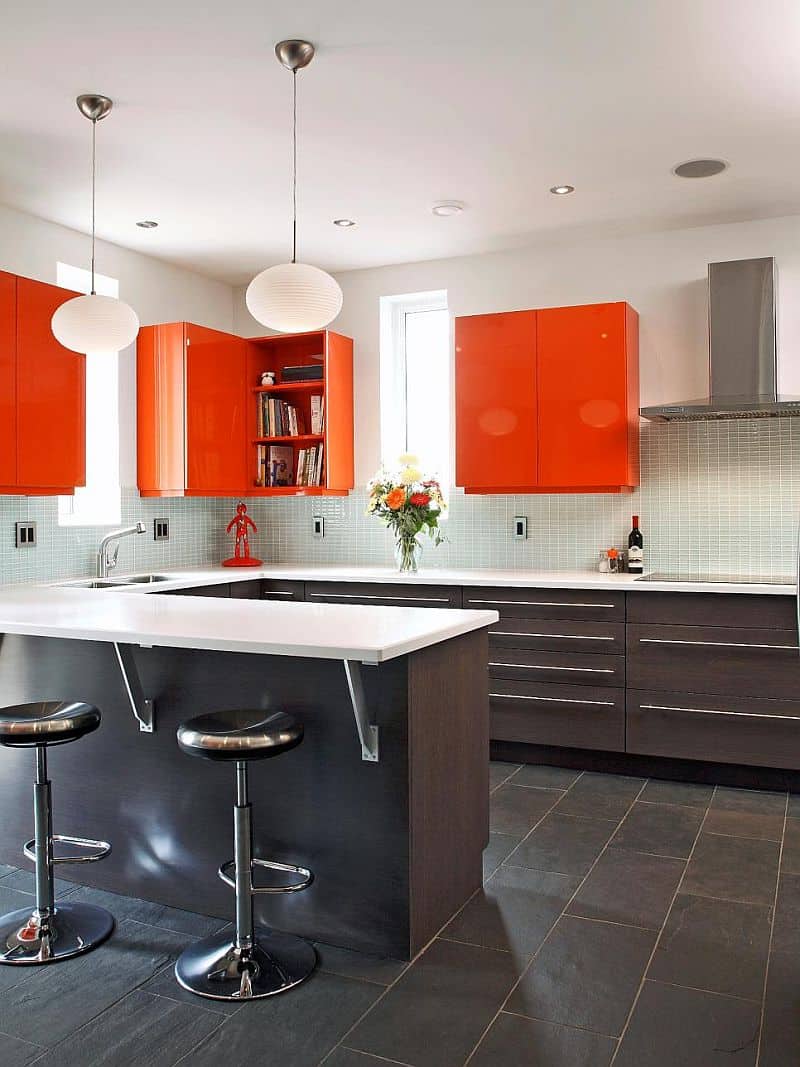 The fiery orange cabinets are offset by the chocolate lower cabinets with stainless accents and bar stools.
The hammered gold cabinets with marble counter tops, back-splash and floors are truly one of a kind.
If white or neutral colored cabinets are a little lackluster for you, then selecting a gray-green paint might add just the right amount of color! Gray-green is a calming color, but adds a little spice to any kitchen!
Choosing a two-tone theme and pairing green tones with a cream or white paint is a great option if you don't want gray-green on all of your cabinets. Patterns can add extra flair, too.
This gray kitchen with honed granite counter tops and Carrara Marble mosaic back splash add sophistication to this seemingly simple color scheme.
This bright blue with chalkboard border is sure to inspire any culinary artist.
Key lime back splash and kitchen island is offset by warm woods and brick flooring.
For a fresh twist on cottage style, coat your kitchen walls with pale blue paint. The soft, powdery shade showcases rich wood floors and sets off the white-painted cabinetry, while being versatile enough to pair well with a variety of counter tops and back splashes.
This kitchen color scheme features milk and coral with lots of details.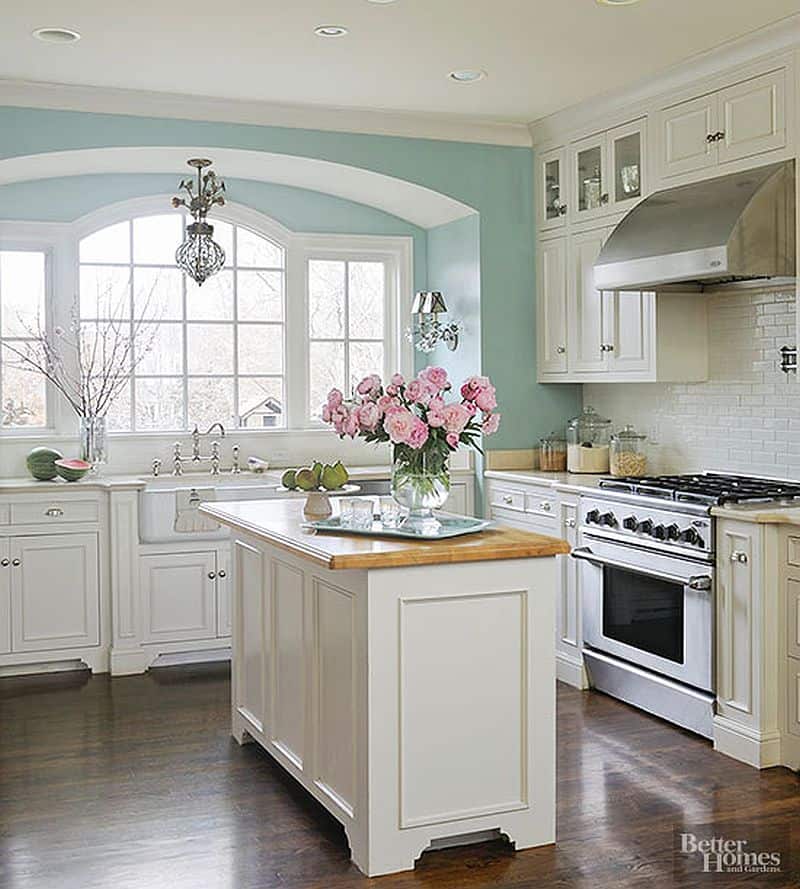 The airy, bright blue paint lightens the look of the deep espresso floors and complements the clean white cabinets, marble counter tops, and classic subway tiles.
What's old is new again. The mint cabinetry is matched with light marble counter tops and the white trimmed window for a clean appearance.
What better place to enjoy that first sip of morning coffee than in a yellow kitchen. The cheery paint color provides a golden glow all day long and helps brighten the taupe-gray cabinetry with dark counter tops.
The dark wood and white recessed ceiling give this kitchen an Old World feel.
This vibrant contemporary kitchen with pecan-finished cabinetry is rich in color, especially when paired with light golden walls and olive marble counter tops. Sleek stainless steel accents balance the natural elements while still maintaining a cozy, at-home feel.
This powder blue and cream kitchen features a blue, green, and white fused glass tile back splash.
This contemporary kitchen design features gray cabinetry and bold, bright red walls.
The cherry red appliances, bar stools and accents bring a pop of color to this rustic kitchen.
The citrus colored door adds a pop of color to this mostly black and white kitchen featuring a large kitchen island bar.
The golden-yellow island is matched with contrasting colors. The reclaimed stained-glass tiles in gray, white and yellow create a stunningly, detailed back splash against the entire back wall. The colorful glass tiles complement the dark wood cabinetry and gives this kitchen an overall urban edge.
Muted tones and mixed wood finishes give this kitchen and vintage feel.
This kitchen features Wedgewood Blue tempered glass cabinets with off white walls and quartz counter tops.
White on white with stainless steel appliances, white subway tiles and pale salmon floor give this kitchen an open concept feel.
This white kitchen with cherry wood cabinets and stainless accents is stunningly beautiful.
This layout is everything you could want in a kitchen: a full kitchen and then some, with an island and bar, extra cabinet space, and a formal dinning area in front of a trio of patio doors. The color scheme is white on white with ebony and raspberry highlights.
This kitchen is easy on the eyes with its white, teal, and turquoise color scheme with wood floors and stainless steel appliances.
This white and buttery kitchen is warm and inviting.
This bright yellow and stainless kitchen is the epitome of bold and bright.
Kitchen Colors: Revisited
When it come sot choosing kitchen colors it's bold, neutral, or a mixture of each. Stainless steel and black appliances are popular. Muted tones can be spiced up with accent colors through furniture, trim or other features.