The wood look tile trend is going strong, and we've discovered some amazing design ideas for wood grain effects. Applied to porcelain and ceramic tile, the looks and styles can range from rustic, distressed, weathered and reclaimed to modern and antique, and even a parquet plank look. Most importantly, these tiles can be used anywhere – kitchen, bathroom, living room and bedroom, and for both floor and wall designs. Read on for the most popular images and sources.


A distressed wood looking tile from the porcelain Blendart collection by Ceramica Sant Agostino.


A floor that looks like reclaimed wood, with an added painted effect, also from Blendart collection.

Antique wood effect ceramic tiles from Fondovalle make this bathroom floor look warm and gorgeous with their soft grain and lovely floral detail.


The Dakota series ceramic tile is probably the most realistic fake wood flooring we've seen, complete with wormwood holes, scratches and stains, to make it look aged and rustic. Flaviker.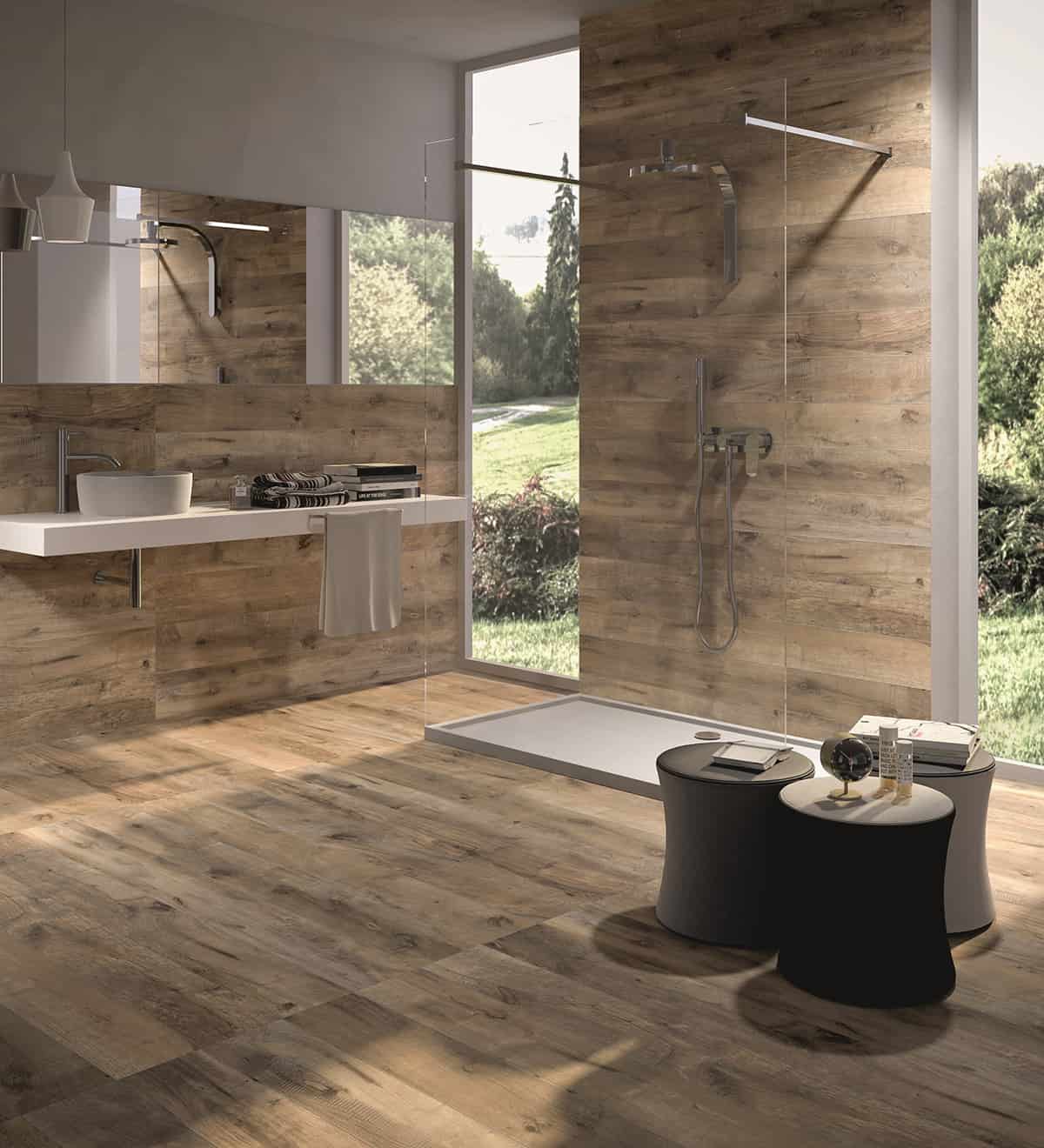 A modern bathroom design with the tile by Flaviker.


Ceramic tiles that look like parquet, from the Larix / Sabbia collection by an Italian company Ariana, bring charm to a living room.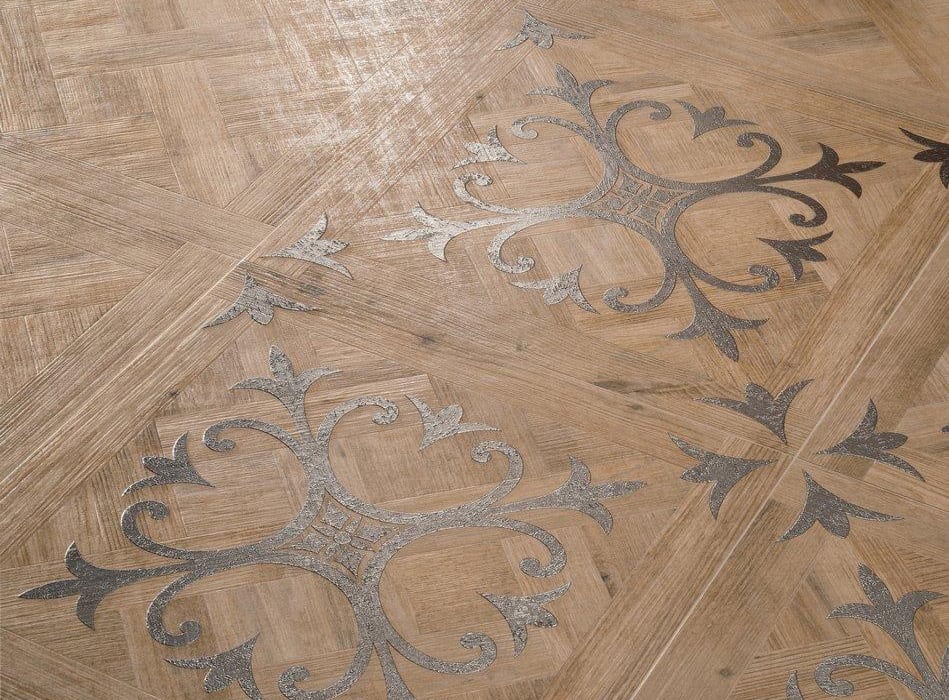 A romantic style tiles adore the floor with subtle vintage lace inlays, from Ariana.


Both parts of the Larix collection, wall and floor wood look tiles from Ariana define the design ideas for this cozy modern bathroom.


Sand color tiles mimic the look of hardwood planks with wood grain like texture, from Larix collection.


This amazing ceramic tile that looks like distressed wood is from Faro Yugo collection by Vives.


The added color makes these tiles look so vibrant. Source.


For the most extravagant floor design, you can even randomize colors. Source.


A colored parquet look. Source.


For a more subtle style, you can go with just Faro tiles in a natural wood color but also with the distressed effect.


These tiles with a totally awesome rustic, knotty pine look is another design idea from Vives – a part of the porcelain collection named World Woods. Both walls and floors are tiled, for a cool log cabin appeal.


Floor and walls in a modern bathroom decorated entirely in wood grain porcelain tile by Atlas Concorde, from its Etic Pro / Rovere Venice range.


What a beautiful idea for a cutting edge interior design, based on attractive tile with the charm and warmth of natural wood. Source.


The Rovere Venice range by Atlas Concorde is also suitable for patio use.


A porcelain floor tile mimics the exotic wood with the combination of light and dark grains, in a modern kitchen design using Etic Pro / Quercia Antique range from Atlas Concorde.


An elegant patio covered with the same tile from the Etic Pro / Quercia Antique range. The graphic variability is so rich it reproduces the wood grain irregularity to the tee.


What makes these images so different is that they showcase a ceramic tile design that looks like wood slab cross-cuts or log ends. W-Age range by Provenza.


The wood grain appears as a cross-section, showing its rings encircling each other on these large-scale tiles (above) from the W-Age range by Provenza.


Not just another ordinary tile collection, the In-Essence range by Provenza has an unusual salvaged wood look.


Worn and scratched wood, water stains, signs left by the passage of time and man's hand. Amazingly realistic look. Source.


An exterior wall and a patio decorated with the In-Essence tile, a design idea that implies that salvaged wood planks were given a second life.


A weathered wood look tile by ABK, with a touch of color, creates a focal point by tiling just one wall – from the Dolphin collection.


A modern interior design uses the Dolphin range porcelain tile accented with colors on the kitchen floor, to complement a more neutral weathered wood look.


An office gets a chic cabin look by dressing walls and floors in tile inspired by weathered wooden wine barrels. Source.


An interesting idea for a staircase – wrap it in the woody grain and comforting earthy tones with tile from ABK.


This chic bedroom floor and headboard both decorated in the same tile that looks like rustic wood, from NooN Daylight collection by Mirage.


Mimicking chevron parquet pattern with a rustic look from the NooN Daylight collection.


The same rustic look on a tiled wall – a great idea for a living room by Mirage.


Tiles installed in a staggered pattern with random colors on a living room floor, by Mirage.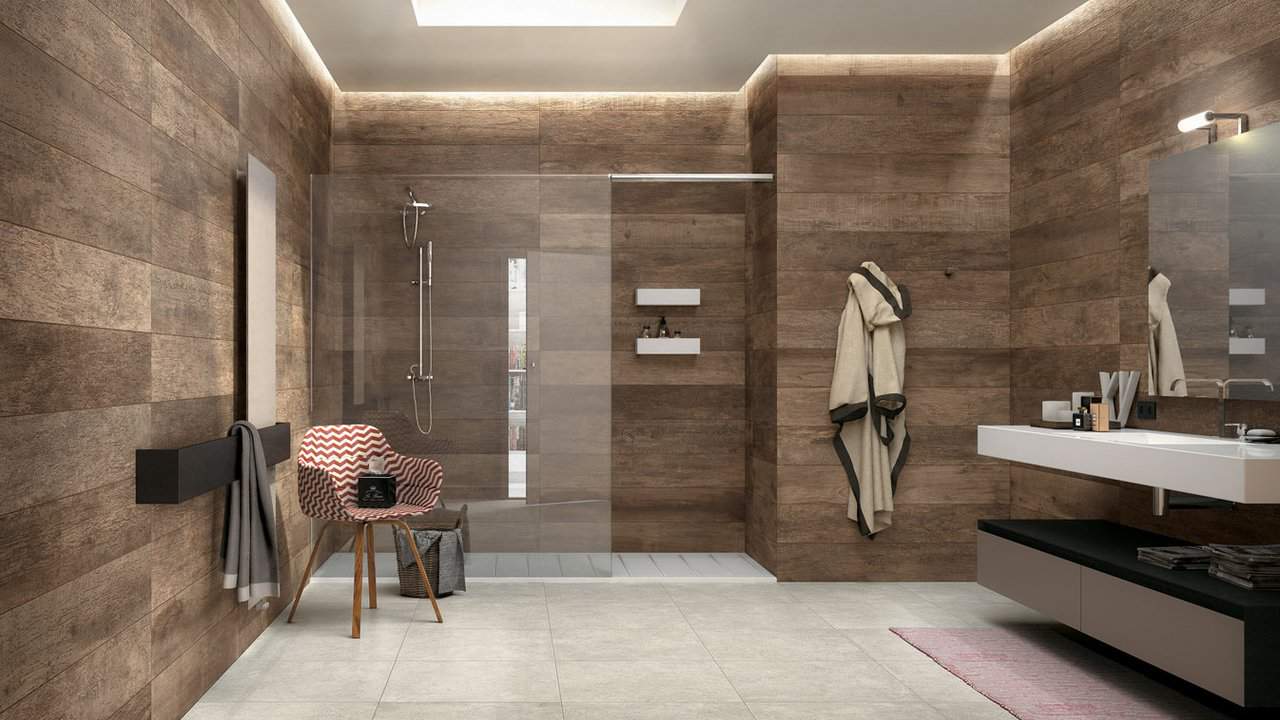 This rustic bathroom design (above) has walls covered with wood look ceramic tile top to bottom, from the NooN Honey collection.


For those who like their floors dark, here's an idea – a chevron parquet look with porcelain tiles from the Noon Burnet collection.


Finally, the amazing petrified wood look tile in Tasman Blue, from the aptly named porcelain Kauri collection, the Kauri wood inspired.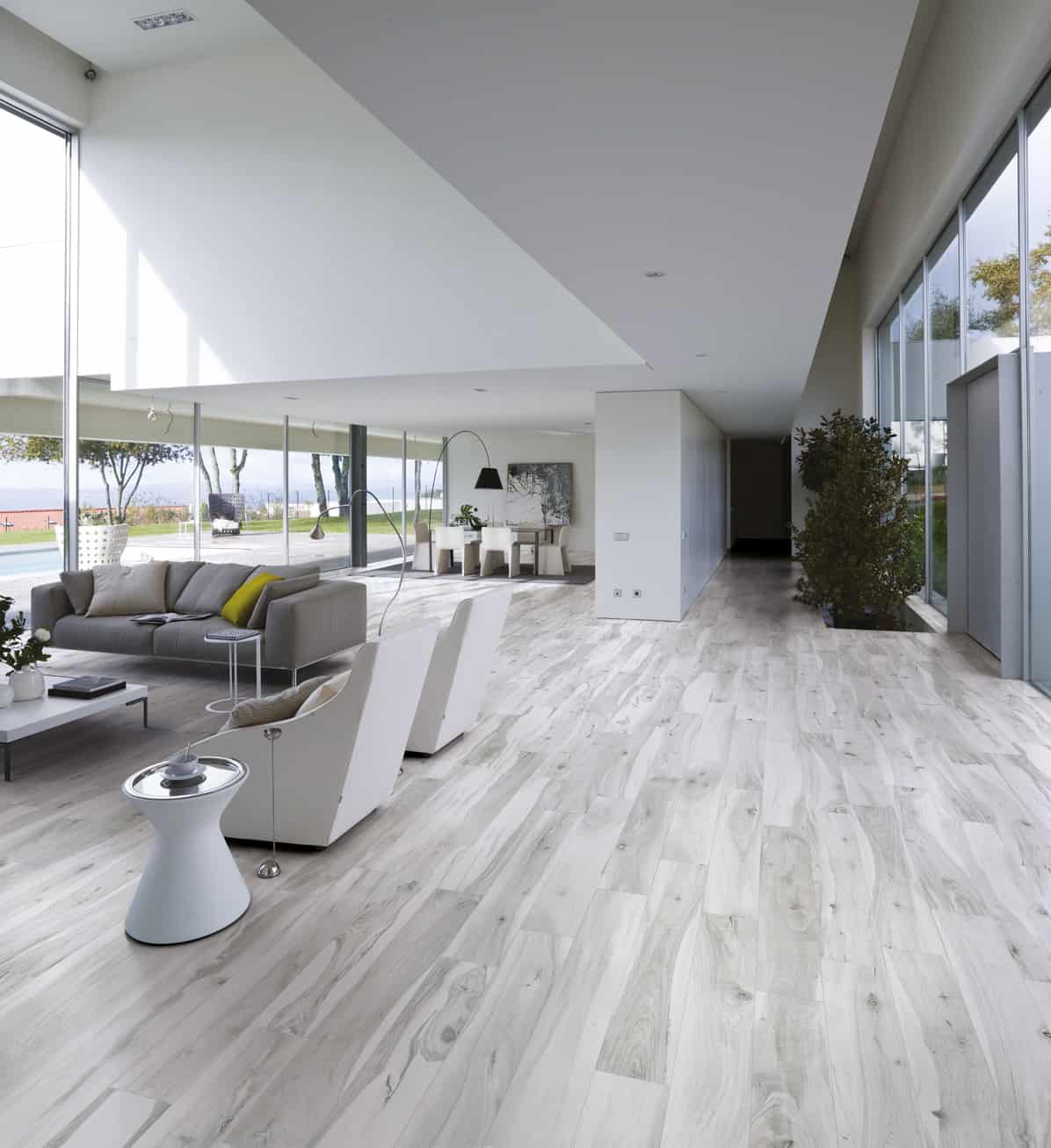 A porcelain flooring with the look of petrified wood, in Awanui White, also from the Kauri collection.


"Found only in New Zealand, Ancient Kauri is the oldest workable wood in the world and shows extraordinary grain qualities not found in any other species." Source.


Time Design is another awesome wood look tile collection, from NovaBell.


Source.


Source.


Source.


Wow … check out this totally cool and unusual looking tile from Fioranese (above).


The URBAN_WOOD collection: "Reclaimed wood turns shabby chic and is transformed into an ultramodern and trendy decorative feature".
—
For more on tile trends check out these modern tile ideas. Or if you prefer the real wood flooring, take a look at these amazing wood floors.