Some tile designs are so beautiful, they must be on 'display', and what's a better display than the flooring surface. Creating a tile centerpiece on your room floor could be a risky idea but if done right it can make your interiors totally unique. With this selection, we wanted to introduce some of the latest, the most exquisite and the most beautiful tile flooring ideas. Some designs we've picked are mesmerizing but all are definitely admirable. Read on for inspiration and room designs.
Floral Motif Tile
Here's a very creative idea for your bathroom flooring – a printed floral motif tile. It's like walking in the field of flowers. This is Candela, one of the most beautiful tile designs from the Museum range by Peronda.


Far from being ordinary, Candela by Peronda is a glazed porcelain tile, and a fascinating design inspired by a printed fabric from the fashion designer Juan Vidal, in turn inspired by Tiffany lamps.

Unusual Tile Designs
Where there are flowers there are butterflies … grey butterflies actually which is quite unusual, especially for a flooring design. The tile is from the Papillon collection of hand painted ceramic tiles by New York based designer Ruben Toledo, for Ceramica Bardelli.


A porcelain stoneware flooring (below) from the Selection Floor collection by Ceramiche Supergres.


Tiles with unusual, carpets inspired decorative patterns are used on the entire floor surface of a living room.

Aged Look Tile Flooring
This ceramic floor tile (below) with a rustic, aged appearance is from the Collection D'Autore by Eco Ceramica.


The tile also comes in an unusual geometric patterned design.


Here's the 14th century inspired idea. The Maestri Ceramisti tile series from Eco Ceramica (below) draw inspiration from the "mysterious fascination of floors in the Palace of Avignon", the Pope's French residence at that time. Available in ten colors and with many ornaments that can be combined to create a unique and beautiful flooring in any room.


Hand painted patchwork tiles with a subtle floral motif and aged look (below), on a bathroom floor, from Rinascimento collection by Eco Ceramica.

Vintage Look Tile
Designed with bathroom flooring in mind, below is a tile sample from the patterned series La Ceramica d'Eccellenza by Eco Ceramica. Could be great for artistic vintage or bohemian style ideas.


Suitable for a vintage style living room or a bathroom, this patchwork tile design (below) has an aged appearance and is from Le Civilta collection by Eco Ceramica.


Also designed for flooring, below is another tile idea for a vintage bathroom in floral patchwork pattern from La Sete Preziose collection – light violet color tones for a serene room design.

A flooring tile design idea with a fashionable contemporary patchwork mix (below), from the Colori Naturali New collection.
Victorian Motif Tiles
An elegant bathroom floor decoration (below) made up from distinct blue tiles hand-painted with Victorian style motifs – Minoo by Marcel Wanders. The Minoo series consists of 5 different patchwork patterns, each available in 8 colors.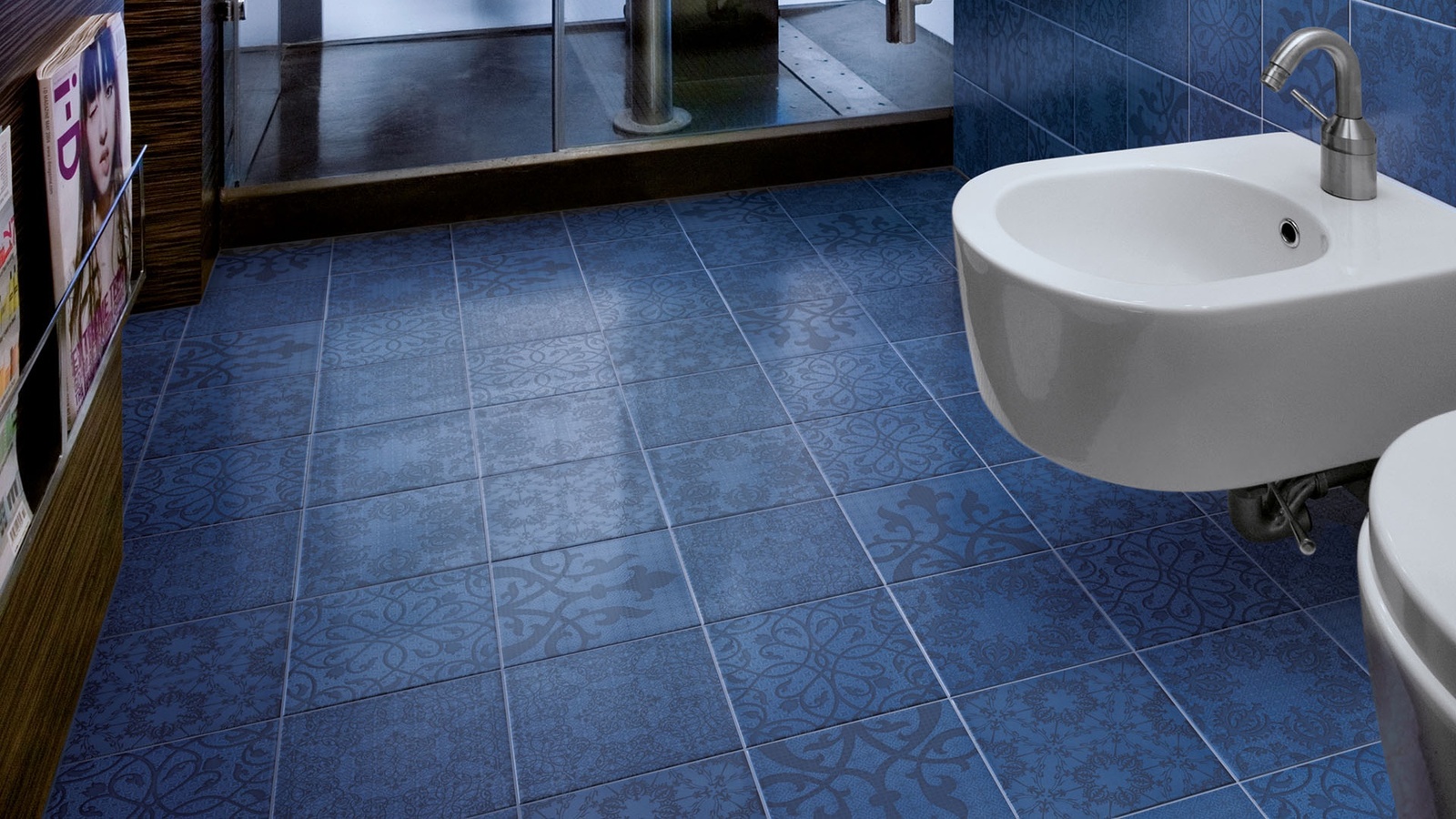 A living room flooring (below) in Victorian look ceramic tile from the Ornamenti collection by Eco Ceramica.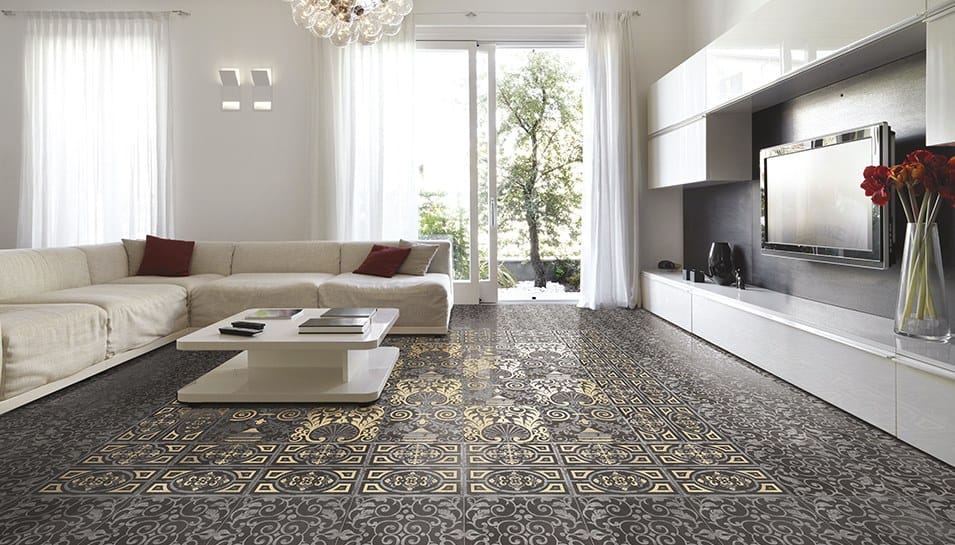 Miniature Tile
A beautiful floor design created with the tiny tile mosaic from Eco Ceramica.

Decorative Ceramic Tile Rugs
Adore your luxury living room flooring with a decorative tile rug, created with porcelain tile from the Auris collection by Peronda.


A tile rug with a vintage feel, decorated in majolica patterns from the Base porcelain tile series by Fap Ceramiche.

Hexagon Shaped Tile Ideas
You can create some unique flooring designs with the hexagon shaped tiles.
Below is a beautiful, modern hexagon tile on a bathroom floor, in blueish colors, with an added Mediterranean pattern mix, from the Lucia collection by Verso25.


This gorgeous tile ideas are from the Argila Origine hexagonal tile collection by Peronda, featuring two plain-colored tile designs and four decors with relief patterns in shades of blue or brown. Would be perfect for a country style room decor.


Below is a rustic look flooring design made with hexagon tiles from the Palatium collection by Eco Ceramica.


An unusual hexagonal floor tile design with a more classic motif, from La Galleria collection.

Stone Look Tile
An amazing living room flooring in petrified stone-look ceramic tile from the Fosil collection by NG Kutahya Seramik.


A terracotta effect flooring tile from the Terre Nuove collection by Ceramica Sant'Agostino, manufactured using an innovative digital ink-jet printing system. The perfectly reproduced natural variations of handmade cotto, a traditional Italian tile material, allow for this stunning aged look – see the kitchen image below.


Below is the terracotta effect ceramic tile on a high traffic floor.


A bathroom floor and walls in terracotta effect tile from the same Terre Nuove collection (2 images below).

Wood Look Tile Designs
Below is a bedroom flooring in wood look tile with added decorative elements, from the French Woods porcelain collection by Iris Ceramica.


The most amazing petrified wood look tile below is from the Kauri collection by Oregon Tile and Marble, on a living room floor.

Concrete Look Tile Idea
A bathroom floor in concrete look tile with decorative flower motif inserts, from the Seaside porcelain collection by La Fabbrica.