These trendy rugs are some of the most dramatic, gorgeous, colorful area rugs we've ever seen – we can't take our eyes off them. And they are from many of the great rug-making countries: India, Morocco, Tibet, Turkey, Iran, Uzbekistan, China, Afghanistan. Some are antique, some are contemporary – but they are all stunning. Hand-knotted or woven, made from silk, cotton and wool, they are clearly works of art.
Did you know that a Persian Kerman rug sold in 2013 at Sotheby's Auction for $33.7 million? That's right, million. Some of the rugs you are about to see are Bohemian, some modern, some more eclectic. But they all have that amazing 'pop' we love to see in the living room. And have no doubt, wherever you lay them – on a cement floor, tile floor, wood floor – they will stand out brilliantly. When it comes to rugs like these, you build the room around the rug. But be forewarned: You'll never stop looking down.
Area rugs are back in fashion in a big way, and choices are unlimited. We've picked the trendiest rugs that fit best in modern homes.
1. Vintage Tribal Moroccan Rug, Azilal Tribe

Buy at: Mehraban.
2. Turkish hand woven tribal rug

Buy at: Live Auctioneers
3. Chinese Art Deco Rug

Buy at: Doris Leslie Blau
4. Sari Silk Santorini Rug in Teal

Buy at: One Kings Llane
5. Pink Antique Persian Kerman Rug

Buy at: eSaleRugs
6. Transitional Journey Collection Black and Tan Egyptian Rug

Buy at: Loloi Rugs
7. Purple Meshkin Area Rug

Buy at: eSaleRugs
8. Orange Eclat Area Rug

Buy at: eSaleRugs
9. Green Eclat Area Rug

Buy at: eSaleRugs
10. Yellow Eclat Area Rug

Buy at: eSaleRugs
11. Anatolian Turkish Antalya (Barak) Kilim Rug

Buy at: eBay
12. Anatolia Turkish Classic Antalya Kilim Area Rug in Blue Tones

Buy at: eBay
13. Anatolia Turkish Classic Antalya Kilim 60.2″ x 90.5″ Area Rug

Buy at: eBay
14. Anatolia Turkish Antalya Nomads Kilim Area Rug

Buy at: eBay
15. Anatolian Turkish Antalya Nomads Kilim 32.2″ x 42.5″ Area Wool Rug

Buy at: eBay
16. Turkish Trendy Decorative Kilim Anatolian Rug

Buy at: Etsy
17. 1960s Turkish Decorative Kilim Anatolian Rug – handwoven in natural wool

Buy at: Etsy
18. 1940s Decorative Turkish Kilim Anatolian Rug in Natural Wool – 142″ x 71″ inches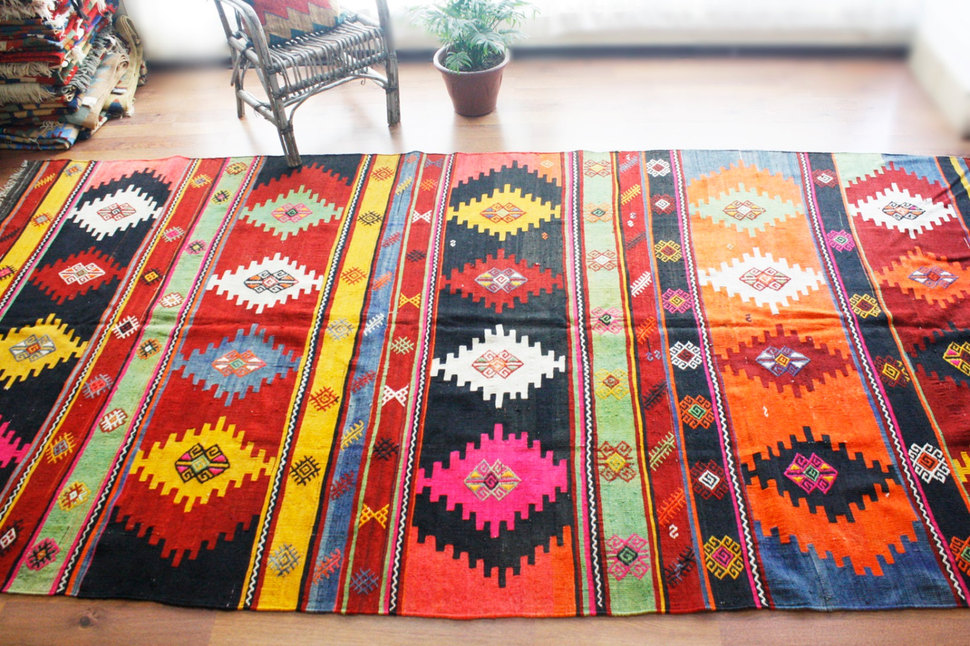 Buy at: Etsy
19. 40 Years Old Anatolian Hand Woven Turkish Kilim Rug 55 by 30 inches

Buy at: Etsy
20. Anatolian Hand Woven Turkish Kilim Rug 126 by 75 inches

Buy at: Etsy
21. Turkish Anatolian Kilim Rug with Accent Pillows

Buy at: Etsy
22. Anatolia Turkish Antalya Nomads Kilim Rug 64″ x 96″

Buy at: eBay
23. Anatolia Turkish Antalya Nomads Cicim Kilim Wool Area Rug 70-in by 123-in

Buy at: eBay
24. Anatolia Turkish Antalya Nomads Cicim Kilim 60-in by 126-in Area Rug

Buy at: eBay
25. Anatolia Turkish Classic Antalya Kilim 62-in by 112-in Area Rug

Buy at: eBay
26. Early 20th Century Turkish Oushak Antique Rug, $95,000

Buy at: Doris Leslie Blau
27. Hand Knotted Lisha Area Rug

Buy at: nuLoom
28. Hand Knotted Merle Area Rug

Buy at: nuLoom
29. Uzbek Gul Tribal Rug from Afghanistan

Buy at: Nomad Rugs
30. Mediterranean Peshawar & Khotan Rug – Red Multi-color

Buy at: F.J. Kashanian
31. Rainbow Riot Rug – Boho Escape Collection

Buy at: Dot & Bo
32. Brilliant Unusual Masterpiece – Unique Turkish Kilim Rug 66-in by 140-in

Buy at: eBay
33. Anatolia Turkish Antalya Nomads Kilim 62-in by 106-in Area Rug

Buy at: eBay
34. Vintage Turkish Anatolia Kilim Hand-Woven Wool Rug 6-ft by 10-ft

Buy at: eBay
35. Moroccan Azayku Berber Multi Rug

Buy at: Rugs USA
36. Dark Blue Area Rug of Unknown Origin

Found here
37. Colorful Handwoven Kilim Rug Sourced form a Small Desert Village in South Eastern Tunisia

Found here
38. Morocco Boucharouette Berber Tribal Art Rag Rug

Buy at: Etsy
39. Hand Knotted Pile Suzani Rug

Buy at: Nomad Rugs
40. Canevas Wool Rug by Charlotte Lancelot for GAN – flower motif

Buy at: Gan Rugs
41. Morocco Vintage Boucherouite Berber Wool Rug from Ourika

Buy at: Etsy
42. Morocco Vintage Boucherouite Berber Wool (and some Cotton) Rug from Ourika

Buy at: Etsy
43. Morocco Vintage Boucherouite Squares Rug Berber – Fabric Scraps, 7.5-ft. by 4-ft

Buy at: Etsy
44. Vintage Moroccan Boucherouite Berber Tribal Rag Rug in Recycled Textiles

Buy at: Etsy
45. Urban Outfitters Rug – Floral Pattern

Buy at: Urban Outfitters
46. Boucharouette Berber Tribal Art Rag Rug from Morocco, ships from France

Buy at: Etsy
47. 1970s Vintage Mid Century Modern Tapis Boucherouite Moroccan Rug

Buy at: Etsy
48. Colorful Authentic Vintage Morocco Berber Craft Boucherouite Rug

Buy at: Beklina
49. Vintage Moroccan Hand Woven Wall Rug 71×32 inches

Buy at: Etsy
50. Morocco Berber Azilal Craft Rug

Buy at: Beklina