Can Morocco get any more beautiful? The views are not only impeccable buts the style is just as enchanting. If you're interested in bringing an exotic vibe that still feels elegant with just the right amount of charm, then its time to take a look at Moroccan décor. Featuring vibrant colors, with an extreme focus on patterns, Moroccan style is great to surround yourself with culture. Our designer tips will help guide towards bringing Morocco directly to your door.
Color, & more Color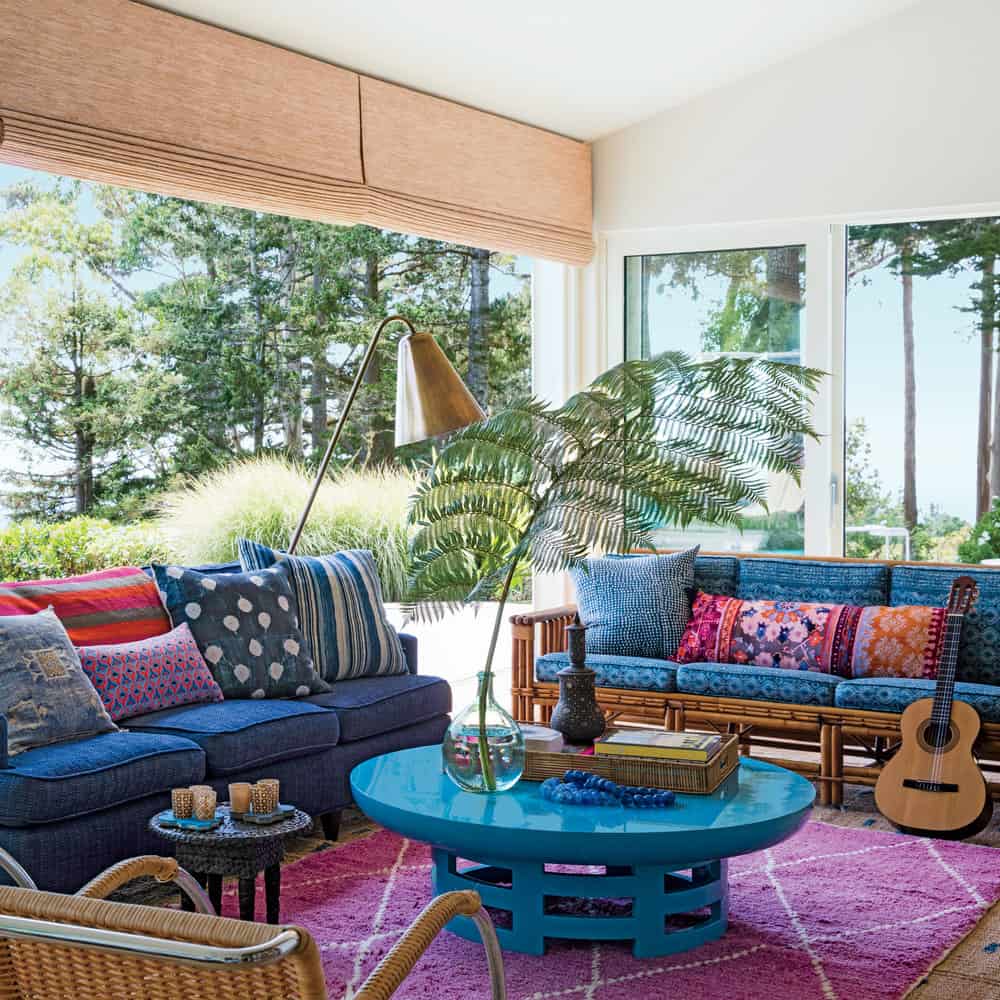 Bold colors are the focal point of Moroccan décor. In Morocco, every room is filled with an array of beautiful hues that make the home come to life. To bring this type of vibe in your home you want to focus on brightening any darkness and bringing shades of blue, green, orange, red, yellow and gold. These particular hues help bring Morocco directly to your home.
Lower Furniture
Moroccan décor is notorious for having a different style of furniture than traditional ones. While most Moroccan décor is bold is pattern and color it is quite simple in décor pieces. For a twist of middle eastern in your décor simplify your furniture pieces by lowering them. Instead of having tall, bold decorative items, interchange them for lower pieces that are closer to the ground yet bold and enchanting. Rely on upholstery, wood and even pearl to make the space feel as authentic as possible.
Luxe Fabrics
Another huge aspect of middle eastern décor is their love for luxurious fabrics. Fabrics that feel elegant yet are embroidered with an abundance of hues, texture and small intricate detailing. It's all about bringing focus to every aspect of the room, including your windows. Drape loose fabrics with heavy cords to add an additional layer of texture. Pair with bold cushions and accent bits to further emphasize the beauty of having these fabrics displayed throughout.
Dim Lighting
Moroccan's prefer dimmer lighting, instead of brighter, ones. Therefore, their décor consists of warmer light fixtures with just a gleam of lighting. Often, we will come across lamps and candles with intricate designs on them or with gold finishes in Morrocan décor. You want to take these intricate touches and add them to your décor. Add gold lamps to give the room a warm cast that flows throughout while providing bits of gleam.
Rug on Floors
While having dark wood is the popular you do want to have some sort of colorful rug on the floor. Rugs are popular in the middle east because of how much color, texture, and comfort they bring. With that being said, add a plush Boucherouite or Beni Ourain rug to bring authenticity to your flooring. Furthermore, consider floor cushions for an easy display that makes the room feel cozy and unique.
Grand Mirrors
Mirrors are a huge part of Moroccan décor, the grander the better. You want to have an array of large, embroidered mirrors around your home to create that ethereal classic appeal that makes the room come to life. Mirrors add brightness while making the room feel larger. There should be a clear, coherent in the room, while the mirrors make their majestic mark in your décor.
Time for Exotic Plants
Placed inside of colorful pots, it's time to allow exotic plants to make a statement. While they tend to make a statement on their very own, having exotic plants will further showcase their impressive appeal. Consider banana or papaya trees as the main focus of the room for that luxurious exotic approach.
Canopy Display
Adding a canopy, mosquito netting, or some sort of display that resembles a veil across your bed will ensure you have the striking display Moroccan décor is known for. The canopy creates an additional layer of décor, for added texture and color. Take it a step further by having your canopy stand out from the rest of the room's style. Creating a magical space is the key when using a canopy.
Striking Tiles
Tiling in sharp, contrasting hues is extremely common in the middle east due to how impactful and authentic they can be. The bathroom and the kitchen are two areas that always work well with tiles. They receive contrasting tiling the best due to how expansive they feel. Add tiles in white, beige, navy or black for a bold contrast that makes sense in the room.
Drama, drama & more Drama
Moroccan décor is big on dramatic detailing. While it has a lot to do with everyone's individual style, the devil is in the detail. Therefore, you want to pair intricate pattern, flashy details, bold colors and bring them together to create a collage of beautiful details without going overboard. Though this might seem a bit of a cluster, if done properly, you will be creating a whimsical display that feels elegant and luxurious all at once.
Are you as fascinated with Moroccan décor as we are? Share with us your thoughts below.