We love wood houses, they feel so natural, so back to earth. As we've amassed a variety of awesome design ideas that are perfect for small wooden homes or cottages we want to share them with you. Maybe you'll see something you'd like to make your own!
If you're building yourself or working with an architect on your small wood home or cottage project, you need to decide on how much square footage of living space you'll need depending on your family size and what you can afford. Price considering, building homes with wood is usually more affordable than with other construction materials, and it's a great choice especially when designing a small cottage. Wood designs allow you to be creative and implement many desirable features with ease.


Small wooden home architecture has been greatly enabled by the latest technological innovations. Today, there are many structural wood types to choose from when building a new home but your final choices will depend on your design and your budget, with local woods being the most affordable. The site topography can define your home floor plan and offer unexpected design ideas that may transform your small home into a small sanctuary. Below, we offer several examples that prove just that. Some designs we've picked offer sustainable building features which you may also want to consider.
As you will see in some of the listings included, the right choice of wood can significantly beautify even the smallest of designs. As for the overall architecture, things like roof design, number of floors and location of the entrance to the house would also depend on climate, site topography and location. Building permits will vary as well depending on your local ordinance. In some places, small wood homes are especially welcomed and promoted, while in others there are limits on minimum square footage and you won't be able to go very small.
Wood clad interiors create a cottage like feel and we've provided many examples of beautiful living spaces. If you're new to the small home living lifestyle you would want to give special considerations to extra space, to ensure you have enough room for your family to grow, whether that means an additional bedroom, bathroom, playroom or storage space. Wood homes are perfect for children to grow up in, especially if your location is surrounded with nature.
See also: Cottage Design Photos.
To build an all-season cottage you would need to account for heating options in your architecture. You may need a small basement or a crawl space or an attic to incorporate it. Cultural habits can also affect the overall design as in some areas small home architecture is a well established trend, and in some it is still a new – so working with an experienced architect can help a lot.
We hope the design ideas gathered from the examples below will help you with building your own wooden home and making it more affordable and enjoyable for years to come.
Note: we consider small to be anything below 2000 sq.ft in living space but if you're looking for super-compact homes, under 1000 sq.ft, please see our compact homes section. Or if you prefer to go mobile then check out these tiny wooden houses on wheels.
Below are 16 of our modern favorites from around the world, and many come with its own interesting story. We grouped them by architectural style, for your convenience. So, let's begin our tour.
Small Wood Homes with Gable Roofs Offer Attics and Classic Aesthetics

A classic gabled roof plan is our preferred choice as, we believe, it offers the best aesthetics. Ever dreamed about a bedroom in the attic?! High pitch roof allows for a bigger attic and costs more to build but you can fit more rooms or build a loft – the chalet style. Another latest modern option is to create a vaulted ceiling for the entire house (raising the ceiling from floor to a peak) – the church style. Low pitch roofs and small attics are less expensive but they should be high enough to provide an ample space for HVAC systems and easy access to electrical – sometimes the easiest way to install your favorite chandelier is from the attic. For locations that get lots of snow, higher pitch roofs are preferred, and in warm places like California low roofs are the most common.
This first small wooden home in CA is a perfect example of a beautiful low-rise roof design. Clad in knotty cedar siding and surrounded by a wood deck, it's only 1100 sq.ft. The asymmetrical roof cleverly extends on one side to make up a car port. With such disproportionally wide geometry it gets so low you can touch it. This and the open gables are the two design elements that give this home a stunning bungalow-like look that screams 'Summer' – and such designs are very common in CA. What a lovely modern cottage this is.


See More Images
designblitzsf.com
This North Sea Wood House (below) is a complete opposite (to above) with its very high-pitch roof. Framed entirely in Siberian Larch timber and clad in Western Red Cedar, with the cedar planks turning gray over time and blending with the dunes. This is a beautiful vacation gateway house on the island of Terschelling in the Netherlands.
See also: 15 Tiny Gateway Vacation Cabin Designs.


This design is a good example of how the site topography dictates the height of the house. The sea had to be seen from over the dunes, thus the high roof, thus the attic. The attic is a library room from where you can enjoy the view and quiet reading – a perfect feature for a sea vacation cottage. Also notice how the A-shaped part appears to be taller than the floor below. That's because the first floor is actually a partially buried basement that houses 3 bedrooms and a storage room. The benefit is that the rooms stay naturally cool. Overall, this awesome small home looks much bigger than it is and has a very unexpected and modern appeal. Amazing architecture.


See All Images
achterboschzantman.nl
Wow, this small summer house in Austria (below) is clad in wood from the tip of its roof right down to the ground. It almost looks like a painting, it's so unusual. The horizontal timber planks continue down the side of the house and along the hill as a deck. Such a unique flow to the design. And it's a wood house inside and out! Notice how the roof has no overhangs, and is flush with the walls all around. This totally completes the unusually minimalist look of the exterior. And check out the interiors at the link below – they're equally minimalistic. A minimalist architecture for the minimalist living!


Matching wood shutters blend in when closed.


See All Images
24gramm.com
For a small mountain home (below), this alpine design packs a lot under its classic gabled roof: a central fireplace and a staircase, two floors with 3 bedrooms, a sauna bath, a kitchen, a dinning and a living room. It's a chalet style architecture, with partial vaulted ceilings and exposed wood beams. The home is clad in timber, mainly, and comes with many intriguing features. On the ground level, the bay windows' shelves act as sofas. In the winter, the large corner window lets the sunlight in to add with heating. There is extra thermal isolation inserted between the wooden cladding – both in exterior and interior. Upper floor is extended over the ground floor to limit sunlight in the summer. So it's a pretty thoughtful design that considers seasons and time of the day, to assure maximum convenience for it occupants and efficient energy use. But there is even more – read on below the image.


Notice something unusual about these wooden columns? Their positioning is totally out of the norm – they are aligned with the most outer perimeter of the roof. That is because they hide metal pipes that collect rain water from the roof. Clever. Not only they change the look dramatically, they also help to create a comfortable 'feeling' that the surrounding deck is enclosed. In this case, the technical issue was solved with aesthetically pleasing details.
Also see: Timber Houses.


Finally, for added visual interest, there is the stone cladding. What a beautiful design!
See All Images.
ofis-a.si
Build Your Small Wooden Cottage with a Shed Roof to Reduce Cost

Speaking of mountain cabins, here's one great design for you – a compact pine wood home at Spanish ski resort (below). This log house is built with Laminated Pine beams, using wood from Finland, inside and outside. It's a rustic mountain cottage with modern touches. Interiors are as wonderfully woody as the exterior, giving each room a country-chic feel. The exterior is given a modern character with the tiny peek-a-boo windows and a contemporary styled entrance. Interiors are stained in light color vs. the dark exteriors. The main floor is an open-concept plan featuring cozy dining nook among many other wonderful wood elements.


The rear face of the cottage features two symmetrical second-floor terraces, creating an inviting appeal. The roof is an interesting variation of a classic shed roof, where a higher pitch plane transitions into a low pitch part.


Here's a glimpse at the beam joinery used in this house. We haven't seen this type of joinery in the US. The quality appears to be incredibly precise. And remember, these are laminated pine beams, so technically, this design cannot be called a 'log' home but it sure looks like one, and a gorgeous one.


See All Images
nordicasa.eu
This spectacular 4-season timber cottage in Finland (below) was built by one single pair of hands. A hand-built house! Professionally designed, of course – you can tell just by looking at it. But amazing that a single carpenter built this.


I got to tell you – this is one of the most ergonomic cottage designs we've seen. Imaging a U-shaped shed-like architecture, where the opening in the 'U' is occupied by a covered deck that stretches between the two open ends of the 'U'. All that is formed around a central courtyard. And the four roofs, slanted towards the courtyard, connect at the four corners by their respective diagonals. It's like building your own small fort where you can feel protected. And with the courtyard-side walls almost entirely made up from windows, it feels like your own private enclave.


What a glorious celebration of wood design – it's a house with great bones, great architecture and great style.
This house below, located in Slovenia, is a serious high-tech accomplishment in contemporary wood. It actually has not one but two cantilevers, on two different levels – one facing the street and one hanging over the backyard. If you look carefully, you'll notice that only a tiny area of the entire structure has actual ground support, the rest is hanging in the air. Wow. This design is like a seesaw that hangs in balance.
What happened here is worth a story. This lot was purchased as a packaged deal, with a building permit for standard small house plans. Because of the strict land use restrictions, the size of the footprint could not be changed. And so a cantilevered design was the answer to increasing the total square footage of this small home without changing its footprint. Once the form got defined, the challenge remaining was to select the structural materials to accomplish it. The architects worked with the specialty structural engineers to find the right materials. Slovenia is rich in woods, and the decision was made to use wood as a structural material because of the speed, cleanliness and sustainability. The resulting building structure is a reinforced concrete basement below and a combination of timber frames and cross-laminated timber above. Wood wins!


The home has 3 floors to incorporate bedrooms (top floor), living area and kitchen (middle or ground floor) and work/live area (basement floor). Kids can play outside under the large overhang no matter the weather. Wood clad exterior walls contrast beautifully with walls clad in corrugated fiber-cement sheets (same material is used on the roof). This gives the house a very contemporary, almost an urban-like look.

Low Elongated Rectangular Homes with Flat Roofs are Practical Expressions of Modernism

Here we refer specifically to the long and narrow rectangular house plans, mainly one-story horizontal designs. We've seen a lot of these modern minimalist designs in the Nordics countries such as Finland, Norway and Sweden but they are popping up everywhere now. The 3 examples below are from 3 different countries. But they all have one design element in common – a small part of the building is open to outdoors on both sides (like a central viewing corridor, sort of), either permanently (no walls) or protected by glass walls. And with the narrow profile, you can see nature on both sides of the house without leaving your chair. Ability to easily incorporate this element, we believe, is one of the main attractions of this type of architecture. It lets you add a highly desirable home feature – a covered deck or an outdoor living room – without deviating from the simple plan of the wooden rectangular building. These are very cost efficient and very modern designs.
The flat roof offers totally different aesthetics, and if you're attracted to minimalism and want to build a small home on a small budget, this could be the most affordable type of design for you as it requires less of structural wood and is easier to build. There are many benefits of these low and narrow designs. They are convenient for older people as all quarters are on the ground floor, and they are also the most energy efficient as they are easy to heat or cool. Elongated rectangular architecture is also a common plan for prefabs. In addition, flat roof designs can be the most suitable for locations that experience heavy winds (high wind loads) such as oceanfront, high mountain ridges, cliff locations, and widely open planes. Check them out below!
This New Zealand home (below) was conceived as a wooden container. But it's much more than that. With its lowering decks, it becomes a vista home – with views over both the ocean and the countryside. And when you're ready to leave, the decks and the shutters all close, and it becomes a sealed wooden container in your absence. The house is pure wood, inside and out, in the tradition of New Zealand craftsmanship. Stunning, isn't it?


See All Images
ccca.co.nz
This low lying home in Western Finland (below) isn't just made of wood – it blends nicely with the wood forest around it. The real showstopper in this home, however, is the clean path from arrival through to the waterfront. Stopping in the outdoor dining room for a little sustenance first, that is. The open passageway leads to the back deck and then down a flight of stairs that leads to a long walkway to the inlet. This is a modern and clean getaway from it all home!


See All Images
haromapartners.fi
Leaving the exterior of this beautiful wood house (below) to weather naturally was a brilliant choice. Located in the Spanish countryside, it blends so well with its surroundings, leaving only two details in contrasting yellow color – the door and the chimney. Floor to ceiling glass walls on both sides of this wonderful retreat offer unparalleled vistas of the ever changing landscape, and access to two outside decks.


This small house that looks like a simple wooden box on the outside has a secret – there is a basement inconspicuously built into the hill below.


See All Images
chqs.net
For Smaller Footprint, Go with Box Like Home Designs

When you have a very small lot of land, or want to have a small footprint, or simply want to achieve better views of the surrounding area, and want to save money with a uniform wooden construction … going with a simple box-shaped architecture is the way to go, and here are three distinct examples of wood cottages and a home built based on this idea.
The modern house below is located on the Eastern slope of Australia's Mount Wellington. A small, compact wood box home with windows that make it feel big. The footprint is small, but the expansive view is large. Who would have thought that a simple box shape home could look this elegant? A perfect idea to show off your wood cladding!


This home cantilevers over the steep slope. It has an open layout floor plan and a big loft upstairs. Nice and earthy design.


See All Images
room11.com.au
To achieve an even smaller footprint, you can go with the vertical house designs while adding layers of additional living space. Basically, take a similar box shape (as above) and turn it on its shorter side.
This vertical lake home (below) is just that. It's a 4-storey towering box that builds up and out from a tiny flat lot on a steep hill in Brissago, Switzerland. And it comes with its own cool design story. Read on below the next image.


The customer required the construction costs to be kept low. So the natural choice was to stick with the "simple shapes and minimalistic solutions" – basically a rectangular design. But there was a huge logistical obstacle – the property has no street access, even now. Because of that and to minimize costs, the type of construction selected was a prefabricated wood building. And here's how it was done – the completely finished and pretreated timber panels (prefabricated with windows and breathable insulation) were trucked over the Alps and then assembled using a helicopter. Very cool! The house was built in just three days.


See All Images
Daniele Claudio Taddei Architect
This tiny barn conversion (below) to a compact wood home is stunning, isn't it? The small barn in Italy was in utter ruins before the conversion and now it's a charming small two bedroom home. Constrained by regulations, the architect made the most of the height. Each room is on its own level, a bold move. The result? This magnificent modern and compact dwelling occupies the smallest footprint possible.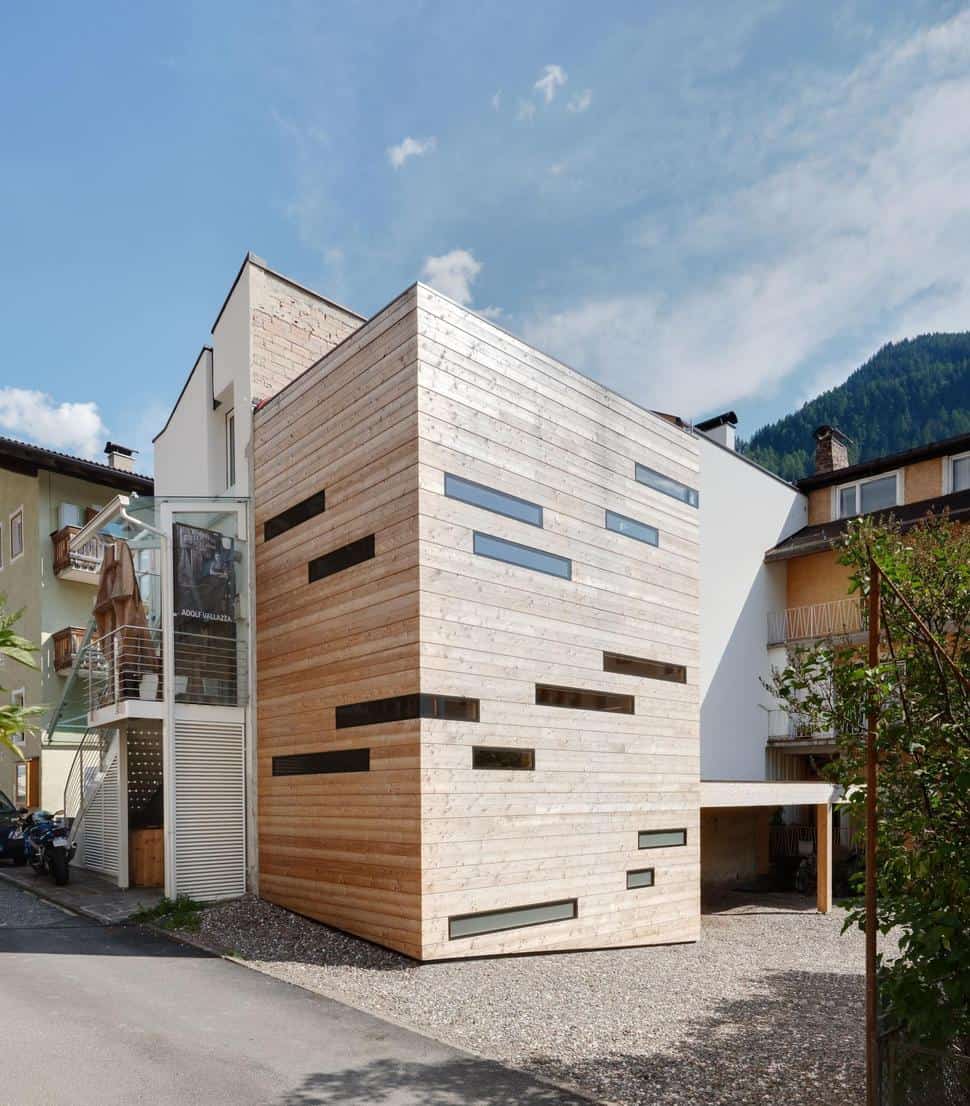 The woodwork in this home is amazing. And the interior is so cozy.


See All Images
christianschwienbacher.it
Express Yourself with an Unusually Shaped Home Design

Now, these kind of uniquely customized ideas may take time and some vivid imagination to materialize, but if you got both then maybe this is something to consider. Small homes are perfect subjects to experiment with unusual architectural ideas. Maybe you have childhood memories that you want to reproduce, or maybe you desire a hi-tech home that utilizes all the latest architectural tricks, or maybe you just want to be very original because you can. Then wood is the perfect material to get creative with. Here are some examples of other people's creativity.
This wood house is shaped like a boat (below) – but there's no seaside here. It's in the middle of a forest in Finland. The small house is laid out like a sea ship's interior and there's lots of wood. The round windows are a real nautical touch and when the fireplaces are stoked – they make the home look like a steamship under power. Land ho!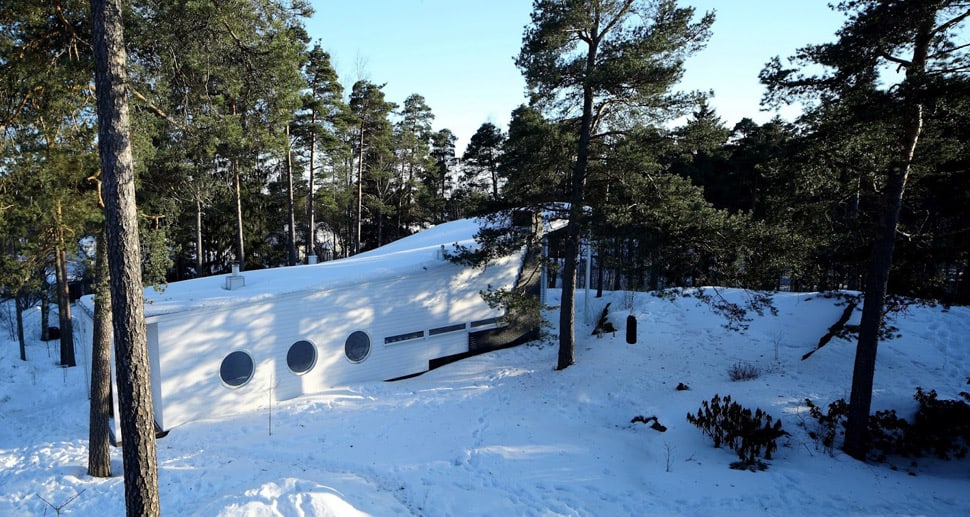 The fireplace is also unordinary, just like the house.


See All Images
marcocasagrande.fi
This C-shaped house (below) in Casey Key, Florida, is basically a tree-house design. Once you are inside, you're not only surrounded by the magnificent curved wood beams, but by tree tops. What a beautiful small footprint home. These spectacular arches is a perfect example of what can be done with wood as building material. There are practically no limits, only your imagination. One of the most innovative little wood house designs we've ever seen!


This timber house with curved roof has warm, woody interiors.


See All Images
sweetsparkman.com
This unusual wood house is designed after the local twin boathouse style. Local being Lake Starnberg, a popular southern Bavarian recreation area for the residents of Munich, Germany. The house sits on stilts, illuminated from beneath, to further the boathouse feel. And of course, there is all that beautiful wood, inside and out.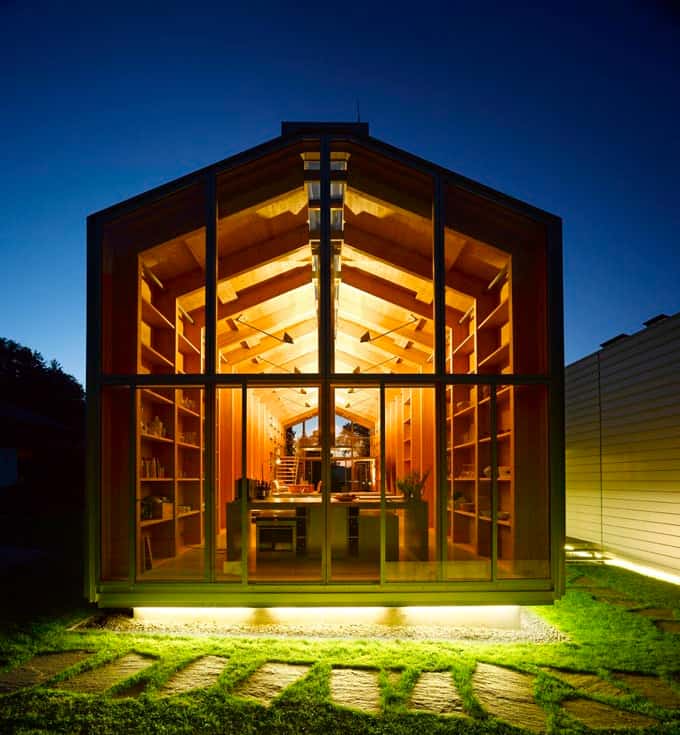 The architect who designed this live-work house lives in it. No wonder. Look – these exposed wooden structures become shelves, how clever that is. And there is even a bridge going across the two shelved walls, for easy access. This is a good example of how creative minds design things to fit their creative needs. Such designs are never ordinary.


See All Images
We hope you've enjoyed this small collection of interesting wooden designs. Maybe you've got inspired by one of them to build your own home in the near future …