After watching the movie Sleepless in Seattle, a lot of people started thinking about living on a floating home. And many were surprised at how luxurious their interiors could look. It certainly can be west coast living at its finest. And while there are floating home villages on the east coast, and even in the middle on the Great Lakes – it's the weather on the west coast that makes them so popular. Temperate. Not winter. And why not? To be right on the water, to wake up with the call of the gulls, the slap of the waves – it's just so relaxing and well, movie-like. Living on a floating home is like living in a movie, a movie of the ever-changing ocean and tides. Some have very modern interiors, others are a little more rustic. But there's no denying – they are not lacking in the comforts of home. Welcome aboard, and welcome home!
Floating Home Interiors in Seattle, WA

Many times, floating home interiors are wildly different than their outside shells. However, in this case, modern is as modern does. Source


Isn't this an incredibly simple and sleek living area? You'd never know you were in a floating home. Source


The kitchen is spectacular, of course but nothing can hold a candle to the view from a floating home. Source


The exterior of this home on Lake Union looks like a cabin in the woods – but never judge a book by its cover. Source


Talk about home interiors surprising you – this place is nothing like the exterior hints. Love the kitchen! Source


The interior of this floating home is almost library-like. Source


A cubist exterior for this floater on Lake Union – by Designs northwest Architects.


The kitchen in this home has an almost tiki-bar feel. Appropriate for a floating home interior, no? Also, check out that fridge. Love it. Source


As always, the major bonus to designing floating home interiors is to design the view right into the living space. Source


This home on Portage Bay has an almost all-glass front. Which means that the interior has wide open view of the water. Source


The living space inside this home is ultra modern and ultra open. Don't you love the stainless backsplash and the red cupboards? You can do pretty much anything to a floating home interior that you can do to a house on land. Source


The side walls of this home are made of wood and the high ceilings give this room a real open feeling. Notice the window on the right? Nice touch. Source


The landscaping around this floating home in Eastlake gives it an almost tropical look. And notice the red door? Source


A great kitchen in this home interior – especially the wine cooler. How many bottles do you think that holds? The pass-through is a nice touch, too. Source


The living area of this houseboat is open and clean. We love the shag rug, and the metallic ottoman. Source
Floating Home Interiors in Vancouver, BC

This blue houseboat on Granville Island has a Cape Cod feel to the exterior with its dormers and small balconies. Source


Cape Cod continues through the interior of this floater. This country kitchen is right out of a decor magazine. And we've always been a sucker for breakfast bars. Source


Imagine the sun beginning to stream through the windows and waking you up slowly in this heavenly bedroom. In this heavenly floating home. And of course, your coffee has already been delivered (in a white mug). Source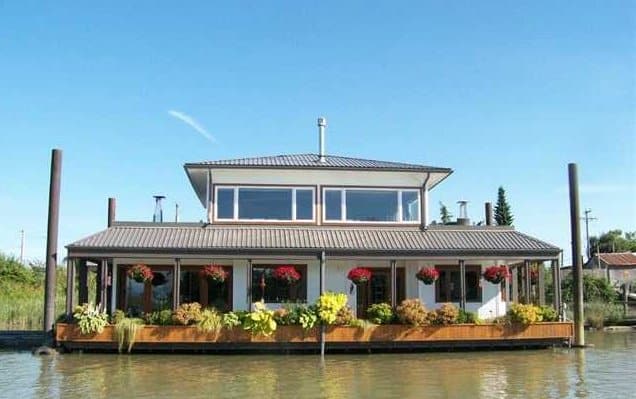 This home just south of the city has a symmetrical design. And some great plantings on the front deck. Source


The dining room table is positioned to take advantage of the view in this home. Check the teak wood ceiling and gas fireplace. Sleek. Source


A wood stove keeps the upstairs den area warm in the winter. Lots of windows – one of the major points of a floating home is the view. Source


The lighthouse floating home on River Road has a fun exterior. The top garden deck must have a spectacular view. Source


The interior of the lighthouse echoes the round base of the structure, while keep things thoroughly modern. Source