Rosenow | Peterson Design designed this amazing glass wall house as a reflection of its environment and an ode to modern architectural design. Perched on a grassy hilltop here in the pastoral midwest, the Edgewater Residence in Prior Lake, Minnesota features a palette of glass, steel, stone and wood which combine to form this strong, striking silhouette amidst the rolling landscape. Interiors of this open concept home are bright and spacious, with views of and direct access to outdoor entertaining areas. Surrounded by pastoral scenery and the water's edge always within sight, this elegant lake house both complements nature, and stands out on its own architectural merit.


The crisp, clean architecture stands as two storeys of gleaming glass; the basement level becoming three glazed floors peeking out from the slope side, inviting sunlight into every area of the home.


A set of stairs carved into the hillside leads up to the glass entrance, highlighting it among the massive windows cladding the whole facade.


Through the front doors lead into a wood wrapped entry foyer, like a warm tunnel leading into a bright, open and nature inspired home.


Taking a cue from its surroundings, the main living area is a bright space with an alfresco feel, thanks to the expansive glass facades that separate it from nature and the waterfront.


Tall ceilings and an open layout enhance the sense of space, which is stretched further by the glass walls – out to the horizon, in fact.


A stone fireplace warms up this vast, open space creating an earthy focal point and a warm, inviting hub for after-dinner conversation and company late into the night.


A door (glass, of course!) offers views of and direct access to an outdoor patio.


The living room opens to a delish dining room, ready to host an intimate family dinner or a swanky soiree.


Continuing past the dining area, a contemporary kitchen that dished up the latest in fixtures and finishes – chef's appliances, marble-topped island, modern pendant lights and a shimmering tile backsplash, all facing a wall of glass and the lush scenery beyond.


Along the window wall, a two-storey void is flooded with natural light and overlooked by an upper level loft space.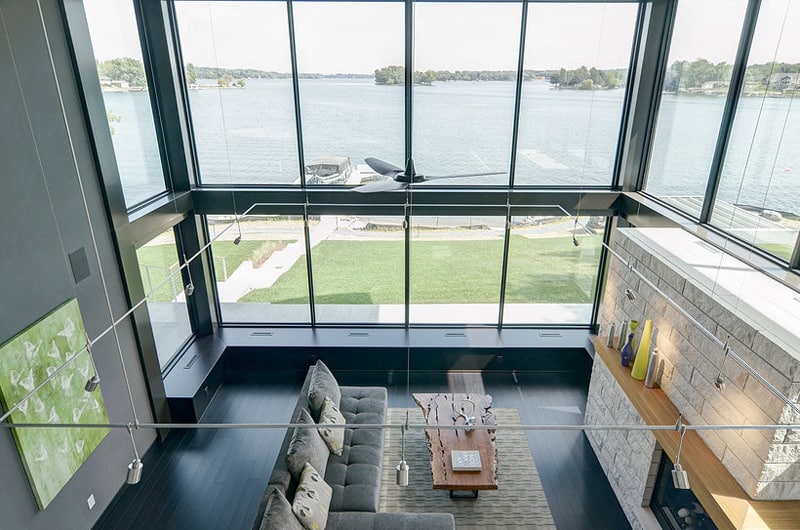 Not only is the main floor open in its layout, but so too is the upper level to lower, creating a perfect home for family living, socializing and entertaining.


The bedroom is humble and serene; a sweet spot for sweet sleep – but who needs dreams when you have real views like these?!


The private ensuite was built for two, complete with mirror image vanities. mirrors, lighting, and smack dab in the middle, a walkout to the private terrace.


We love how wood is integrated into this den, which combines with the lower ceiling height, and comfortable yet contemporary furniture arrangement that lends it a cozy, intimate feel.


This modern office area is all business, with some sleek style thrown in for good measure. And of course, those views are always within easy reach.


Another den / television area looks down onto the living room below, and out onto the landscape.


Like the lower floors, the upper living areas also boast not only views of, but access to the outdoors.


An upper-level cube volume protrudes off the upper floor, echoing the timber detail of the main entrance like a warm, wood-wrapped tunnel leading you past the glass facade and ushering you out into far-off vistas.


Rosenow | Peterson Design
via Freshome