A combination of countryside cottage architecture with a contemporary twist, this stone home designed by Peter Legge Associates makes a great addition to the rolling grassy landscape here in Ireland. In fact, this is just what you might expect in this pastoral setting – a rustic style that draws on its surroundings for materials and flavor. But, an unexpected element sets this home apart from the rest – a transparent, glass enclosed staircase connects the two volumes while adding a modern touch to tradition!


The Dublin based architecture firm brought new life to two dilapidated homes, transforming them into one fabulous family home connected by this glazed, sun soaked staircase.


The dining area is also enclosed in glass, with folding doors that open onto nature to create a light and airy alfresco area that still offers protection from the elements when things turn ugly outside. It's certainly not something you'd expect in an old country cottage, but definitely a welcomed feature.


Of course, the designers wanted to maintain a degree of simplicity in the design, so they included a humble kitchen finished with natural wood details and a fireplace feature that is simple, yet a certain hotspot in this home.


The exterior stone walls continue inside through the glass stairwell, which adds to the feeling of being in the great outdoors.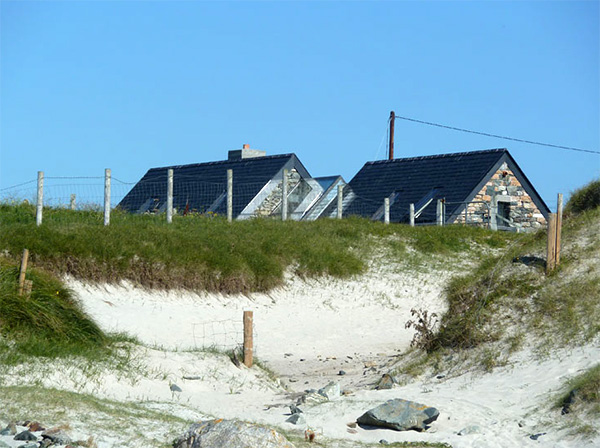 The house is available to rent so you can experience it for yourself.
Contact architects at Peter Legge Associates.