Modern interior designers use staircases as decor objects more and more, and the idea of having colorful staircase designs must now be considered when designing a modern home. And the staircase presents many different options to implement a colorful design – structural features such as treads, risers, balustrades and handrails all can be color decorated separately. They can be painted, stenciled, finished with colorful tiles and even lit with LED colors. The 30 examples below will give you a very good idea of what can be done.
Artistic Staircases

Color integrated into a stairwell design can take on all sorts of different styles and formats from traditional to modern, in multiple hued patterns or solid sections. This particular circular stairwell has had solid colored wood sections incorporated right into the treads construction for a modern geometric design that is then softened by the rope handrail. Dezeen

Taking a completely different approach, this incredibly artistic design was constructed of LEGO bricks. Needless to say for structural integrity, the stairs themselves are not LEGO, just the balustrade. Here too, the geometry of the LEGO has been softened but this time with some wildly colorful wall sketches. Home Design


Sean Kenney, a licensed LEGO artist worked with the homeowners, both creative professionals, to create the pattern of receding or intensifying colors while I-Beam designed the Mondrian inspired openings in the stairwells via their computers. Source


When white and black are thought of as colors, gorgeous creations can be composed such as this curving staircase of white marble enhanced with one 12″ strip of dark marble. Freshome


As eye popping as the yellow used on the inside of this balustrade is, it's the fun oversized graffiti letters that really jazz up this design. Inspiration DE


Color, stripes, dots and more, this colorful staircase has it all and then some. An ode to Pop art but with more contemporary colors, the busy design travels consistently through the treads, hand rails and surrounding walls . The Fac


If we are going to talk about the arts then literature should definitely be included in the conversation. Have you ever wondered who has the knees and patience to paint book titles on stairs? In the case of these well read risers the answer is no one. These are actually vinyl book decals. VIPdecals
Solid Color Staircase Designs that make a Statement

A solid plane of translucent yellow is a bold statement that normally might overpower a hallway but the translucence of the glass panels softens the overall aesthetic, allowing you to look through the bold color choice rather than having it stop you short, commanding you to look at nothing else. Design Milk


This spiral staircase cleverly uses bright yellow to visually exacerbate the tapering of each tread. Enpundit


Red is another great color to draw attention to details and in this case the detail is a curvaceous underside of a stairwell. Source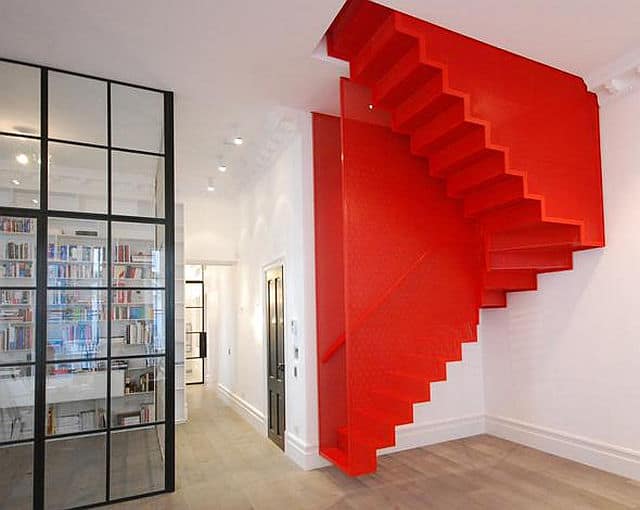 A bespoke design, this bold red staircase is more than just a bright color, it is a design that pays homage to a art installation by Do Ho Suh. Source


If anyone ever tells you that you can't use large amounts of orange when designing an interior space, just show them this amazing spiral staircase! My Modern Met


Another unusual staircase color choice is this blast of turquoise which just seems to glow next to its steel balustrade. Home Adore


While this deep shade of blue might not be as vibrant as the previous turquoise stairwell, this deep blue cube is just as commanding, especially since the beautiful cube stairwell features a unique balustrade that includes open and closed shelving. LocaLHomeSpot


A similar shade of solid blue was used on this stairwell but with a completely different effect and aesthetic. Choosing to build a door 4 steps up and then using the blue only from that point onward was definitely an out of the box concept. Via House
Colorful Handrails and Balustrades

The bold swathes of color used on the previous stairwell photos where bold and beautiful and while limiting color only to the handrails or balustrades might not be large a color statement, it still is a dramatic and dynamic decor choice. This bold yellow handrail in the above photo is pretty spectacular don't you think? Source


You would think a pink balustrade would feel girly but this contemporary "pink power" balustrade has such an industrial overtone to it that the aesthetic is all grown up and sophisticated too. Source


The above blue balustrade is a minimalist statement of subdued tones that plays beautifully off of the Richard Prince painting displayed on the wall. Architectural Digest
Colorful LED Lights Dramatize Stairwells

The fun thing about LED lights is that they can be programmed to showcase one color, two colors or multiple colors all at the same time, so while the above photo showcases brilliant blues, lavenders and yellows, this staircase could just as easily have been photographed in a solid brilliant green hue. Decoist


In the above photo using colored LED lighting helps define the clear glass treads and also helps create a geometric pattern that is repeated within the balustrades vertical steel rods. Source


The blue LED glow of the treads in the above Madras clear glass treads casts a soft reflection onto the otherwise white and clear walls that frame it. Architonic
Colorful Feature Walls for Stairwells

When creating a color story for a stairwell the color doesn't have to be on the stairs themselves. The wallpaper in the above photo showcases how a beautiful color story can be created on a stairwell feature wall. Archiproducts


The Chinoiserie wallpaper on this stairwell feature wall has a completely different aesthetic than the geometric green and concrete pattern on the previous photo but this soft and delicate flower garden is just as dramatic and both are gorgeous. Sarah Sarna
Creating Color Statements in Staircases using Metals

This perforated sheet copper stairwell is one of the most beautiful stairwells I have ever seen. The color of copper is so unique that alone would have made a grandiose statement but perforating the copper into an almost spider web pattern just takes this stairwell to a whole new level of awesomeness. Freshome


The above iron staircase rocks a minimalist profile of continuous tread and riser projecting out from a series of iron panels that extend upward to create the safety rail for the mezzanine above. Beautiful. Decorfacil
Industrial Staircases that Pop with Color

Everything about the above stairwell is custom from the graphic brown pattern on the white bricks to the changing colors within the risers. Even the exposed wood floor to ceiling frame on the opposite side of the stairwell adds to the industrial and artsy vibe. Design Milk


A real simple way of creating a colorful industrial moment on a staircase is to paint yellow lines along the edge of the treads and then number the risers. Source


The steel treads on the above photo have been jazzed up with what appears to be color stained wood treads but are in fact wood look porcelain tiles. Design Milk
Rainbow Color Effects for Stairwells

The above photo showcases a rainbow effect in dark hues that start with the deepest purple and slowly travel upward to become a bright green. While these stairs are colorful, the subdued hues offer a soft aesthetic rather than a crisp bright one. Homesthetics


Above is another rainbow staircase that layers in a rope handrail and fishnet look balustrade to create a fun youthful staircase perfect for the children's play area it ends up in. Contemporist


Rainbow treads in neon colors make the above narrow stairwell pop with so much brilliance you almost don't even notice how narrow it is! Homedit
Color is such a great way to personalize a space and not just for staircases! Check out our Color Interiors section for more colorful ideas on how to add a little extra flare to your interior design schemes. Also, if you as intrigued by the LED lit stairs as I was you might enjoy our featured unusual LED light designs for home interiors.