More often than not staircases are designed simply as places to get from A to B in the vertical sense but staircases can also offer the opportunity to feature unusual design features, and with geometric details all the rage, architects and designers are getting in on the action and creating geometric staircase designs with clever and unexpected details. In the below 15 examples, we present ideas that are much more that just stairs.


The Mendelkern home, located in east Tel Aviv and designed by David Lebenthal Architects, features a balustrade of alternating voids within the floor to ceiling balustrade but it also features a series of shelves mounted on the balustrade for display purposes. The geometry of the horizontal and vertical moments is then broken apart by the slash of the continuous steel tread and risers, boldly geometric and quietly minimalist at the same time.

The geometry of the stairwell is softened by the various collections on the shelving and especially by the living greenery. Source.


There is nothing more geometric then an awesome cube design and this blue stairwell by RA Projects is not only cubular it is also blue to make a statement in the otherwise neutral Fin house.


Reinforcing the geometry is the wall of open and closed shelving that is incorporated into the back of the balustrade. Source.


The Iron Lace staircase by Gestion Rene Desjardins for clients living in Montreal, Canada is a composition of different sized discs repeating themselves in a random pattern making this stairwell not only geometric but organic as well.


Francesco Librizzi Studio created this amazing stairwell of oak boxes and blackened steel for Casa G located in Cefalu, Sicily.


Wood boxes are also a feature of the staircase in Glebe House by Nobbs Radford Architects only here they are mounted into the deep balustrade.


Even the underside of the Glebe House stairwell is beautiful. Source.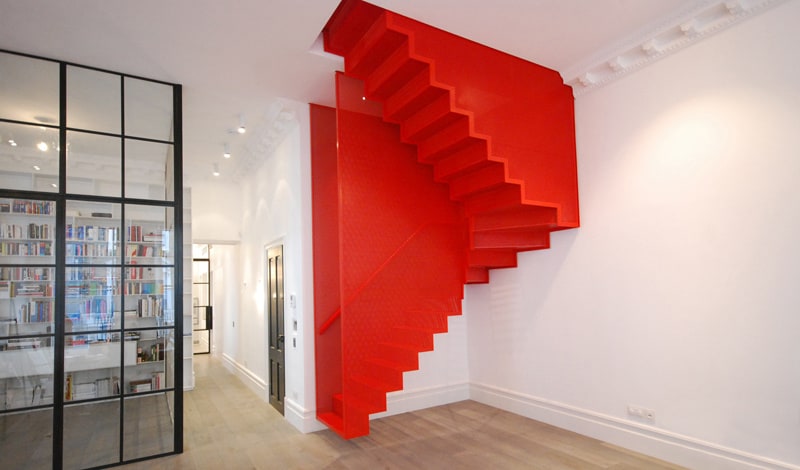 This bespoke red stairwell by Diapo seems to defy gravity and is based on an art installation by Do Ho Suh only instead of fabric this staircase is made from perforated steel sheets.


The AR Floating glass stairs by Diapo where designed for a reception hall. Made with UV bonded glass risers and treads they are side mounted with Stainless Steel connectors which add in their own layer of repetitive design elements.


Architects Edouard Brunet and Francois Martens created this suspended steel staircase to incorporate the millwork below. Source.


While geometry might be the backbone to this self supporting staircase by Marretti but it's the spine tingling backbone aesthetic that really catches my eye.


Specht Harpman included a grid pattern on both sides of this stairwell – both on the wall and on the area beneath the stairs. Designed for a 425 sq.ft. micro home in NYC the stairs hide a secret.


The geometric grid pattern beneath the stairs are actually doors and drawers for extra storage – pretty cool. Source.


Craft Design created this modular staircase as a series of storage cubbies that "disappear" from sight into the actual wall of storage cubbies behind it. It's a relief pattern of geometric boxes. Source.


Another stairwell that has a relief pattern is the design of SABO Project only this time the stairs are hidden behind the storage units which also happen to include a work station. Source.


Nico van der Meulen Architects designed House Boz with all sorts of interesting geometric details, one of which is this stunning staircase which just happens to include light strips in each of its treads. Source.


Here's another well lit staircase. Designed by Design Associates, it incorporates concrete edging and thick solid wood treads for a boxy look that is inspired by Japanese design. Source.


There is something askew about this design – oh I know, it's the shadow box treads! A fun design by OYO.IS, the stairs are livened up with a blast of red on their sides and that red is repeated in the supports of the clear hand rail – truly unique!
If you are a fan of geometric designs then you might also want to check these geometric bio-ethanol fireplaces.