How awesome would it be to be able to build one of the cabins below and spend some time in it too? This has been our long awaiting dream. Get together with the family, get all the materials and tools needed and spend a week or two building a small gateway cabin somewhere on a nice piece of land, hopefully near a lake or a river, sit around the fire pit on the starry nights after a hard day of work and talk only about positive things!

Home Office Getaway Hangs from Steep Slope
This suspended home office overlooks Chuckanut Bay in Bellingham, Washington and belongs to Peter Frazier. It has amazing views of the land and bay from three sides with the fourth hugging the cliff behind it, there is even a deck for peering down – way down. What an inspiring place to work, what an inspiring place to create! See more of this small house idea.


Modern Lake Cabin with Bentwood C-Frame for Roof, Wall and Floor
Saunders Architecture designed this amazing waterfront vacation cabin with its curvaceous bentwood roof to floor frame. What we also love about this design is the way the bentwood frame perches on and then cantilevers out from its deck, which runs at right angles to it. Located in Norway this beauty is a minimalist design with maximalist impact!


Shed like Cabin with Split Roof Design to Accommodate Clerestory Windows
Can you believe this tiny cabin was built freestyle without any blueprints? Its not much bigger then a shed but its got everything needed to make an awesome home away from home. One of the fun design features is the cantilevered bench along the facade next to the French doors, which open outward bifold style. Clad in red wood inside and out, the cabin stays light and bright thanks in large part to the row of clerestory windows that split the 2 roofs.


Compact Cedar Shingle Beach Cottage with Loft and Bunk Beds
Located in England, this charmingly rustic beach cottage was designed by Studiomama to withstand the odd tidal surges by raising it off the ground and onto galvanized steel stilts. Its only 388sqft but can accommodate a family of 4 via its loft style master bedroom with bunk beds below on one side just behind the kitchen. The rustic charm of the cedar shingles on the facade is continued throughout the interior with knotty wood planks used on all the walls, cabinetry, floors and ceilings. It's a beach beauty!


Tiny 2-storey Lake View Cabin Built in 2 Weeks
In Finland cabins under 96-128sqft don't require a building permit so Robin Falck built himself one teen tiny 96sqft permitless cabin and he did it in 2 weeks (sans windows and doors which arrived a couple of weeks later). Sitting on a lakeshore the micro house has water views from its double volume window so that Robin can enjoy the lake both from the living area and his bedroom, which is up a ladder in the 2nd storey 50sqft loft – or when the weather is nice he can enjoy the vistas from his deck which has a larger footprint than the cabin!


Futuristic Cabin on Stilts with Observation Loft
Built on stilts with walls that angle out along its length, this wildly unusual cabin was built for a family in the mountain locale of East Tyrol, Austria. Located on a hillside with amazing mountain views, the cabin was mounted on the stilts to get a better vantage point of mountainous vistas and while futuristic in style, the cabin actually borrows historical aesthetics from the homes around it and features such traditional materials as cedar shakes and a copper chimney on its facade and pale knotty planking on its interior, including the 2nd storey observation loft.


Off Grid Cabin with Operable Glass Garage Door as Wall and Window
Broadhurst Architects designed this tiny one bedroom cabin on a West Virginia, USA, off grid hillside as a sustainable cottage that was built with locally sourced wood, and has its own water and heat sources. As amazing as that is, it's the awesome garage door that opens out and up to create a canopy over the cantilevered deck that caught our attention. The property around the cabin is part of a historic farm, meaning the land was cleared long ago and because of this the cabin has naturally unobstructed views of the valley below and when the garage door is opened, its as though the cabin is merely a gazebo vantage point.


Team of Carpenters Built Remote Tiny A-Frame Cabin in 1 Day
Perched on a mountain top within the Italian Alps Giovanni Pesamosca Archhitects designed this miniscule A-frame as a shelter for hikers. The triangular truss A frame design was chosen for its resemblance to mountain peaks while its prefab outer shell was chosen for its remote locale. Construction materials and supplies needed to be airlifted to the site and a team of builders had to hike or fly to the crest of the rocky ridge to build the structure and they did it in less than one day – talk about team work!


Cabin with Mini Tower Aesthetic has Copper Roofs that Drop Down for Security
Located in the Australian outback, this 10x10ft prefab and sustainable mini tower cabin was designed by Casey Brown Architects to close up tight when empty but open wide when occupied. The footprint of the cabin is very small but by incorporating a second storey, the cabin becomes far more versatile and with glazings wrapping the lower volume, the home feels completely connected to its surroundings. It was these vulnerable glazings that prompted the architects to design the innovative copper roof overhangs that can be lowered all the way down and locked in place to present a completely closed and contained facade when the cabin owners are away.


Steel Cabin on Stilts Features 2-Storey Sliding Facade Shutters
Olsen Kundig Architects designed this steel cabin on the Olympic Peninsula In Washington with walls of glazings that can be contained behind large steel shutters when the cabin sits empty. When opened, the elevated position of the cabin allows views of the forested location to permeate the cabin within and for this reason the steel structure is replaced with wood clad interiors for a harmonious indoor outdoor aesthetic. Even so, steel still has a strong presence indoors via the steel ladder and safety rail system used for the loft and the stainless steel kitchen counter and backsplash. The contrast of the steel, glass and wood within an industrial yet rustic cabin is just awesome.


Transportable Beach Hut on Wooden Sleds Hides Glazings behind Wood Shutters
Because of the coastal erosion zone this beach hut sits on, Crosson Clarke Carnachan Architects designed the cabin on a pair of sleds for easy move ability in accordance with the areas requirements. Located on the shores of the Cormandel Peninsula, New Zealand, this wood hut is a holiday retreat that sits empty for extended periods of time and so the architects designed wooden shutters that bifold upwards and out of the way when the cabin is occupied but close up tight when it is empty. When open, a pair of 2-storey glass doors open wide to create a perfect indoor-outdoor lifestyle and a roof top deck offers a private panoramic hide out.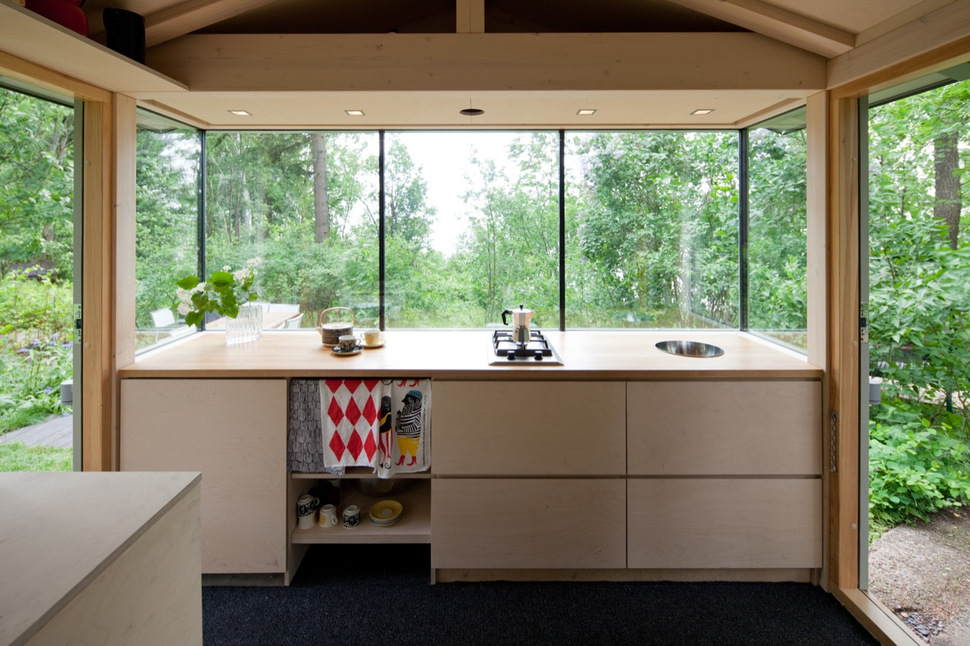 Compact Cottage with Boat and Caravan Style Sleeping Zones
Located in Lauttasaari, Finland, this compact cottage was designed by Verstas to accommodate a family of 4 even though it is only 14m2. Located in a forest, this family cabin is only 2km from the city making it the perfect weekend retreat and with home so close minimal storage was required but since the family does spend so much time in their "home away from home" a space in the kitchen is the designated homework zone for the children. Additionally the architects paid close attention to space allocation, using both boat and caravan designs when configuring the sleeping quarters. Sofas do double duty as beds and a loft creates the master bedroom.


Inexpensive Loft Cabin Design on 3 Levels
Archites Ryan Stephenson, Joey Fante, Kait Caldwell, Aimee O'Carroll combined forces for a design-build project called Rural Studio. The project was to build a cabin within a tight budget of only $20,000 labor and materials inclusive. The final design has a small footprint but soars upwards with 2 storeys and an attic space. It's a slope house plan, using stilts to level the cabin and even though the designers took a bare bones approach they still managed to create a few WOW moments on the inside, especially with the double tread, open riser staircase that leads from the main level to the second storey.


Dock Cottage on Tiny Island has Folding Wood Wall and Sliding Glass Wall
Architects 2by4 Architects designed a cottage on a dock that extends out into Loosdrechtse Lake located in The Netherlands with its own boat ties on one side. Clad in horizontal board and batten wood siding naturally weathered into a grey patinate on its roof and two lengths, the interior of the cottage is completely exposed through the glazings on the end walls of which one slides and stacks out of the way to create an ideal indoor outdoor lifestyle. Just as one of the glazed walls opens, so too does one of the wood clad walls, only instead of sliding out of the way, this wall opens outward, bifold style hovering over the water.


Trailer Mounted Cabin is Home on Wheels
A young couple and their dog from Iowa, USA opting for a simpler life designed and built their very own home on wheels that allows them to travel from place to place without ever actually leaving their home. The cabin consists of four rooms, living, kitchen, bedroom and bathroom and since it is designed to be used in campsites it has been outfitted with the required hook ups for park utilities. Small but functional, the couple used innovative space saving solutions when laying out the various zones within the cabin and opted for white walls and pale woods as the finishing materials. Once built, the home was mounted onto a standard trailer frame with its only connection to the ground below being the electric chord and water hook up.