Wrapping into a warm blanky with a mug of hot chocolate seems like the best winter activity you can find. Although it can only get better, if you are surrounded by snow-covered woods or mountains. Gorgeous frosty views add some special charm to this people's favorite winter pastime. Modern cabins can further enhance this experience of views and warmth. And these designs are sure to make you want to start building.
Modern Cabins in Norway
Rever & Drage built a Hytte Årsund on the rocky west coast of Norway to replace an old vacation house. The timber-clad living quarters allow great views. The rich surrounding nature is filled with greenery and hilly fjord landscapes.
The stilted modular rooms are only a part of the modern structure that uses huge windows to open up to the sea. There is also a generous swimming pool that survived the demolition of the original building.
Cabins in the Forest of Poltava, Ukraine
Cabin living is not only a privilege of hunters anymore. Various retreats build cabins in lieu of traditional hotel rooms to offer an exclusive and yet more natural living experience. YOD Studio designed a few small cabins for a retreat in Poltava, Ukraine.
Verholy Relax Park boasts extremely modern cabins/guest houses that look quite fitting with the woods on the outside. Their interiors are, on the other hand, extremely comfortable and contemporary.
Recreational Island House in Denmark
2by4-architects built a mini lakeside cabin on a small island in Loosdrechtse Plas. The 215-square-foot (20 sq m) holiday house has two glazed parallel walls with a retracting corner.
The small cabin has everything for a comfortable vacation. There is a rotating fireplace and a small corner kitchen. It also has a small terrace facing the lake.
Wisconsin Woods Cabin
Somewhere in the woods of Wisconsin, there stands a Stacked Cabin. An L-shaped building opens to the surrounding views with opposing glass walls.
Its tall block with more solid walls provides more privacy for the living quarters. Letterbox windows, however, help bring more daylight into the rest of the house.
Fishing Cabin on Stilts by Olson Kundig Architects
Olson Kundig Architects specialize in modern cabins. Their designs are always intriguing but practical. Sol Duc Cabin is a steel-clad hut on stilts located in Olympic Peninsula, Washington.
Its distinct feature? A huge metallic sliding door that shuts the cabin's glazed facade down when it's not in use.
Moonlight Cabin in Australia
Standing oceanfront in Victoria, this fully screened timber cabin with a sloping roof is a true beauty. It has an area of just 645 square feet (60 sq m). But it's outfitted with a kitchen, bathroom, and other utilities.
The sleek contemporary interiors fill in the space with style. And the operable shutters allow flexibility and cross ventilation. This one of the most beautiful modern cabins we've seen.
Tiny Pod Cabins in California
Cabins are often small, but these tiny pods are super teensy, and only allow for minimal storage and sleep. Installed in Joshua Tree National Park by an artist Andrea Zittel, these are for creative types.
Wagon Station Encampment, where ten of these pods are receiving visitors each spring and fall, is remote. It is, however, enhanced with open-air showers, composting toilets, and a communal outdoor kitchen.
Modern Cabin in Tromsø, Norway
Although it had budget and building restrictions, the Cabin Laksvatn turned out looking great. Its timber pitched roof silhouette broken up with generous glass inclusions.
Built for nine beds, the cabin layout accommodates various areas in a clever way without taking anything from each of the zones.
Woody15 in Isdammen, Norway
Another Norwegian cabin aims to stand out with its contrasting design rather than blending with its woodsy surroundings. Completed in 2014, the one-room cabin is more shelter than a holiday home.
With no kitchen, bathroom, or electricity it is bound to get one closer to nature in more than one way. A single amenity that you can find there is a small wood-burning stove used for heating.
Cabin 2 in Victoria, Australia
The client family wanted their holiday home to be able to accommodate guests. But Cabin 2 is not a model name. It is the extension to an existing 1960's log cabin in Victoria.
The architects decided to allow the old and new be their own individual structures. Hence, the designing angular shape of the Cabin 2.
Manshausen Island Resort in Steigen, Norway
Another cabin resort is located on Manshausen Island in Norway. Overlooking the waters of the Barents Sea, the half glass blocky structures are made for rest or creative work.
Each cabin faces a different side, and the main building with kitchen and dining area is a restored historic farmhouse.
Cabin in Lillehammer, Norway
Deep in the Norwegian forest lies a peculiar new cabin inspired by the imagery of the huts buried in snow up to their roofs.
Slopes formed by the cabin's roof become attractive spots for ski-jumping during snowy wintertime.
Urban Cabin in Seattle
Although cabins belong in picturesque locales, sometimes one just has to do with what one has. This Urban Cabin was built for a retired couple, who've lived on the site for 26 years, creating a small paradise amongst the urban hardscapes.
Given that it's a permanent living space, the cabin is much bigger than the regular thing. But it has all the necessary essentials for simple but comfortable life.
Polycarbonate Cabin in Chile
Polycarbonate Cabin is a small cabin for rent in Chile that stands next to a bigger holiday home. Built on a small budget and a tight site, the wood-clad interior is encased in polycarbonate walls to allow daylight inside the small cabin.
The construction was very low-tech, and took only 2 months time to complete. It also looks far more contemporary than many of the wooden modern cabins.
Vashon Cabin in Washington
Vashon Cabin located on the Vashon Island in Washington is actually a remodel of an old single storey cabin. The work included adding more floor space via a wooden box.
The upper glass level with the living area inside stands behind a timber wall that provides it with more privacy.
 Nido House in Finland
Thanks to their size and seasonal purpose, cabins may often be built with less materials of reclaimed nature. Robin Falck built his eco-friendly forest retreat on a budget.
Using only local recycled materials, he completed his very own getaway in just two weeks. And he also managed to fit it with a micro kitchen, a loft, and an outdoor lounge area.
Valdes Island Shack on British Columbia's Gulf Islands
Josh Dunford of Burnkit built a similar, as he called it, shack with black-stained cedar siding and white-stained plywood.
Equipped with such modern amenities as rainwater collection and solar power, the sloping cabin is an off-the-grid holiday home. It also features a cool outdoor shower and soaker tub.
Over Water Cabin in Pune, India
Over Water has the best location for a cabin. Lake surrounded by mountains. Perched on one of the hills, its glass structure gets enough privacy from the wooden screens and surrounding trees.
The cantilevering structure houses a long room with a big bed, a loft, and a balcony overlooking the lake.
Urban Cabin in São Paulo
Another Urban Cabin is the work of a designer Fabio Galeazzo. It is a colorful structure furnished with a NestRest hanging chair and a big circular bookshelf.
Previously an abandoned house, the sustainable cabin features big bamboo beams and green thermal roof tiles.
Shuswap Cabin in Canada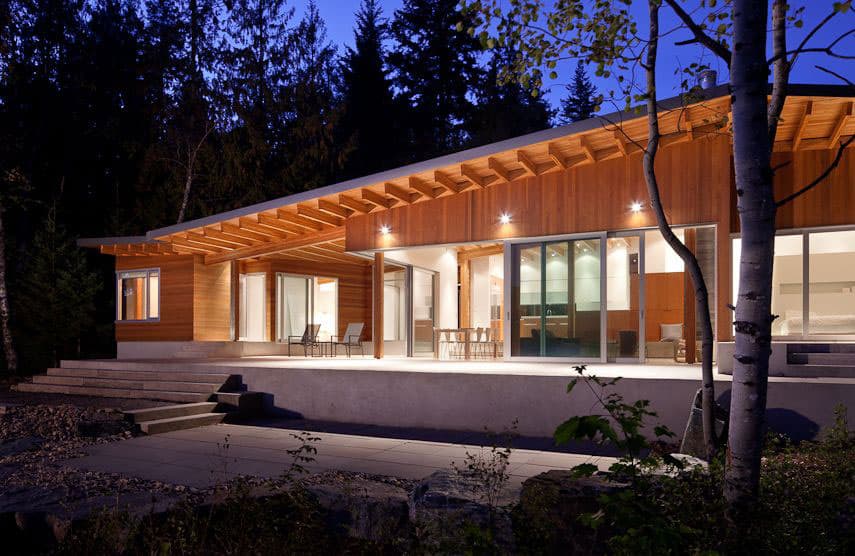 Some modern cabins are simply made for big gatherings and tons of guests. Shuswap Cabin in British Columbia is a weekend retreat, hence, the generous area of 2 300 square feet (213 sq m).
Built with wood and concrete, the architects wanted to marry the contemporary layout and traditional style. The result? An inviting space full of light and flowing interiors.
Dalene Cabin in Østhusvik, Norway
Dalene Cabin is another spacious holiday home in Norway built with wood and concrete. Only this project is contemporary modern through and through.
Its retro futuristic design and contrasting wooden elements look extremely modernist. And abundant concrete and glass bring it a 21st century vibe
Pangal Cabin in  Casablanca, Chile
Practical and yet stylish, Pangal Cabin is a building that could easily serve as a home for prolonged periods of time.
Surrounded with vegetation, it features a lap pool. There is also plenty of outdoor lounging space to immerse oneself into the comfy nature living.
Cabin in Finland
This cabin in Finland doesn't have electricity or running water, too. Facing four different sides, it stands in a woodsy area 170 miles away from Helsinki. It provides peace and quiet to those tired from the city noise.
Heated only with wood stoves, it seems like a great emerging trend in modern cabins architecture.
A-Frame Cabin in Port Hardy, Canada
Whistler is an A-framed cabin that looks like a contemporary take on a classic Canadian forest hut. Its glazed facade allows plenty of daylight inside regardless of tall trees surrounding the site.
Modern cabins make great holiday homes. They are easy to build and may even be mobile. They also offer comfortable living to those who wish to get away from the city bustle. And they are much cheaper than your regular vacation homes.