The cool Scandinavian style of this unusual land-loving boat house embraces traditional Finnish culture, materials and design. Apelle House designed by architect Marco Casagrande was clearly inspired by the nautical lifestyle, both in literal terms as well as in its subtleties. From its round, porthole-style windows, wood clad exterior and its plank interiors, to the home's elongated shape and natural views. And in true Finnish fashion, interiors are minimalist, contemporary and cool. All aboard!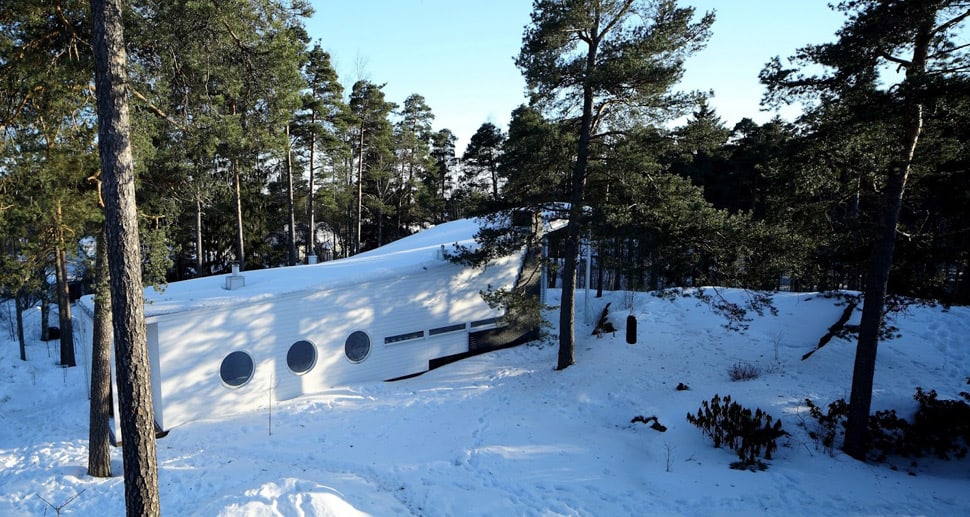 Like a harbored ship, the house "floats" alone in the landscape, with trees all around and bedrock underfoot. Harbored in this forest, the house takes shape as a long tube, organizing linear living spaces along its axis.


The long house ends with a glazed facade and a small but sweet patio overlooking the peaceful forest.


The architect explains, "Like the structural masts between ship decks, a white metal stove separates one space from the next and serves as a division between the bed and the rest of the room. Three circular windows in series sit at the facade, alluding to similar lookouts on vessels at sea. The planked floors and parallel skylights create the sensation of the home at harbor among the surrounding woodland."


But the house is more than just inspired by boats in its looks, built by two local carpenters who also build wooden boats. "According to the carpenters, this is a boat," said the architect.


The house is efficiently laid out, much like a sea ship's interior – cozy and casual, with wood cladding the floors, walls and ceilings. The open concept kitchen, dining room and living area lead into one another, an ideal environment for entertaining and family living.


A dark brick fireplace anchors the open space and brings a dash of dark drama to these white interiors.


Large windows flood interiors with natural light and serene snowy views. The white finish of the walls, ceilings and floors amplify the light and bring brightness to every corner. But not at the cost of coziness – that's something this house is never short on.


Imagine sitting in this glazed nook with your morning coffee or for an intimate dinner by the light of the setting sun.


Continuing down the wall opposite the fireplace, a built-in wood bookshelf puts the homeowners' favorite tomes within easy reach.


Overhead, a row of rectangular skylights let light flood the space. You get the feeling that you're walking a sea ship's deck under an open sky.


A mirror-covered wall further magnifies the natural light in the home.


Sweet dreams in this white-washed open concept bedroom area, its sleeping quarters separated by the white wood-burning stove.


Floor plan:


Roof plan:


Elevation:


Section:


Section diagram:


When the sun sets, the house again takes us to a far-off, lonely, sea spot, its brightly lit windows visible while the structure itself recedes into the deep blue backdrop.


Marco Casagrande
via Arch Daily
photo credit: AdDa Zei