Talavera tile from Mexico is a hot decorating material right now – from the patio to the bathroom to the kitchen to the stair risers. And many more decor design ideas, as you'll see below. You can go full-on Mexican kitchen or bathroom, or you can use these highly glazed tiles to add a bit of pop here and there. You'll find patterns, solids, animals, many different themes you can work with. Not just tiles, but Talavera pottery sinks are gaining momentum for the bathroom. Vessel, drop-ins and half-vessel are widely available. And there are many tile wholesalers online – see the end of this article for sources. Talavera tiles make for fantastic DIY projects. Unless you decide to go for the full-on south of the border job, a simple weekend should do the trick.


Talavera is a pottery within a larger category of ceramics called Majolican pottery and was developed in Mexico in the 16th century during the Spanish colonization. Using local clay and a white high gloss glaze, the distinct, highly artistic style is instantly recognizable as Mexican Talavera. Handcrafted with great care, these tiles are the result of centuries of master craftsmanship. Have a look at some of the Talavera design ideas below.
Staircase Designs
Decorating stair risers with Talavera tile has long been a staple in Mexican homes and is now quite a popular design trend north of the border. It's easy enough to DIY. A few tiles, some tile cement, some grout, some sealer and ole!


Rows of tile patterns change as you climb up these wooden stairs. Source


Here's a staircase using one single tile pattern. Source


Blue and white is always a popular choice for Mexican Talavera tiles. Source


Mix & match Talavera tiles on a set out outdoor stairs. Notice the matching border on the doorway on the right. Source


What a beautiful look on these extra wide stair risers. Source
Bathroom Designs
Bathrooms are a favorite spot to use Talavera designs. You can go Mexican style or even modern – the overall theme is yours to decide. You'll see a bathroom in this section that uses a lizard tile but still manages to look modern and elegant.


Cobalt blue is one of the most popular colors of Talavera tile, especially in solid tiles. It just has such a high-gloss. Source


A glass shower wall allows the tiles to show through in all their glory. Source


Blue, black & white Talavera vessel sink with coordinating counter and backsplash. Source


You can even do your walls in these tiles. Source


We do admit that one can go a little over the top (it was the niche with the religious figure that did us in). But aren't these tiles nice and cheerful? Source


What an elegant master bath. Note not just sinks and counters, but Talavera tile mirrors. Source


Wood and Talavera tile make an excellent pairing. Source


You can get artistic with your wall and shower patterns. Source


This is a luxurious copper bathtub in a small room that has been walled in cobalt blue tiles. Isn't it soothing? Very spa-like. Source


It's lizard Talavera design in this bathroom – but it looks very modern and sleek. It's subtle. That's all you need. Source


Instead of glass shower panels or doors, you could use glass blocks and still have plenty of light. Source


We saved the best for last. Custom Talavera tile counter, full shower walls and bathtub in green. Isn't that an awesome bathroom? Source
Kitchen Designs
The kitchen is another prime Talavera tile location. You can do backsplashes, counters, trim, floors – so much is possible. And with so many colors and patterns to choose from – it's pretty much up to you what you'd like the final product to look like. You really need to make sure that your grout and tiles have been well sealed in both the kitchen and the bathroom applications. And they'll last for years!


This kitchen uses a single patterned tile on the backsplash. Source


This backsplash is more of a mix & match. Source


You can't beat this tile as a backsplash for the range. Many patterns and colors are available. Source


This full-on Mexican kitchen has style – love the retro appliances. Source


This kitchen has a lovely blue counter and terra cotta backsplash but it's the breakfast bar we're most impressed with. Do you know how easy that would be to DIY over a weekend? It's a small renovation job with big payoff. Source


Don't you just love this blue and white checkerboard Talavera tile backsplash? Actually, we're in love with the kitchen. Period. Source


If you'd like to add a bit of a Mexican flair without going crazy, try this arched inset open shelf cupboard done in Talavera tiles. Source


These arches, used for storage places, would have held wood in an old hacienda kitchen. The style fits so well with this extensive white kitchen – a bit of new, a bit of old. Source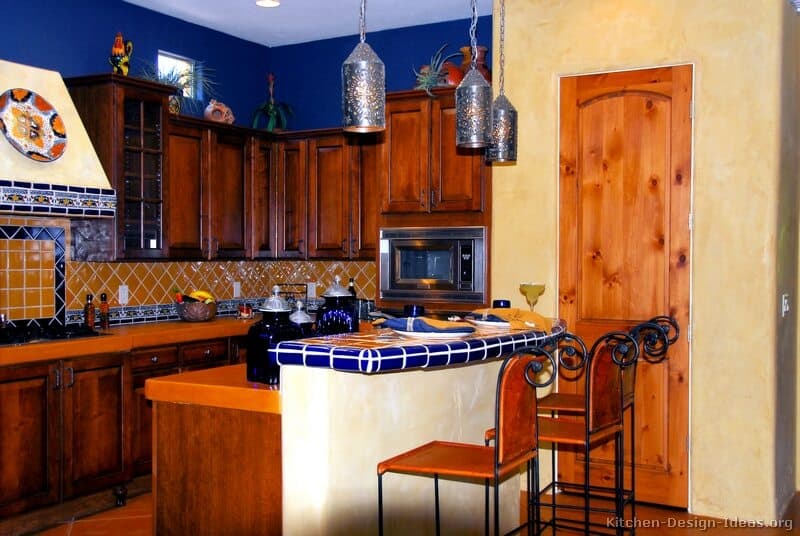 Build a breakfast bar, using cobalt blue and ochre Talavera tiles. Source


This kitchen just uses Talavera tile in blue and white behind the range. It also has Talavera tile stair risers to the left. Source


This cobalt blue high gloss Talavera subway tile (who knew?) really makes a striking backsplash in this kitchen. Source


The dusty blue counter and backsplash suit the exposed beams. It all has a very sturdy look. Source


You can mix light blue and cobalt Talavera for a bit of a pattern without going too crazy. Tie in the blue elsewhere – here they've chosen the pendant lights over the bar/island. Source


Solid red Talavera in the kitchen is a great color, don't you think? It probably takes a bit of a leap to choose this color, but we think the look is stunning. Source
Outdoor Designs
Outdoors, you can do anything in Talavera. Your pool, your fountain, your fireplace, your patio, your doorway. Use your imagination and a nice spring weekend to come up with something unique. For a list of places to buy Talavera tile online, see the end of this article. And there are a multitude of good tutorials and how-to articles and videos for the googling.


What better than an outdoor kitchen counter done in Talavera tile? Source


You can jazz up the pool with tile design – the tiles come in a range of different sizes for different applications. Source


Frame a doorway for an elegant look. If you've got an arched doorway, all the better. Source


Mexican tile is perfect for fountains – backsplash and pool area. Source


A pair of potted plants, in high glaze pots, really accentuate the Talavera fountain. Source


Build an entire patio bench out of tiles! Source


Talavera tiles make such a charming design for this outdoor adobe style fireplace. Source
Talavera Tile Decor Ideas
You can make tables and benches from it, you can put your potted plants in large Talavera pottery containers, there are dishes and figurines – you name it. Some of the tables are quite attractive and again, it's a project you could likely do over a weekend.


Why not design some tile into your interior fireplace installation? Looks great, doesn't it? Source


We love these tile tables and they'd be a cinch to DIY one weekend. Source


Or you could do a tile bench. This one is done with broken pieces – something else you can buy bulk online from Talavera tile sellers! Source


The cobalt blue is just so elegant. It has to be our favorite tile. Source


A firestick plant in a Talavera pot is a real head-turner. Source


Tables come in all shapes and sizes. Source
Talavera Tile Designs & Sources for DIY
There are so many styles to choose from. Make sure you are ordering real Mexican tiles – there are many sources online today, in the USA, who ship authentic tiles. No duty, no fuss, no bother. They've done the importing for you. Tierra y Fuego is one (Earth and Fire). Another is La Fuente Imports (The Fountain). Mexican Tiles (eBay store) always has a marvelous selection at good prices. Amazon even carries a package pre-mix of Talavera tile for stair risers!
A few (really, only a few!) of the available patterns and colors in true Mexican Talavera tile are shown below. But there are many more out there waiting – yours to discover.


Many sizes and patterns available. Source


Lots of great solid colors, too. Source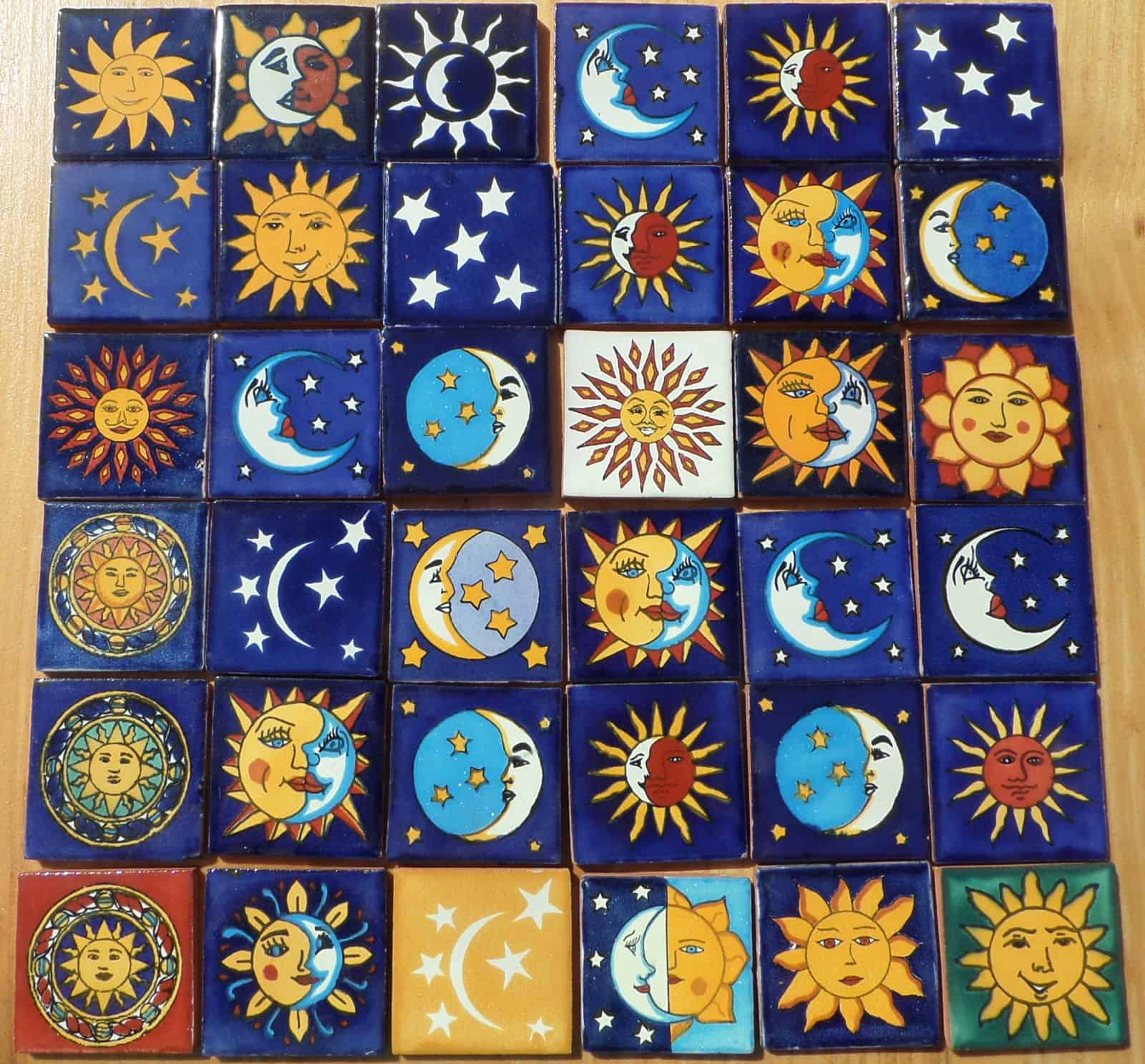 Or go with a theme – sun/moon/mystical – or many other available groupings. Source


Maybe a simple blue and white is more your style. Well, ok, not quite simple. But more coordinated than the full mix & match! Source


The patterns and combinations really are almost endless! Source