This beautiful selection of porcelain and ceramic wood effect tiles is an important addition to our original wood look tile collection. As we've found a few more amazing looking tile designs, we had to include them as well, possibly making the combination of the two collections the most comprehensive resource on the web for wood effect tiles. We were very careful to select only the nicest, most realistic wood grain designs. As a main difference from real wood planks, these faux wood tiles can also be used successfully on floors and walls, requiring the same type of installation for either application. Most of this style of tile is produced by Italian manufacturers, as they are the best in the business. The main difference between porcelain and ceramic tile is the quality and the price, with the porcelain one being a bit higher in both. Read on for brand names and ideas.
Vintage Wood Effect Tiles Create a Weathered Look
If you live on the coast, near a forest or on a large swathe of land, weathered wood is a common sight and with today's homes wanting to bring a little of the outdoors inside, the vintage wood effect tiles are a great, functional and definitely beautiful way to achieve this.


Floor and walls in the bathroom above are decorated with porcelain tile from the Vintage collection by NG Kutahya Seramik. Note how the tiles are laid horizontally making the bathroom appear bigger, and also in three different wood shades for a much more interesting appearance.
Rectified Tiles are Best for Achieving that Perfect Wood Floor Effect
Rectified tiles means the manufacturer has pre-culled the tiles that don't sit flush with subfloors or are just a bit to thick or thin. It can also mean that tiles were mechanically cut to precise dimensions which makes them fit perfectly together. While an unrectified tile might do just fine in a small space, they show up all their imperfections over a larger area making rectified tiles a far better choice. This is especially important if you want to achieve the desired wood plank flooring effect. Since rectified tiles don't have the imperfections and are cut to exact dimensions, they don't need a large grout line and since wood floors don't have grout lines, the skinny grout line that can be used makes them the best choice for wood effect tiles.


The floor in a large living room (above) is laid with a rectified wood grain tile, from the Limba series by NG Kutahya Seramik.


Above is the rectified porcelain floor tile from the Kauri series by NG Kutahya Seramik.
Recycled Wood Effect Tiles Bring All the Character Without the Wear
Recycled Timbers are beautiful to look at but not the most functional to use. Cracks and crevices can fill with dirt and bacteria and can be hard to keep clean, but with today's digital photo abilities, porcelain tiles showcase the beauty without the cracks, crackles or crevices.


The Legno series tile offers a perfect interpretation of the reused wood floors in ceramic.


The digital photography used on these porcelain wood effect tiles by Fioranese (above and below) is so real you won't even realize the tile is actually smooth until you get down on your knees and feel it, making it a perfect choice for bare feet on a bedroom floor.


A recycled wood effect is the perfect foil against the ultra smooth finishes of bathroom fixtures and this Old Wood porcelain tile series from Fioranese comes in oak, maple, walnut and cherry, making it easy to find a wood grain design perfect for your own home.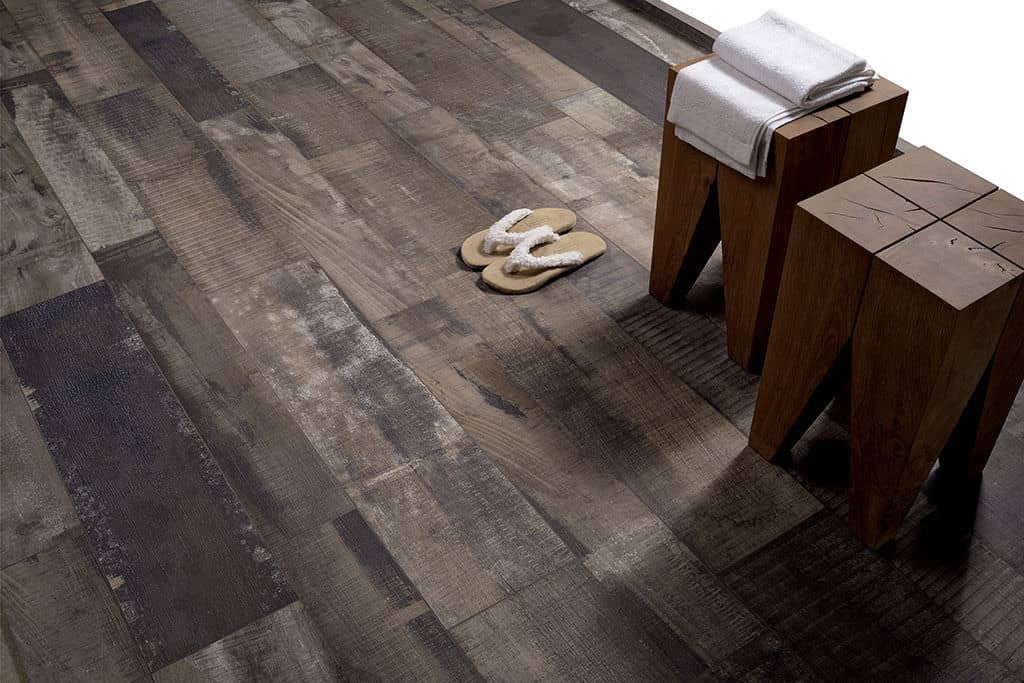 With all the tonal variations in this tile (above and below), the floor won't show up dog or cat hair, and as someone who has two Golden Retrievers, for me that is an envious thought! From Fioranese.


Using Fioranese recycled wood effect tiles in a living room setting keeps the space cozy with the warmth of wood but offers the easy maintenance of porcelain (see above).


If you prefer a cool and grey aesthetic, this unique porcelain tile flooring by Italgraniti just might be the answer (above). Check out the Coke tile series, one of the 6 different wood effect designs from the aptly named Scrapwood collection.
For a Totally Unique Look, Go For the Zebrawood Effect
Using original tile laying schemes, you can create amazing interiors with these Zebrawood effect tiles from the Over collection by Cerdomus. The tiles come in several different shades, all imitating the Zebra wood (also called Zebrano wood).


Too fun! Zebra floor bedroom, meet Zebra and mini Zebra. Above is the Over series porcelain flooring by Cerdomus.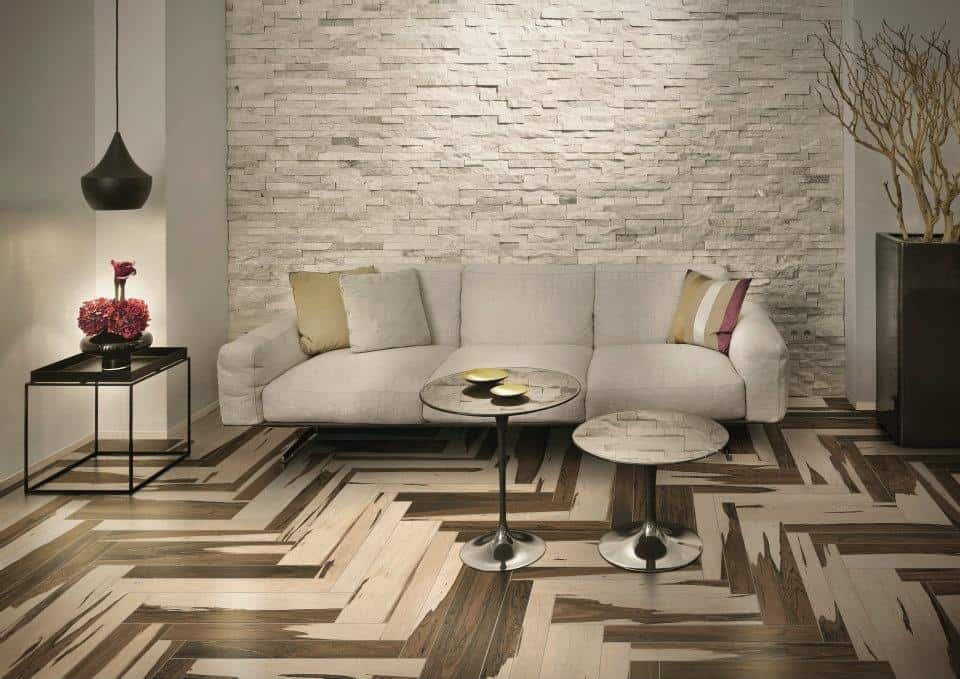 If you love the look of a Zebra wood but aren't a fan of modern interiors, installing porcelain floor tiles in a herringbone pattern as seen in this living room (above) creates a more traditional aesthetic. Source


Just because floor tiles are designed for floors doesn't mean they can't be used on bathroom walls, or any walls for that matter. Source
The Striking Appearance of Exotic Wood Effect Tiles
Usually an exotic wood floor evokes fear in the hearts of all those worried about accidentally scratching it, but with the wood effect ceramic tiles you can bring on the exotic throughout your home with no worries.


This ceramic flooring (above) is laid with one of the most realistic wood grain tiles we've seen – the Le Essenze tile collection by Lafaenza.


Exotic woods have such a rich aesthetic, as do their digitally reproduced tile counterparts. Don't you just love how these exotic wood looking floor tiles by
Lafaenza create an impression of a warm to the touch wood? But it just porcelain!


No more need to keep the sun of your wood floor, the tiles won't fade. So in the morning, get out of bed, throw open the curtains and enjoy the look of your beautiful and care free flooring by Lafaenza.


With the floor and walls finished with the same tile from Lafaenza, the wood effect brings tranquility and Zen to this bedroom (above).


Design visually attractive floors by choosing multiple wood looks or multiple wood stain looks, with the Exotic tile series from Revigres.
Modern Wood Effect Tiles for All Decor Styles
There is nothing more beautiful than a wood floor, unfortunately those of us who have dogs and/or young children know that a wood floor is not a viable solution. However, ceramic tiles can offer the effect of wood without the scratch factor and that means the floor looks good for a very long time. And they don't even have to be cold underfoot anymore thanks to the large advances in heated floor technology. My personal favorite in modern flooring is wood effect tiles used throughout the home for a continuous story. They are gorgeous, functional and easy to look after so what's not to like about them?


Rustic wood effect porcelain tiles layer in perfectly with the brick, concrete and steel used in this modern dining room – Just Venice by Gardenia Orchidea.


Exposed concrete walls and modern rustic tiles from the Just Venice collection are perfect together, in this industrial style loft kitchen design.


Now note, if you take the same exact tile (as above) and lay it in the herringbone pattern, it changes the look and style of a dining room entirely. From Gardenia Orchidea.


Graffiti has gone main stream and is being used in home decor in so many fun ways so why not in the Foresta Timber tile by Peronda? This modern interpretation of the wood effect (above) is inspired by "wood worn and aged with the passage of time". Foresta Timber are glazed porcelain tiles that are suitable for both indoors and outdoors, as they are resistant to frost and ice.


Nothing like a little bit of street chic to jazz up a room. Source


The above modern porcelain tiles from the Foresta Seawood series by Peronda showcase the room's modern furniture beautifully – it's a great wood effect. The entire living room, including floor and walls, is decorated in tiles that are both warm shades of beige and brown and cool shades of grey for an all encompassing color scheme.


Funky, fun and fabulous tiles, inspired by "wood aged close to the sea". Peronda really knows how to rock a modern look.


From a distance, this reading corner is all about the wood effect, up close Peronda patterns take center stage.


The only difficulty is choosing which Peronda patterns to use – or whether to use all of them.


In this living room, the exposed ceiling beams are perfectly matched by the wood effect floor tiles in the same warm shades, creating a soft contrast to otherwise white interiors. The right length of the tile planks (up to 36″ long) makes a big difference – from Peronda.


Abstract patterns or precise geometric patterns, it doesn't matter, all the Peronda tiles are exciting to look at.


Another unusual wood effect from Peronda – it's from the Forest Burn porcelain tile collection that emulates handcrafted wood with a worn white-painted effect.
For more similarly exiting and inspiring floor designs, check out our unique selection of beautiful tile flooring ideas.


An open layout floor plan above is decorated in ceramic tile with the unique effect that emulates aged, burnt wood, with a worn vintage look. Also from the Forest Burn series but in a dark porcelain, this flooring design is a great foil for white walls. It offers strong personality and innovative appeal.


The above rectified porcelain wall and floor tiles by Sil Ceramiche are from their Shabby Style collection. The beauty of imperfections of the aged wood is what makes these designs so appealing to a contemporary taste.


The tonalities within the tiles are showcased beautifully on the wide treads of this stairwell – from Sil Ceramiche.


These precisely cut rectified tiles can be laid in varying widths to increase the recycled wood effect – from the Shabby Style collection.


Wow, this very realistic weathered wood look tile can be used on an outdoor terrace and is a great compliment to natural stone, from the Legni High Tech collection by Ariostea.


They look so natural and definitely don't have the upkeep of real wood.


You can even get the Ariostea wood effect tiles with faux living edges.
Enjoy the beauty of wood without the upkeep – who could ask for anything more? No wonder this trend is going strong.