White has long been thought of as a safe room interior color with many people using it like a neutral, non-color. However, when treated like the gorgeous color it is, white makes a bold, clean dramatic design statement and can be the most exciting room interiors of all. Here are 25 gorgeous design ideas from Scandinavian to modern to minimalist, all which focus on the color white!
Scandinavian Style Is the Trendiest in White Interior Design

If you're a fan of the Scandinavian design style, you're well aware of their affection for all white interiors but this style (above) is something new and different, at least to us. It's the latest trend coming from the Nordic world – combining rustic, vintage and urban into one beautiful and cozy white interior design. What often referred to as Nordic style, has evolved here into something very different, something amazingly artistic. The photo is by Paulina Arcklin, a renowned Finnish photographer and photo stylist currently working from Amsterdam, and this living room is from her own apartment. On the white backdrop, you can see soft textiles and quirky vintage finds, some of which, as we understand, came from Amsterdam's fleamarkets and were painted white. All objects are strategically placed with a precise eye of a photographer, and the popular, Dutch made lighting fixture – the Z series from Ay illuminate – completes this dramatic interior. Sources: Oracle Fox and Aventure Deco.

In this living room (above), the all white design is warmed up by natural wood via the flooring and the country style furnishings, and tying the two tonalities together is the antelope skull above the fireplace. Source


This Scandinavian designed bedroom leaves the natural wood behind in favor of a white washed wood floor and uses scale via the polished white column and the gauzy light pendant to create a little bit of bedroom drama. The effect is quite ethereal. Source


Scandinavian design has such a softness about it, even with its focus on white the design style always feels warm and cozy thanks in part to the relaxed, layered look inauspicious aesthetic it embodies. Source


Speaking of relaxing, check out this knitted hammock, what an awesome place to hang out a drink a cup of tea. I especially like the way the design is kept loose and fresh with the inclusion of the white birch branches and the white flagging hanging from the branches – it's like a day in the park from the comforts of home. Source


From floor to ceiling this Scandinavian design rocks the color white. I especially like how the touches of black are kept to slim profiles and line designs so as not to take away from the wondrous white. Source
Geometric Details Bring Excitement to Modern White Interiors

While Scandinavian design is all about humble chic, modern design is more geometric and shape oriented in its approach as seen by the staggered bookshelves, repeating cube module balustrade and the cantilevered stairs. Even with the change in design focus, white is as powerful and dramatic in this more graphic aesthetic as it is in the softer, layered Scandinavian approach. Source


This modern white bedroom brings on the geometry via its quilted duvet and head board and by the symmetry of stools, flower vases, and bedside lights. This shape-oriented design is given extra focus by the use of only one color – white. Source


This white on white modern foyer layers on the shapes with its wall of black and white photography and just to add a little contrast, the designer layered in an organic light pendant and a gilded mirror. Source


As with the previous bedroom example, this modern room brings in the geometry within the duvet cover, tufted headboard and furniture shapes, but this room also layers in a touch of Scandinavian softness within the faux fur rug and the wall of wispy white sheers. Covering even more design basis is the white leather; white powder coated traditional Lois Chair. There's nothing like eclecticism to keep a room from being boxed into one look. Source


When going for a white aesthetic you have the opportunity to feature a white fireplace and that's exactly what the designer did in this super cool loft space. Source


What gorgeous light pendants. Modern, shapely and boldly white they say it all. Source
Minimalist Interiors Were Created for White Color

Minimalist interiors offer the chance to showcase one specific design feature, which in this case is a wall of random shaped voids. The shadow within the wall also highlights the beauty of the whitescaping. Source


The knots within the pine wall tie in beautifully with the voids in the white millwork don't you think? Source


This minimalist white bathroom takes the idea of showcasing one design element to the max with the uber exciting walls of hexagonal relief tiles – wow. Source


Kitchens are favorite rooms for a minimalist aesthetic and a white color scheme and this kitchen does both to the max. Source
All White Rooms are Great for Inspiring Creative Thinking

Office spaces that face walls and rock a wall of shelves like this one really do function better wrapped in white, that way each shelf along with the work surface reflects as much light as possible. Source


While this office space doesn't face the wall it still fills the work space with creative energy, its like a blank white canvas waiting for the stroke of a paint brush to create a masterpiece, or in this case the tap of the keyboard. Source


And how about this office nook? Everything about it is exciting from the hand holders on the wall to the Her Bum Chair. No wonder the manikin is saying "talk to the hand. Source
Add a Dash of Color to All White Rooms to Create Beautiful Interiors

If we are going to talk about adding a dash of color to white spaces we may as well start with an amazing kitchen. This all white space is definitely designed to serve up one purpose, to showcase the amazing Moroccan tiles on the dropped ceiling. Source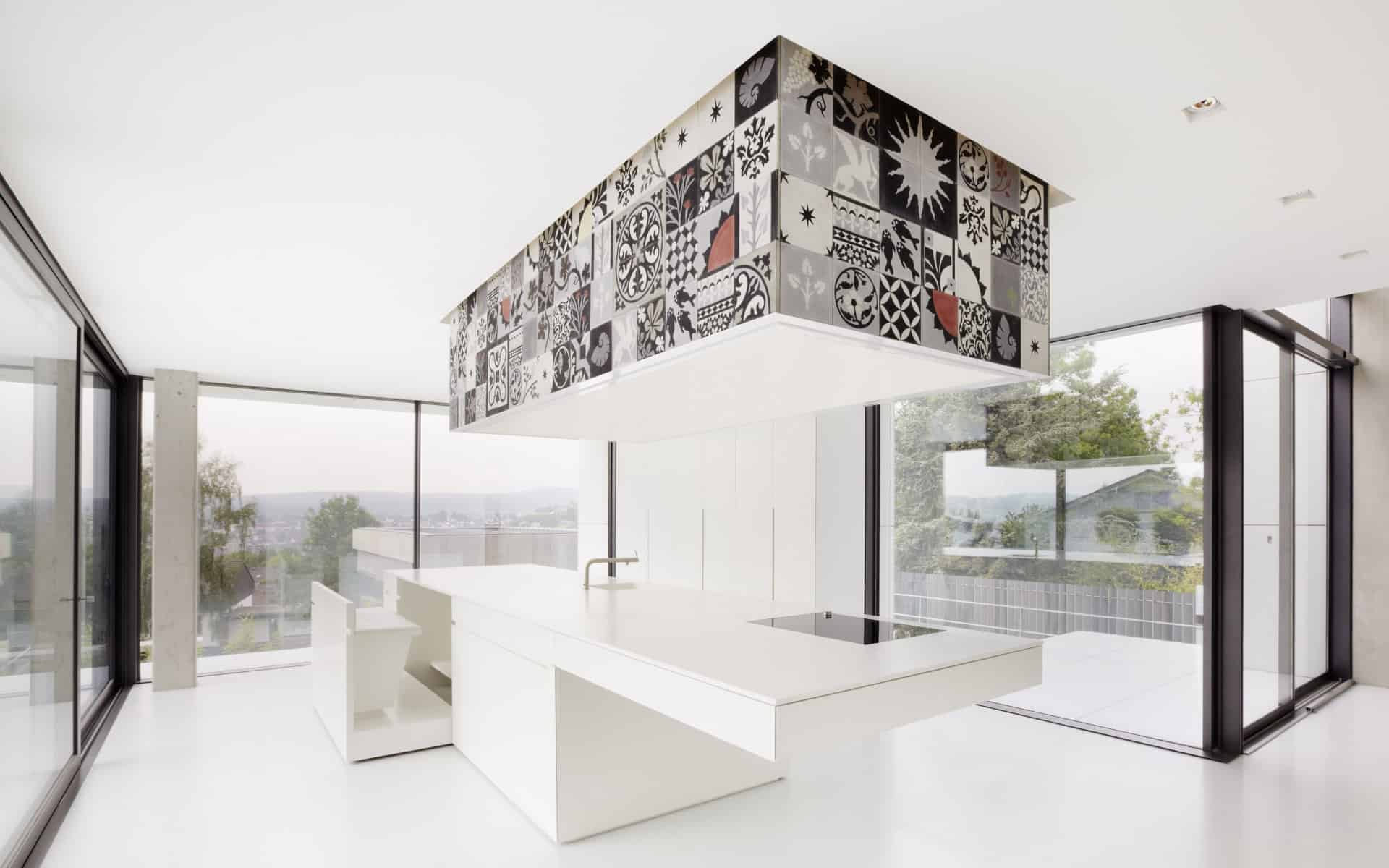 If this kitchen was anything other than white, the Moroccan tiles could easily come off as top heavy and busy but in this minimalist white decor the tiles are not only light and airy, they are also drop dead gorgeous. Source


A dash of black is all this white space needed to ground the dining and living spaces. Source


This all white room has been given a bohemian vibe with its cushy white rug and its eclectic assortment of colorful pillows. Source


The bright pops of color in this all white room creates a balanced and rhythmic connection between the bookshelf and the sitting area. Source


There's nothing like the classic subway pattern when it comes to white tiles and whether the tiles are paired with white, grey or even colored grout they always embody a rich aesthetic that can be paired with anything. In this case the pairing is a black vanity of pops of natural greenery. Source


The dashes of color in this all white apartment are made even more vibrant with the use of LED lights, in fact the colorful discs on the living room ceiling are the lights. Source


This all white house even features white sculptures on the stairwell but spices it up with a red handrail. Source
You may also would like to check out this white home interior done right.