In modern homes around the world, the trend is to make space more ergonomic and more useful without sacrificing aesthetics. Multifunctional is also high on the list. And with more widespread adoption, multifunctional architectural elements have become a form of art themselves. Home owners and architects are coming up with some very unusual and unexpected solutions to today's space design issues. From an indoor lap pool, to stairs that do double-duty as a dresser, innovation, and reversing expectation, are key in today's top designs. And, it will make your house awesome. We've been long wanting to collect the most clever architectural elements that fit the profile, and today's collection is the first in the series.


Indoor Lap Pool – in Your Belgian Living Room!
This indoor outdoor lap pool certainly makes fantastic use of a small space and it's one of our favorite architectural surprises. It's got a current/training stream (equipment hidden under the bridge), so you can do your laps in a stationary position. Two sets of folding glass doors open up the outdoors, open up just the pool, or close it all off, depending on your needs. A lifestyle choice that pays attention to footprint (it's also salt-water), provides exercise and perhaps just a tad of luxury.


Stairs Flow into Sofa in Paris Apartment
What incredible flow this design creates – a fine example of how working within limitations (a small space, in chis case) creates stronger creative ideas. The stairs flow into this sofa seamlessly. The lightness of the wood helps keep the design – and the flow – the star of this room. The end table is also built in, and provides the bridge from the stairs to the sofa. A simply fantastic design for a small space!


Japanese Staircase Incorporates Sitting Areas
Built in Japan as a home gallery, this staircase caught our eye for its simplicity and style. And its functionality – who would have thought of sitting areas on stairs? Yet often, at a gathering, people do sit on the stairs! The grain of the wood, the angles of the stairs, the placement of the sitting areas make this much more than a staircase. It's a piece of architectural art, with purpose.


Seating Platform in Barcelona Does Triple Duty
It's a seating platform, it's a stairway to the deck and it's a storage area all in one. This Barcelona flat was redesigned to maximize the natural light and outdoor space. Using wood flooring on the raised bench makes the room look so much larger – as if it is two rooms, not one. Yet underneath, tons of storage. It's a very clever use, once again, of a small space. And this will be the design direction of the future, judging from the present.


Australian Design Maximizes Space
Built-in shelves and corner tables are the order of the day, Mate. And since built ins take less footprint than stand alone furniture, you get more use out of the space. Another example of less is more in this new age of sustainable design. Just look at all the space they found in the corner!


Australian House has Built In Furniture and Storage
Built in everything reigns supreme in this Australian house and one of the real stars is this desk and cupboard space created out of nowhere. And not just a desk! It's a chalkboard too. Talk about utilizing space – and lots of room for your legs when you sit at the desk.


Bookcase Door Hides Secret Room in Washington State Mountain Retreat
Wow. How murder-mystery is this – in fact, now that we think of it, what a place to host a Murder-Mystery party! How clever is this bookshelf door? Much more interesting than a regular door or doorway arch. Functional too, another piece doing double duty. Not just a door, but a door that holds books (not to mention the mystery factor).


The Water Closet in the Belgian Water Tower: Built for the Cat
The house itself being so unusual (built in a water tower), it's not surprising that the owner installed his cat's own water closet on the roof! How cat-friendly is that? We love it! There's a sun-drenched spot in front where the cat can relax in the afternoon. And there's easy access – through the cat head-shaped opening. Very whimsical — and practical too. The kitty litter is hidden!


London Book Tower House has Double Height Library
A true book lovers' paradise – a two story library tower at the heart of this renovated Victorian in London, England. Walls of books wrap around the wooden staircase — how many books do you think this tower could hold? The bookshelves are made of oak, and they hug the staircase – what clever use of space and how intrinsic to the structure itself. And note the top lights throughout the bookshelf – to make finding that one special title easy!


San Francisco Architects Design Clever Climbing Wall
What a cool bedroom design idea from Feldman Architects – a climbing wall for your young mountaineer's room. But it's not just a climbing wall, and that's where the clever comes in. It's a vertical staircase that leads to the next floor. It gives your kids a reason to practice their coordination and physical strength skill without even realizing this is good for them – after all, would you take the stairs when you could take the climbing wall?


Stairway to Functionality
Wow, this open stair case isn't just a staircase. It's a staircase, bookshelves, and a side table, all rolled into one. It's got that high-end loft look but such functionality! And once again, combining usability with design results in multifunctional pieces.


New York Bedroom Loft Apartment Makes Use of Small Space
What an awesome bedroom loft – and the wood interior makes it feel like a boat (where every square inch of space also counts). How inventive to use the stairs as dresser drawers – and there's a walk-in closet under the bed for those items that have to hang up. How compact, yet contemporary and kind of cute at the same time. Long live small spaces!


Swedish Design Transforms Window Frame
What a beautiful, and functional, window treatment. We first thought of the view, but quickly moved on to the pleasure and practicality of this design from Stockholm. And it's truly one of our favorites. It contains benches, shelves, desks, kitchen table – everything but the kitchen sink, practically (although we're sure that could be arranged). The window-frame shelf system is a perfect addition to any small space. Have you got a window where you could try it out?


Tokyo TV is Rotating Creativity Center
This awesome-already flat screen TV is actually a rotating entertainment center. The pivoting television becomes an erasable art board — the perfect stimulus for creativity. It's a TV room when you want to watch TV, it's a playroom when you don't. Another dual purpose design, for today's lifestyle choices.


Greek Industrial Loft Mixes Shelving and Seating Together
A fantastically contemporary loft in Athens playfully mixes shelving and seating together – and it works! The sleek lines and open space make this an airy and open habitat. A former t-shirt factory, the innovative mix of shelving and seating really is memorable – and opens up the space even further.


Minimalism and Illusion in a Russian Apartment
The bed just seems to float in the air in this minimalist Moscow apartment. Where's the support? How is it suspended? And doesn't that black throw look just luscious against the stark white? A real statement home, where less is indeed more.


Berlin Loft Plays Hide-And-Seek with Furniture
This Berlin loft has an incredible secret — there's a settee in the floor! They've certainly made the most of the space – it's open and airy (not to mention modern and design savvy) and then voila, here's a comfortable spot to watch the fire. It's so innovative, it's almost futuristic.


The Desk Hides a Radiator in Chic French Pied-à-Terre
What a great use of space – putting a custom desk top over top of the radiator! Perfect for this French apartment – chic and European, keeping with the program. And there's a trend here, that's creeping around the globe. Multiple uses for small spaces – it's the design de jour.


Intriguing, Out of Place Windows in Paris Apartment
How unique – an apartment where the bathroom has a window into the living room. This trendy and chic Paris apartment has plenty of quirks and interesting features like this. The bathroom look is very global – combining subway tiles with Japanese overtones on the trim and frames. Further along, the room separators for the nursery and bedroom are also windows, to let in maximum light. What a charming apartment in a world-renowned city. There's not much more chic than that.


South African-Designed Bed Creates Private Nook
This wooden bed has a fantastic canopy that turns it into a private nook. It just flows – from the timber floor and wall (doubles as a headboard) all the way up to the ceiling. The custom bookcase was a stroke of genius and the addition of the pendant lamp makes it an ideal reading hideaway. It's two rooms in one!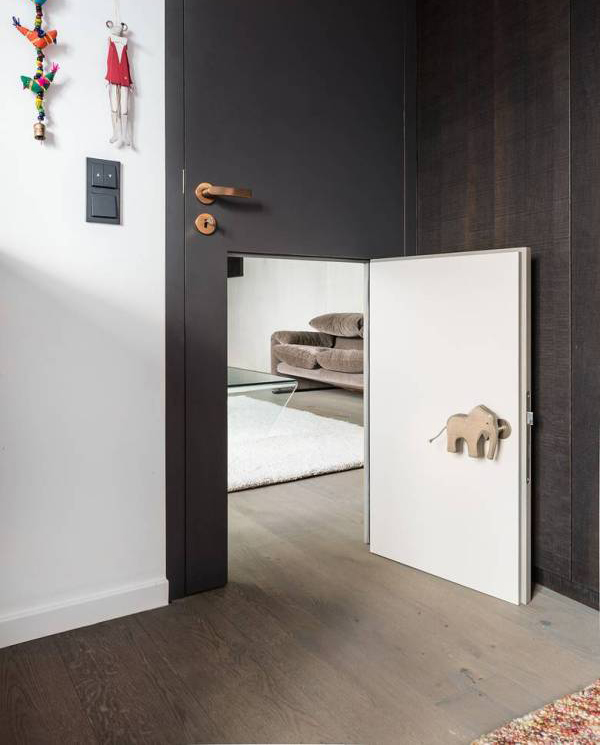 Whimsical Designs: Door in a Door and a Kid-sized Built-In from German Designers
What kid wouldn't want these special touches in their room. We love the kiddie door inside the regular door – how cute is that? And the elephant handle is too precious. And then there's Pretty in Pink – a wardrobe for any little girl to flip over. With curly doors and lots of room inside to hang things up, or put them in the drawers and on the shelves. The trend towards built-in furniture reaches all the way to the kids rooms!


Ultra Modern Home in Brazil Incorporates Breakfast Bar Into Stairs
We think this is incredible – you head upstairs, using the breakfast bar as part of the stairs! This ultra-modern home certainly has some unique twists and turns. As much art as it is furniture, it's a real head turner. And yet another example of pieces doing double duty!


The House of Shelves in California has Nook upon Nook
Open shelving defines this cubby hole home in Cupertino, California. Open and airy defines this home and the shelving connects each and every room to the next one. The design makes for an intriguing space, where the eyes never rest, but dart from shelf to shelf to discover the next treasure.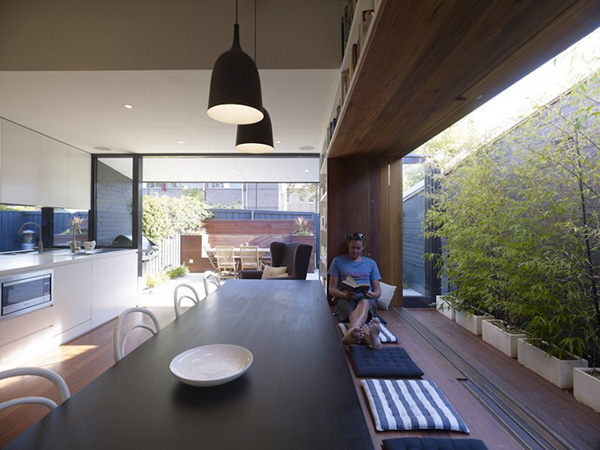 The Coolest Window Seat in the World is in Sydney, Australia
If this isn't the coolest window seat in the world, we don't know what is. A sliding glass wall defines the spot – where outdoors seems to pour inside. You can sit in the ledge (there's plenty of room) and watch the world go past. And what a perfect spot for the dining room table. Every meal is a meal with a view. Incorporating outdoors into your home like this is a great way to connect with nature while you read, eat or even take that nap you've been promising yourself.


California Steam Engine Factory Home to a Box Inside a Box
This modern loft in California is open, airy and full of wood for that back-to-nature look. An open staircase leads up to the private bedroom, with a full stand up closet below. It's hidden from the rest of the living area. Yet, there is a special window to quickly pass a beer! Smart planning, natural light and natural elements give this home its spacious feel.


Book Nook Creates Under-Stairs Hideaway
We love the practicality of a book nook, and the peace they provide when you need a quiet place to read. And this is one of our favorites. The wallpaper is just such an added special touch. And you're using space that might otherwise be wasted – so not only is it attractive and appealing, but it saves space!


Lake House in Texas Makes a Statement with Acrylic
This Texas house makes a real statement with its red reflective acrylic. It's a great choice for the wood – it takes a rustic looking wall and spins the whole thing around to look modern. And that splash of red adds something to the room, don't you think? The use of shadow and color is well-thought out and just picks up the room!
There are many awesome ideas here that you could use for your own home, but the trend is clearly moving to the more functional space design. Do more with less and you'll save money, save materials, save space.