This hillside house in Mount Martha, Australia is modern luxury with a twist – the twist taking a literal form in the home's playfully curved walls. This contemporary style beach house by Rachcoff Vella Architecture was designed to embrace the sparkling shoreline without giving in to the typical "beach shack" structure. Quite the opposite, this unusual home features a complex facade and sophisticated interiors that boast a strong connection to nature while balancing a modern side. The house was designed to accommodate its single resident who stays here part time, while also welcoming her guests to stay and feel right at home. In addition, while this house was made to meet her specific "single" needs, it remains flexible enough to work for a potential future owner as a family living environment. Here's how the architects achieved their goal.


The home's sloped situation is a blessing and a blight, so to speak. From front to back of this narrow lot, there is a 5 meter drop which brings awesome views but posed some challenges in the design and construction of the house. Thus, the structure takes shape in two volumes – a linear wing and a sculptural, curved volume that invites visitors and views alike.


The sculptural silhouette reflects the homeowner's playful side. Floor-to-ceiling glass encloses the arching facade, framing views and letting natural light flood interiors. The ground-level garage tucks this essential utility area beneath the main living spaces while raising them up to maximize the view.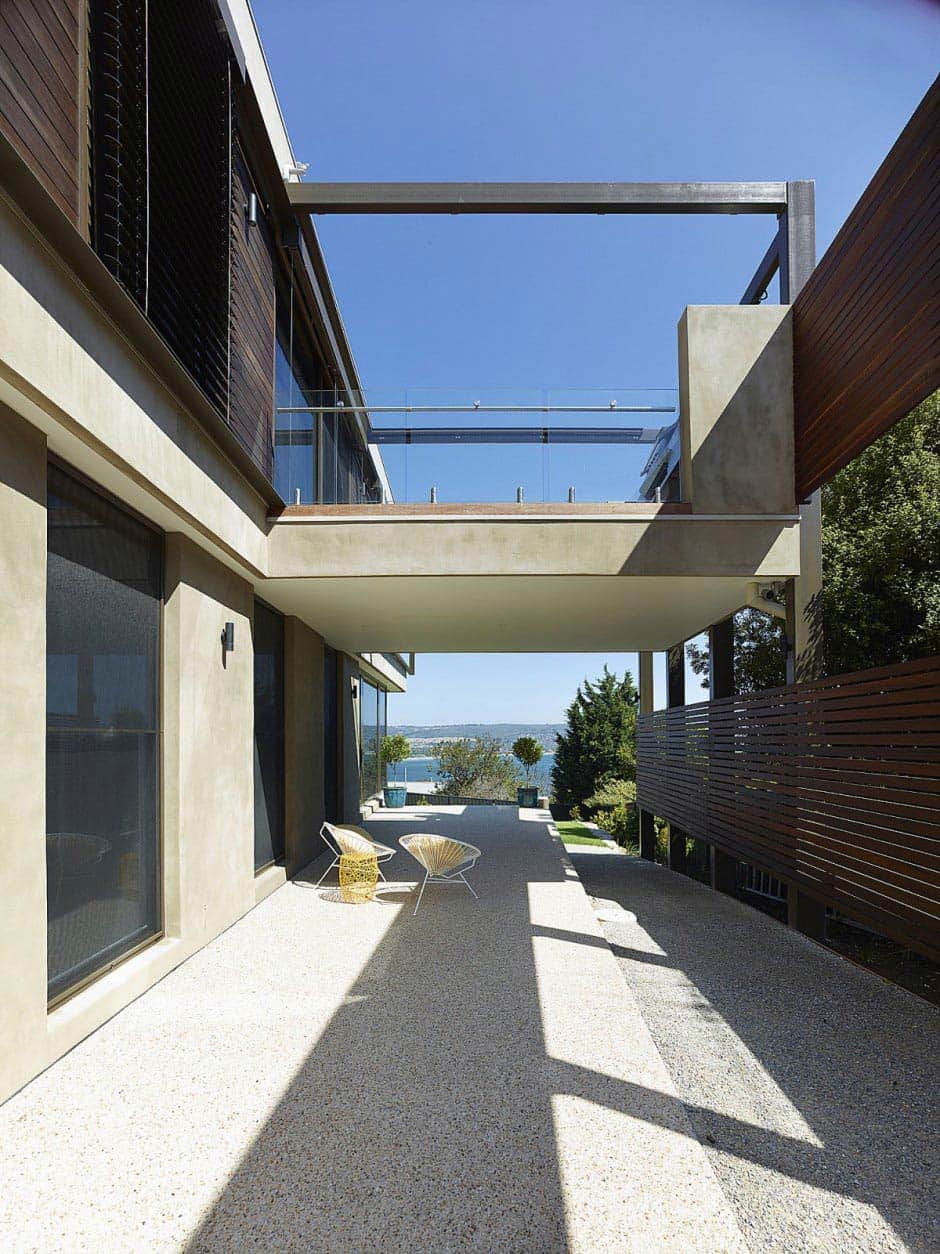 The two-storey residence has a north-south orientation, framing gorgeous views at either end. Expansive glazed walls invite the outside in, while alfresco entertaining areas welcome outdoor living at every turn.


Interiors are organized along this axis, shielded by adjustable exterior louvers that let the light in while keeping the scorching heat out.


Versatile interiors make the most of this serene setting, engaging the outdoors and accommodating one resident, but easily home to 10 or more guests at any given time. The space captures this peaceful location and lifestyle for the homeowner's solo moments, but it also works well in social situations with its open concept layout.


Contemporary yet comfortable, interiors prove you don't need an excess of space to enjoy a little sweet style. Finishes have a cool, clean aesthetic, reflecting the home's beachy surroundings. A backdrop of lusterless "spotted gum" wood, natural stone, and matte white surfaces are offset by dramatic elements like joinery and fixtures, and sporadic pops of vibrant color that reflect the playful personality of the homeowner.


Glass walls expand the home's living space beyond its square footage, with sight lines stretching to the horizon.


This house is brimming with interesting built-in details, like this cozy nook for reading, sipping some wine, or watching the world go by through the glass.


These minimal built-in shelves make a great spot to display some favorite books or collections, while staying in line with the home's simple style.


The compact kitchen feels much bigger than its actual size, thanks to the lack of dividing walls in the space, and where walls do exist, they happen to be made of glass, opening up interiors to the outdoors. The palette of white and wood gets a modern touch with the addition of stainless steel appliances.


Just outside, a spacious patio cantilevers over the lower-level deck, providing a sunny extension to the living areas inside. Glass half walls encircling the patio offer unobstructed views.


Follow the organic wood wall down a hallway to a more secluded spot to escape the outside world.


Simple spaces are dressed up with subtle but totally awesome features, like interesting door designs. And check out this shaped ceiling overhead!


This wood wall continues into the bedroom, abutting an inconspicuous white door, begging you to explore…


Behind this plain white door, a spacious walk-in closet and dressing area is any fashionista's dream come true. After a frenzied morning of primping and prepping, just close the door to conceal any mess – out of sight, out of mind! Order and sweet serenity are instantly restored.


Like the home's principal living areas, the bedroom also boasts a massive window and direct access to the outdoors.


This wood-wrapped stairway is more of an art piece. Its timber slats are staggered at the top in a whimsical way. A contemporary coral-inspired pendant light hangs in this tall, open space.


The bright white bathroom is awash in contemporary touches, like a minimalist palette with simple details, lots of interior glass, and of course, windows and views.


The mirror above the sink is as functional as it is fashionable. A hinged arm swings out to reveal an additional mirror on the inside, and a wood exterior to complement the floor.


The deep soaker tub is a spa-inspired luxury at the heart of this chic space. Wrapped in windows, the bathtub offers views when you want them, and privacy via gauzy grey curtains that still let natural light in.


You'll have to agree, this is not your typical beach house, but it has all the elements of one – water views, alfresco living areas, and expansive glazing that brings these amazing outdoors in.


The contemporary decks and landscaping echo the modern edge of the house.


An elegant grand entrance leads the way into this chic home.



Rachcoff Vella Architecture
via Contemporist
photo credit: Shannon McGrath & Entrant