You might think an apartment full of holes is a curse, but Netherlands-based i29 interior architects is about to change your mind. This amazing apartment in Amsterdam is indeed a holey place, designed around openness, light and air in its architecture and decor. A perforated white wall divides the main floor in half while maintaining openness throughout. To one side of the wall, a living and dining area are minimally adorned, featuring a few modern necessities, all in basic black against the white floor, walls and ceiling. On the other side of the great white wall, is wood – a full wall clad in white pine which conceals a covert hallway and continues through the kitchen. The central wall takes on a sculptural quality, thanks to a series of asymmetrical openings dotting its surface. Visit i29 interior architects for additional info.

The slim, black dining table is encircled in edgy Grcic chairs, and topped by a clean, white, moon-like orb light fixture overhead. At the other end of the space, a living room features simple yet comfortable seating tucked beneath a large window. In this space, less is definitely more.


The central wall features a series of geometric cut-outs that reveal sneak peeks of the kitchen cabinet contents, and double as hand grips.


We love that the designers' concept of openness artfully translates to the storage spaces that are typically hidden.


Past the kitchen island, the geometric lines of the central wall are subtly echoed in the opening between kitchen and dining room.


An inconspicuous door slides open to reveal a hidden passageway behind the pine wall.


Another barely-these doorway. Where does this one lead?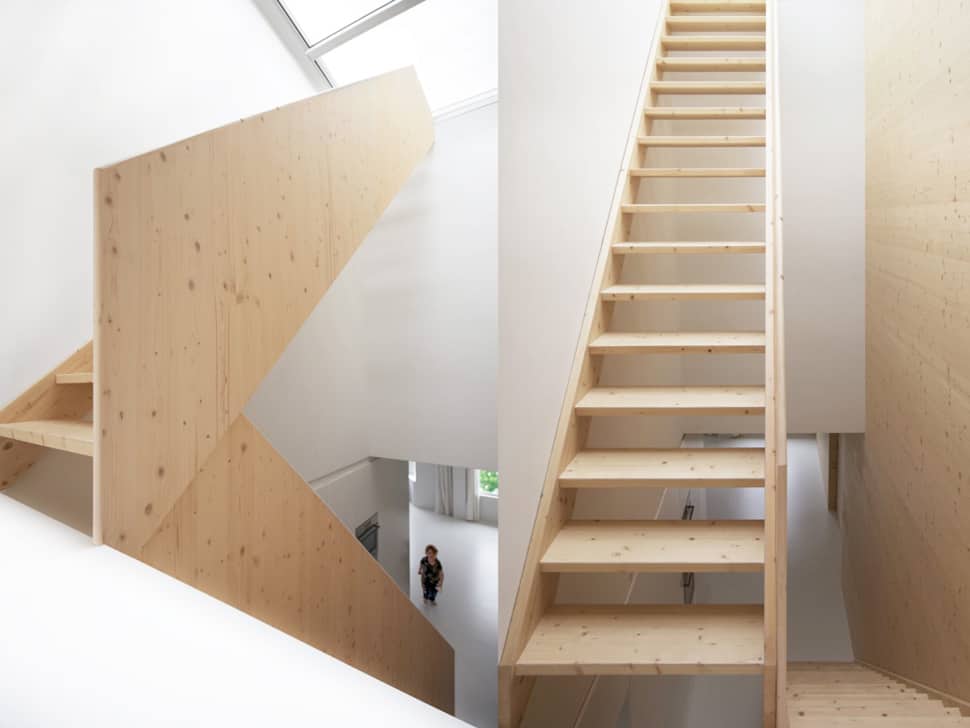 The open stairwell lets light spill into the home through the skylight overhead.


The bathroom carries the same minimalist appeal which defines the living area – clean white walls, ceilings and floors; minimal adornment; and slim, modern fixtures. Total serenity.


Of course, the home's other defining feature – white pine – also makes an appearance in this bathroom as a feature wall and storage cabinets.
i29 interior architects