The Soho Penthouse, located in New York, New York, USA received a rooftop addition that included a new terrace and two stunning suspended fireplace from SA-DA Architecture. One of the fireplaces is located on a covered outdoor living space and the other is within the indoor living volume. The indoor fireplace sports a white enamel finish that flows effortlessly with the newly painted white brick walls and ceiling beams, as well as with the white ceiling fan and wall art. Softening up the whitescape is the pale blue/grey furnishings and the dark plank flooring.

The living space of the penthouse is located on the far end of the social zone with the dining and kitchen areas just in front. An open riser steel staircase rises above the kitchen counter to the new rooftop deck. The kitchen boasts a stunning island with an inverted funnel as a base as well as a sleek pipe shaped stove vent.


The open risers on the staircase allow light from the roof opening to flood into the kitchen zone while the white powder coating keeps the staircase silhouette from visually overpowering the surrounding area.


The staircase leads up to the new addition that incorporates both indoor and outdoor spaces as well as a new and higher roof terrace which is also accessed by a stairwell, although this one is much steeper.


The outdoor living space has a covered roof complete with pot lights and this is where the second of the two hanging fireplaces is located. Enclosed on two sides and open on the other two, this outdoor living space offers privacy, shelter and lots of fresh air.


The large wood planters filled with specimen trees brings in an organic touch that softens up the hardscape of the surrounding buildings.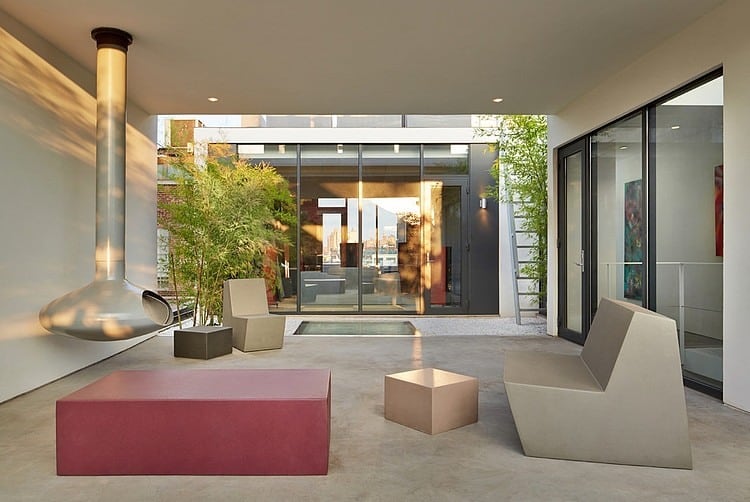 When its chilly outside the fireplace can be lit for a warm and cozy outdoor ambience, but on the days the sun shines, a steep ladder staircase leads up to a new and higher rooftop terrace.


The steep staircase tucks into a small niche between the outdoor living zone and the indoor space and the pebble roof surface in this location helps disperse rainwater. If it's really pouring, the open section can be avoided by accessing the covered area via a door at the top of the interior stairwell.


The views from the new rooftop terrace are amazing. Surrounded by planters for both privacy and safety, they boast low profile grasses that rustle quietly in the breeze for a meditative and Zen like atmosphere.


SA-DA Architecture