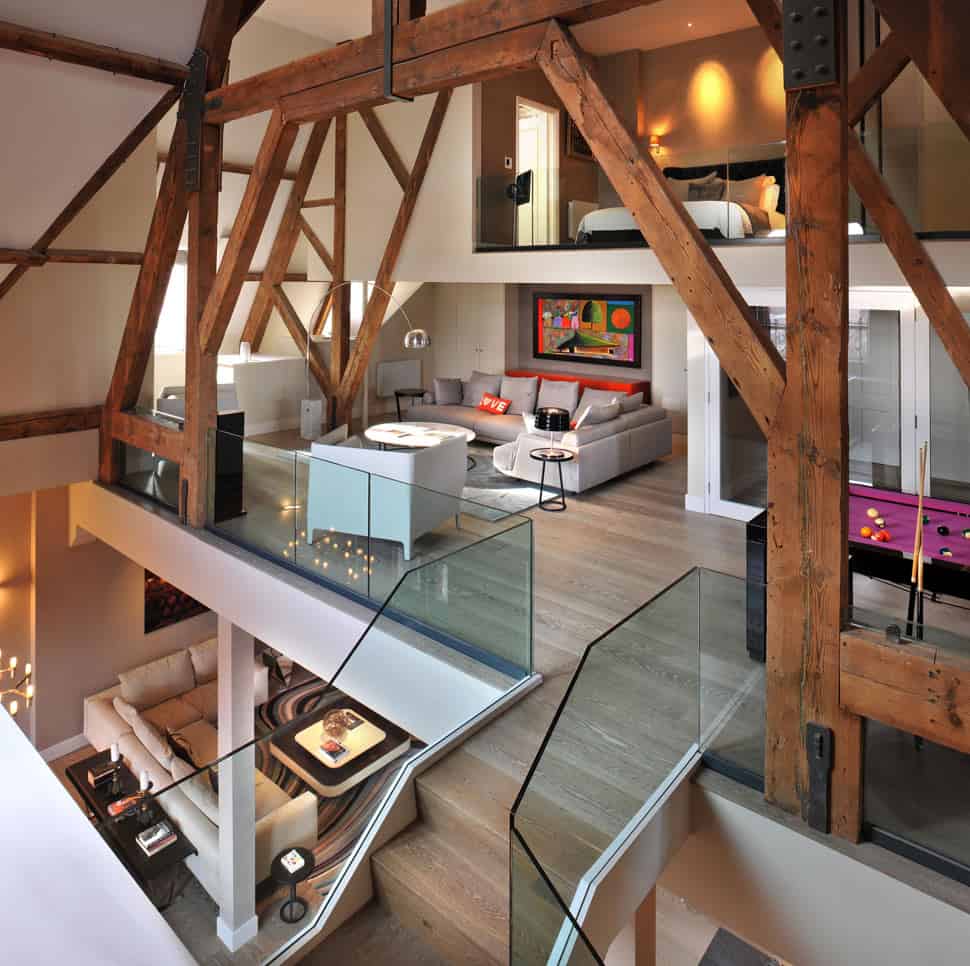 This three-bedroom penthouse, designed by Thomas Griem of British firm TG-Studio, occupies a building that was once the Victorian Midland Grand Hotel. After the building lost its luster, a £200-million redevelopment by the Manhattan Loft Corp. gave birth to two floors housing the St. Pancras London Renaissance Hotel – topped by 67 private residences. At the height of it all, both in stature and in design, is this amazing penthouse loft – three levels of interesting architecture, modern furnishing and luxurious finishes. The designer was given creative freedom, and began by tearing out all the existing finishes, replacing them with elements that are unique and contemporary, yet respect the building's Victorian beginnings.

The ground floor features the open-to-above dining area, and an intimate living area tucked beneath a partial level overhead.


Above the lower living area, a second living room is overlooked by a Gothic rose window and framed by exposed wood beams that lead the eye up the angled walls to the mezzanine level overhead.


Built-in cabinetry and a sitting area is tucked beneath the staircase leading up through the space.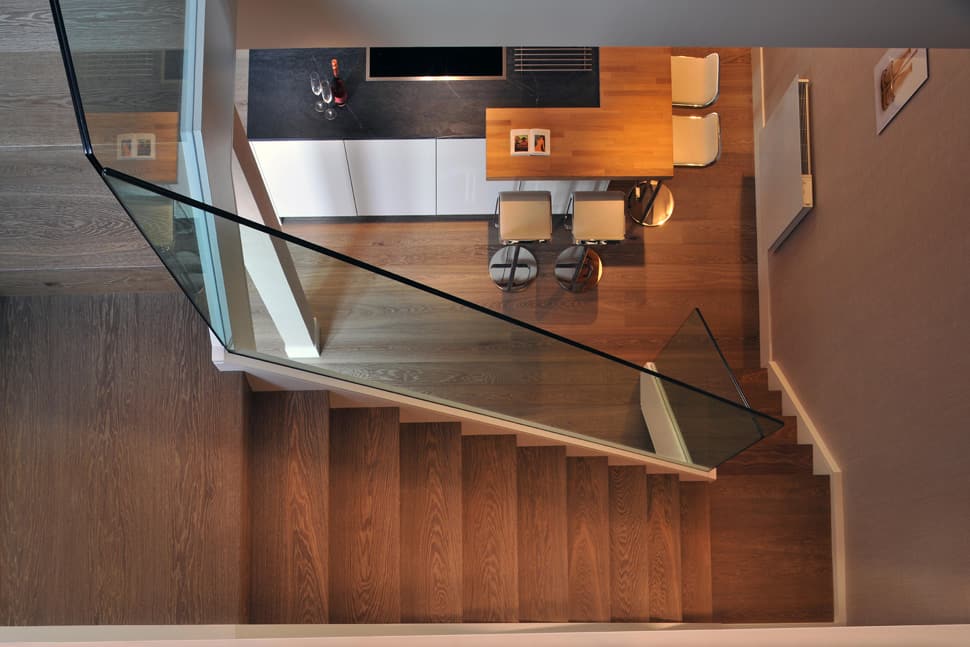 Glass balustrades leave sightlines open throughout the home.


Underfoot, pale oak flooring is a contemporary complement to the rustic oak framing overhead, highlighting the angled architecture of the home and bedroom loft on the mezzanine.


Vibrant pops of color offer bursts of brightness among the natural materials and fabrics that prevail. Here, Britton Portugal's Lima sideboard in a burnt-orange hue.


B&B Italia's Metropolitan chair in a sunny yellow shade invites you to explore – and take a load off!


This bedroom boasts a dreamy, muted palette of off-whites and grey, and a small but essentials pop of color. Light pouring in through the large window invites an interplay of shadow and light on the angled walls and arcing doorway.


Echoing the curve of the doorway, a built-in drawer offers clandestine storage.


Another curve in the wall defines the sleeping area.


Each guest bedroom on this level leads to a bath – mirror images of each other. A chandelier is suspended from the soaring ceiling of each bath, one in black and one in white. Marble walls and floors, and glass interior walls are a sleek, sophisticated finish to these luxurious spaces.


Perched atop the double-height living area, the bedroom loft may be small, but it is certainly sweet. We love its connection to the living spaces below. But what about the privacy factor?


The partial wall soon reveals its purpose, as a sliding wall folds out and around the bedroom. Voila – privacy on demand!


The glass balustrade is essential to the home's open-concept aesthetic. On the opposite wall, a doorway leads to the master bathroom.


Richly veined marble walls are showcased through a glass shower enclosure, with built-in shelving to store potions and lotions.
Floor plans:


For more information, visit TG-Studio.