New York has a lot of celebrity folk living and working in the city. And what can be a better place for a celebrity to live than a penthouse with a private elevator, a concierge, and valet parking or what have you. From Taylor Swift to Marilyn Monroe to Britney Spears these amazing New York penthouses have had the biggest stars for owners, so naturally they look incredible and some of them come at a very steep price.
Luxury New York Penthouses With Bragging Rights
Celebrity penthouses aren't always the most expensive, though. Some of these apartments will set a prospective buyer just a few million dollars, but they have no less luxurious interiors, interesting history, and various amenities than the more expensive New York properties.
Marilyn Monroe's Sutton Place Penthouse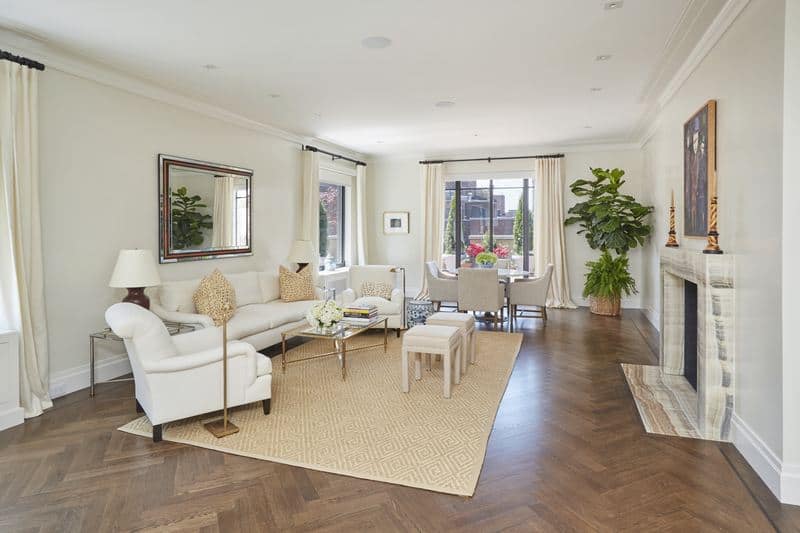 Marilyn Monroe used to call this Sutton Place penthouse a home with the third husband Arthur Miller. Overlooking 59th Street Bridge and East River the 3,000-square-foot (278 sq. m.) apartment has an outdoor terrace, two wood-burning fireplaces, and a gorgeous giant skylight window in the bedroom.
After a two-year renovation the pad comes in a neutral color scheme with traditional luxury style furnishings and an ultra modern light-filled kitchen.
Gwyneth Paltrow's Elegant Penthouse in TriBeCa
If there's one celebrity whose impeccable style translates into everything from the red carpet dresses to home interiors it's Gwyneth Paltrow. And her gorgeously elegant TriBeCa penthouse is here to prove it.
Listed for $12.85 million the property boasts 4,400 square feet (408 sq. m.) of space, a neutral elegant color scheme and a swing seat in the living area. Sitting atop River Lofts the dreamy pad is filled with meringue pastels and beautiful details. State-of-the-art kitchen is one of the most impressive we've ever seen. It has a stone-tiled hood, painted wooden floors and spacious marble countertops.
Britney Spears' Multi-Level NoHo Penthouse
Britney Spears' NoHo Penthouse located in the Silk Building has the same square footage but a far cheaper price tag of $7.6 million (now $24,000/month rental). Occupying the four levels of the historic building the pad boasts a wood-burning fireplace, a terrace, and a mud room.
Hardwood floors contrast with white walls in the living area that is adjoined by kitchen and dining. There is also a fix for a swing seat in the seating area with big windows opening up to the city. 
Julia Roberts' Coastal Penthouse in Greenwich Village
Celebrity property is constantly changing hands. Julia Roberts sold her Greenwich Village apartment in the end of last year for $5.35 million. Described as a 'breezy' and 'beachy' pad the penthouse interior really looks like a vacation beach house, at least on the inside.
This is probably the most relaxed of New York penthouses in terms of not only design and decor but a general atmosphere. A neutral color scheme is accented with bright blues and sophisticated furnishings and it can definitely make one forget they're in New York.  
Stephen Dorff's Chelsea Bachelor Pad Penthouse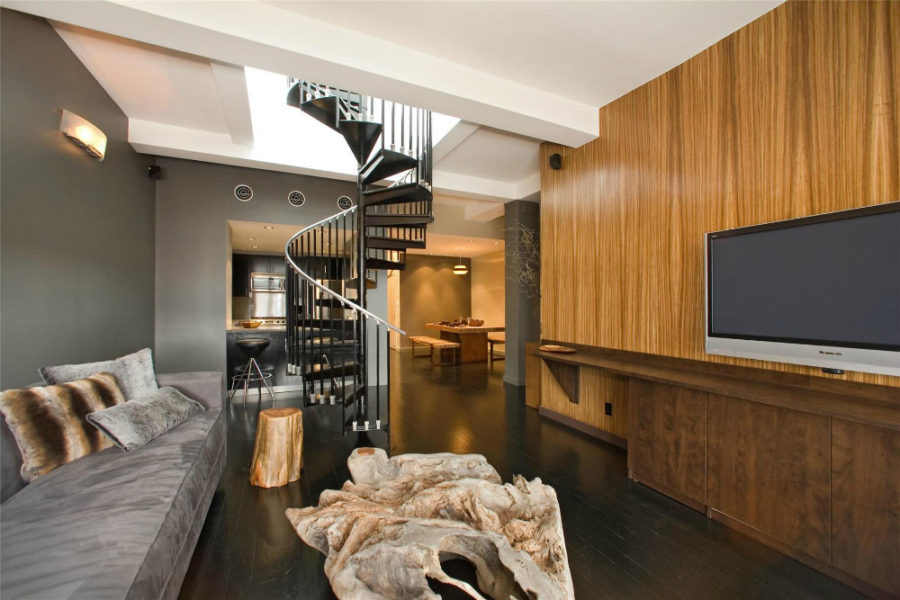 Actor Stephen Dorff listed his bachelor pad in Chelsea earlier this year for $3 million. The luxurious apartment offers views of the Empire State Building. A wood-clad roof terrace with a wet bar, kitchen and an outdoor shower supplement the views.
Also boasting a spa shower, breakfast bar, and spiral staircase that provides roof access the masculine property seems to be worth the price.
Alexis Bledel's Modest Penthouse in Brooklyn Heights
Gilmore Girls' Alexis Bledel and Mad Men star husband Vincent Kartheiser are selling their elegant Brooklyn Heights penthouse. Modest one-bedroom abode with a 500-square-foot (46 sq. m.) roof deck and 18-foot ceilings is full of light and luxury finishes.
The neutral color scheme and sophisticated furnishings probably make it one of the most elegant New York penthouses. And it comes with an attractive price tag of $1.56 million.
Keith Richards' Renovated Washington Square Penthouse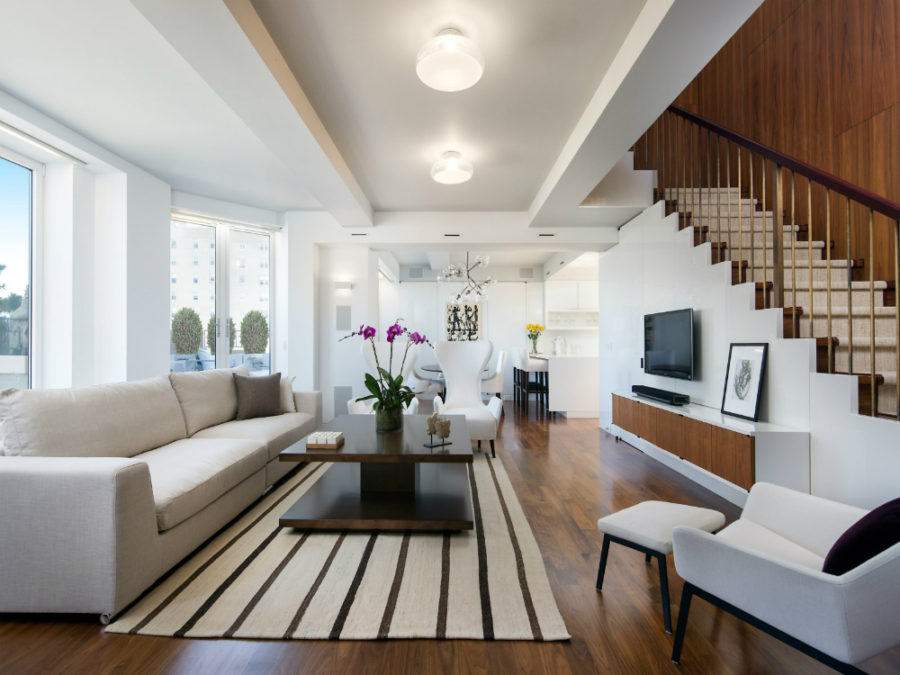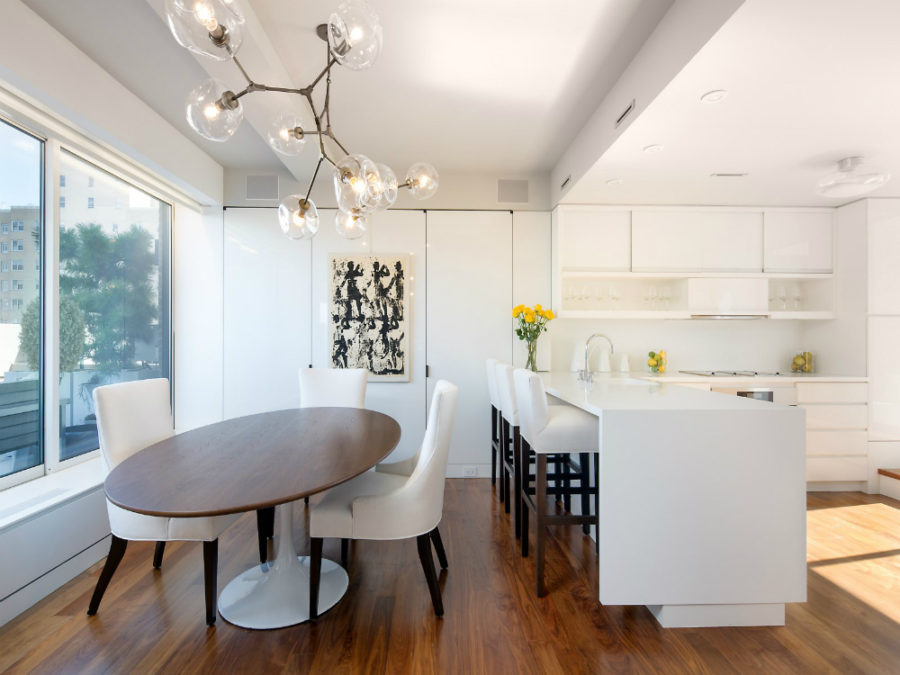 Rounding out the list of elegant penthouse pads is The Rolling Stones legend Keith Richards' Washington Square apartment that he listed for $12.23 million.
Featuring four bedrooms, it was renovated in 2011 by an architect Joe Serrins. The white color scheme gives the interiors a pristine look that contrasts beautifully with the wooden floors and wall panels. Serrins also created a sliding wall to hide the library and a peninsula layout kitchen overlooking one of the three terraces that come with the apartment.
Kirsten Dunst's Manhattan Penthouse Loft
Once belonging to Kirsten Dunst this SoHo penthouse is a one-bedroom pad with an area of 2,200 square feet (204 sq. m.) and loft style design.
Featuring exposed brick in every room the pad opens up to the views of the Hudson River. Complete with hardwood floors and concrete ceilings it is definitely for those who like industrial chic.
Taylor Swift's Spacious Penthouse in New York
Though it is currently being renovated, Taylor Swift's spacious New York penthouse is one of the more expensive celebrity pads and it already came with the bragging rights. Previously owned by the director Peter Jackson the sprawling TriBeCa pad boasts 7 bedrooms and 5-and-a-half bathrooms, wooden beams everywhere, and a grand staircase leading to bedrooms.
8,300 square feet (771 sq. m.) of kitchen space are clad in wood and brick accented with marble countertops. Its living area is dressed in plush furnishings and heavy tapestry. Balancing between luxury and rustic style it's so very Swift.
Demi Moore's $75 Million Penthouse in San Remo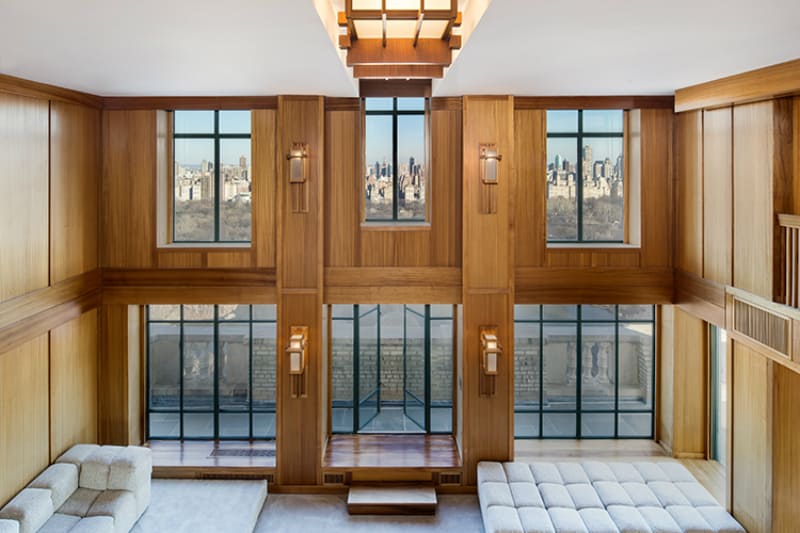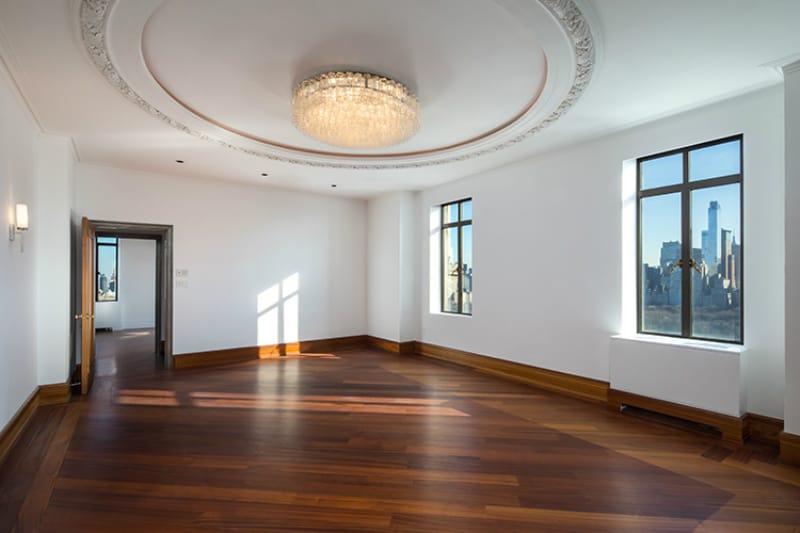 Demi Moore's San Remo property is among the most expensive New York penthouses. It's been listed for whopping $75 million that offer 7,000 square feet (650 sq. m.) of space generously covered with cherry wood.
An exuberant residence features such dramatic architectural details as a grand staircase, an enormous dining room, a giant round crystal chandelier and a guest room among numerous other amenities.
Many of the New York penthouses come with the bragging rights. Of course, don't expect them to look exactly the same as the listing photos because these are usually taken before the stars pack their stuff and move on to the next hot property.