Shining with a myriad of colors and patterns, tiles are the gems in an interior frame. They date back thousands of years, and boast a long tradition. But they also cannot stay the same, so they evolve in terms of not only production processes, but materials, finishes, shapes, and styles too. Italian ceramic tiles have an interesting history, but their look is no less intriguing. Traditional handpainted designs are still being used for interior decorating because they create a very rich look, especially in sleek modern interiors. Modern ceramic tile designs, on the other hand, borrow from the older patterns to produce more contemporary-looking tiles for each and every purpose.
Traditional-Style Italian Tiles
Traditional-style ceramic tiles are the best for creating that rustic Italian decor. Small square pieces in bright patterns look both decorative and classic. Use them to deck out the steps to your house, to create a kitchen backsplash, or to decorate a bathroom sink. You can never do wrong with a few patches of these timeless designs.
Italian tiles come in different patterns with prevailing floral and geometrical shapes. You'll find them in bright yellow, blue, and green, but earthy terracotta tones will give you a more true rustic look.
The beauty of these tiles is that their intricate handmade look can bring a lot of warmth to a modern home.
Modern Ceramic Tile Designs With Italian Favor
Modern ceramic tile designs are much more versatile in terms of finishes and textures. They aren't just glossy or rough, they also come in matte and textured finishes. And this is what makes them so flexible when it comes to interior design.
Besides finishes and textures, modern ceramic tile designs come in manifold shapes and forms, adding another detail that gives dimension to your interior.
The very trendy hexagon tiles look especially interesting in Italian-style patterns. Try them in flooring or kitchen island siding if you want an unexpected impression.
Bright Italian Ceramic Tiles
Modern ceramic tile designs are bright and colorful too. But you can also find muted hues to go with your neutral interior designs. Warm tones of sand brown and terracotta look beautiful as ever. Black and white or grey and white patterns, however, ooze modernity.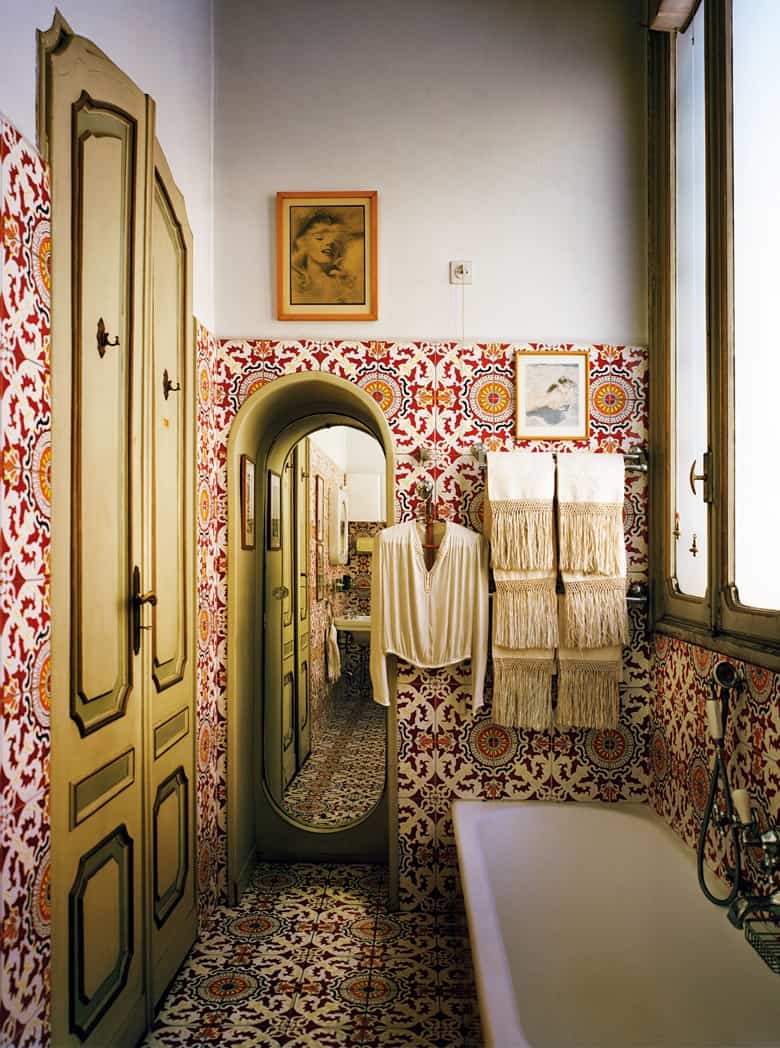 Bright or neutral, never forget how to work with the patterned tiles. Use them sparingly, even if you commit in a big way. For example, if you're doing both walls and floors, make sure to leave the upper half of walls and the ceiling blank.
Patterned tiles also pair well with neutral solid tile designs. Thus, you can do floors in patterned tiles and cover the walls with something simple.
Patchwork Tile Trend in Italian Style
Patchwork trend has been huge in the last few years. Regardless of the style, it looks positively rustic and playful. Use for kitchen and bathroom backsplashes or to create a feature wall in the bedroom or living room.
Patchwork works nicely in flooring as well. You can implement it in transitional areas or it can become an accent in the room.
Don't be afraid to use very different patterns. As you can see, they work well together as long as you coordinate the colors.
Earthy-Colored Modern Tile Designs with Italian Flavor
What really gives Italian tiles their distinct look? Earthy tones – beige, reddish orange, and a lot of shades in between. To give your neutral bathroom that designer look, opt for matching tiles in an Italian pattern.
There is some undeniable charm about an intricate pattern in a neutral color. And something very Italian too.
Take note of how a rectangle of patterned tiles can become an aesthetic, if not physical alternative for a rug.
Glam Italian Style Tiles
Italian style is characterized by glamorous patterns and metallic accents. So if you want to add that aesthetic to your house, you'll need the right type of tile designs.
Whether you are decorating the bathroom floor or the kitchen counter, these gorgeous styles bring something extra to the interior.
Textured one-color tiles appear not only glamorous but also very contemporary. Some, however, come in purposefully faded or distressed finishes.
Porcelain Tiles with an Italian Streak
It seems like there is less and less ceramic tiles today, and more porcelain stoneware being used to produce all kinds of wall and floor tile designs. It is not surprising, however, considering that porcelain is much denser than ceramic (hence more durable), and can easily disguise as marble or even wood.
Porcelain tiles can handle Italian flavor just like every other style or material. Bigger than their traditional counterparts, porcelain tiles look particularly sleek and contemporary.
What makes the modern ceramic tile designs so beautiful and diverse is thousands of years of improvement and perfection. These reimagined traditional patterns are still as good for home decorating, but with the new materials and technologies they might just be a bit more durable.