With the holiday season mere months away, we cannot help dreaming about the tablescape designs. Simple, complex, bright, and neutral – table decorations are so versatile you can create entire tablescape masterpieces with them. Fall is a plentiful season and taking advantage of its generosity is more than reasonable, especially if you'd like to save some cash. Follow these dining table fall decor ideas to find the decor solutions that are agreeable to you in terms of both effort and resources.
Simple and Tasteful Table Decor
Since there are so many gourd and pumpkin varieties available in fall, you can use them alone to create a dynamic tablescape for Thanksgiving or a family fall party dinner. Stock up on candles and gather some branches or pine cones to enhance your centerpieces and table still life.
To create a more sophisticated, less rustic tablescape, make use of fancier tableware and napkins and forgo excessive natural decorations. Instead use designing candle holders, glasses, and vases to decorate your table.
Trivets and statement serving plates do a great job adding sophistication to the decor, and they also minimize stains and spots on a table runner or cloth.
Dramatic Tablescapes
If you're willing to put in a little more effort and money, your dining table may look like the stuff of legends. Use fresh cut dark flowers, dramatic candles and candle holders, and showy centerpieces to create a plentiful but chic table decor. You'll find that darker shades make for a spectacular look, especially punctuated with lighter tones.
Fall is full of contrasts and so should be your tablescape. You don't have to necessarily use light and dark hues, they can all be bright. Neutrals, however, help balancing them out also bringing sophistication to the look.
Modern table decor uses all kinds of decorations from feathers to glass display boxes. We can also suggest metallics, especially in golden brass and copper finishes to fancy things up. They can come as cutlery, but you can also find them among furnishings like chairs.
Modern Table Settings With a Rustic Touch
There is no way of escaping rustic touch in your table decor, if you're using produce and wood. But if you welcome the naturalistic vibe, then make the most of what it has to give and, boy, does it have to give a lot. Fallen branches aren't the only decorations you can find in nature. There are also various plants and berries (not necessarily edible), fruit and vegetables, and of course wood chippings and bark.
All of these things can make for beautiful table decor. But if you want, you can buy similar natural-looking decorations to save time.
If you are wondering about how to pair your modern style and rustic decorations, it might be much easier than you think. Balance is key in each and every design.
Stylish Trendy Tablescapes
The latest trends in tabletop decor is of course live table runners. They bring much more detail and color than those made of fabric. They also allow for a much more vibrant color scheme and pair well with both food and edible decorations like fruit and berries.
Other trends include metallics, colored glass, and statement candles. Accessories like cake stands and planters can also help accentuate a table centerpiece. The latter are bushy and can even sprawl out of their containers, which is especially true of fall centerpieces.
Colored, misshapen, and unconventional tableware is another way to make your tablescape stand out. If you prefer familiar ceramics, you may reserve the unique design only for serving plates.
Outdoorsy Dining Table Settings
Chilly weather may not seem too appealing for table gatherings, but early fall in places with the full four seasons may be a cool refreshing period when you can relax outdoors without either freezing or overheating. Dinner's success may also depend on weather forecast and location.
Choose a spot that has nice sights and don't be afraid to settle around water, although be cautious of cooler temperatures in the evening. A private garden is ideal for an outdoor fall dinner. And if you grow blooms, you won't have to splurge on store-bought flowers.
Regardless of the season, be sure to provide your guests with comfort. It may come in form of blankets or hot beverages. And, of course, have a plan B in case the weather decides to spoil your day.
Fall Table Decor Accents
If you want to reuse your regular tableware and avoid costly centerpieces, we recommend going for fall accents that may save you time and money. It could be a set of orange napkins or a bunch of yellow leaves to color your white tablescape.
These accents don't even have to be decorations. Tangerines, persimmons, and pomegranates make perfect colorful details for any table and they are delicious too.
A few sprigs of any greenery will always look beautiful, it can really be used in any type of holiday decor, if you're still yearning for warm summertime.
Modern Table Decor With Different Style Variations
Summer lovers will also appreciate a coastal twist on fall table decor. It's not as difficult to achieve and it looks refreshing, to say the least. White pumpkins work well with the aqua blue plates while acorns and seashells bring their respective vibes to the table.
Contemporary and modernist tablescapes may look very different. The former require sleek tableware and minimalist furniture. The latter can be achieved through mid-century modern furniture and old-fashioned hues like salmon orange and turquoise.
Contemporary style also doesn't require any types of textiles and tablecloths. You can replace them with coasters, trivets, and serving plates.
Green Fall Tablescapes
As we mentioned, greenery looks great regardless of the season. It can take form of various plants from your garden or bouquet fillers with just a few blooms. Or you can take advantage of herbs like rosemary and lavender to decorate your tablescape.
Cabbage, salad leaves, and chard can also be used in table decoration, lending their funky textures to your sophisticated tabletop.
Leaves, that haven't gone yellow yet, can too work wonders for your pumpkin centerpiece, livening it up with their organic presence.
Flower Centerpieces
If you want to create a sophisticated tablescape, then blooms are in order. You may even forgo all the other decorations because one floral centerpiece may be enough to make a statement. Take callas for instance, these dark purple blooms are simply majestic and don't require any help looking captivating.
Complex floral compositions look incredible, of course, but they may set you back a few hundred dollars. It is reasonable to reserve such lavish decorations for ultra special occasions like weddings.
Modern fall wedding centerpieces aren't as clean and formal as they used to be. Wild and diverse, they combine dozens of blooms and fillers instead of just one or two.
Fall Plate Decorations
Plate decorations aren't always necessary, but some can enhance certain tablescapes quite significantly. Consider using plate decorations, if you have a seating plan. Thus, you can gently indicate your guests where to sit.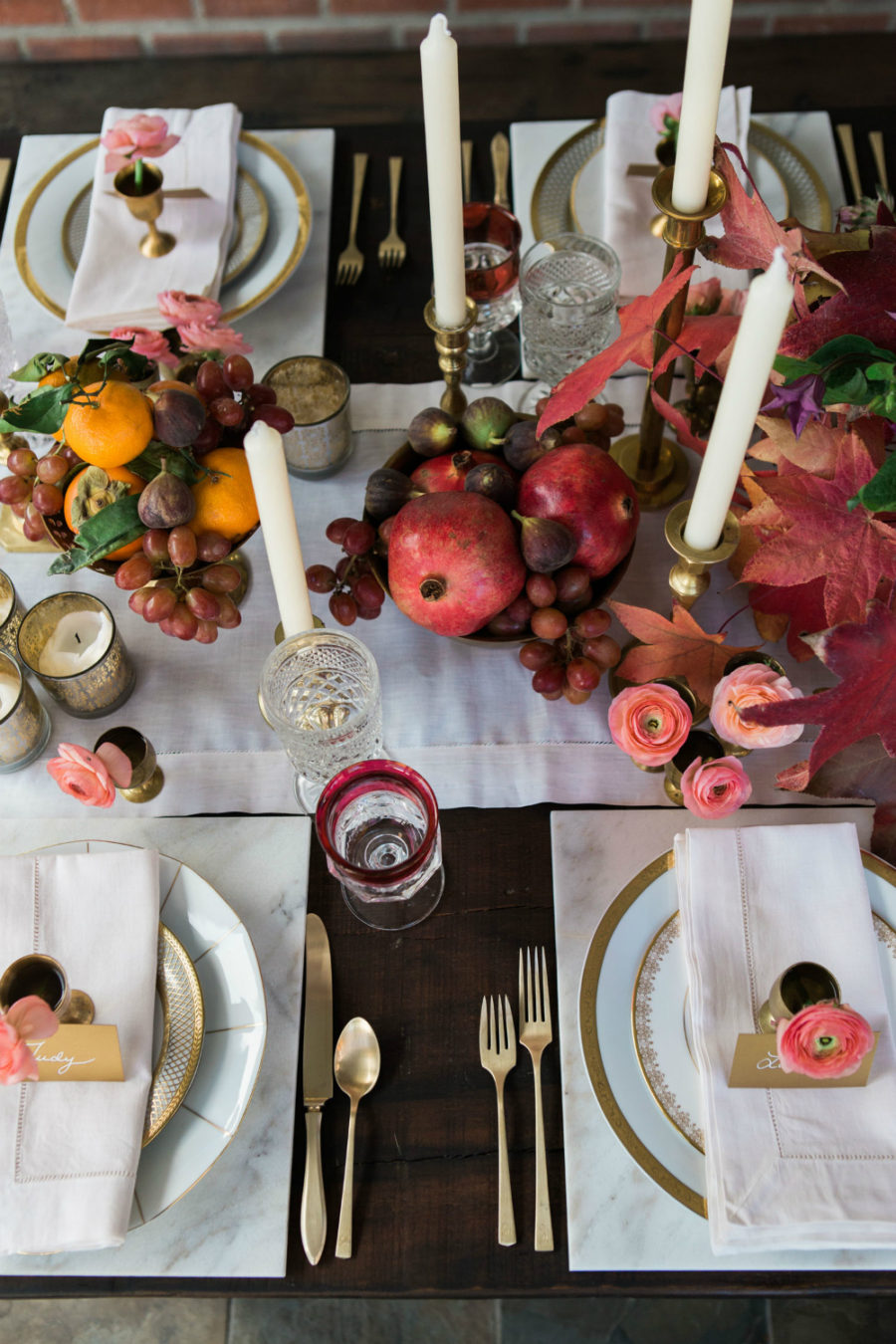 If you don't want to use seat signs, you can simply fill your plates with bright napkins or small favors, little pumpkins or thank you notes.
There are no strict rules and limitations in table decor today. Dining table fall decor ideas evolved from ultra formal settings to casual but stylish tablescapes that can serve a wedding or a dinner party and leave you feeling fancy either way.