As seasons change they bring a whole other atmosphere with them. In fall, as the temperatures get cooler and the sky greyer, you may want to add a little more color to your home. Since the main room sets tone for an entire home we gathered quite a few living room fall decor ideas.
From neutral to dark and rich these fall decorating ideas are going to convince you to deck out your dwelling for the seasons.
Easy Fall Decor Ideas for Living Room
If you got a finished living room decor you are completely content with, there's no reason to go for radical changes just for a single season. But you can definitely bring it home with a few twigs of wilted leaves or fall blooms.
Goldenrod, oak leaf hydrangea, and sumac make beautiful vase fillers, but you can take advantage of fall blooming flowers like asters and garden mums as well if you want to bring more fall color to your existing interior. 
A vase filled with colorful leaves or blooms instantly indicates the season, but you can further punctuate the impression with a couple of pine cones and small pumpkins arranged on the table or mantel.
A few matching throw pillows is another great way to accentuate your fall vase composition.
In a neutral decor, all you need is a bright pop of color from the fall palette. And here is where a single vase can transform the look and quite significantly too.
Weaved baskets somehow reinforce the autumnal atmosphere in this particular example. And a porcelain pumpkin-shaped candle holder makes for a more refined fall decoration.
Fall Color Accent Ideas
Although it is easier to decorate with blooms (especially fake ones), it can be quite daunting changing them once they exhaust their aesthetic and wilt utterly and completely.
Throw pillows, on the other hand, can last the entire season and beyond, if you wish to keep them. Of course, they and any other textiles like curtains and rugs will require much more investment.
A combination of a single orange throw pillow and a throw can instantly take your living room from summer to fall. Note that orange goes great with almost any neutral, and can work with many brights.
It shouldn't be difficult to introduce it to an existing decor. You just have to decide how much of it you can afford to add in.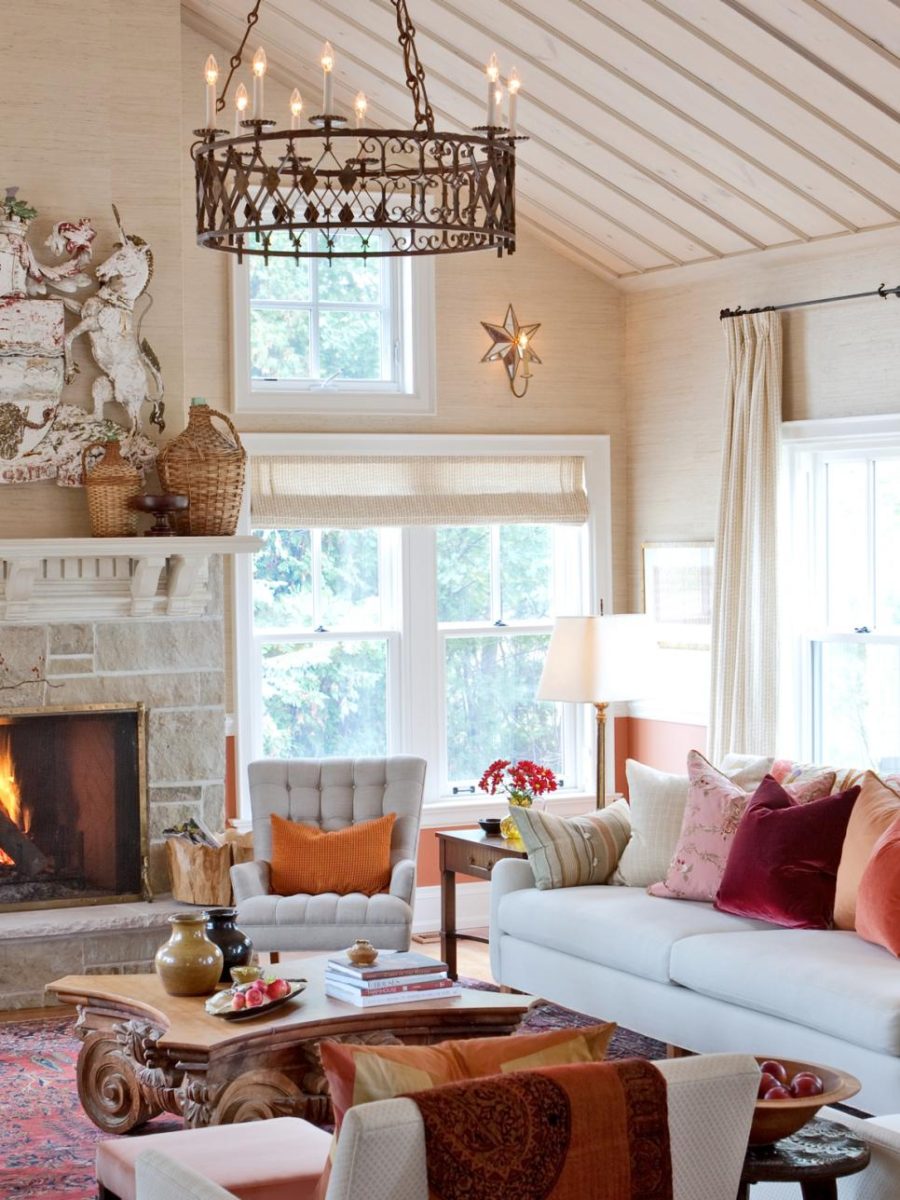 Orange and blue make for a refreshing combination. But note how rich and multi-layered a look pink and magenta can create in a neutral living room.
Orange, here, is also used in walls while reds are echoing magenta accents. There are apples among those decor elements. Red varieties are not only sweet but they are also immensely decorative.
Combining orange, blue, turquoise, and yellow Katie Ridder created a coastal country home decor that can easily get a more fall look, if you change the vases' contents.
Wall decor can too be changed for the season, especially if you like DIY. Here, the framed artworks fixed to a bookcase reflect the style of design. But fall still life can quickly turn this place around.
Fall Color Scheme Ideas
Jewel-toned furnishings are beautiful year-round, but they can look especially fitting during fall. There is just something special about deep colors that can help you create a look for the cold season.
An orange red sofa may look quite extravagant, but a velvet couch is generally for those who are more daring.
While buying a sofa for the season is indeed a questionable investment, you could always find a slipcover for any of your furnishings to go with the seasonal decor.
Having some autumnal colors in your interior may simply be a matter of taste. But it definitely makes decorating for fall easier.
Copper tones are still very much in trend and if you haven't used them already, fall may be a perfect time to do it.
Besides looking great on their own, metallic accents in copper and gold are more than fitting to accentuate your fall decor palette.
Framing up the Fire
Fireplace is as functional a fall feature as it is beautiful. And while it looks best burning with orange yellow flames some accessories may only reinforce its charm.
We're talking about painted pumpkins, vases, signs, centerpieces, and, of course, wreaths.
But not only mantel should get all the decorations. You can fill up unused or dysfunctional fireplace with candles, string lights, and logs.
Surround it with lanterns, chairs with pillows, and cozy cushions and you'll get a warm and beautiful place to hibernate while the outdoors are wet and cold.
Without forgetting about safety, add a rug or an animal hide to your hearth to make things extra luxe. Fake velvet pumpkins can help improve the look while the real ones will bring a more rustic feel to the room.
Open cotton pods as well as any other ready-for-harvest plants like corn can be used for fall decor, if you want to make it look more rustic.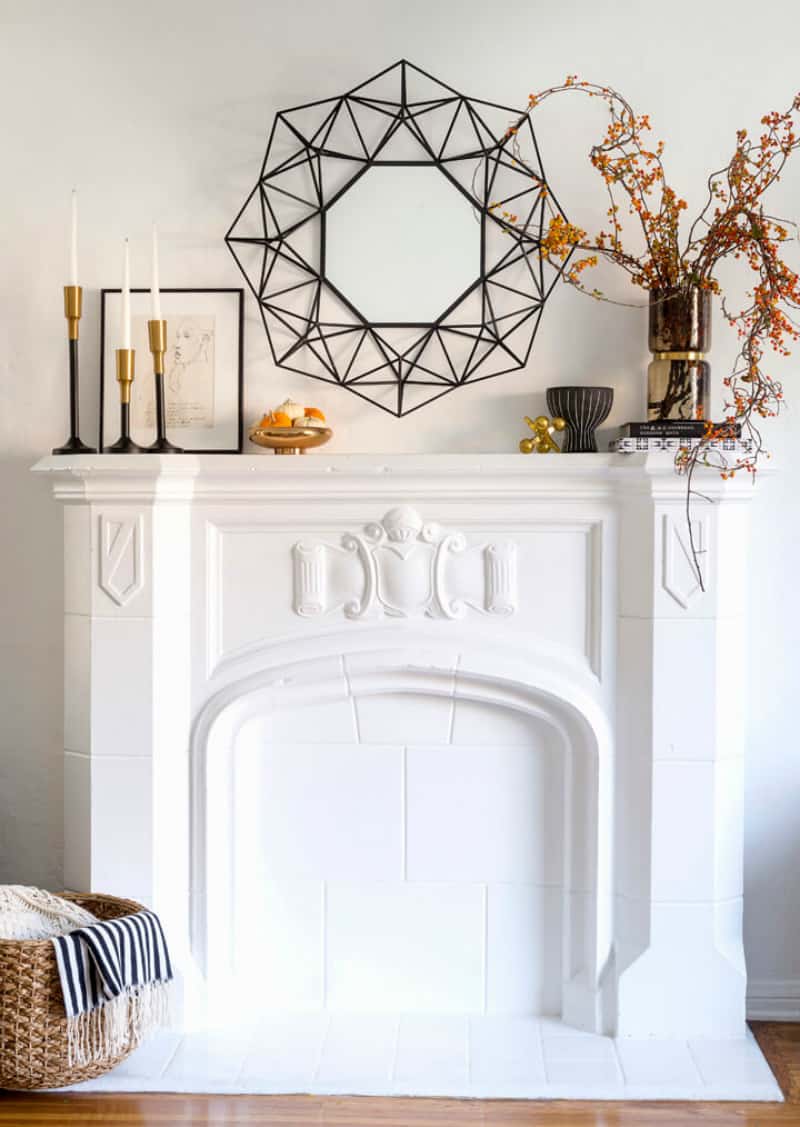 For a tasteful look, contain natural elements in vases and decorative bowls. Create a single focal point of your mantel decor instead of a few. It doesn't necessarily have to be fall-themed either.
Here, a polygonal frame mirror from Target makes for a sophisticated focal point. A few small pumpkins are neatly arranged in a bowl and sprawling orange berries are contained by a Brass & Glass Vase, also from Target.
Fall Decor Living Room Accessories
Living room accessories like throws, cushions, and rugs are second to throw pillows when it comes to seasonal decor.
Fur, knitted, and simply warm throws and rugs are not only suited for cozying up to but also ideal for decorating.
Nothing says 'fall' quite like a warm throw or a blanket. Place it on a couch or keep it in a basket under your coffee table, it won't fail to bring the fall atmosphere to the room.
In this gorgeously neutral living room fall decor ideas don't stop at that, though. Take note of pumpkin throw pillow covers and open cotton pods that make the more familiar fall decor more intriguing and unusual.
Sometimes a centerpiece is all you need to make a statement. Candles are often associated with fall and Thanksgiving, so keep them in mind when creating your own.
It's always good to echo your decor colors in a centerpiece. Make sure to coordinate them with an existing palette, if you don't plan on adding or changing other color accents.
Fall Decorations
If you don't want to break your neutral decor flow with brights, you can opt for muted tones or even metallics. The latter give the interior a more modern look.
Natural decor elements too make for great living room fall decor ideas. Here, the painted tree stump coffee tables look positively autumnal in combination with the rest of fall decor items.
Rustic style and fall decor are meant for each other. Wood-heavy rustic decor is easy to pair with orange and yellow accents and natural decor elements like twigs and harvest.
In this modern living room design there are also graphic prints that contribute to the room's eclectic style.
Got time on your hands and a spring in your heart? Here is an idea of how to create fresh fall mantel decor. Just pair lively potted greens with white pumpkins and baskets.
Grassy elements will further render it more spring-y and you can enjoy the best of both worlds – freshness of spring and aesthetics of fall.
You don't need to splurge every season on expensive decorations to make seasonal decor work. Simply invest in accessories that you can use year-round and add a few small accents each season to bring its atmosphere home.
In this interior, a simple set of orange candles does the trick and all because of the rustic interior design.
Neutral Bright Fall Decor
Fall living room shouldn't necessarily be dressed in heavy dark drapes and velvet slipcovers. You're not redecorating.
Think of your neutral color scheme as a blank canvas for seasonal decorations and colors instead. It's easier to marry any shade of orange to a neutral decor rather than a colorful one.
Grey is a perfect neutral color for fall. It goes incredibly well with yellows as well as any other color from the fall palette. It looks sophisticated, especially in light tones. And it's easy to find.
It's also easy to change up fall accents in a neutral grey decor without ruining its sophisticated look.
It's hard to perceive this bright neutral living room as autumnal, but it's ideal for those who seek to make summer last a bit longer all the while acknowledging the reality.
Yellow orange and green accents look especially bright against white and turquoise. And a bit of chartreuse keeps the place vaguely dual-seasoned.
Living room fall decor ideas don't have to be too elaborate. After all, you don't want to completely redecorate your home for a single season, but only bring the best of it home.