One of the boldest color choices, red is thought to bring energy, strength, power and determination to its surroundings. It is also the color of passion and desire and in eastern cultures it is thought to bring good luck. In interior design, the color red is often used as an accent but seldom used as the main color due to its intensity. Decorating with red accents can be tricky, too much and it is overpowering while too little and the color becomes disconnected, but when done right red can take your decorating scheme to a whole new level. Here are 35 ways to add red accents to a variety of different styles and with different intensities.
For the Boldest Accents, There is Red Flooring
Digital photography has taken interior design by storm, now used in everything from tiles to laminates to even 3D imagery floor inserts like this one. This type of floor detail is bold so if you are going bold go for the boldest color out there – red. Projectila
Bedrooms are places to relax and unwind, but that doesn't mean they have to be boring. This ultra modern bedroom showcases a gorgeous red lacquered floor paired with red bedding, lamps and art. As dramatic as the reds in this room are, none of them are visible when laying in bed except of course for the bed linens making this bedroom dramatic but completely relaxing at the same time. Interior Idea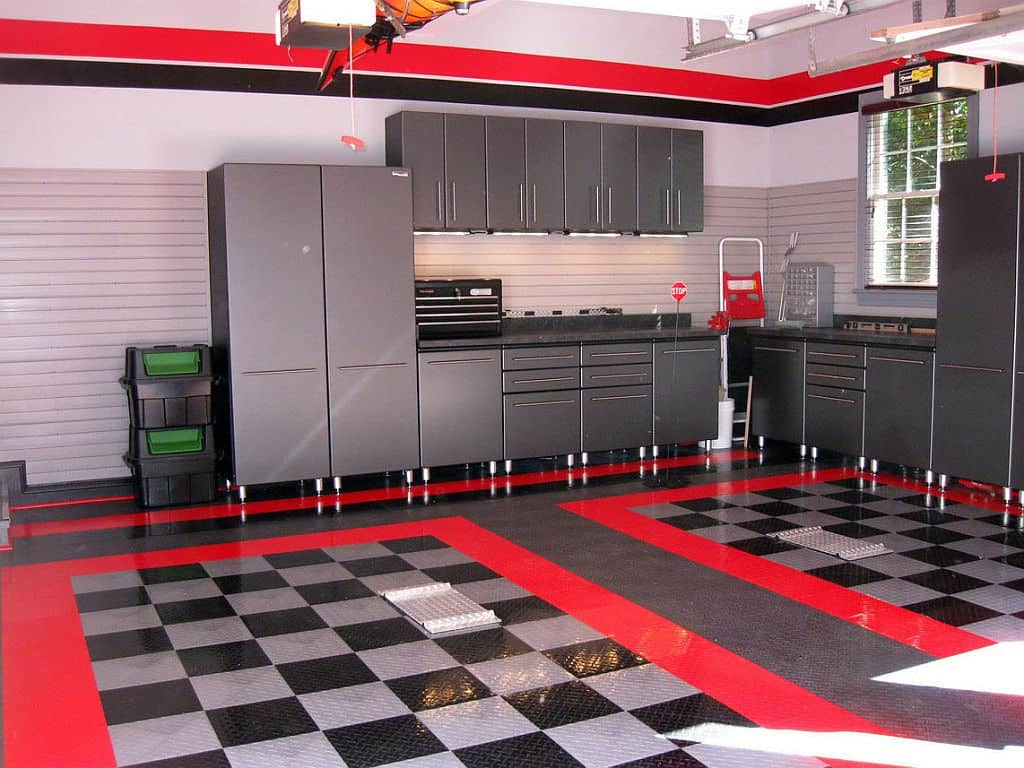 A good red floor design transitions into the realm of garages seamlessly. A few wide bands surrounding each checkerboard car bay takes what is normally a utilitarian space and turns it into a red hot showstopper. Astronomy Cafe
Adding red accents to your floors doesn't have to involve a renovation, a gorgeous area rug can do the trick and be soft underfoot at the same time. Interior Idea
Pop Art Decorating with Red Accents
POW, BANG, KABOOM, this vinyl floor by Murafloor let's you fill in the blank with its bold red and yellow pop art word graphic (minus the word). Tying the blast of red and yellow into the overall scheme of the room are the pop art red dots on the rest of the floor and one red statement wall – BAM!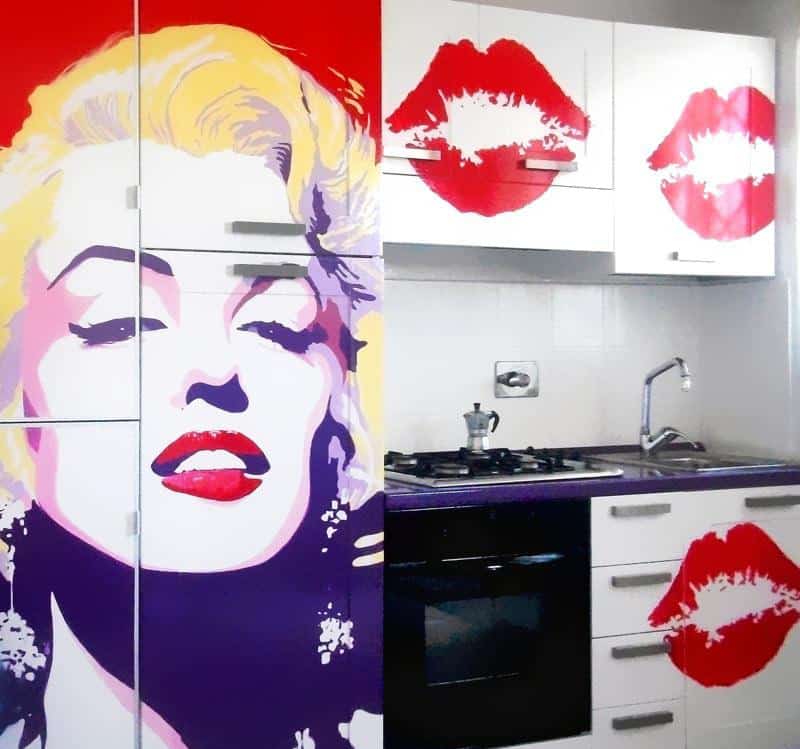 If you are looking for kitchen design ideas that include a red pop art theme, look no further. Marilyn Monroe's famous red lips have made a real imprint on these cabinets – several times. Fun, whimsical and definitely a conversation starter.
Marilyn's lips can be recreated DIY style with palette boards just like this wall decor and unlike paints or vinyl, the red stain on the wood showcases a wood grain for a more natural appeal – if you can consider large cherry red lips natural. Carla Aston
If you love the idea of decorating with red accents to brighten up your kitchen but prefer a less sexy look than Marilyn Monroe, this red hot pepper design is a down to earth graphic that has a real ethereal quality to it. The Kitchen Designer
Pop Art Style in Interior Design is not just for kitchens. Any room in your house would look amazing with pop art punches. This living room chose to feature an image on the wall but even a ceiling would make a great canvas for the whimsical and super fun design aesthetic.
Add Red Accents to Staircases
Today's homes no longer treat a staircase as simply a way to get from A to B, these days staircases are an opportunity to create a design statement and what better way to make a statement than with a red stair rail. Designed by Tom Scheerer, the geometric rail is a fun contemporary contrast to the white traditional newel post. Apartment Therapy
Speaking of geometric designs, this geometric staircase is a series of askew shadow boxes with red steel side panels and as if that wasn't enough, the handrail is Lucite with red support brackets.
Red Decorating Ideas for Modern Interiors
As with pop art decor, modern design looks great with the inclusion of over-scale art and this modern room filled with white furnishings and walls is no exception. The bold red canvasses with abstract faces are all the color accents needed to rock the desired look without overwhelming the layers of white. IDecor
This kitchen introduces red accents via the cabinetry. Paired with the cool cinder-block walls and concrete floor the warmth of the red is a well-balanced contrast. Source
While the previous kitchen used red on the wall cabinets and kept the island grey, this kitchen does the opposite and uses the color on the island cabinets while leaving the wall cabinets wood. Remodelista
This Snaidero kitchen and dining area (above) spreads the red accents around and uses them in a supporting role, preferring to make the black and white wall pattern the star of attraction. Did you notice the countertop? The Design Home
The right approach to interior decorating is to always take the ceiling into consideration, and in this case (above) the ceiling is as important in the overall design as the bright yellow linens, the white walls, the blue tile and the black trim work. The reason for equal importance is because this bedroom is homage to Piet Mondrian and his series of Compositions in red, blue and yellow. The 3D reference to the paintings is clever but subtle, and yet really obvious if you know the work. Studiopepe
Decorating with Red Lighting
Aside from the ceiling, the red accents can also be brought into the upper realms of a home via lighting, and this precocious chandelier does just that. As fun as the horse and bear are, and as comfy as the chairs look, it is the blast of crystal red in the chandelier that says "look at me, I am gorgeous!" Source
These beautiful red pendant lights (above) act as an arrow pointing down to the amazing concrete dining table that morphs out of the wall before folding down to the floor. See more dramatic dining rooms.
Red lighting can also be used on the floor or on a table and these 3 choices from Sydney Lighthouse are great examples of how an accent lamp can add a blast of personality to any room.
Vintage decorating is always done better with a few authentic pieces and these retro red pendants with their aged patina add that layer of history that completes this rooms decor. HGTV
Retro Style Decorating with Red
There is nothing more retro than a red acorn fireplace and when paired with mid century furnishings and a red rocket, the look might be a bit too dated except for the contemporary black chalkboard wall which makes this design (above) look pretty amazing. Home Adore
Red vinyl and chrome swivel based bar stools are a retro moment that will fit into most decor schemes and when paired with a retro fridge the revival look is complete. House to Home
This retro fridge is matched with a retro wall art, and then completing the decor is the black chalkboard ceiling. Source
An easy way to layer in retro red accents is to start collecting vintage kitchen utensils and then display them where they can be seen. This example uses a stainless steel grid and S-hooks to mount the collection in a fun layered look. Old House
Red Hot Fireplaces
Sometime the phrase "hot seat" is a literal phrase, as in the case of this red hot and very modern bio ethanol fireplace design.
A traditional fireplace can be turned into a modern focal point by changing the standard white trim work into a bold red accent. Source
Acorn shaped fireplaces are perfect for modern decorating, and they are just as happy in an industrial style setting. Whorange
Classic Red Contemporary Design
Contemporary design is all about layering textures, materials and color in a cohesive package that draws you in, and this contemporary red lacquered door definitely draws you in. What a way to make an entrance! Carla Aston
A favorite contemporary design trend is to feature a bold color on a traditional silhouette, and this bold red table is a great example of just how dramatic that trend can be. Oxford Design Studio
I love this contemporary decor with its brick wall, concrete ceiling and floor, white lacquered cabinetry, red accent wall and cage lighting with matching red chords. Archilovers
This living room (above) has red accents everywhere but especially in the feature painting above the sofa. There's nothing like the right piece of artwork to really make a room sing. Source
Bedrooms are tricky when it comes to red, the color is energizing so it is best not to locate the red where it can keep you awake. By using the pops of color in the sheets and in a large photo diptych behind the bed, the color is minimized when trying to fall asleep but visually fun when moving around the bedroom. Decoist
Add Drama with Red Accents in Seating Furniture
Lucite chairs look great not just in clear versions but in semi translucent versions as well. This red Uncle Jim Kartell chair by Philippe Starck adds an ethereal quality to a very surreal room setting.
IF you are wanting to use a large sectional in your home but think red is too strong a color, think again, there are many versions and shades of red and this subtle version is perfect for the size of this seating arrangement. Source
Sofas don't have to be a soft shade of red to rock a look. I think this sofa has rocked so hard the bookshelves have gone wonky! Just kidding, I love the angular shelving and red seating, it's a fun look for a home library. Source
Seating doesn't have to be a monochromatic choice, these red chairs look pretty amazing with their bright frames and natural wood backrests and seats. It's clever how the long vertical legs play off of the long horizontal shelving above. Design Milk
Cozy Bohemian Red
You just can't do a Bohemian look without red, and this selection of pillows was the perfect way to bring red accents into a casual Bohemian fireplace nook. Marie Claire Maison
As mentioned above bedding is a great way to introduce color into a bedroom and when going for a Bohemian vibe this Tapestry Medallion duvet and pillow covers by Urban Outfitters really sets the tone.
Color is such an amazing way to add individuality and personality to a home, and whether you prefer the white room interiors, an intense red interiors, a relaxing green color interior design or one of the many other colors out there, the most important thing is to incorporate it into you home decor to create a personalized space you will love to hang out in.