Trendy soft beds are quickly becoming a modern bedroom staple. They come in all sorts of shapes and finishes and with a varying degree of detail. They are comfy, safe, and have plenty to give decor-wise. Take a plunge, and see where you'd like to land every night.
These soft beds will make you feel like you're on a cloud, with such comfy headboards, and even plush bed frames so your shins don't hurt as much when you stumble in the dark. They're a tad more expensive than your regular frame, and that's understandable since there are a lot more materials involved.
The Best Soft Beds
We're going to dive into the best soft beds we found out there, so let's see what you can get right now.
1. Meridian Diamond Tufted Luxury – Soft Bed Frame
This awesome Meridian diamond tufted luxury bed will have you sleeping like Royalty. We found this plush bed over on Etsy and we kind of want to order one right away.
Not only will this be an awesome soft bed to get, but it also features some extra large capacity hidden drawers that allow you to store things like clothes, shoes, comforters, pillows, and whatever else you need. You can buy this bed in four sizes – Full, Queen, California King, or Eastern King. You can also choose whether you want two or four drawers, with the exception of the Full size, which comes with only two.
2. Luna Soft Bed
This next bed comes from Soft Frame Designs, so you know it's going to be super soft, right? Not only does this bed look absolutely stunning, but it's also absolutely plush. You can choose a color out of their many options.
The frame is made in such a way that it's going to make your mattress disappear within the frame, as long as it's anywhere between 7 and 9 inches thick. Since every frame and headboard is made to order and it takes about 5 weeks to get it done, you may want to order this ahead of time.
3. Memphis Wing Soft Bed
This next bed looks absolutely luxurious! It has a diamond tufted headboard and a plush frame. Plus, there are two drawers at the base of the bed, so you can fit some extra sheets.
You can choose between a Queen and a King sized bed, the color (dark or silver gray), and whether or not you want drawers.
4. Platform Soft Bed
Up next we have this upholstered platform bed in a Queen size with a plush headboard and footboard from Amazon. Plus, it comes with a wooden slats support for the mattress, which means it's going to give it even more softness for your sleep.
The bed comes in Smoky Grey linen fabric and it's pretty quiet since it doesn't feature lots of metal parts.
5. California King Soft Bed
Next up we have a super soft bed from Skyline Furniture that we found on Target. The headboard is tufted, giving it even more softness, and it comes in a soft pink shade.
The bed is made out of pine wood and a metal frame, and it's all made to order. so delivery will take a while. However, when it does, prepare for some great nights of sleep.
6. Simply Soft Bed
One of the most representative designs of this new trend is Astor bed from Silenia. Its soft velvety upholstery is stuffed to create that sofa feel along with rounded shapes.
Characterized by a split headboard, imitating pillows or cushions, the bed rests on four metallic flat legs, and opens up to provide some hidden storage for bedroom.
7. Two Level Soft Bd
Misty is similar but slightly less rounded. It's also rougher to the touch thanks to microfiber upholstery. The design is, too, storage-friendly, and is available in leather.
Special mechanism allows to open it up nice and easy without even having to bend at the waist.
8. Leather Soft bed
Soft, comfy, and inviting like old shoes – Zero.16 is a cool versatile leather bed that looks like an appreciable extension of your living room sofa.
You can put it in a modern interior or keep it in contemporary minimalism, it'll look just fine, and feel even better.
9. Fluffy Soft Bed
Fluff, puff, and fuzz characterize our next contender to becoming your own personal cloud. Fluff bed from Bonaldo is as soft as they get so much so its seams rise and fall with every irregularity of the soft stuffing.
While you still toss and turn on a mattress, a soft bed frame is a great way to avoid collateral damage from midnight or early morning clumsiness around the edges.
Minimal Trendy Soft Beds
10. Moonito Soft Bed
Smooth and minimal, Moonito is a perfect contemporary bed. There are no unnecessary elements, and you'll end up sleeping high above, just like on a cloud.
It might look a bit too inflated, but if you like the playful aesthetic, you can easily style around it, and eve use it to your advantage.
11. Gray Soft Bed Frame
Dixon bed may have an unusual headboard element to it, but it's virtually an upholstered bed frame with seemingly nothing else to give.
Ah, but there is hidden storage under the mattress, where you can keep seasonal clothes or spare linens, pillows, and blankets.
12. Minimal Gray Soft Bed Frame
Snap looks as if a sofa back was nominally attached to a bed frame upholstered with the same fabric. Pale grey gives it a noble look, though.
Beautifully simple and invitingly soft, the bed can work in multiple decorating styles and color schemes.
13. Bonaldo Soft Bed Frame
Similar to Dixon, Cuff bed from Bonaldo has that polished look to it sans unnecessary details. Its headboard features a few seams and a few details that seemingly keep upholstery intact.
It is a bit wider, though, frame-wise, and its generously-sized headboard makes the bed's presence in the room slightly more imposing.
Flexible Headboard Style
14. Soft Headboard Bed Frame
Soft headboards, or at least upholstered ones, always look a level higher than all the others. Their plush softness has a tendency to somehow translate into the sense of luxury.
While most trendy soft beds have pillows for headboards, there are those that capitalize on color, fabric texture, and seaming and stitching.
15. Oversized Headboard and Soft Bed
Opus bed from Ditre Italia, for instance, employs stitching to make for an interesting look, but it's the wings that truly capture attention.
Even smaller wings manage to make the bed stand out in the ocean of soft pillows and tufted rectangles.
16. Checkered Soft Bed
Bolzan Letti took stitching further, and came up with a cool textured pattern for a headboard in their Sheen Big bed.
The bed's modern khaki grey upholstery promotes stylish aesthetic, and gives it an even more modern finish.
17. Brick Layout Soft Bed Frame
When it comes to upholstered headboards, we often see tuft and stitches, but once in a while, you may discover something amazing like this Flou Majal bed with a complex headboard design.
Looking like an arrangement of soft 3D tiles, the headboard captivates, and brings more than enough detail to decorate an entire bedroom.
Tufted Trendy Soft Beds
18. Raised Tufted Soft Bed
Since we touched upon both upholstered and tufted headboards, we might as well show a few such variants that still look very much contemporary.
Phuket doesn't limit the decoration to headboard only, rendering the entire soft bed sweetly textured and patterned.
19. Huge Headboard Soft Bed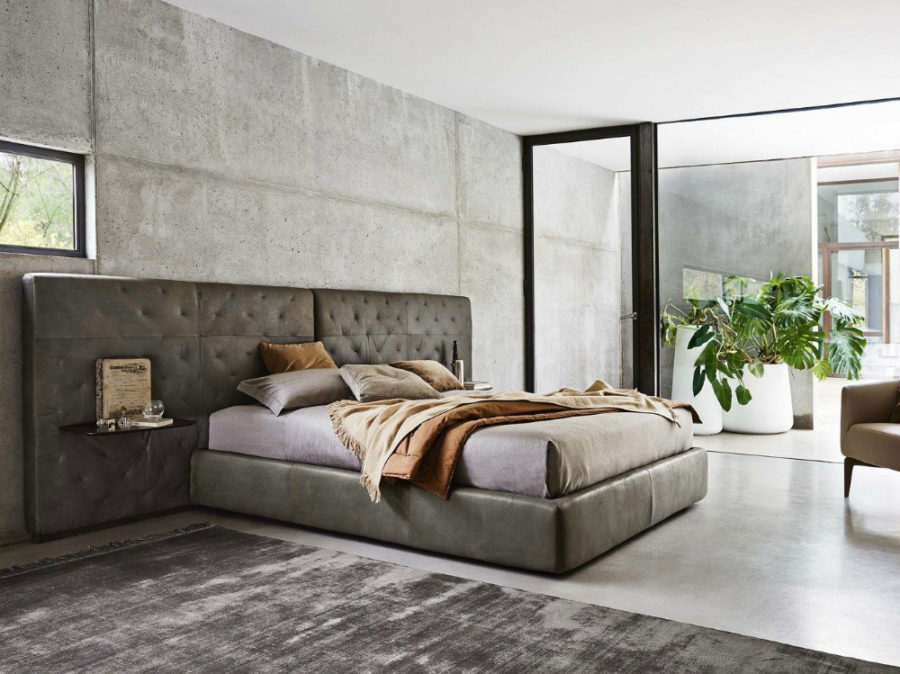 Eclectico doubled down on the whole tufted headboard business with an oversized tufted leather headboard that greatly complements the bed.
While it may seem a tad dramatic, two floating bedside shelves justify the size of the area covered by the vast headboards.
20. Beige Soft Bed
Similandue employs smaller tufts to create a slightly different look, which is not too dramatic but is still full of detail.
The contrast between a softer tufted headboard and a stricter frame adds another dimension to the design.
21. Oversized Soft Bed
When it comes to stuffed beds, they often feel like oversized bean bags. A cool headboard can change that perception, however. It doesn't have to be too fancy.
Vittoria bed utilizes a classic tufting technique to make the comfy bed stand out and look a bit more sophisticated.
Soft Platform Beds
22. Platform Soft Bed Frame
Platform bed frames aren't exactly accident-proof, but when there's plenty plush stuffing around to keep your knees safe, they become as harmless as a young puppy.
Soft frames are actually best suited for platform designs, because they make for an interesting look, and cause no damage.
23. Curved Soft Bed
Kurtis is a futuristic version of a platform bed that you can easily imagine in some sort of a spacecraft. From the looks of it, the bed frame is taut, but rounded leather shapes render it completely smooth. You shall find no sharp corners here.
Sectioned design and peculiar metallic legs further promote the futuristic aesthetic. But if you want, you can also have it finished off with white leather.
24. Elegant Soft Bed
Nuba is also a product of futuristic style. This one's sleek and elegant, but not as wide as Squaring.
Available with a storage compartment Nuba is upholstered in white thick leather, and its headboard looks like a back of a designer lounge chair.
25. Majestic Soft Bed Frame and Headboard
While Martin stuns with a huge winged headboard, its platform frame is of no less interest to us. Unlike most square platforms that often appear levitating, this one has a trapezoid frame.
You wouldn't dream to have this made of wood because of all the sharp corners, but an upholstered soft version looks amazing and safe.
Color Advantage
26. Dark Soft Bed with Tall Headboard
Besides ridding you from sharp angles and cold frames, trendy soft beds have another great advantage over those made of other materials – color.
Since fabrics come in a dizzying number of hues that all look different depending on fabric texture, you can really go further with your bedroom design.
27. Weaved Soft Bed
Have you seen more marshmallow-like furniture? Tiffany bed from Felis is going to quite literally sweeten your slumber with gentle pastels and a textured frame.
Its basket weave headboard pattern brings a whole different level of style to headboard design. And we love its stitched frame, that looks like it's been made out of softest of blankets.
28. Rich Green Soft Bed
Opus II is a great example of taking your bedroom decor to a whole different level. Gorgeous emerald green seems like a perfect crowning jewel for any modern bedroom.
There is nothing more beautiful and luxurious than jewel-toned velvet. Throw in a few golden brass accents to complete your perfect piece of decor.
29. Wide Soft Bed
Seafoam green is this beautiful mix between teal and green. It is one of the trendiest colors in design. Here is a soft bed frame that can make you think you're drifting in the sea, if you prefer it to clouds.
Oddly-Shaped Trendy Soft Beds
30. Low Soft Bed
Softness is not a problem for modern bed frames. They can hold almost any form, and that can be anything from a standard bed frame to an oddly-shaped design.
Nest seems to be a more conceptual name than literal one, but it definitely stands out from the assortment of classic bed shapes.
31. Platform Soft Bed Frame
Derek is a no ordinary bed frame, as it has a long pillow roll in place where its headboard should be. An upholstered frame looks simply like a fitting match.
It's an unusual shape for any bed. Thanks to its laconic but attractive aesthetic it's perfect for creating that hotel look.
32. Cozy Gray Soft Bed
Trama is one of the more unusual trendy soft beds thanks to its shape. Its headboard is unlike the most, featuring protruding angles at each side.
Modest in color, it looks to bring an unusual silhouette to the contemporary minimal black and white bedroom.
33. Green & Grey Soft Bed
Supersoft by Calligaris is a super contemporary design without too many demands. It fits well with the modern sensibilities, and comes in best colors.
Dramatically Soft
34. Massive Headboard Soft Bed
There is no lack of dramatic beds out there, but when it comes to trendy soft beds, there is plenty of flamboyance to wade through.
Grandangolo is just one example and more toned down at that. Believe us when we say that it's relatively simple compared to some other designs.
35. Tall Headboard Soft Bed
Kubrick looks like a posh addition to the bedroom with high ceilings and windows. Its headboard alone will take up almost half of the wall in a regular home.
Elegantly stitched headboard looks not only beautiful but also quite unique thanks to the way it continues into the frame.
36. Boat Soft Bed
Speaking of frames, here's the one that won't stand in one line with the wall. Charme has both its sides slightly bent, and the formed wings is what gives this partially tufted velvet beauty its spark.
Stitched Out of Fluff
37. Intricate Soft Bed
Nido is another endeavor from Bolzan Letti to use stitching to create a beautiful fabric pattern. This successful design is even more stylish than the previous one.
Soft leather body twists and turns at the headboard to become a cool detailed design element.
38. Bright Soft Bed
Aptly named Pinch, comes with delicate stitching that resembles unfinished work of a seamstress, held by invisible pins.
Subtle and elegant, this one looks particularly agreeable with the modernist aesthetic, which you can contemporize with just a few sleek accents.
39. Fluffy Soft Bed
Sweet and alluring as a toffee bar, Dunn bed uses stitching to create plush sections in the frame in order to accentuate its softness.
Even the headboard gets same treatment, and ends up looking split in the middle, ready to give in to a bite.
40. Plush Soft Bed
Quilted variants aren't too widespread among trendy soft beds, but this particular design deserves a looksy, because of how simply cozy and bedroom-y it looks.
Final Thoughts on Cozy Soft Beds
Trendy soft beds are a cool way to kid-proof your bedroom or simply capitalize on the many decorative properties of various fabrics. Having such a soft bed in your home may not be too different than a regular one, since the mattress is what makes your body comfortable. However, just seeing your bed be so plush and soft will put you in a great mental state to get "hugged" by your bed and have a good night's sleep.