Our bedrooms should be a representation of ourselves – from our personalities to our personal style. And if you're a loving of all things modern and sophistication, you're going to need a bed that maintains that same point of view, after all it will be the focus of the entire space. Take a look at these 36 elegant headboard designs that will raise your bedroom to a new level of chic and fashionable.
This plum studded headboard is a beautifully choice for a variety of bedroom styles. It's versatile enough to blend with everything from traditional visions to more modern schemes.
Here's a delicate, unique shape that's both elegant and interesting. It really will provide a beautiful focus for your bedroom as well as bring in a sweet, artistic presence to the overall feel of the space.
The Newport headboard design from Habersham Home is quite beautiful as well. It's lines are delicate but it's structure is strong and make way for a gorgeous and elegant bedroom.
If you want something simple and clean, then you'll want to check out this upholstered headboard. The tufted design gives it the elegance you're looking for and the linen tone makes it really accessible.
Rich and smooth, this chocolate headboard has just the right embellishment to peek your interest. But it's also simple enough to help create and clean and sophisticated bedroom with ease.
This headboard design has a bit more of a masculine energy about it. With it's leather foundation and neutral, rich tones, it's the perfect pick for those wanting an edgier bedroom ethos.
And now we have a more modern and chic headboard that fits the elegance category as well. It's creamy, it's tufted and has a beautiful studded embellished frame.
If you're looking for something a bit grander and bold, then you'll want to take a peek at the shape of this headboard. Although it's cloth and a versatile neutral tone, it's bravado will create a gorgeous focus.
Sweet in all the right places, this bed is full of girlish charm and that all starts with the headboard. A creamy white wooden frame and a lavish gray middle, it'll be so much fun to decorate around.
This is just another beautiful example of a traditionally styled headboard that has a bit of a masculine energy. For those with a more simple style or a bachelor-vision, check this design out!
Smaller beds can have an elegant twist as well. The natural wall makes the unique shaping of these beautiful, teal headboards pop and make their way center stage.
We're loving the combination of this blush and golden-framed headboard. It's such a sweet and luxurious finished to this art deco inspired bedroom.
One of the chicest headboards we have on the list, we urge to drool and snag inspiration from this design featured at My Domaine. It's the perfect setting for subtle elegance, don't you think?
White fabric framed in simple studs, this is another minimalistic headboard that will help create a smooth and elegant foundation to your bedroom. Build a neutral palette around it or brighten with colors that fit your personality!
You'll want to check out this curved, white headboard as well. It too has a more delicate and unique style that fits right into more romantic and feminine bedroom designs.
Here's another pretty example of an elegant headboard that has soft curves and studded details. It's chic, it's clean but it also provides enough interest to make a difference.
Over at Style Estate, you'll find this gorgeous bedroom to pluck inspiration from. But most importantly, pay attention to the enveloping nature of this powder blue piece.
Coral pops inside this cream bedroom and it allows the eye to focus even more on it's artistic, delicate shaping. It's a perfectly feminine piece that could go with a younger or mature vibe.
You'll swoon over this classic, gray headboard as well. It's a timeless design but it too is incredible versatile and has those romantic lines you've been searching for.
Darker headboards can still have the elegance you're looking for. Just check out this welcomed piece. It has a masculine energy but it's still sophisticated enough to fit that vision.
This pink headboard looks as if it reaches the sky. It's girlish, it's flirtatious and we love the grandiose nature. But those tufted details and its pastel tone give it a sweet elegance as well.
Golden, shimmery designs could be right up your alley. Just check out this gorgeous design and then daydream about having its luxurious hidden inside your own space.
This is a more modern design than we're used to seeing but it has an undertone of elegance and sophisticated that fits the bill. If you like futuristic and contemporary looks, then this one is for you!
And some of you may be on a search for elegance with a touch of rusticism. That's where this linen-studded headboard comes into play, because it's the best of both worlds.
A rounded top and a beautiful shade of powder blue, it's my personal favorite on the list. It's not grandiose by any means but it has such a sweet vibe that fills the bedroom.
Here's another rich and sultry design that has up dreaming of a brand new bedroom of our own. It's bold and daring and the tufted pieces only add to the luxury.
Clean lines and simplistic are what you get when you peek at this headboard design. There's no fuss, there's just a strong foundation and chic focal point attached to the room.
If you want something with a bit of quirkiness, you'll want to really check out this plaid-inspired design. It's complete with stud embellishments and a unique shape.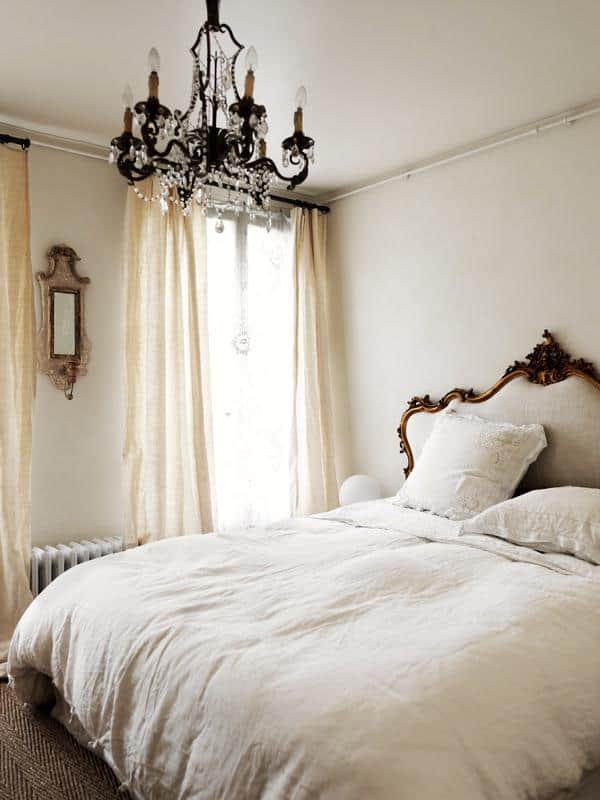 Then there's a classic, Victorian-inspired design that also comes under the elegance umbrella. The wooden details surround a neutral fabric piece and the contrast is glorious.
If you want to stray away from upholstery, studs or tufted designs, you can still have elegant with a simple wood piece. It's more rustic or vintage depending on the style but it still holds its own elegance.
And here we have another ultra chic and modern headboard design that's just as elegant as any tufted beauty. It's clean and can be styled to be both feminine or masculine.
Over at Decor Pad, you'll find this beautiful white tufted headboard. And it's unique in the sense that the buttons are also white, giving a more monochromatic and chicer look.
And then at Style Me Pretty, you'll find this white headboard. And what makes this extra unique is the scrolled effect that we find super charming and inviting.
The peachy hue to this headboard makes us weak at the knees but it's got a dominant charm to it as well. It's simple but it stands out as well, with it's elegance and grace.
This design is a bit French-inspired and we're loving all the intricacy of the entire bed design. Silver and subdued, there's an elegance but also a power behind all of the swirling embellishments.
Blushing and beautiful, here's a classic, studded beauty that you should keep your eyes peeled for. It's easy elegance and it's for those that want something lighter.
Finally, we have another blue design that leaves the tufting as home and puts the unique shape on display. We love these delicate edges and how they provide for for the walls.