When you are the proud parent to one or more dogs the dilemma is always the same. How to create a modern space within our homes that will look beautiful but will also be a place our favorite canines will want to curl up in? Uber chic dog beds are not easy to find, luckily I've done the homework for you and I've managed to find 20 – yes 20 – paw-some dog beds that your pooch will love as much as you.


Check out the cute colored legs on the Roxi by Rosi & Rufus. Each tapered leg is a different color, which really layers in the fun, but so does the black cushion with white polka dots. These fun modern pops are the perfect foil to the wood house, which just happens to be hand built with wood from sustainable forestry practices.

Rudi has the same shape as Roxi but leaves the fun color pops behind in favor of a more bohemian pillow and invisible legs. The wood too is much lighter but just as beautiful. Source.


Resi has a more enclosed facade then either Roxi or Rudi, and with its pale pine woodworking it boasts a real country vibe. Source.


The Modern Bed by max DESIGN studio is a sleek and modern design that features a Plexiglas panel on its back to keep drafts off of our pooches and the foamy is available in either a hemp or synthetic leather cover but what's really exciting is that it is available in small and large sizes that will accommodate dogs as big as a Golden Retriever, German Shepherd, Dalmatian, Collie, etc. – Yeah!


For a little bit of vintage flare, Straightline Designs has designed this cozy Canine Camper. While campers are usually parked outside on the driveway I think this one would be fur-riffic inside as well. Did you notice the watering station on the hitch?


Not all dog homes need to be hard sided to give a pooch some space to himself or herself. The Striped Dog Teepee by Pipolli is proof of that. It does have a little solid wood in its design though, within the poles.


If you like the idea of a Teepee for your dog but want a more subtle look to go with your decor, Throw & Fetch has the Dog Tipi in 5 different looks. I'm partial to the tie die pattern myself.


The Padpod Pet Bed by Bark & Miao is a not for big dogs but it sure leaves a big impression, it has a real Jetson retro vibe but the color pops are all 21st century.


The Xena Dog Bed by Design House BC is a customizable bed that can be built to any size, making it a perfect place for dogs of all sizes.


The Xena Dog Bed is made from Douglas-fir with Purple Heart detailing and is strong enough to hold up to 500lbs so you can curl up on the bed with your favorite canine and snuggle – how cool is that! Source.


Dax's Deluxe Dog Bed also by Design House BC has both a headboard and footboard so that it looks like a real bed. Also made from Douglas-fir with Purple Heart detailing it can be customized to any size.


The Dwell Dog Crate by Modernistcat is created for small spaces with its dual purpose dog bed and coffee table design. Boasting a definite mid-century aesthetic it even has removable panels to turn the bed into a transportable crate.


The Gimli Traveller Den by Gamla is a dual use lightweight dog den and dog carrier that has the unique feature of an aluminum mesh facade barely visible within the solid black walnut framework. It also has a leather handle on the top ease of carrying.


The Barkie Dog Bedroom by Arni Says is a modern, easy to clean design that can be used indoors or outside. Best of all 100% of profits go to the ARNI Foundation no kill animal shelter for much needed medicine, surgeries, spay/neuter or shots.


Pet Monsters by Subinay Malhotra come with a few high tech gizmos such as an integrated motion sensor that can communicate with your smart phone making these space age pet houses not just fun but practical as well.


Kooldog House by Kool Dog is a contemporary dog den that comes with its own pillow and several different front panels that slide into its white powder-coated metal framework, making it easy to accommodate any decor.


The back panel of the Kooldog House has rows of voids for airflow and there are non slip rubber feet on the bottom. Source.


Dog Cave by Pup and Kit doubles as a side table. Side table or dog den the geometry is what really caught my eye. It has a Pentagon opening and sides – 12 including the opening to be exact. Inside the Dog Cave is a cushion with a Subrella fabric or 100% cotton printed canvas cover.


These Circo Baskets by Sasha & Me are felted pet cocoons designed to look like baskets. How cozy would these be during the winter?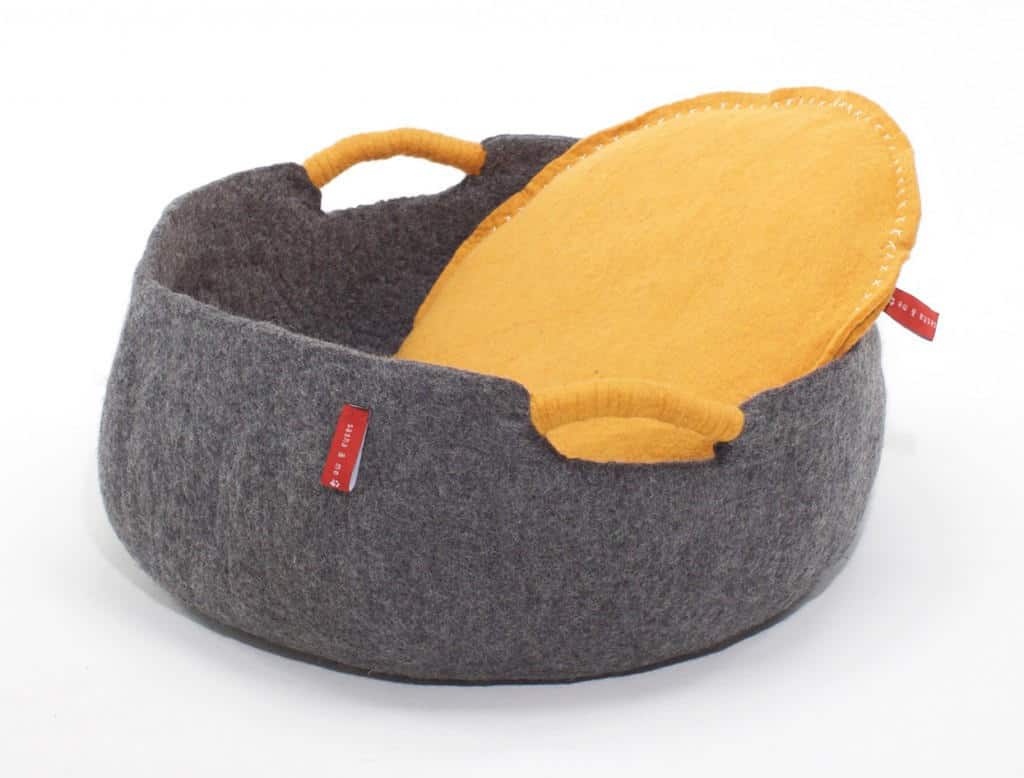 The Circo Baskets hold a Circo Cushion a variety of bold, bright colors. Source.


How cute are these Dog Loungers by Yark? The Quinn on the left and the Molly on the right both handcrafted with a down blend cushion and a limited edition check print fabric.


If your pooch is a senior, many of the above designs might not be the best when it comes to soothing those aching muscles – luckily the Sealy Dog Bed is an orthopedic design with Quad Layer Technology. It has a Cooling Energy Gel for heat dispersal, a PetRest memory foam for better circulation, a Bio Green Orthopedic foam for freshness and a Pro Charcoal base to absorb odor.


Kenya Hara curated 14 incredible dog habitats designed by internationally acclaimed architects and calls the collection Architecture for Dogs. While some of the finished products aren't really meant to be used as anything other then a visual pun, this cozy design by Kazuyo Sejimo for the Bichon Frise looks pretty comfy – and its absolutely gorgeous.
If you liked this collection but prefer the idea of a built-in dog hideaway you might like the Built-in Dog Crate by 2B Group Architects.