These playhouse beds mean your kids will love to spend time playing in their rooms! This loft bunk bed looks like a tree house. Imagine the fun at sleepovers. What funky little house to sleep in – oh to be a kid again. What an adventure it would be to have one of these for a bed. The interior light turns it into a playhouse and turns bedtime into fun time. And who doesn't love a sleepover with bunk beds?

We've covered this Canopy trundle bed previously but now that there are more styles to choose from, we couldn't resist showing it to you again. The canopy tent bed has a lift-up flap — just like a real tent! It's also got a trundle bed that pulls out from underneath – how perfect to have an extra bed tucked away like that for sleep overs. And interior lights! It's a way for the kids to go on a camp-out in their own bedroom.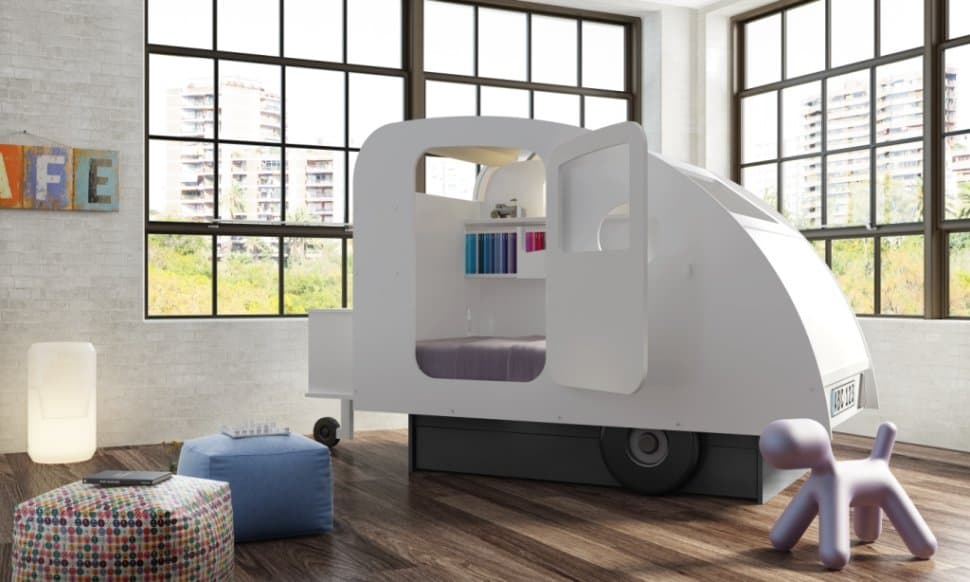 The Caravan bed is so cute – it's like having a travel trailer in your room! What kid wouldn't want any one of these beds? You can bet your offspring would be sleepover kings and queens of the town if they had this trailer for a bed. It's available in many different colors (see photos below) so can work for any style room, or any gender kid. The cutaway windows are a special touch and allow lots of light to flow through this trailer/bed/playhouse.


The treehouse loft bed is an awesome playhouse and sleeping bunk – what fun. It's like climbing up to a tree house when you use the ladder to go upstairs. It's got cut out windows and the construction looks like barn board planks for authenticity. A great deal of attention has been paid to the design and construction of all four of these playhouse beds from Mathy by Bols. Any one of them is bound to turn your childrens' bedrooms into the most popular playroom in town!


The Canopy Tent looks great in white, don't you think?


There are a wide choice of colors available to suit any room, and any child!


Isn't this pink Caravan perfect for a little girl's room?


The treehouse loft bunk bed looks fantastic in any color – white allows you to change the mood when you change the bedding!


You can even put a chest of drawers under the loft bed!


More information: Treehouse; Caravan