What child wouldn't want to have their own private tent to hang out in during the day and a second bed for sleepovers. Most children's bedrooms only have room for one bed let alone a tent and a second bed, but the Lit Tente by Francois Lamazerolles has solved the space issue by being all 3. Created out of mdf for Mathy by Bols, the Lit Tente is a trundle bed design – meaning a second bed Is located under the main bed frame. The second bed frame is on wheels and pulls out as though it where a long drawer. Just slightly smaller then a single bed frame, the trundle tucks out of the way when not in use and pulls out for those fun sleepovers with friends. The main bed has a triangular shaped canopy over the bed has a window cut out with a roller blind that can be raised or lowered to create the effect of a tent and a light on the ceiling of the canopy lights up the space when the blind is down or its dark outside.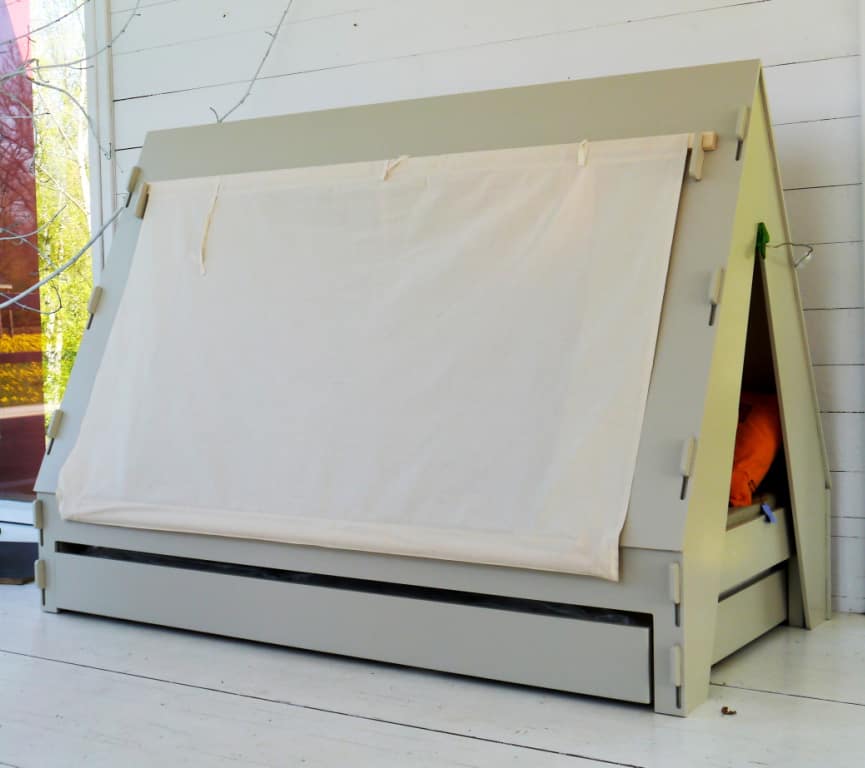 When the roller blind is closed, the ends of the bed canopy remain open so that both light and air can still enter the interior space, the light will not be enough to read by and that is where the canopy light comes into play. What child wouldn't want to hang out in here?


The roller blind can be raised up and supported on two poles for the full "tent' effect.


The style of the bed is modern flat pack, but that doesn't mean you need to have a contemporary surrounding. The Lit Tente is a great foil for industrial chic, rustic, or goth, and it is a perfect blend with modern, barn, mid-century, and Scandinavian decors.


The Lit Tente comes in a variety of colours, and if the colour you want is not available, it can always be sprayed a custom colour to go with any palette. If your child's favourite colour changes by the year, so too can your Lit Tente.


If you prefer not to indulge your child's changing favourite colours on the bed frame, a white lit Tente with pillows and linens in the colour of choice is a great way to introduce colour on a smaller scale. Either way, this bed is sure to add an extra layer of imagination into the creative spirit of all who are fortunate enough to have one,.
Via Archiproducts