When it comes to modern bedroom designs, there are so many different directions and choices to choose from that if it's time to give your bedroom a modern overhaul, it can be overwhelming even knowing where to start. That's where we come in – we've picked the best design ideas from European manufacturers and compiled them into easy to follow groupings for your inspiration. Read on for images and sources.
Bedroom Designs with a Fireplace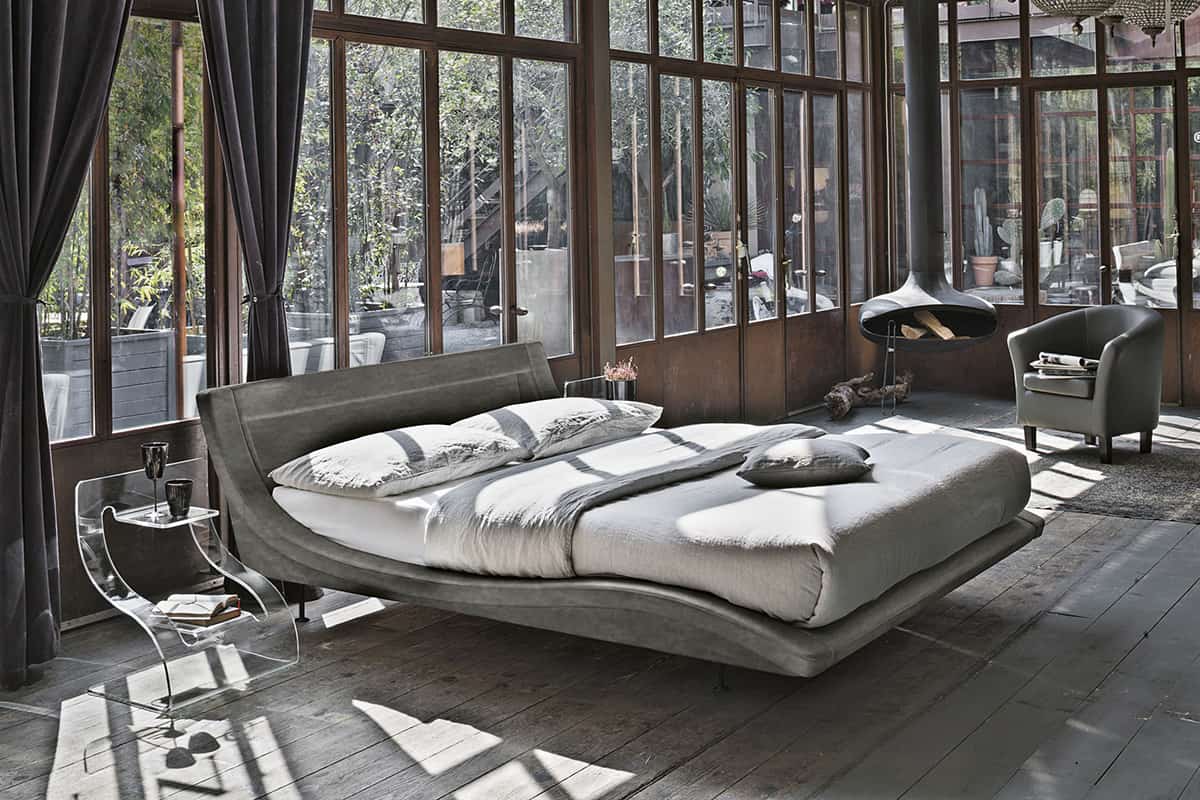 There's nothing better than warming up a room with a fire and while most of us don't think twice about including a fireplace in our living room, we don't always consider the bedroom, but a fireplace there would be the perfect way to relax and unwind, and when suspended from the ceiling at a height that's visible from the bed, it's also beautiful.

Adding a few industrial elements can really take a modern bedroom to the next level, so when incorporating a fireplace into your design, consider installing one that showcases such materials as steel and concrete for that industrial edge.
Design Ideas with Exposed Brick Walls

Brick walls area great way of gaining a modern loft or warehouse aesthetic to a bedroom and when the brick is painted a deep grey it also layers in a contemporary color palette.


An aged natural brick wall is full of stories that have never been told. You know the phrase "nothing goes past these four walls" – well in a bedroom that might be a very good thing indeed. When using naturally patina'd brick, the colorations are distinct and can't be ignored in the rest of the room. Here, the area rug has been carefully selected to play off of the brick harmoniously while at the same time injecting a bold pattern into the otherwise pattern free room.


White bricks are a classic look that pairs well with a modern interior, the white also minimizes the brick, letting other elements take center stage such as the uber chic lamps.


While grey bricks don't have as much of a minimizing effect to the brick as white, the neutral color is a great way to feature white moments such as this kinetic mobile an the faceted dot lamp. Molteni
Bedroom Designs with Clever Features

Modern design is all about showcasing a few bold choices rather than a lot of this and that and this bedroom is showcasing its ever so clever headboard/night stand. The headboard even has a strapped in place cushioned section behind the actual cushions and incorporates electrical plug ins for lights and gadgets. Uno


The headboard wall in this bedroom is covered in vertically installed wood planking, but that's not the unique part. the choice to install it in random widths is what really makes this timber wall stand out. Bolzan


Another unique feature in this modern bedroom is the bedside tables, which aren't really tables at all but cantilevered sections of sheet metal projecting out from the bed frame. Bolzan


Have you ever wished for a more comfortable way to rest your arms when watching TV, reading or just hanging out in bed? Target Point has that covered, with armrests built into the bed frame, but not just that, this bed also has full Lombard support and an adjustable headrest. In fact it is so ergonomic you might not ever want to get up!


Asymmetry is all the rage these days in modern design, as are platform beds, so when the two design concepts are combined in a low profile bed and combined with a shag rug and a low, wide ottoman, the look is totally fresh and comfortable. Ivano Redaelli
Bedroom Ideas with Decorative Distressed Wall

The bedroom wall in the above photo showcases a modern distressed look paired with a more traditional herringbone floor. Its a bit of ying and yang that works so well because of the neutral but very rich color choices in bedding. Ivano Redaelli


A big trend these days is to bring a bit of the outside indoors and the above bedroom does that with container plants and a distressed sky blue headboard wall. the wall is like an abstracted map of the world. Fimar


Nothing says modern like a photo collage displayed in a random pattern and when mounted on a distressed wall the effect is warm, comforting and very creative. Layered into this modern bedroom look is an unexpected bit of glam via the chandelier – like stars in the sky. Hulsta


The bedroom above also draws attention to the light above the bed, only this one is a floor light cantilevered over the bed. What a great way to incorporate lighting when there are no immediate electrical boxes! B&B Italia
Rooms with a View

When you have a gorgeous view there is no need to bring the outdoors inside, floor to ceiling, wall to wall windows will do the job just fine and when its time for a little privacy, simply draw the curtains or pull down the shades. B&B Italia


If your bedroom is lucky enough to have high ceilings, and views that go on forever, a great modern way to focus on the panorama is to create unique architectural details on the window walls, such as the arched windows in the photo above. Bolzan


These handmade buttons are available with Swarovski crystal glass. Gorgeous, glamorous and seriously fun, the pin dots of brilliant crystal buttons twinkle like distant planets. Bolzan


The beautiful park like setting outside the windows of the bedroom above is the perfect backdrop for a playground effect created by incorporating bold swathes of color and large graphic shapes, all purposely off kilter in a street chic sort of way. Bolzan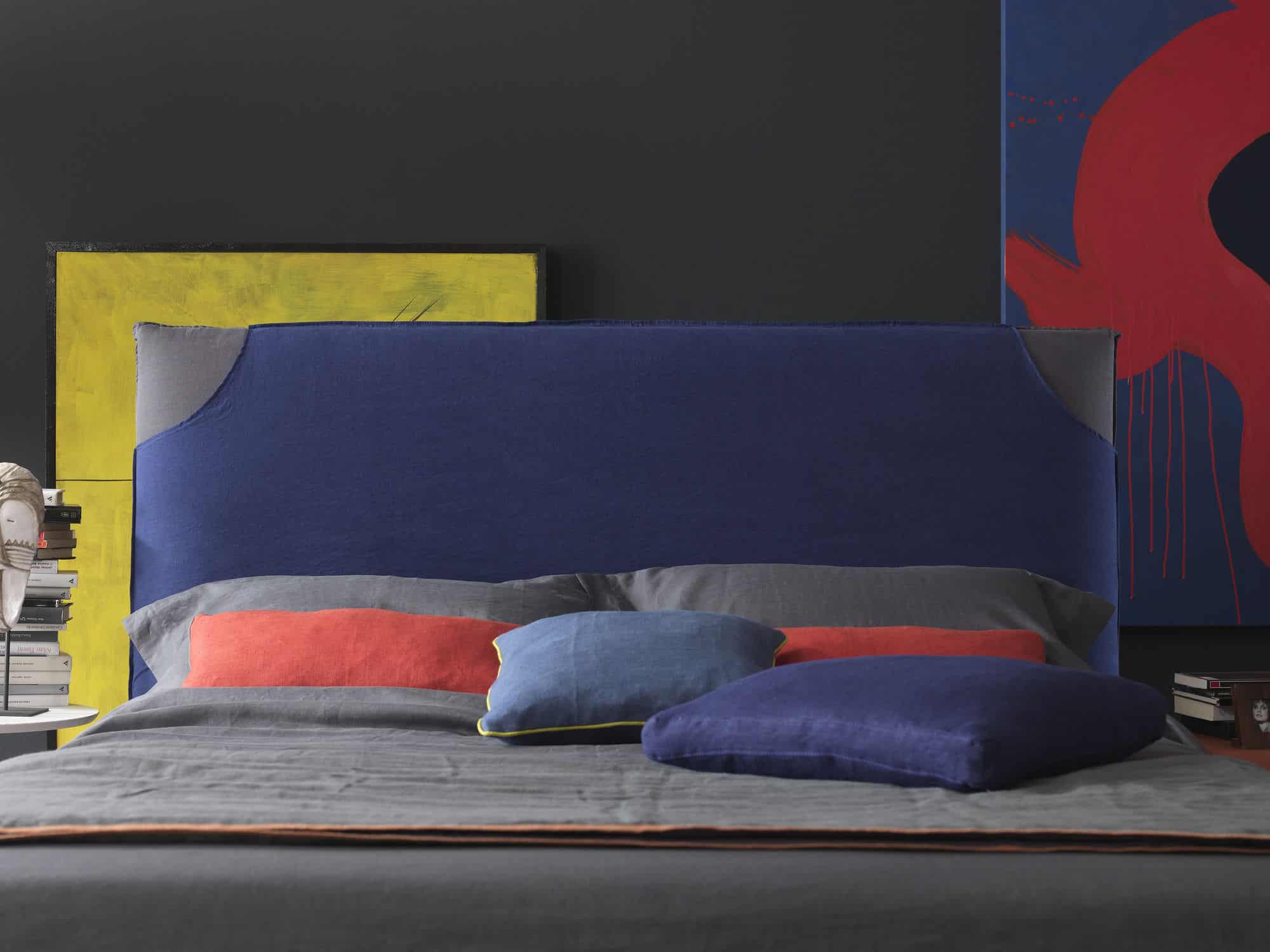 Both this bedroom headboard and the one above it are fitted with a modern slip cover making it as easy to change the color of the headboard as it is to change bed sheets and/or pillows. Bolzan


The landscape greens outside the window are beautiful, but so are the colors within the room. A headboard wall filled with over-scaled writing in shades of inky blue, teal bed sheets, lime green pillows and a bold purple carpet all work with the landscape colors to form a canvas of rich, vibrant hues like a 3D painting. Bolzan


This modern bedroom has taken a different approach when it comes to complimenting the colors within the landscape. here the bedding greens are similar to the tree greens and the shades of patterned greys match the shadows outside. There is even a large painting of a Great Blue Heron leaning against the wall and you never know, there might be a real one scoping out a garden pond outside. Bolzan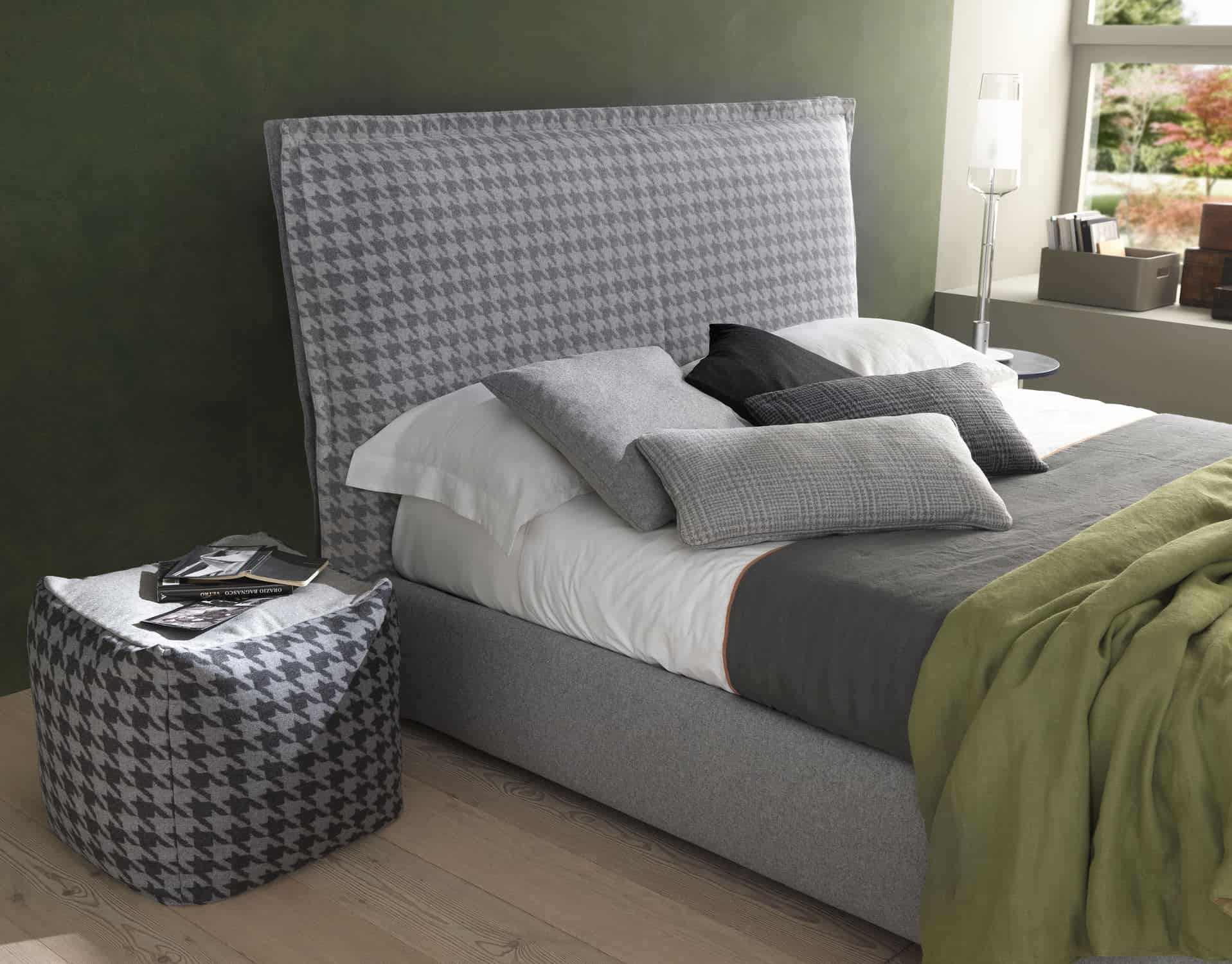 While the palette in the modern bedroom above might be pulled directly from nature and the garden, the hounds tooth pattern headboard and ottoman and the plaid pattern within the pillows are all about urban life and city chic. Bolzan


A city skyline always adds a sense of geometry to a space and can easily be amplified within the interior design. The bedroom above does this by incorporating two large rectangular area rugs placed in opposite directions and by choosing a bed-frame that has been curved up to create both the mattress support and the headboard. Presotto


Geometric moments can be subtle while still making a big impact as seen in the above photo within the cage light pendants on either side of this modern bed. Hulsta
Bedroom Design with Black Color Accents

Since the main job of a bedroom is to create a relaxing place to fall asleep in, the choice of black as a dominant color choice just makes sense. The above design layers in black via the area rug, art above the bed and even on the door. B&B Italia


This modern interior is a rhythmic composition of black and white with most of the architectural details in white and almost all of the furniture and accessories in black. B&B Italia


The bedroom above uses black on the walls and white in the upholstered bedframe and area rug and then layers in shades of grey everywhere else except for the blast of purple and blue in the privacy screen. Bolzan


Nothing says modern like bold stripes and steel legs and this gorgeous modern bed has both. Bolzan


A real trend in modern design is to display frames in bold colors with nothing actually in the frame. The bedroom above shows just how beautiful this concept can be with its black on black frame and wall. Poliform
Simple Modern and Minimalist Designs

The best way to create a minimalist modern look is to choose a few key items that are stand alone designs like the Him Chair in orange, the checkerboard carpets and the purple bed frame. Lema


Shape can speak volumes in a minimalist modern bedroom as seen in the above photo with the bedframe designed to "rest" on the continuous night stand support. Porro


Over-scaled tufting is a texture trend in modern design that when combined with a minimalist look, really ramps up the design volume. Bolzan


The above bedroom design keeps the furnishings minimal and clean lined but layers in several artistic moments to really personalize the space. Bolzan


We've already seen how dramatic black on black can look in a modern bedroom and the same amount of drama can be had in a white on white design scheme. The above photo is filled with dramatic cool whites but still has a warm and snugly aesthetic. My Home Collection
Bedroom Ideas with a Decorative Wallpaper Wall

We've already seen how texture, color and pattern can really enhance a minimalist or modern look, but if you prefer your furnishings and bedroom linens to be neutral and pattern free you can still layer in pattern with the help of wallpaper. Bolzan


If you can't decide to go for a masculine pattern or a feminine one, you can always choose a wallpaper that has a bit of both. Who knew lace and plaid could look so amazing together? Bolzan
Color Coordinated Bedroom Design

Once upon a time we all where told that green and blue didn't work together, thank goodness in today's modern homes that is no longer the case. A bedroom filled with both blue and green is such a comforting, nature inspired aesthetic that sleep is just a pair of closed eyes away. Bolzan


Pairing earthy browns with industrial greys creates an environment that just about everyone likes, so if you and your partner don't see eye to eye on color choices, consider creating a color scheme similar to the above bedroom. Alf


Pops of red add a blast of zest to a modern decor and when incorporated into an otherwise neutral bedroom design, it can take your decorating scheme to a whole new level. Bonaldo
See more clever examples of decorating with red accents.


Aside from the pops of red in this neutral scheme, the choice of a hexagonal pattern on the floor really modernizes the whole look of the above bedroom. Bonaldo


While reds bring a blast of heat to a design, blues do the opposite and cool a space down, making a blue bedroom a perfect place to be on a hot summer's eve. My Home Collection
Unusual Designs

If you live in a noisy city or just have a hard time tuning out sounds at night, the above bedroom, with its padded headboard and sideboard walls can help acoustically dampen the sounds coming into – or going out of – your room. Meridiani


The above design is noisy, but not in an acoustical way, it is filled with the sounds of color and pattern, each carrying a tune of fun, fierce excitement. My favorite pattern is the repeating triangular mill-work on either side of the bed, What's your favorite pattern? Lago


The bed in this and the last bedroom has the same singular, central leg lifting it high of the floor, defying gravity. Lago


Talk about defying gravity! The above bedroom is cantilevered from its headboard and has no support beneath it at all – or does it? Lago


Lucite legs give this modern bed the appearance of floating and the same magical aesthetic has been incorporated into the media cabinet next to it. Lago
Romantic Old Charm Bedrooms

A simple way to create a modern decor in a rustic bedroom is to paint brick, exposed ceiling joists and even floors white. Ivano Redaelli


How beautiful are the shadows within the painted brick and ceiling trusses? Ivano Redaelli


Creating a modern old world charm can be as simple as incorporating a large tufted headboard and layering in a few faux animal skins on the floor and in the furnishings. Cassina


When creating an old world charm in a modern decor, something as simple as a cuckoo clock and/or a stack of books can really make a difference. Cassina


The exposed lintel over the window in the above bedroom reckons to days gone by and the brick, well that's just the icing on the cake. B&B Italia
An Ultra Modern Bedroom

A graffiti night stand and area rug, white painted brick, and a glass balustrade are all modern moments and the layering in of the spotlight floor lamp, geometric bed-frame and linens take the above room into the ultra zone – as in ultra modern.
—
For some very sophisticated ideas, check out these stunning modern bedrooms, and also take a look at these inspiring wooden bedroom designs.