A wooden bedroom is an epitome of an earthy interior decor, and it's no less earthy when the design is modern. We've always been fascinated by creative wooden interiors, and we strive to find new interesting ideas every day … but finding out how creative some architects can be is even more fascinating than wood itself. Today, we'd like you to see this collection of sophisticated bedroom designs where wood plays the most significant role (or one of the most significant).
Exotic Wood Bedroom
Exotic wood can be as decorative as it gets, and this unusual bedroom with wooden floor, ceiling and walls, all covered in the same type of wood is a good proof. It doesn't require any decoration, it already has enough. Check out the entire simple home it is a part of.

The Hipster Bedroom
We start with this awesome bedroom design by Plasterlina. The wooden canopy bed with built-in bookshelves is the centerpiece, of course, but also note the built-in window nook and a giant mirror. This one is a definite candidate for attempting to mimic the design in your own DIY project.


Of course, the natural wood floor is a great compliment to this wooden bedroom.


The over-sized mirror is almost as wide as the bed.
Alpine Chic Bedroom Design
A four-poster bed with a warm fur blanket (below) – what can be better for an Alpine style bedroom! Awesome wooden beams give this design by Bagno Sasso a back-to-nature feel. This bedroom is part of a development called Alpine Chic – and they have captured the essence of that idea perfectly. The beauty here is that even though you could say that this design is quite extravagant with its bold, unusual canopy bed and luscious furs, it's also very welcoming and relaxing – a combination that is very attractive but not so easy to achieve. Bagno Sasso has done a wonderful job, don't you think?.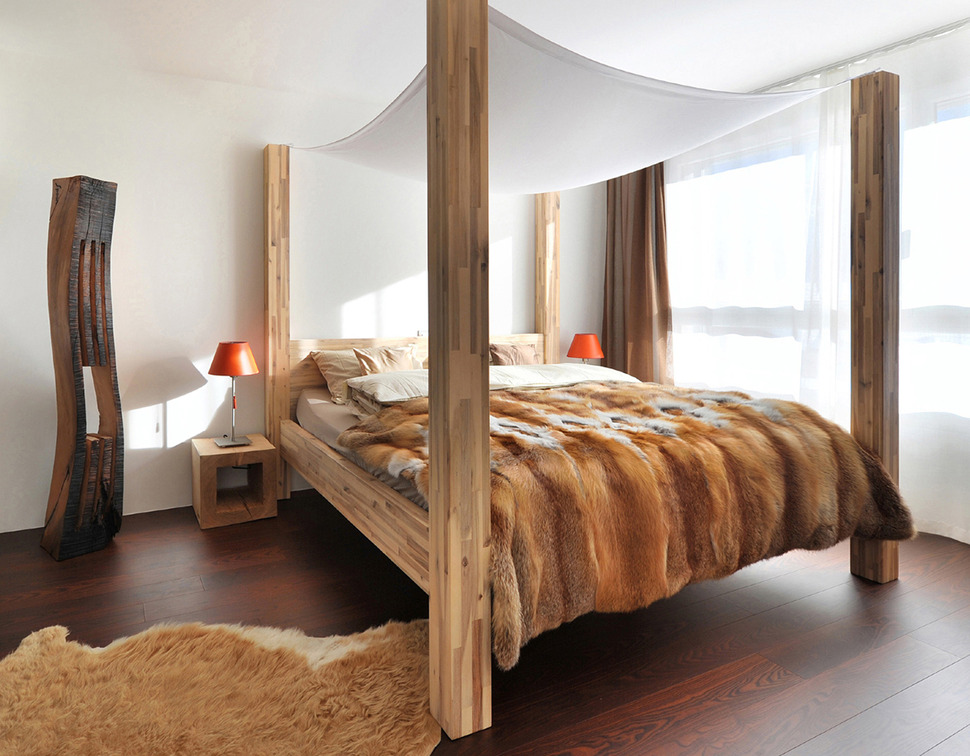 Floor Wall and Ceiling Timber Bed
A wooden canopy for a ceiling in this low-rise bed adds the richness of wood to the room – and the continuity (see below). The floor becomes the wall becomes the ceiling. And note the built-in recess! This is one captivating bedroom design idea by Site ID, photographed by Delfante. Site Interior Design of Capetown, South Africa (a division of Greg Wright Architects) was asked to put the room together and using custom furniture, they have created a true master bedroom. And of course, the bed is the absolute star of the room. Sitting the bed in its own little nook was a brilliant stroke of design. The wall portion of the nook allows for a custom bookshelf. And the ceiling holds the pendant lamp, right where you need it for reading in bed. And the beautiful thick plank (almost beam) construction ties in perfectly with the wooden walls. The parquet floors echo the natural theme, but give us a bit of variety. And the drapes and bedding are complimentary neutrals to show off the timber (all of which was taken from sustainable forest sources). Plenty of natural light adds the finishing touches. This winning combination of neutral and natural creates a fantastic place to lay your head.


Below is another similar design from Site ID. A wooden enclosure visually separates the bedroom space from the rest.

Modern Bedroom Made Entirely from Wood
This is awesome! You're surrounded by blonde wood – now that's a nature room. A design by Dan Hisel, it's a modern contemporary bedroom. The imperfect horizontal grain of the wood creates the illusions of a larger space, despite the darker color of the wood. To keep this space from being oppressive, the white bedding lightens the room and the frosted glass provides the appearance of a window. The hard lines of the wood, bookshelves and books are contrasted against the soft qualities of the comforter and lava lamp accessory, allowing comfort to penetrate the intensity of the room. An interesting feature in this bedroom is the headboard, which is untraditionally concave. The result of this design is an unbelievably smooth finish that is underplayed, but undeniably stylish.

Wooden Pallet Bedroom Idea
The natural effect of this rustic bedroom can't be denied – between the pallet bed and the monster sliding closet doors. And the wood plays so well off the white brick. One of our favorites from Meshroom.

Wooden Bedroom Divider Screen
Quite an unusual idea (below) – a room divider becomes an inconspicuous part of the cabinet when closed. The vertical wood grain of the cabinet plays perfectly against the horizontal grain of the floor. And using pale wood adds to the airy feeling of this high-ceiling open bedroom. Design by Ryntovt.


The wooden partition (above) rolls in and out to divide the living space.


Also pale wooden floor helps to unite the space when the partition is closed.
Bedroom Nook
It's a bed! No, wait, it's a nook! It's a bookcase! No, wait, it's all three! This super creative storage box would totally rock in compact spaces, cool and cozy too. A modern design by Int2 Architecture.


Besides a place to sleep, the bedroom box includes a wardrobe and bed linen cupboard, built-in book shelves, small and large drawers, and even a shelf that holds a projector.


All built using plywood only, by Int2 Architecture.
Wooden Bed and Desk Combo
Another beautifully designed space saver by Martins Architects – a wooden office desk becomes a headboard (see below).


The wide plank natural wood flooring is awesome too.

Cottage Wood Bedroom
Love the total wooden look of this attic bedroom designed for a vintage country cottage. The colorful recycled wood floors and cute arched windows add to almost fairytale like look.

Modern Alcove Bedroom in Wood
What a stunning design! A part of an old commercial building conversion, this bedroom is a cozy nook we all wanted when we were kids – a room within a room to call your own. Even as a grown up, I would add curtains that I can close, to be in a world of my own. See details on Dwell. Photo by Cameron Wittig.


Related content:
Stunning Modern Bedrooms
Prefabricated Bedroom
This modern bedroom comes as a module with the luxury modular home by Meka. A simple wooden platform bed is all you need with gorgeous views like these. Imagine waking up in this cool space and taking in the view.

Low Platform Wood Bed
Believe it or not, this is a 3D rendering of an awesome wooden bedroom design. The fat round bed legs create a feeling of a safe and sturdy design, and a ceiling-mount shelf helps with privacy and storage. Natural materials are used on the floor and walls as well.

Plywood Headboard Wall
From the platform bed to the built-in bookcases and to the plywood headboard, it's all wood. Plus a cool decorative wall quote idea. This is another contender for a DIY project. See more at Behance.

Wood Flooring on the Bedroom Wall
You can achieve this exact look by installing Mafi 'flooring with cracks'. The colored cracks are engineered into the planks for a modern twist.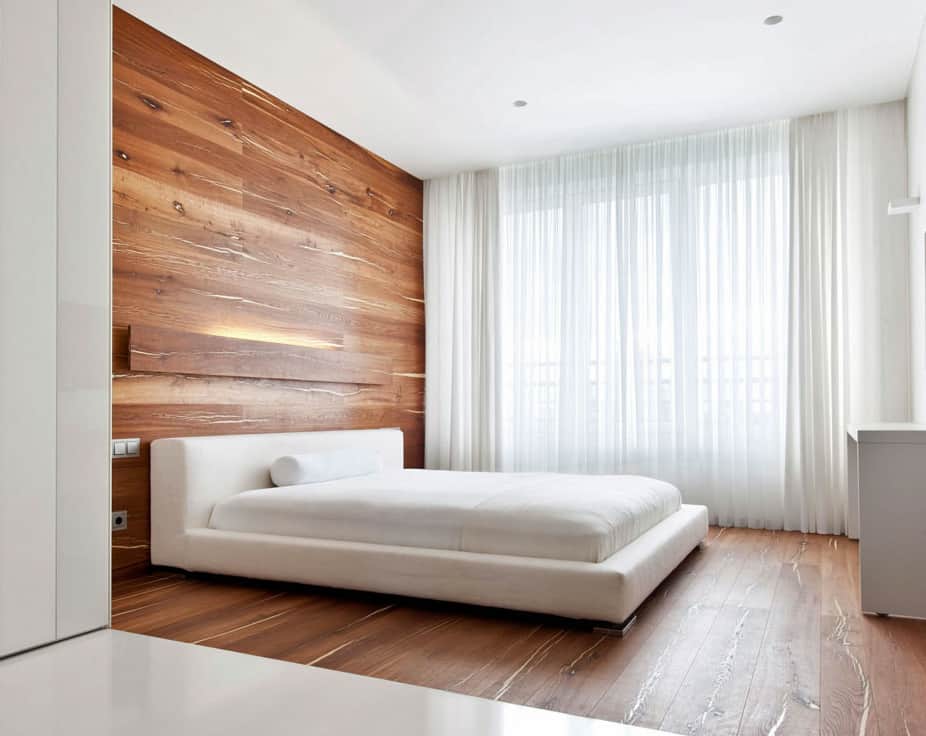 See 2 examples of such decorative wood flooring below, from Mafi.

Wood Bedroom Ceiling Finished in Long Planks
This is one awesome modern loft bedroom, with some incredible wooden features. The ceiling with the long slat-wood design, adds natural warmth to otherwise colder industrial loft decor. Loft design by Ofist.

Hide Away Wooden Canopy Beds
Smaller living spaces make way for more inventive designs. These unusual modern beds hide away with wooden shutters and complement the all wood interiors. Design by Harry Thaler.


When closed they look like shipping boxes.

Who Knew Plywood Bed Can Be Made So Beautifully
We spotted this bed at the Home Designing blog, and it's beautiful. Someone with great craftsmanship skill and artistic imagination built it. The whole bespoke bed is made of plywood, and it belongs in a contemporary apartment designed entirely by Studio dontDIY.


The cleverly selected nightstand is so simplistic it's almost invisible, and so it doesn't deflect any attention from the bed. The relief pattern may be traditional but the bedroom looks totally modern because of the material choice – unfinished plywood.