If the idea of a white plastic bathtub seems a bit predictable, interior wooden bathtubs take modern bathrooms to a whole new level of luxury with exotic wood designs. Soaking in a deep freestanding timber bath has long been a tradition in many cultures, and now the latest trend to use boat building techniques on bathroom fixtures allows craftsmen to make solid wood tubs that look amazing and last longer. Read on for 35 bathtub designs and sources.
Luxury Wooden Bathtubs
Sapele Wood Tub by Seth Rolland


This outstanding wooden bathtub, dubbed Salish Sea, is the work of master craftsman Seth Rolland. Named for the waters that hug the coast of British Columbia and Washington state, the tub is shaped like a boat. And what a luxurious bath this tub will draw. The overflow is hidden in a second interior rim – where the water falls over and drains to the bottom. Such a unique overflow drain, but then again, everything about this lovely tub is unique.


This tub is made from 200 individual pieces of sustainably harvested Sapele wood!


We just can't get enough of this bathtub. Elegant, organic and flowing, it's one of the nicest wooden tubs we've ever featured.
Luxury Wood Bathtubs Laguna from Alegna
Dedicated yacht makers inspired by the beauty of marine woods, Alegna creates glamorous wooden bathtubs which shine like jewels. The warm wood is given a soft sculptural form and modern elegance. Constructed from the finest quality woods and to exacting luxury standards, Alegna has created fascinating bathtubs that are stunning examples of sophisticated design. There are 3 very different designs that we're presenting below. Read on.
Laguna Pearl Solid Wood Bathtubs
A free-standing bathtub design, the Laguna Pearl tub glimmers and shines with rich natural beauty. A glamorous but compact design, the Pearl tub easily brings refinement and luxury to an existing bathroom interior.


When accented with brilliant chrome controls and a simple circular drain cover, the Pearl Tub achieves an adorable simplicity and sparkle. An alluring wooden bathtub that offers the seductive beauty of fine furnishings, the Pearl tub will make any modern bathroom a haven of luxury.


An exotic dark wood tub (above).


The simple bowl-like form is striped with distinctive golden shimmering grains that sweep down to a single central point. The Pearl's gentle curving side provides a comforting surface on which to relax and recline, while also offering a unique flaring profile.


Alegna can manufacture bathtubs from every conceivable type of wood such as Wenge, Walnut, Mahagony, Pear, Iroko, Oak, to name a few, and they use certified wood from controlled forests.


Above is one very distinct design – the Laguna Pearl in Ash wood. With its unique striped look, it can be a great fit for a rustic bathroom interior. The tree trunk tap fitting is very original and appropriate to complete the rustic look. Learn more about this beautiful tub at Alegna.
Laguna Spa Wooden Bathtub


In the Laguna Spa, the glossy wood form of the Pearl tub is mirrored and enhanced by a dramatic pebble ring. With a distinctive and innovative design, the bathtub offers a lovely deep worry-free soak. Designed to be filled up to the rim, the Laguna Spa lets warm water entirely en-wrap you in soothing relaxation.


With an integrated overflow beneath the pebble filled edge, the water may freely gurgle and rush over the pebbles before ebbing away. This spectacular design transform the Laguna Spa bathtub into a luxury bathing experience.
—
Laguna Basic Wooden Bathtub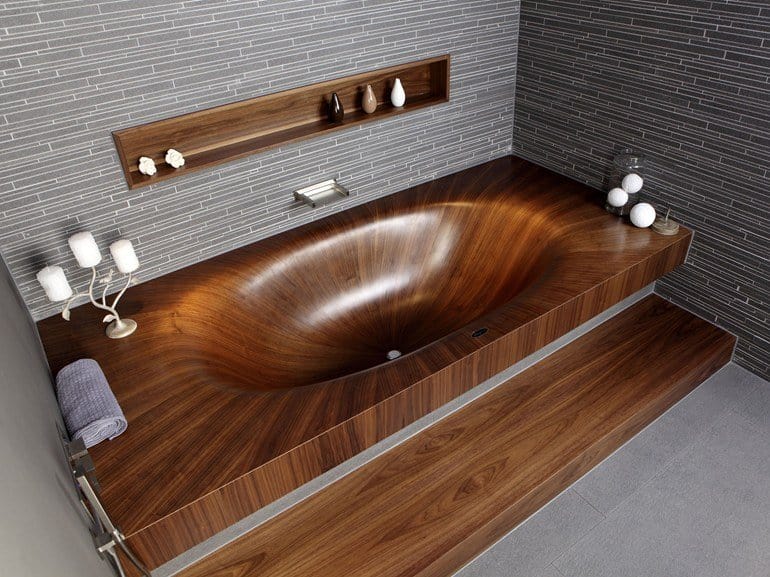 Finally, the Laguna Basic bathtub offers this gorgeous wood design in a rectangular form. Seamlessly integrating into existing bathrooms, the Laguna Basic brings new warmth and glamor that only wooden bathtubs can afford. From a rectangular plane, rich wood swoops down into a gleaming oval basin. The sharp straight lines add a distinct contrast to the soft gentle curves.


How awesome is this bathtub? Made with carefully selected veneers, the wood is formed as one piece. Doesn't it look smooth and sleek? Not to mention, easy to keep clean. The whole look is so organic – the flow of the wood even resembles a waterfall.


An ideal choice for bathrooms, yachts and sauna areas, the Laguna Basic brings luxury to anywhere you desire. A fantastic range of modern bath tubs, Laguna captures artistic beauty in luscious natural wood.


The Laguna Basic is standard tub size.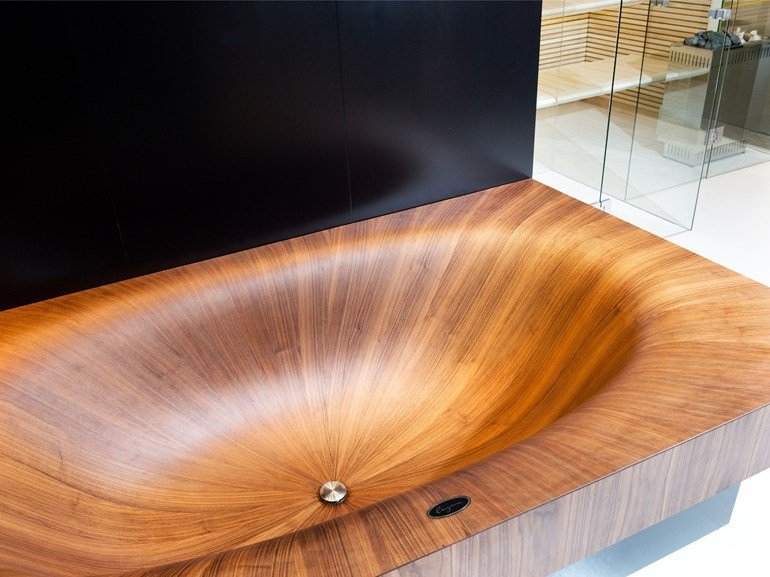 Aren't the flowing lines magnificent?
—
Luxury Wooden Tubs by Bagno Sasso Mobili
Swiss company Bagno Sasso Mobili offers 5 wooden tub designs: Ocean Shell, Ocean Sailor, Ocean Circle, Skipper and Wave Diamond. And some even come with digital controls.


If you like the warmth of wood, but crave a sleek, sophisticated effect, the Ocean series wooden tubs are for you. Treat yourself to a stunning, contemporary tub of your dreams and drift away…


The luxurious Ocean Shell tub by Bagno Sasso Mobili has a shape of a sea shell – isn't it a natural choice for a tub design? How come no one thought about this before.


The circular and more shallow design of the Ocean Circle tub makes us think of a luxury oasis in the desert that you're constantly drawn to.


The Skipper tub by Bagno Sasso Mobili reminds us of a boat, you would feel like you're taking a bath in the middle of the lake.


The Wave Diamond tub by Bagno Sasso Mobili has a very modern look with its glass sides.


The Ocean Sailor wood tub (above) is one of the newest, freshest items from the Ocean range by Bagno Sasso. A fabulously creative design, this freestanding tub looks nothing like wood! Rather, it looks like marble. The precision-cut (to the millimeter) veneer is carefully placed over the hand-crafted wood tubs to achieve a flawless finish.


And there is even a version of the Ocean Sailor bathtub with digital controls Q Five.


The Ocean Sailor tub has a very unique appeal, thanks to its distinct pattern that resembles a zebra. Every tub is handmade in Switzerland from an unusual wood called Alpi Makasar. This photo offers a good idea about its size.
Solid Wood Bathtubs
Deep Wooden Tub Khis by Frants Seer


Oh my, what a bathtub! Hand cut and hand polished pieces of wood are painstakingly matched and assembled in these deep wooden tubs. Can you just imagine luxuriating inside this craftsman tub? Do you see how deep it is? The wood must smell incredibly fresh – like a walk in the forest. The tubs are from Estonian company KHIS, who believe the bath should be a design element.


Called First Khis (elliptical, below) and Eternal Khis (oval, above), KHIS bathtubs use rubber seals to connect wooden parts made of Nordic Ash, making it suitable even for the outdoor use.
And wouldn't one of these be incredible as an outdoor tub? It would blend seamlessly with the natural surroundings at the cottage or cabin.


The color of KHIS bathtubs is dark brown.
—
Solid Wood Bathtub from e-Legno Group


A modern solid wood bathtub (above) by an Italian company e-Legno Group. Made by hand with the finest quality materials and finished in transparent matte resin.


A wooden luxury with no compromises, this aesthetically pleasing bathtub design is available in Cedar, Okoume, Teak and in 3 sizes. Customer's own specs are also welcome.
—
Contemporary Wooden Bath Rosemarkie


Hand crafted in Scotland by Wooden Baths Ltd and named after a Scottish village, the Rosemarkie bathtub is a contemporary design produced in Ash, American Long Leaf Pine and Iroko.


Every bath is coated with a special glass reinforced epoxy resin, to achieve the highest quality, durability and longevity. "This coating is something that has taken years to perfect and is something that we feel distinguishes our baths from other similar products on the market."


What an interesting and unusual combination of colors! Rosemarkie is designed to appeal to those looking for a modern design. It boasts a 3-inch wide rim which can function as a rest for a glass of wine while relaxing.
Custom Wooden Bathtubs
Walnut Custom Bathtubs by Unique Wood Design


The partially built-in custom wooden bathtubs by Unique Wood Design are made of rich American Walnut. They feature a wide oval tub with an integrated wooden surround and base, creating a large counter space and a more comfortable bathing experience. Elegant faucets mounted to the surround add some ornament to these simple, natural designs. With these tubs, it's easy to transform your bathroom into a luxurious spa space. This substantial bathroom fixture will set the tone of rest and relaxation for the whole room. They can also make custom tubs in Ash, Oak, Maple, Sapele, Merbau and Padouk.
—
Custom Hardwood Bathtubs by NK Woodworking


Hardwood bathtub designs by NK Woodworking are hand crafted in their Seattle studio and offer beautiful curves and a luxury look. Made from exotic hardwoods, they're finished with a clear composite barrier for durability and longevity.


To have one custom made, contact Nathie Katzoff at 206-504-3394.
—
European Style Custom Wooden Tubs by Bath in Wood of Maine


European style tubs by Bath in Wood of Maine are made out of fine hardwoods, and each is unique in form and color. They can work with your architect or interior designer to build a bathtub of your dreams.


For a quote or to learn more, contact them at 207-526-4352.
—
Teak Bathtub from Boxart


This oval freestanding tub from Boxart is large and deep and it's made from Teak. Teak is one of the most durable woods, and with time it becomes a golden brown color due to oxidation. It's extremely water resistant and immune to attacks by insects and fungi. Boxart makes this tub completely free of dyes and paints. It's treated only with vegetable oils. This model can also be made to custom dimensions.
Japanese Wooden Tubs
Lacquered Japanese Style Wooden Bathtub from Furo
Japan has long been famous for its exquisite lacquered furniture. This striking, traditional craft which dates from the Jomon period 5,500 years ago is here utilized to create the Urushi lacquered wood bathtubs.


With the smooth, silky lacquer finish applied to handmade wood tubs, it is a thing of beauty to be appreciated with each use. Resistant to heat up to 800 degrees, you can rest assured that the finish of the items will not be affected by hot water.


The designer, Yukio Hashimoto, suggests that the bathtub be placed anywhere in the home or garden to be appreciated as decorative art, as well as to give more flexibility to your bathing routine! Available in the strong black and red combination characteristic of lacquer, let the East into your home with a gorgeous Japanese wood bath from Furo.
—
Japanese Cypress Wood Bathtub from Furo


The Hinoki wooden tub is a soft, touchable bathtub from Furo that is synonymous with high-quality Japanese techniques of craftsmanship. You can appreciate the soothing and health promoting aspects of this with your own Hinoki ofuro – a stunning creation from natural wood.


Having a hot bath, or ofuro in Japanese, is an important part of the Japanese lifestyle. Problems of the day melt away when you sink into a bath – especially a very special bath made from aromatic Cypress wood. It is fine grained and wonderfully scented.
—
Ofuro Bathtub Design by Matteo Thun


A famous design by Matteo Thun for Rapsel – the Ofuro bathtub made in Larch wood for a sauna-scented experience. Japanese inspired but built in European form, this is a pared down to the essentials, minimalist design that is modern and earthy at the same time.
Plywood Bathtubs
Plywood Tub from Gruppo Treesse


Calypso by Gruppo Treesse is a classic wooden tub and a statement of its own. The sleek tub appears as a very light-weight design where a few simple details create an inviting touch. It's built with marine plywood and available in Cherry (above) or Wenge finish.


—
Plywood Bathtub Woodline by Agape


With a definite reference to Japanese ofuro tubs, the Woodline deep, rectangular bathtub by Agape is made from waterproof plywood.


Available as one- or two-person tub, with a natural, brown or dark Oak or Teak finish.

Timber Bathtubs
Freestanding Timber Bathtub by Karpenter


A freestanding timber bathtub from Karpenter.


This rectangular bathtub with slightly curved edges and rounded corners is made of solid wood, and has a nice modern contemporary appearance.
—
Timber Baths by Wood & Water of Australia


Really cool timber baths by Wood & Water, an Australian craftsmanship company. They offer custom designed hand-made solid wood bath tubs.


Each bath is made from over a hundred pieces of timber that are joined together to form a perfect tub.


Like this heart-shaped bath, each design is one of a kind, built specifically for you.


Several layers of water-resistant coating applied to bring out the wood grain, to create a beautiful textural effect. It also protects the wood from scratching and UV radiance.


A timber bath hand crafted by Wood & Water from Tasmanian Oak.
—
Bamboo Bathtub for Two by Niewendick


German company Niewendick makes the Bamwan bamboo bathtub (above) that is sized for two people, with plenty of room for both. Bamwan is a designer tub with a retro look. Its unusual form is both functional and aesthetic, and the design is ergonomically adapted to the human body, to assure the highest level of comfort. It is a laminated bamboo construction hold together with an adhesive from boat and aircraft.
Bamboo is hard and water-resistant and is particularly suitable for bathtubs.


The stainless steel rail allows a safe entry and exit, and the wooden armrests are ideal for storing your bathroom essentials, candles or even a glass of champagne.
Round Wood Bathtubs
Oversized Round Wood Bathtub from WS Bath Collections