What is the latest trend in shower heads? Time again to update our exiting collection with the newest designs. As more innovative choices for modern showerheads become available the trend is that more and more consumers are into design and aesthetics versus functions only. And the new generations of luxury shower heads are qualifying for both – they are beautiful and functional. What's left is to choose the right shower head depending on your desire.
Click on thumbnails for details:


Large shower heads like Dornbracht RainSky and Hansgrohe Raindance Rainmaker, the Rain type ceiling shower heads remain the most desirable. With the most water coverage, they produce different types of 'rain' while mixing water with air and light. These are the most luxury shower heads you can buy and, of course, the most expensive ones. This type of shower head is actually a very technologically advanced electronic balance module that controls large water flows and requires built-in installation.
Dornbracht RainSky E


The RainSky E ceiling mounted showerhead demands large size bathroom. Another Sieger design, it turns water into pure pleasure. Over 32″ wide (820mm), RainSky E overhead shower is designed to bring the "[rain] clouds from the sky into our homes", literally.
Dornbracht JustRain


Dornbracht's most recent addition JustRain shower head caters to smaller bathroom space and is only 16″ wide (400mm) and priced accordingly less at $2,000. JustRain stands up for its name – rain in all forms and rain only. The sensation of rain is achieved to the fullest.
Hansgrohe Raindance Rainmaker


This massaging shower head is from Hansgrohe, almost 2 feet (24″) in diameter. Just like the RainSky, the Raindance Rainmaker Imperial Shower mixes water with air and light creating different 'rain' types, and is designed to give your body complete relaxation with 3-Whirl massage and 358 No-Clog spray channels. Requires ceiling flush mount installation.
Still no less desirable are the Rain Dome type round ceiling or wall-mount showerheads. They are installed as regular showerheads. The Rain Domes got larger, in fact, as large as 14″ diameter showerhead can be purchased from Hansgrohe.
Hansgrohe Downpour Air Royale


Hansgrohe Downpour Air Royale 14-in shower head may be the largest rain dome shower head that is currently available on the market. Simple contemporary design provides best aesthetics for a modern shower.
KWC Rain One Eighty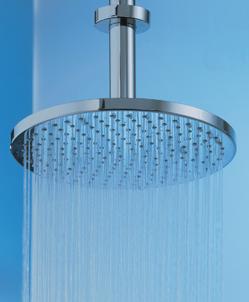 KWC Rain One Eighty is another large round showerhead of the rain dome type that is one of the best. Buy it as ceiling-mount with arm or wall-mount with arm. It's 8 1/2″ in diameter, has 180 water outlets and can swivel 35°. As most KWC shower heads it is self-cleaning thanks to KWC JetClean technology.
The idea of having larger showering surface to provide more water coverage has been materialized in some new interesting shapes and functions. For example, Kohler has its own version of Rain Dome – the square WaterTile Panel which is actually a multiple head shower. Grohe came up with a double shower head that is also moving up and down.
Kohler WaterTile Rain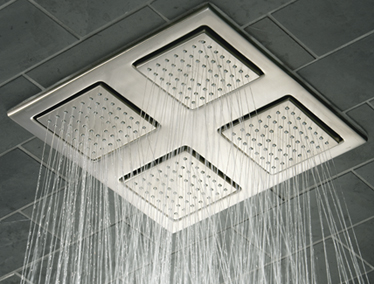 Kohler new K-8030 WaterTile Rain overhead showering panel comes with 54-nozzle. With its clean look it can be an easy fit in any custom application and decor space. Sized as 9-7/8″ or 251mm square. Price is $337. Available in the 3rd quarter of 2006.
Grohe Freehander Dual Shower Head


Grohe Freehander can be converted from the double shower head into two body-spray jets in a single movement. Its 22″ lever pivots 180 degrees and carries two heads that can be rotated a full 360 degree each. With all this flexibility, the Freehander can be used for "the individual body parts massage or a very pleasurable shower experience". It can also conserve water by switching to a reduced flow setting on one head, and shutting off completely the other head. Buy this Grohe shower head for the price from $410 to $565.
While the size has been definitely a major consideration… lately, the designer's focus has been shifting away from the size and to the shape. Lacava has one of the most comprehensive collections of modern contemporary shower heads we've seen. The star-shaped, the square-shaped and the 'embraced' shower heads are only few examples of the latest innovative designs available. And, of course, the Waterfall showerhead is one of our favorites.
Lacava Star-shaped showerhead


This Star-shaped beauty is Lacava ceiling mounted stationary rain shower head with arm, from the Minimal collection. It's 9″ in diameter. Price starts at $1,226.
Lacava Square Showerhead


Lacava Square Showerhead is another trendy design equipped with 144 jets. It's a quite large 8″ square head that can be tilted. Priced from $995.
Lacava Embrace Showerhead


This shower head is a part of the Embrace bathroom collection. It bends around to extend 15 1/4 inches from the wall and is actually much larger than it looks on the picture. Price starts at $440.
Lacava Waterfall Showerhead


The Waterfall Showerhead is a part of the famous and the most distinct Lacava Waterblade bathroom collection. Priced from $743.
Even more unusual new shapes in shower head design have emerged… Take a look at this awesome octopus-shaped showerhead from Adbatnos.
Adbatnos Cloudburst Shower Head


Adbatnos Cloudburst Shower Head H-5 is made from solid Brass and is Chrome plated. 9″ in diameter, Cloudburst will create a very unique statement in your modern spa bathroom.
What has happened to the most 'common' small round showerhead? It's there, only it got better. With so many to choose from, we suggest you stick with the best. Hansgrohe, KWC, and Grohe showerheads are some of our favorites. All self-cleaning shower heads, a bit pricier but will last forever.
Sloan shower heads


Sloan shower heads is what we really recommend. Built as a commercial showerhead, this is the last shower head you will ever have to purchase! Sloan offers the most durable showerheads we have ever found, and they're stylish, too!
… The trend won't be complete without these European shower heads that present the latest innovative design options.
The Euridice shower head by Ritmonio


The Glass shower head from Ritmonio brings new colors and new materials to your bathroom. Available in round and rectangular shapes and with multiple setup options, it outlines the color of water that we always enjoy seeing – blue.
IB Rubinetterie Spa Lampadado Showerhead


Lampadado comes with an intriguing shower head design that seems very unusual at first … only minutes later you realise that it's simply natural. But it makes you say 'wow'. Isn't it what you want? This design achieved two goals; it produced a very sturdy construction with 4 jet areas, each with its own water supply, and it created a conversation starter.
Fornara & Maulini Charade Orchidea Trio Shower Head


The Charade Orchidea Trio shower head from Fornara Maulini is just that – its large and entertaining. Its overwhelming size is nicely offset by its eye-pleasing design and a fantastic showering experience.
Rogerseller Spray Quattro wall mount shower head


For a wall-mount installation, the Spray Quattro head presents a very clean contemporary design. Shaped as one continuous cylinder it offers a minimalist appearance.
Newform Square Pivoting shower head


Newform naturally extends its square shower head design with the pivoting option. The dual mounting brackets provide a more sturdy installation and an unusual but more inviting look.
Hansa2Day hand shower


Almost every bathroom fixture from Hansa is an amazing innovation, and Hansa2Day is no exception: tilt the shower head down and it becomes a waterfall shower!
Vola 50 showerhead by Teit Weylandt


Vola 'slices the rain' with its symmetrical design. It organizes your showering water into parallel flows. It's not just about the fixture design any more … it's about the 'shaping' the water flow. For a contemporary shower there is a contemporary shaped water flow!
Ross Lovegrove shower head design for Vitra Istanbul collection


Products of Ross Lovegrove imagination, these Vitra shower heads are works of art that may look futuristic .. but only repeat the organic shapes that water naturally takes. Incredible, indeed.
For 2009, we've added 7 new shower heads for your review that are either very innovative by design or present an interesting decor option. The two flipping showerheads below are brilliant ideas from Kohler and Bossini.
Kohler Flipside Handshower
The clever Kohler Flipside Handshower delivers four unique sprays with one flip action, ranging from a regular flow to airy spray to drenching and to rainshower effect. Shiny stainless steel and a compact modern look complete this unique design.


Bossini Flip Shower Waterfall or Rain
The Bossini Aquavolo flip shower lets you switch between a waterfall shower and a rainshower by flipping a head itself. Waterfall or rain, this stylish head in stainless steel will be the center of attention.


For those who appreciate design … the two industrial style showerheads from Balance and Newform.
Newform Jet Showerhead X-Touch
The Newform X-Touch jet shower head looks down from the ceiling like a shiny motorcycle exhaust pipe. Producing a powerful drenching effect with a hundreds of tiny jets, it is what a jet shower need be – with its unbelievable function and unusual design you'll be looking forward to taking your shower.


Industrial Style Shower Heads DF50 and DR50
Brutally urban but aesthetically pleasing, stripped-down forms of pure steel, the DF50 and DR50 are striking industrial style shower heads from Balance. A distinctive design that will make a statement.


Grohe Icon Handheld Rain Showerhead
This gadget-like, futuristic handheld rain showerhead is Grohe Icon. Ring-shaped and eye-catching, it looks lively in a green finish. Great for the entire family.


Zucchetti Oversized Showerhead XL Z94
Displaying true luxury, the oversized showerhead XL Z94 from Zucchetti is a massive, circular design suspended from three twisted pipes. An understated elegance effect is emphasized by the lovely lighting coming from inside the head. Bring the Z94 home for a sensational showering experience which is like showering under your own rain cloud.