Take that nook in the corner of the kitchen and transform it into something extra special. From rustic to modern, we've compiled a great list of breakfast room ideas that will recharge your mornings at home and add an extra bit of style and function to it as well!
Traditional in feel and a bit nautical in style, check out how easy and quaint this breakfast nook was made!
Here we have a fresh and neutral breakfast room that's mixed in with personal and hipster vibes, how adorable is that chalkboard wall?
This space has a very distinct cottage feel but with the black and white accents, it also has a sprinkle of feminine, posh flair as well.
Over at Dwell, you'll find this minimalistic space being features. It's filled with wood but also has a light, modern style.
Here's a charming, retro-inspired place filled with spots to enjoy breakfast and add a pop of color and personality.
If you're inspired by more minimal looks and simple styles, check out this built-in bench and it's contrasted wooden table.
The brightness of this breakfast room is so refreshing and so is the upholstery choice for the window seat cushions!
If you love color then this is the breakfast room to take a gander at, how gorgeous is this shade of green?!
Check out this chic, built-in breakfast area! A flipped table and benches make coffee dates in the morning so much sweeter.
The bare windows, the mixed and matched throw pillows, the rustic, circular table, this breakfast room is such a breath of fresh air.
Check out this luxurious little breakfast space. There's ample seating for the family and it's a chunkier design than we're used to.
Clean, modern and perfect for a Bachelor pad, there's a certain no-fuss feel to this breakfast area but there's still some style involved!
Black and white will always be a classic, go-to color duo, and it can be a bit feminine too, just look at this on-trend breakfast nook.
In The Creation featured this stylish and welcoming space and we snatched it up to show off too. It's got a homey feeling we adore.
Here's a unique breakfast space that we're swooning for. A bench and a table is really all you need to make mornings more bearable.
This space is unique in the way of its stylish. It's mixed and sprinkled with so many different interior design genres – but it works!
For bigger families and bigger home, your breakfast rooms may have more space – utilize it for the family! The more the merrier!
And this space mixes all the right elements of traditional and retro flair with neutrals that make everyone feel at home.
Mix up your seating choices, mix of your neutrals, throw in some prints, as you see here, there are no rules in creating the most perfect breakfast space.
There is a certain amount of elegant, girlish charm surrounding this breakfast room. The furniture to the lighting, it all blends really well.
Here's another chic and simple breakfast nook that will make your home so much more functional and enjoyable.
If you have a larger family or larger home, you'll need a larger breakfast room – and here we have some gorgeous inspiration.
We found this gorgeous, traditionally-styled breakfast nook at HGTV. The pops of yellow really personalize it for the family.
For those that have an extra tiny space, this is the inspiration you need! Look at how stylish and trendy this breakfast room is!
A Cheeky Lifestyle showcased this textural and fun breakfast nook. The surprise here is that it was made on a budget!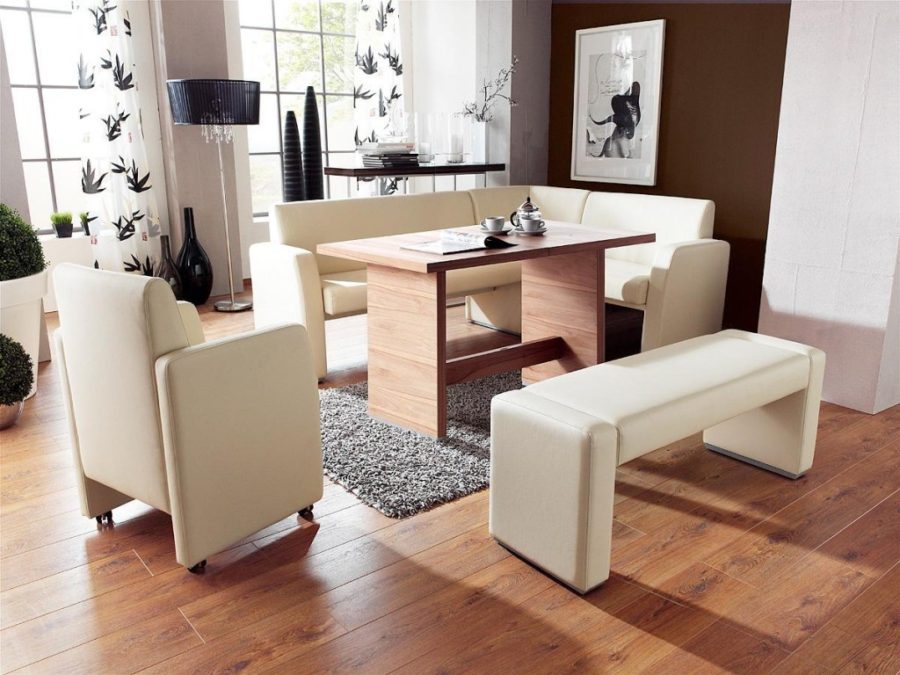 Modern and chic, this posh breakfast nook is a nice difference between more traditional settings but still works for the family!
Traditional and bright with a beachy vibe, we found this gorgeous breakfast room over at Made by Mood, and we love all the natural lighting your morning will be highlighted by.
If you love the feeling of Euro-style cafes, bring that same vibe into your home. Furniture choices, like these chairs you see here, can get that vision started.
Here's another neutral, traditional space that's highlighted by modern accents. Between the light fixture and clean, built-in bench, it's a gorgeous contemporary nook.
A bit of retro spirit provides the foundation for this small breakfast nook complete with a quaint, cottage style.
This space also has a light, cafe feel with its choice of table which tops off the traditional, family benches just right.
Even if you want minimalistic and stylish, you can create a trendy, hipster space with the right kind of mixing of furniture.
Here's a gorgeous bit of inspiration for those that are inspired by super contemporary spaces, glass tables can work for breakfast too!
With a feminine touch and a modern edge, this breakfast nook is classic in all the white places. The black and white cushions really set it off right!
When accessorizing your breakfast nook, make sure you go with a more sunny approach. Colors and happy prints will make mornings a lot better for you and the family.
How adorable is this breakfast space for two? His and her chairs make a quaint setting for loved ones and their morning cups of coffee.
A personal favorite of the bunch, there's nothing wrong will spreading the joy and color all around your breakfast room.
This area has a subtle, luxurious feel that everyone will get to enjoy with a bowl of cereal or avocado toast in the morning.
And finally, HGTV shows us this stylish breakfast room that utilizes its natural lighting and creates interest with the different seating choices.